We're (still) in a pandemic
This piece was originally published in the October 23, 2020 edition of CAP Action's daily newsletter, the Progress Report. Subscribe to the Progress Report here.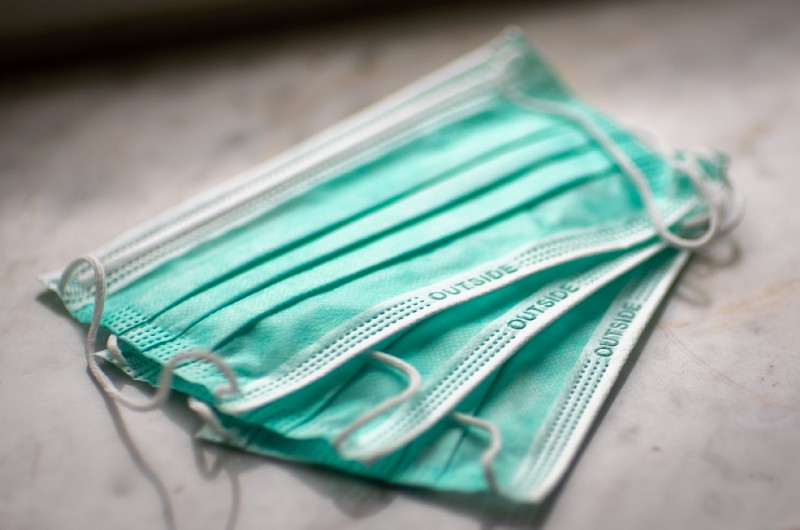 "Living in his head rent free is something."
— Ayanna Pressley, one of four congresswomen of color who Trump tried (and failed) to insult last night
Health care is a human right.
Share this to get the facts out: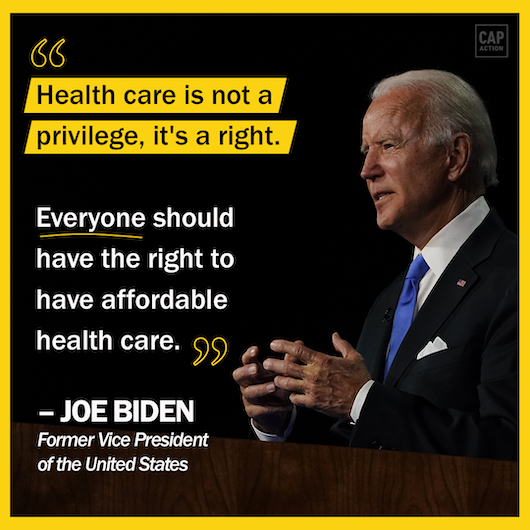 IN THE NEWS
Lately, it can be tempting to assume the pandemic is winding down. It's been months, after all, and with the election just days away, most of us aren't as consumed with coronavirus news as we were in the spring. But that narrative couldn't be further from the truth. Yesterday, the U.S. broke our previous record for the most new COVID-19 cases reported in a single day since the beginning of the pandemic. And with absolutely no hope of a national strategy to get out of this, it's on us to continue wearing our masks, washing our hands, and avoiding crowded gatherings.
With more than 7 million Americans having contracted coronavirus at some point, it's worth noting that even those who survive can face lasting challenges. Surviving COVID-19 means living with a preexisting condition — something that could disqualify you from health care coverage should the Supreme Court overturn the Affordable Care Act next month. We're also learning more and more about "long haulers," people who experience long-term complications after recovering from COVID-19.
Trump is stopping by The Villages, a massive retirement community in Florida, for a rally today. As he tries to make his final pitch to the nation's seniors, check out this piece from CAP Action's Ryan Koronowski on the many ways in which Trump has put older Americans at risk during a deadly pandemic.
IN CASE YOU MISSED IT
Secretary of State Mike Pompeo signed an international anti-abortion pact yesterday. Signers of the Geneva Consensus Declaration pledged to "work together to reaffirm that there is no international right to abortion." International reproductive justice groups called the agreement "a farcical Trump-led document with no legal basis." The pact also emphasizes that the family is "the natural and fundamental group unit of society," which experts say could have disturbing implications for LGBTQ+ people in countries like Egypt and Uganda.
In related news, people in Poland took to the streets yesterday to protest encroaching anti-abortion actions by their leaders. On top of joining the U.S. as a signer of the aforementioned agreement, the Polish government just issued a ruling that bans one of the only remaining pathways through which one can get an abortion.
Scientists in Tulsa, Oklahoma discovered on Wednesday what they believe to be a mass grave. Tulsa was the site of the horrific 1921 massacre in which white residents murdered approximately 300 Black residents in the thriving Greenwood neighborhood dubbed "Black Wall Street." Many of the bodies of those killed in the massacre were never recovered, and their living descendants still lack closure on their ancestors' fate. This week's discovery is part of a new effort from local officials to revisit an unmarked section of the Oaklawn Cemetery, which has long been suspected to be a mass burial site containing the bodies of unidentified victims.
WHAT WE'RE READING
Like the Progress Report? Our team relies on the support of grassroots progressives like you. Chip in $5 or whatever you can to power our work.
The positions of American Progress, and our policy experts, are independent, and the findings and conclusions presented are those of American Progress alone. A full list of supporters is available here. American Progress would like to acknowledge the many generous supporters who make our work possible.