What Latinos Need to Know About the First Presidential Debate
The two candidates presented starkly different views on issues deeply important to Hispanics, with President Obama finding common ground with them throughout the debate.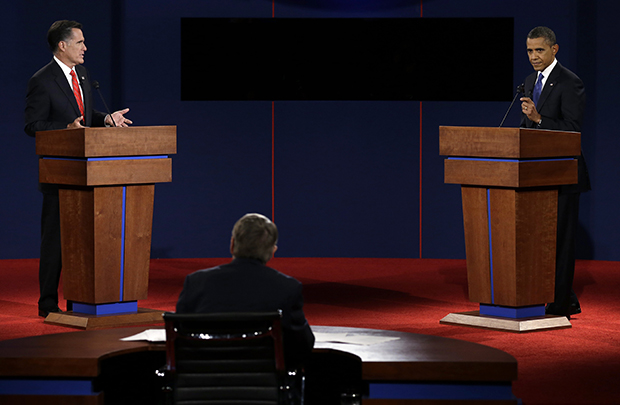 Debate over immigration reform was absent from last night's presidential debate in Denver, but the issues that did come up—including the economy and jobs, health care, the role of government, Social Security and Medicare, and education—are top issues for all Americans, Latinos included. In fact, education, jobs, the economy, and health care are often cited as the top three or four issues for Latinos in every poll—most often even above immigration reform.
Of course, practically all Latinos watching the debate or reading about it the next day in the newspapers or online know the two candidates' positions on immigration. President Barack Obama supports a path to legalization for the 11 million undocumented immigrants in our country, endorses the DREAM Act to enable young unauthorized immigrants in our nation through no fault of their own to go to college and serve in the military as a path to citizenship, and in fact used his executive authority to allow DREAMers to get work permits and lift up the threat of deportation.
Former Massachusetts Gov. Mitt Romney's approach is the opposite. He doesn't support legalizing the undocumented, has promised to veto the DREAM Act, and yesterday his campaign confirmed that he would end the deferred action program for DREAMers if he would become president. Clear as water.
But Latinos care as much or sometimes even more about the other issues in this presidential race. So let's look at some of those issues.
The economy and jobs
Gov. Romney supports "supply-side economics" to let the rich become job creators. He truly believes that if the wealthy have more income, then they will spend more and invest more, creating jobs as their wealth "trickles down." The problem with this approach is that it doesn't work.
Most telling, though, was when the debate moderator asked the candidates how they would close the deficit and balance the federal budget. Gov. Romney said his approach is about spending cuts. President Obama supports a balanced approach where you need cuts as well as income.
A balanced approach makes perfect sense because we need an economy that works for all. Even when families balance their own budget, they don't just cut on spending (and definitely avoid cutting spending on their health or education), but they also figure out ways to increase their income. That is the approach President Obama wants to follow by ensuring those who make millions pay their fair share of taxes. In contrast, Gov. Romney said three things that merit clarification:
Gov. Romney said he didn't have a $5 trillion tax cut in his plan. Yet his economic proposal on his website calls for a 20 percent across-the-board tax cut in all federal income tax rates. The nonpartisan Tax Policy Center analysis says this cut would reduce federal revenue $480 billion in 2015. This amounts to $5 trillion over the decade.
Gov. Romney said there will be no tax cut that adds to the deficit. Yet as the same Tax Policy Center points out, his plan can't exempt middle-class families from tax cuts and remain revenue neutral. "In order for him to cover the cost of his tax cut without adding to the deficit, he'd have to find a way to raise taxes on middle income people or people making less than $200,000 a year," the Tax Policy Center found.
Gov. Romney said he is focused on creating jobs. Yet according to his economic plan, he promises to cut federal government jobs by 10 percent. (How is that a job-creating strategy?) He also does not support investments in infrastructure and local government, sectors that employ Latinos at higher rates.
Health care
Latinos have benefited greatly from Obamacare—it has already made 9 million more Latinos eligible for health coverage and 736,000 Latinos under the age of 26 have gained access to health insurance in the two years since the passage of the Affordable Care Act. Obamacare is also modeled after the health care program that was implemented in Massachusetts while Gov. Romney was governor. Yet here are the views he expressed last night:
Ending Obamacare would be detrimental for Latinos. As the National Council of La Raza points out, 16 million Latinos who are uninsured and in need of care cannot afford to lose the benefits and protections of Obamacare and wait for 49 states to set up their own plans—as Gov. Romney proposes—putting their health care at risk.
Social Security and Medicare
Another important issue for Latinos is Social Security because Latinos rely on Social Security for more of their retirement income and benefit over a longer period of time than most other population groups because of their longer lifespans. An AARP survey found that more than 70 percent of Hispanics over the age of 50 say the candidates' positions on Social Security and Medicare will have a bearing on how they cast their votes during the upcoming election. Here's Gov. Romney's take on these issues:
Gov. Romney said that he supports no changes to Medicare for current retirees. Yet by repealing Obamacare, the 16 million seniors now receiving preventive benefits without deductibles or co-pays will see a cost increase. What's more, the Romney-Ryan economic plan would also significantly lower Medicaid spending beginning next year, shifting federal spending to states and beneficiaries, and increasing costs for the 9 million Medicare recipients who also are dependent on Medicaid.
Gov. Romney alleges that President Obama cut $716 billion from Medicare, but he bases this inaccurate statement on Obamacare siphoning off $716 billion from Medicare to the detriment of beneficiaries. In fact, that money is saved primarily through reducing overpayments to insurance companies under Medicare Advantage, the program in which the federal government pays private insurers to compete with traditional Medicare, not payments to beneficiaries.
Conclusion
Any voter, Latinos included, looking for substance and policies that are balanced and actually create the infrastructure for the middle class can see the stark differences in the policy positions of the two presidential candidates. What's more, they can see that our economy is doing better, with 30 straight months of continued job growth in the private sector, unemployment going down, a better housing market, and consumer and business confidence going up. We are not where we need to be but we are moving in the right direction.
President Obama last night made the telling point that budgets reflect choices. The proposed budget and the cuts that Gov. Romney explicitly or implicitly supports are far from what is best for the majority of Americans, particularly for the middle class and low-income workers. Based on public opinion polling, Latinos know this, which is why 70 percent support President Obama.
Vanessa Cardenas is Director of Progress 2050 Action at the Center for American Progress Action Fund.
The positions of American Progress, and our policy experts, are independent, and the findings and conclusions presented are those of American Progress alone. A full list of supporters is available here. American Progress would like to acknowledge the many generous supporters who make our work possible.
Authors Vanessa Cárdenas
Vice President, Progress 2050