What's Behind the Democrats' Demographic Advantage?
Understanding the impact of the nation's shifting demographics on the election requires digging deeper than the numbers.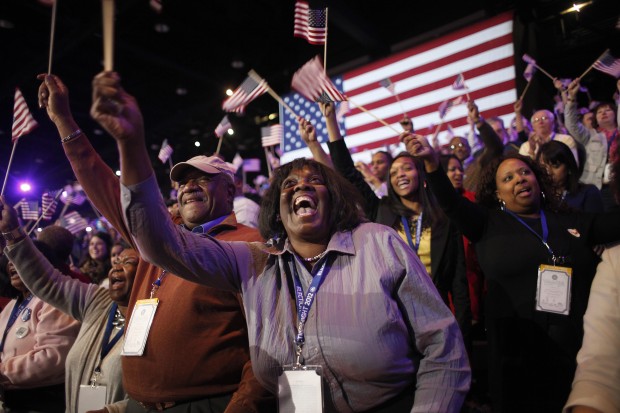 For someone who looks at our nation's changing demographics as her bread and butter, the 2012 election should have been the jackpot. Suddenly everyone is talking about how the nation's demography re-elected President Barack Obama and accounted for unexpected Democratic gains in the U.S. Senate. And of equal interest is how the changing face of America could also signal the decline of the GOP. Even though the census has been telling us for a few years that we're quickly approaching the day when there is no longer any clear racial or ethnic majority in the United States, the election now has people paying attention.
But simply attributing the president's victory to demographics really misses the point and the deeper question: Why did certain groups of voters seem to favor President Obama and his party? Communities of color, women, and youth are not primordially required to vote Democratic—they, like any other voters, vote for the candidates who seem better suited to represent and defend their interests. Democrat and Republican candidates both proposed substantive policies that were informed by ideologies that told voters of color what each party thought of them and their role in our country. And these ideologies clearly suggested distinct visions of what each party wants for our nation. The groups that voted overwhelmingly for the president and his party did so because they agreed with his dream for what this country could be.
Take communities of color. Fully 80 percent of these groups voted for President Obama. They supported the president because Republicans spent the better part of the campaign season using racially coded language to paint communities of color as groups who mooch off of government entitlement programs. Republicans cynically tried to distract voters from paying closer attention to the larger economic woes the majority of the nation was experiencing and attempted to hide the threat that policies of slashing government programs would pose to all of us. Moreover, Republicans tried blaming these economic woes on hard-working immigrants, making promises to make immigrants' lives so miserable that they would have no other choice but to flee the country—a country, by the way, that was once steeped in the notion of providing immigrants with opportunity.
Or take women. Fifty-five percent of women voted for the president, and this number went up to 67 percent for the unmarried subset. Republicans campaigned on ideas that were fundamentally opposed to the notion that women should have control over their own bodies. They claimed, ironically, to do so in the name of sanctity of life, yet simultaneously proposed policies that made it clear that they only cared about life until it left the woman's body—once a baby was born, it was survival of the fittest. And that's not to mention the reprehensible ways that sexual violence were trivialized and even lauded by some members of the GOP.
And don't forget young people. Millennials showed up in record numbers at the polls this year and voted overwhelmingly (60 percent) in support of the president. It's no secret that this group is worried about their future—record levels of unemployment, a nation facing serious debt, worries about the legacy that baby boomers will leave their generation, and more. Republicans exacerbated these worries by proposing wildly unrealistic solutions to our fiscal problems, while also cutting programs that especially hurt this group—student debt policies, for instance. This group also embraces ideas about tolerance and diversity not necessarily shared by Republicans. The majority of young people, for example, support expanding rights and equality for gay and transgender people while Republicans not only tried to restrict such civil rights, but tried to eradicate them altogether.
Political candidates aren't the only ones with ideas—voters have them too. The GOP is in trouble going forward, not because it has to find a way to better market their ideas to more diverse audiences, but because Republicans have to fundamentally change their ideas. If this election taught us anything, it's that the majority of our country agrees with the ideas behind progressive policies. Americans sided with the candidates in this election who promoted tolerance and inclusion and believed in rebuilding a country that works for all, not just a select few. They also voted into power candidates who believe that this common good relies on important programs based on the premise that we should help people up when they fall.
It's our good fortune as progressives and as a nation, that the groups with these egalitarian ideas are the ones that are growing the fastest.
Julie Ajinkya is a Policy Analyst for Progress 2050 Action at the Center for American Progress Action Fund.

The positions of American Progress, and our policy experts, are independent, and the findings and conclusions presented are those of American Progress alone. A full list of supporters is available here. American Progress would like to acknowledge the many generous supporters who make our work possible.
Authors Julie Ajinkya
Policy Analyst