What's Trending? A hot mess inside a dumpster fire inside a train wreck
Part of a Series
This piece was originally published in the October 7, 2020 edition of CAP Action's weekly newsletter, What's Trending? Subscribe to What's Trending? here.
Hey, y'all.
As I write this, we're exactly four weeks from Election Day. And this past week may have been the wildest yet — a debate in which the president refused to denounce white supremacists (and actually made a call to arms), a Rose Garden superspreader event, and the president being diagnosed with coronavirus. The October surprises just keep coming.
In preparation for tonight's VP debate, we're going to do a deep dive on last week's presidential debate. Hopefully you'll find some useful background and practical tips to help drive your rapid response strategy.
But first, did you miss last week's edition of What's Trending? Don't worry — you can read it here.
WHAT'S TRENDING THIS WEEK
Early Friday morning, news broke that the president and first lady tested positive for COVID-19 and were "experiencing mild symptoms." Trump was transported to Walter Reed Medical Center Friday evening, where he remained for treatment until release on Monday. According to a CNN report, at least 13 people in Trump's orbit have tested positive for the virus, not including 10+ others, from reporters and housekeeping staff to national security officials and members of the Joint Chiefs of Staff, who have also reported testing positive.
WHAT WE'RE HEARING ON SOCIAL
Here are this week's top five Facebook posts on the Left and Right:





You can't debate the facts: One week — and what feels like a lifetime — ago, Donald Trump and Joe Biden participated in the first of three presidential debates. And until Trump's COVID diagnosis, the story dominated social media. In fact, posts using the keywords "debate," "debates," or "#debatesnight2020" generated more than 32 million interactions across Facebook and Twitter over the past week.
While mainstream news sources emphasized Trump's constant interruptions and grandstanding, the article that received the most interactions in the week following the debate was a Daily Wire piece accusing Chris Wallace of liberal bias, which earned more than 1.23 million interactions.
The two candidates dominated conversation about the event on Facebook the night of and morning after the debate. While Trump regularly tops rankings of Facebook posts by interactions, this was a stronger-than-usual showing from Biden.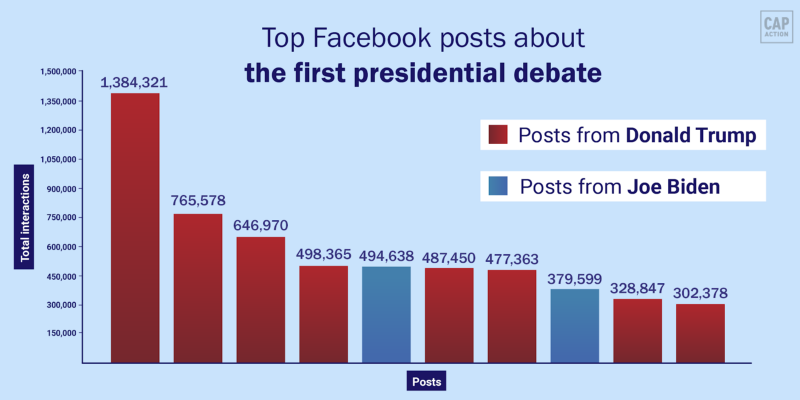 So what exactly were folks talking about? On the Left, posts were mostly encouraging people to vote, expressing distaste for political mudslinging, and demonstrating ways in which the issues that were debated impact Americans.
On the Right, the top-performing posts disparaged the moderator, misled their audiences about Trump's "accomplishments" as president and Biden's policy positions, and made excuses for Trump's poor performance.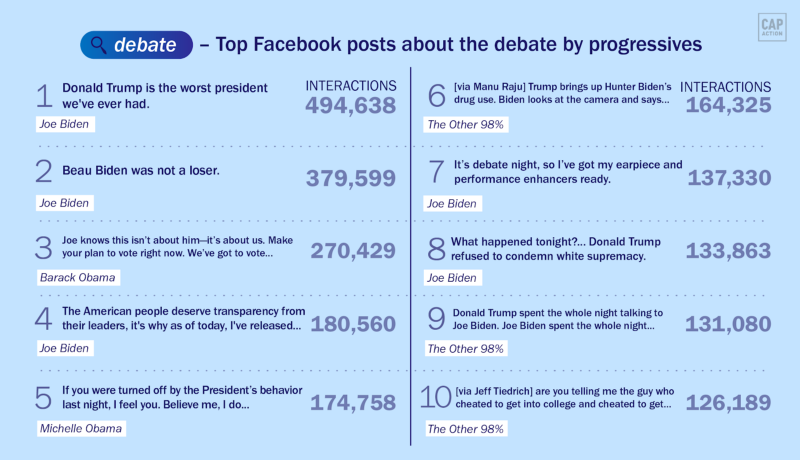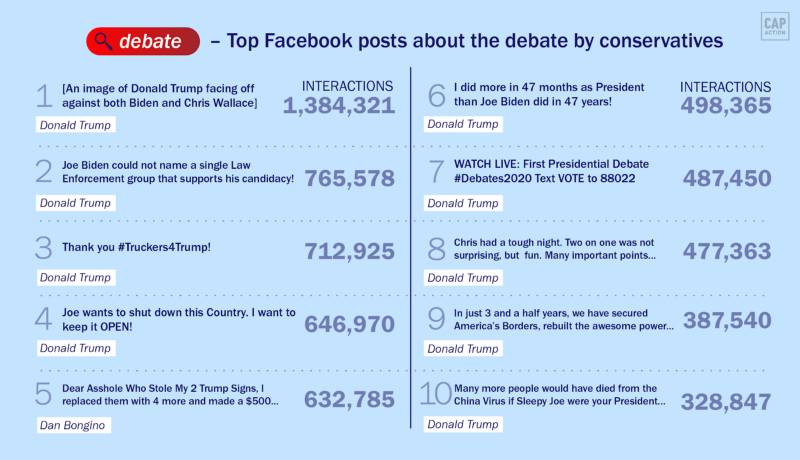 A crucial moment during the debate happened when Trump failed to denounce white supremacists and told the Proud Boys to "stand back and stand by," which was seen as an endorsement. Both Facebook and Twitter banned the group from their platforms in 2018, so their social media posts are not represented here, but Trump's mention of them during the debate did cause a spike in traffic on far-fight platforms like Parler and their encrypted messaging service, Telegram. Traffic about the group was not as significant on Facebook, although people like Mark Levin and the president himself did generate tens of thousands of interactions on the topic. Thankfully, an NBC article about his failure to denounce white supremacists earned over 1.2 million interactions.
So what are the practical learnings you can apply during tonight's vice presidential debate?
Avoid video clips on Facebook. While clips of important moments may perform well on Twitter, they are underperforming on Facebook. This is likely due in part to the fact that many folks second screen during the debates and thus, watching video causes a delay in real-time viewing.
Get to the heart of the issues. One of the most emotional moments of the debate came when Trump criticized Biden's son Hunter for his past drug use. The Other 98% screenshotted a response and it was a top-performing progressive post that night.
SAY IT WITH ME
You know things are getting bad when Facebook finally agrees to take action, but this is good news — the disinformation being peddled by Trump and groups like QAnon is incredibly harmful.
Still, it took Facebook more than three hours to act on Trump's post, during which thousands of people saw it, and as always with Facebook, policies are easy to announce, follow-through on actual enforcement is hard.
The bottom line: Tech companies shouldn't be selective about which disinformation to moderate. Other topics, like the integrity of our electoral system and the health of our democracy, are just as important.
ON MY RADAR
Don't miss it: Tonight is the first (and only) vice presidential debate. It will be held from 9–10:30pm ET and will be aired on all major networks.
Friday, October 9, People for the American Way is hosting No Confirmation Before Inauguration: a digital rally with activists, advocates, and senators to talk about why Amy Coney Barrett's nomination must not move forward. Join them here, and on Twitter using #WeDissent, at 2pm ET!
Sunday, October 11, is National Coming Out Day and Monday, October 12, is Indigenous Peoples' Day.
ASK ALEX
This week's question is, "What are your favorite metrics of success?"
Thank you for asking!
In 2018, Facebook made some pretty seismic adjustments to its famed algorithm. Instead of favoring powerhouse video publishers and brands, it began prioritizing "meaningful interaction." That means content that encourages conversation and sharing. As you can imagine, this had its benefits — and its shortfalls. Content that elicited a strong reaction (*ahem* far-right news) began performing extremely well.
This all affects how we examine performance. Now, I love all my children equally, but these are the metrics that I find most useful in predicting whether a piece of content will perform especially well:
Shares: The ultimate sign of engagement and strong feeling is the willingness to share with your friends and family.
Comments: Starting a conversation encourages people to visit your post time and time again.
Reach: Reach is a helpful number in determining the overall health of your post. If the reach of a post is very low, it's a sign that you should evaluate what went wrong. If it's high, you can emulate what went right.
Thanks so much for your questions and your time!
Have a great week,
Alex
P.S. Please do forward along to your friends who are interested or encourage them to sign up here.
This newsletter is written by me, Alex Witt (@alexandriajwitt), a progressive political strategist and Dolly Parton enthusiast (she/her). I've managed social media programs for presidential candidates, political committees, progressive advocacy organizations, and more.
Like What's Trending? Our team relies on the support of subscribers like you. Chip in here to help power our work.
The positions of American Progress, and our policy experts, are independent, and the findings and conclusions presented are those of American Progress alone. A full list of supporters is available here. American Progress would like to acknowledge the many generous supporters who make our work possible.
Authors Alex Witt
Senior Director, Strategic Partnerships
Explore The Series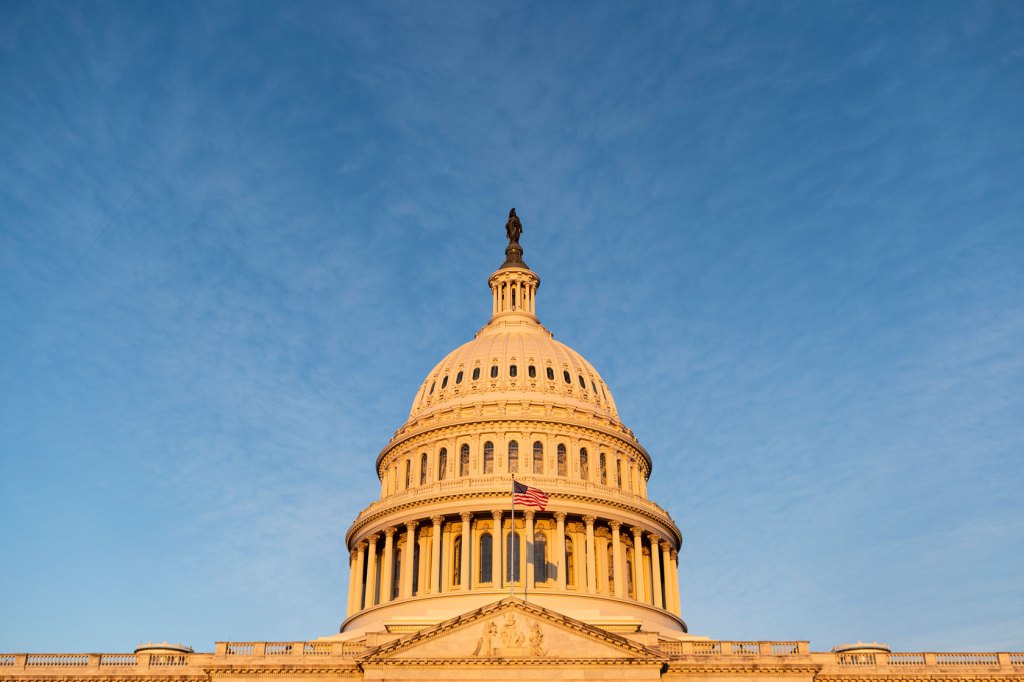 Welcome to "What's Trending?", a weekly newsletter to help progressives answer the age-old questions: What works, and what doesn't? "What's Trending?" cuts through the noise to bring you the best (and worst) of what's happening on social media in the policy space, and explains why it's important.
Previous
What's Trending? Trump's tax scam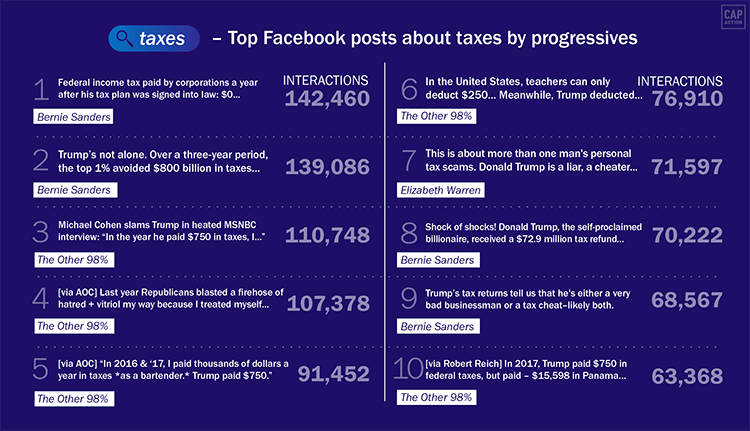 What's Trending? Trump's tax scam
Next
What's Trending? Health care hanging in the balance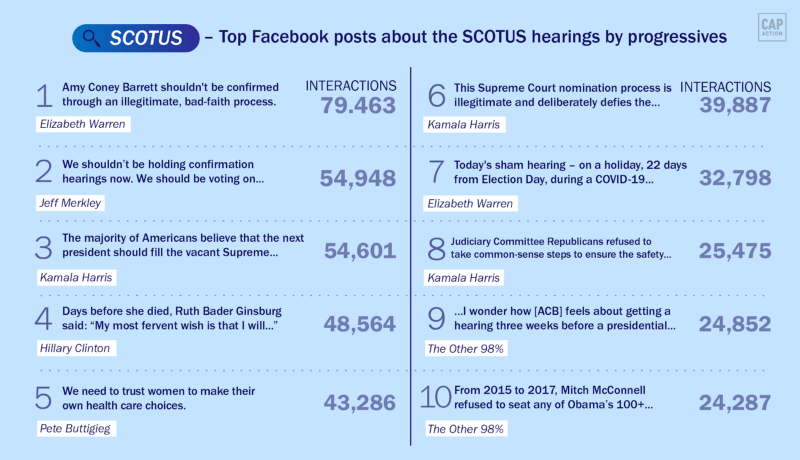 What's Trending? Health care hanging in the balance