What's Trending? A new normal
Part of a Series
This piece was originally published in the January 27, 2021 edition of CAP Action's weekly newsletter, What's Trending? Subscribe to What's Trending? here.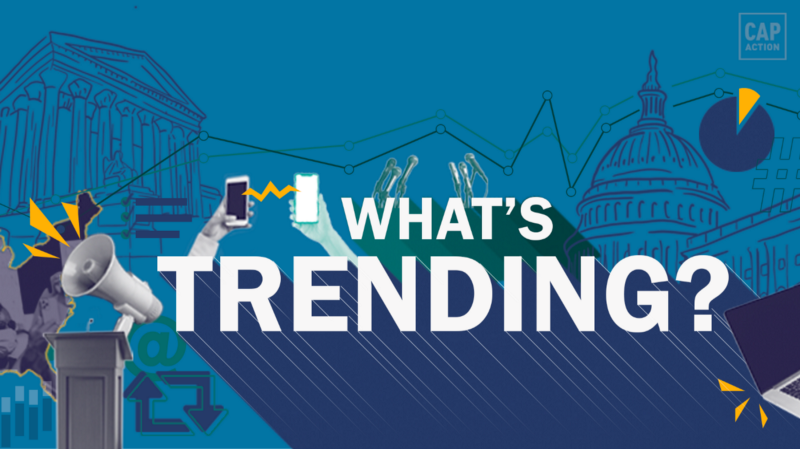 Hey, y'all.
Good morning from a chilly Washington, D.C. where I'm still wrapping my head around the fact that He-Who-Must-Not-Be-Named is no longer a resident of 1600 Pennsylvania Avenue.
In this week's newsletter, we're going to look at the broader political Facebook landscape before diving into the conversation around President Biden's executive orders. And make sure to read all the way to the bottom for my lukewarm take on Birdwatch.
But first, did you miss last week's edition of What's Trending? Don't worry — you can read it here.
WHAT'S TRENDING THIS WEEK
President Biden took office exactly one week ago. Since his inauguration, the administration has gone straight to work on 42 executive actions to tackle priority issues such as getting the pandemic under control, economic relief and recovery, climate change, and racial equity.
The orders include a mask mandate on federal property, rejoining the Paris Agreement, rescinding Trump's ban on transgender people serving in the military, pausing federal student loan interest and payments, and halting border wall construction. Check out this meme that does a great job laying them out!
WHAT WE'RE HEARING ON SOCIAL
Progressives continue to top the list of Facebook posts with the most interactions for the second week in a row! The data we're examining here includes Inauguration Day, so I would expect a slight drop off in the near future. But without Trump, it's clear that the playing field is much closer to level.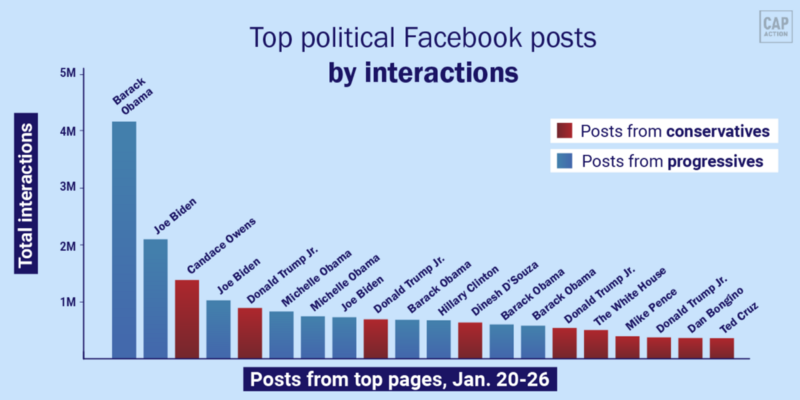 Let's compare this data to the week prior: Progressives account for 7 of the top 10 posts compared with 4 of the top 10 during the previous week. The number of interactions on those posts nearly doubled, too — more than 13 million interactions compared to about 6 million.
Those stats confirm what many progressives have known all along: The problem is not that progressive electeds or thought leaders are being massively outperformed by conservatives, and it's not that progressive content is bad. It's simply that the Facebook algorithm favors dangerous, far-right content.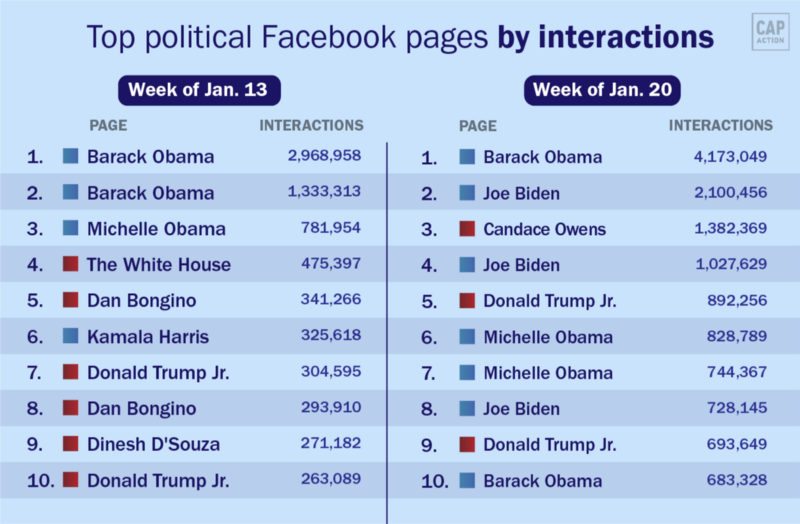 Before you get too excited, an important note: Many of these posts were about Inauguration Day (clearly a top engagement moment for progressives). The conversation about President Biden's executive orders paints a more sobering picture, where we see a chart that looks much more similar to ones from late last year. Conservatives are dominating the conversation about Biden's EOs, and progressives need to be prepared to push back on their false narratives.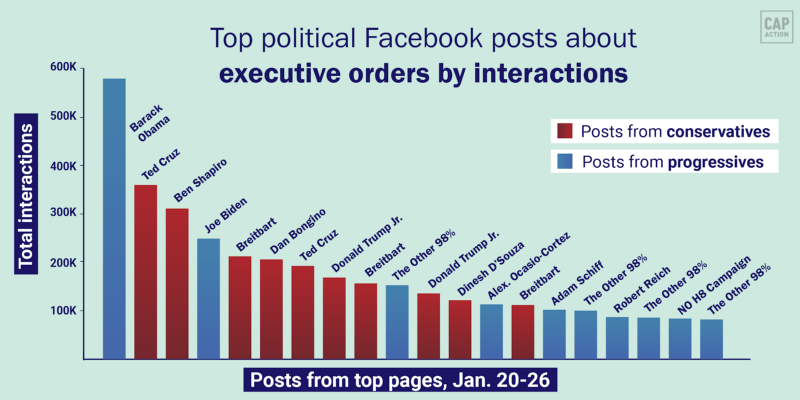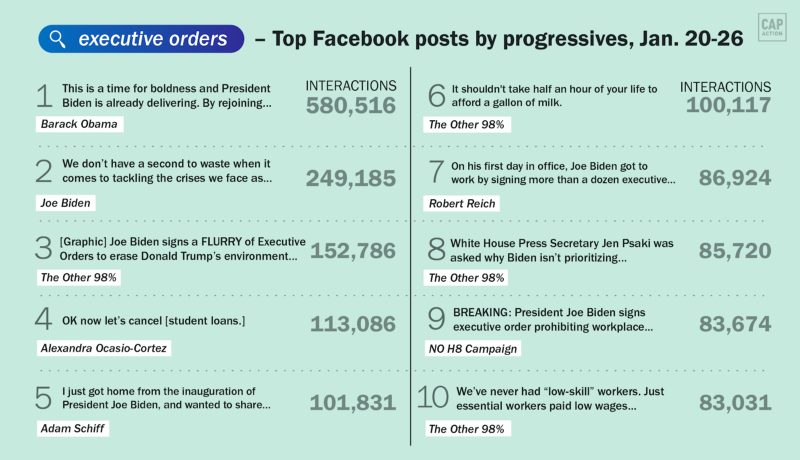 On the whole, conservative criticisms of the executive actions are performing better than progressive posts. That's likely due to the message of those posts — many conservatives are using the same tired, racist and transphobic tropes that Trump used to take advantage of Facebook's algorithmic preferences. In order to combat this, progressives must stick to the best practices identified during the Trump administration. A few tips:
Prioritize rapid response content while it is trending. For example, aim to post about a new executive order within 20 minutes of it being signed.
Feed the algorithm. Post content that performs well on Facebook. For every post you publish that underperforms, your page is being penalized, making it that much harder for good posts to succeed. For example, graphics and trending articles are performing well for lots of pages at the moment.
Amplify one another. Dan Bongino didn't become an alt-right darling all on his own. His work was amplified by those with large followings. Your individual digital team doesn't have to lead on every single issue — but when you don't have a strong investment on a topic, you sure as heck should be amplifying partner organizations that do.
SAY IT WITH ME
Last Thursday, Facebook announced it would be referring Trump's suspension from its platform to the Oversight Board — a purportedly "independent" group of 20 experts and civic leaders tasked with governing appeals from Facebook and Instagram users.
The members of this board were selected by — you guessed it — Facebook, and as a private entity, the board has no legal authority. You can read more about it from the New York Times' Ben Smith. But Facebook has said it hopes the Oversight Board "will uphold the choices we made."
The bottom line: We don't know whether the Oversight Board will uphold or reject Facebook's suspension of Trump, but regardless of its decision, the process they created is one that will have a huge impact on standards and social media platforms.
ON MY RADAR
ASK ALEX
This week's question is, "What do you think about Birdwatch?"
ICYMI, on Monday Twitter announced a new forum called Birdwatch, the goal of which is to combat misinformation by allowing users to fact-check posts. Think of it like Wikipedia for Twitter.
It's only being rolled out as a pilot program of about 1,000 users in the U.S., so it's tough to say exactly what its effect will be. But a few thoughts:
Twitter has proven itself to be more proactive than other platforms at trying new things to slow the spread of disinformation, something I'm heartened by. That said, Facebook's election content labels proved to be incredibly ineffective.
It's possible that the person-powered nature of Birdwatch will allow more direct feedback on posts, but as evidenced by those Facebook labels, design will be very important. You can see an example of how Birdwatch will look in feed in this piece from The Verge.
Have a great week,
Alex
P.S. Please do forward along to your friends who are interested or encourage them to sign up here.
This newsletter is written by me, Alex Witt (@alexandriajwitt), a progressive political strategist and Dolly Parton enthusiast (she/her). I've managed social media programs for presidential candidates, political committees, progressive advocacy organizations, and more.
The positions of American Progress, and our policy experts, are independent, and the findings and conclusions presented are those of American Progress alone. A full list of supporters is available here. American Progress would like to acknowledge the many generous supporters who make our work possible.
Authors Alex Witt
Senior Director, Strategic Partnerships
Explore The Series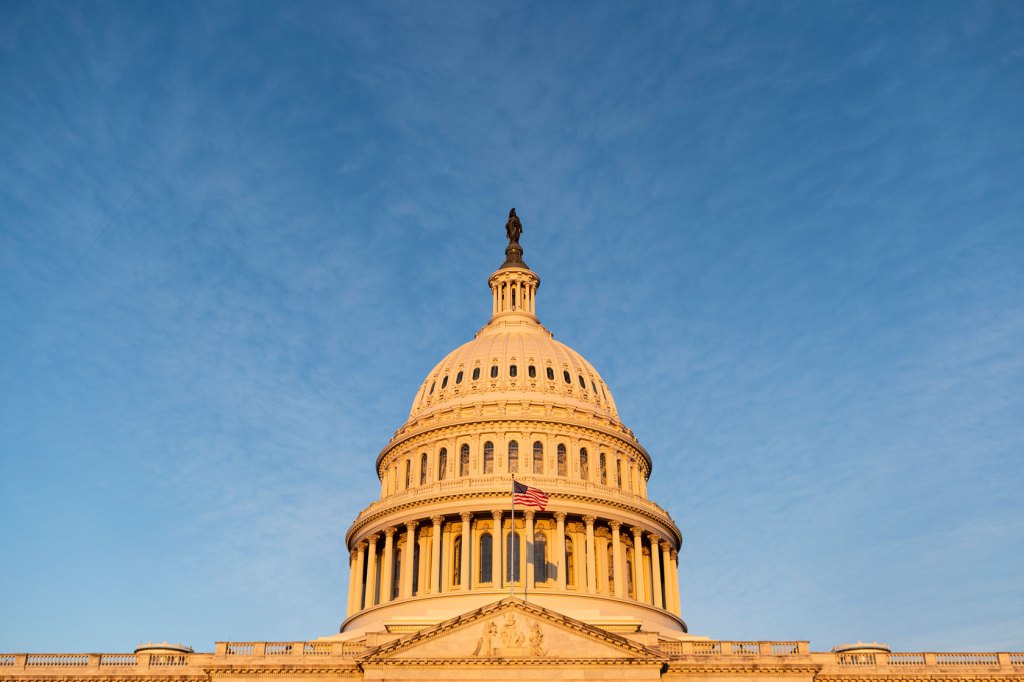 Welcome to "What's Trending?", a weekly newsletter to help progressives answer the age-old questions: What works, and what doesn't? "What's Trending?" cuts through the noise to bring you the best (and worst) of what's happening on social media in the policy space, and explains why it's important.
Previous
What's Trending? Restoring the soul of social media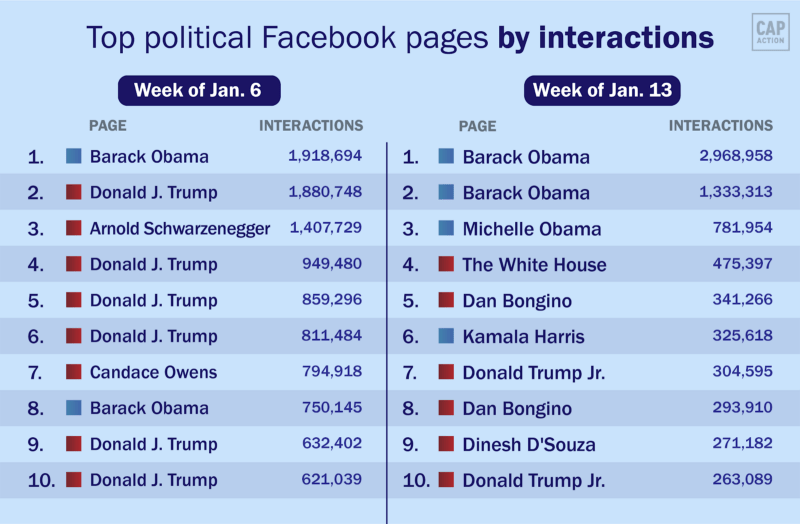 What's Trending? Restoring the soul of social media
Next
What's Trending? Facebook is healing (sort of)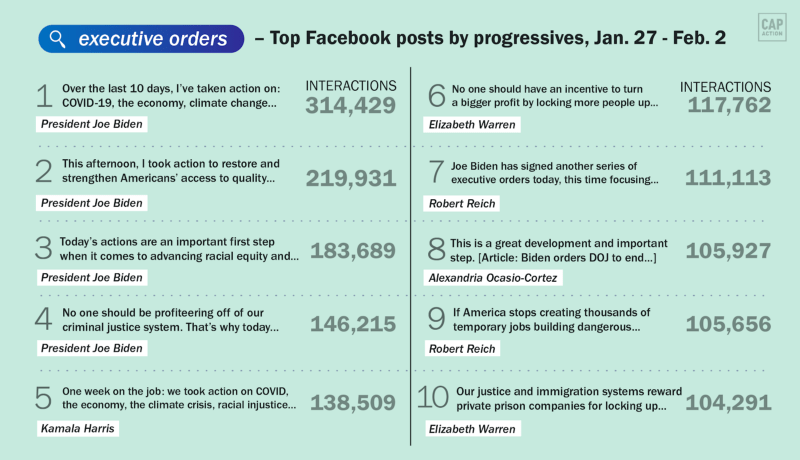 What's Trending? Facebook is healing (sort of)