What's Trending? A shot of hope
Part of a Series
This piece was originally published in the December 16, 2020 edition of CAP Action's weekly newsletter, What's Trending? Subscribe to What's Trending? here.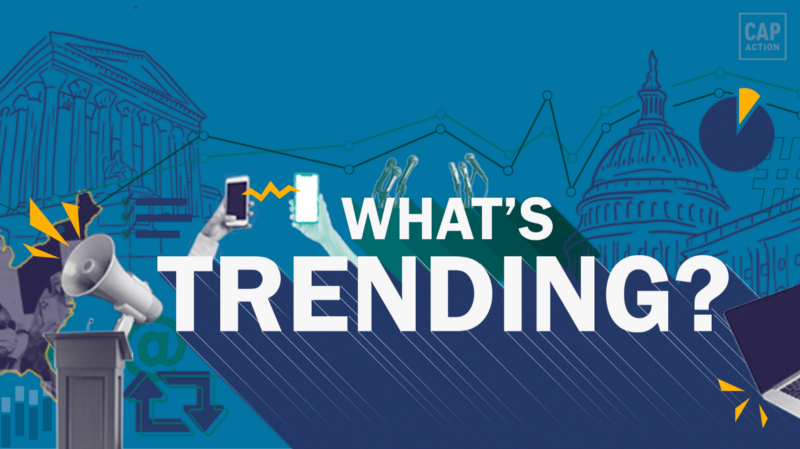 Hey, y'all.
I spent the last week off the grid, and it's hard to describe just how good it was for my soul to enjoy a break from Al Gore's internet.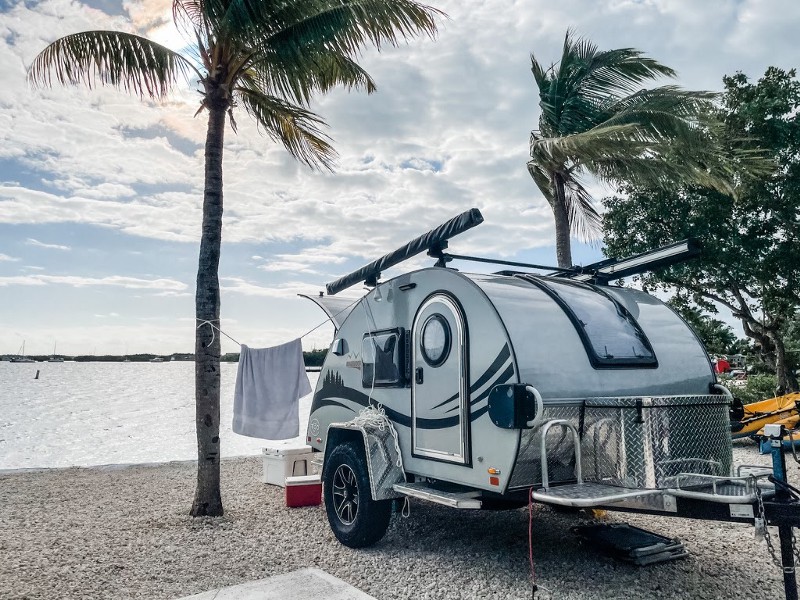 And then, to be met on Monday morning with positive vaccine news! I'm still getting used to this whole feeling-hope-again thing.
That said, this week we're going to look at the conversation about the COVID-19 vaccines on Facebook — but first, did you miss the last edition of What's Trending? Don't worry — you can read it here.
WHAT'S TRENDING THIS WEEK
On Monday, the Electoral College voted to affirm Joe Biden and Kamala Harris as President-elect and Vice President-elect with 306 electoral votes to Trump's 232. The vote marks an important step in the transition, as more Republicans are finally acknowledging the reality that Joe Biden will be our next president.
Donald Trump announced late Monday that Attorney General Bill Barr is resigning next week, with just one month left in the current administration. His resignation will have no impact on the DOJ's unprecedented execution spree that gained national attention this week, as the federal government carried out executions during a presidential transition for the first time in 130 years.
First doses of the coronavirus vaccine were administered to health care workers around the country on Monday, to a grim backdrop of the United States officially hitting 300,000 coronavirus deaths.
WHAT WE'RE HEARING ON SOCIAL
Here are this week's top five Facebook posts on the Left and Right:





On Monday morning, nurse Sandra Lindsay became the first American to be inoculated with a COVID-19 vaccine in the US. I don't know about y'all, but I teared up watching it unfold. The scenes of boxes being unloaded, ferried into hospitals, health care workers — masked up, sitting six feet apart — being given the vaccine are something I'll remember for the rest of my life.
We know these vaccines work, and we know it's vitally important that people get vaccinated. To its credit, that's why Facebook announced in early December that it would remove coronavirus vaccine misinformation from its platform. But — there is always a but — that misinformation is still proliferating on the platform. Judd Legum and Tesnim Zekeria published an excellent report examining what that misinformation looks like.
On the whole, progressives are being outperformed by conservatives on vaccine content — and the substance of that content is deeply concerning. As you can see in the below graphs, most of that misinformation isn't coming from establishment accounts (and I use that term generously). Most of the conservative posts aren't about the efficacy of the vaccine at all — they're fixated on making sure Donald Trump gets credit.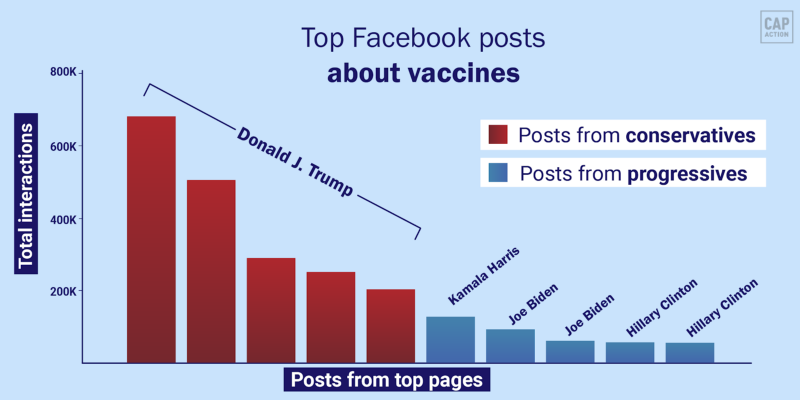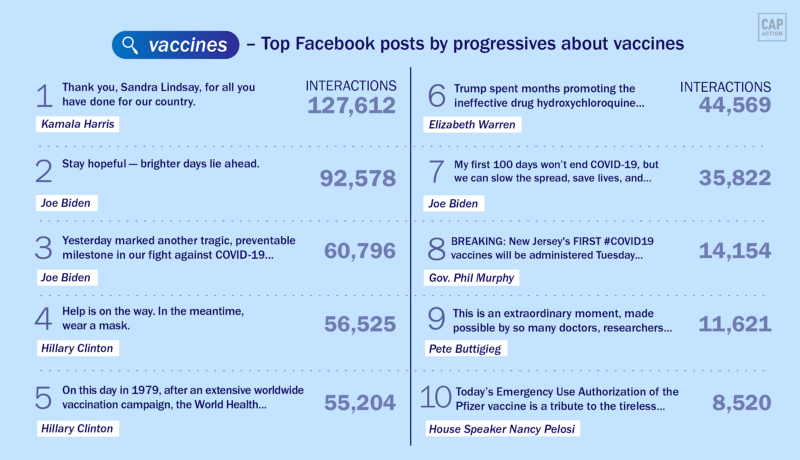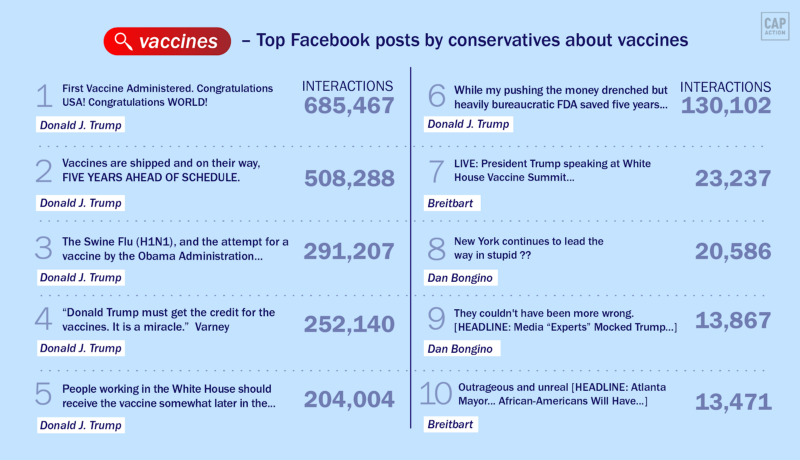 Here's the good news: New research has shown that Americans are becoming more and more likely to say they'll get the vaccine. But the partisan divide is stark — only 12% of Democrats say they would definitely or probably not get the vaccine, compared to 42% of Republicans. And equally alarming is the fact that 35% of both African Americans and rural Americans say they likely will not be vaccinated.
So what can we do?
We need a vaccine social pressure campaign: According to New York Times science and health reporter Donald McNeil, one of the most persuasive ways to convince people to take the vaccine is for people they know to safely receive it. So as it begins to be rolled out, look for ways to equip your audience to tell their stories and share them with their audiences.
Additionally, if you run an account with a significant audience who may be at risk of not accepting the vaccine, tailor your message. Telling rural Americans who may have to drive hours to an underfunded health care clinic that getting two dosages of a vaccine is "easy" may not do the trick. Don't dismiss the concerns of many African Americans — the Tuskegee Experiment, forced sterilizations, and more — have given them good reason to distrust government-backed medical science.
SAY IT WITH ME
According to its own data, Facebook is removing only a small fraction of content that violates the company's hate speech rules, potentially less than 5%.
This is according to a former Facebook data scientist, who spoke out following their departure from the company as reported in BuzzFeed.
The bottom line: Facebook's reliance on artificial intelligence and third-party contractors simply isn't enough to combat the flood of misinformation on the platform.
ON MY RADAR
Today, December 16 at 11 am ET, Generation Progress (@genprogress) is hosting a panel on the 2020 youth vote: A timely and critical discussion about what motivated youth voter turnout and how vital young people are to the future of progressive policies in the United States.
ASK ALEX
No questions this week! If you have one, you can always reply to this email.
Have a great week,
Alex
P.S. Please do forward along to your friends who are interested or encourage them to sign up here.
This newsletter is written by me, Alex Witt (@alexandriajwitt), a progressive political strategist and Dolly Parton enthusiast (she/her). I've managed social media programs for presidential candidates, political committees, progressive advocacy organizations, and more.
The positions of American Progress, and our policy experts, are independent, and the findings and conclusions presented are those of American Progress alone. A full list of supporters is available here. American Progress would like to acknowledge the many generous supporters who make our work possible.
Authors Alex Witt
Senior Director, Strategic Partnerships
Explore The Series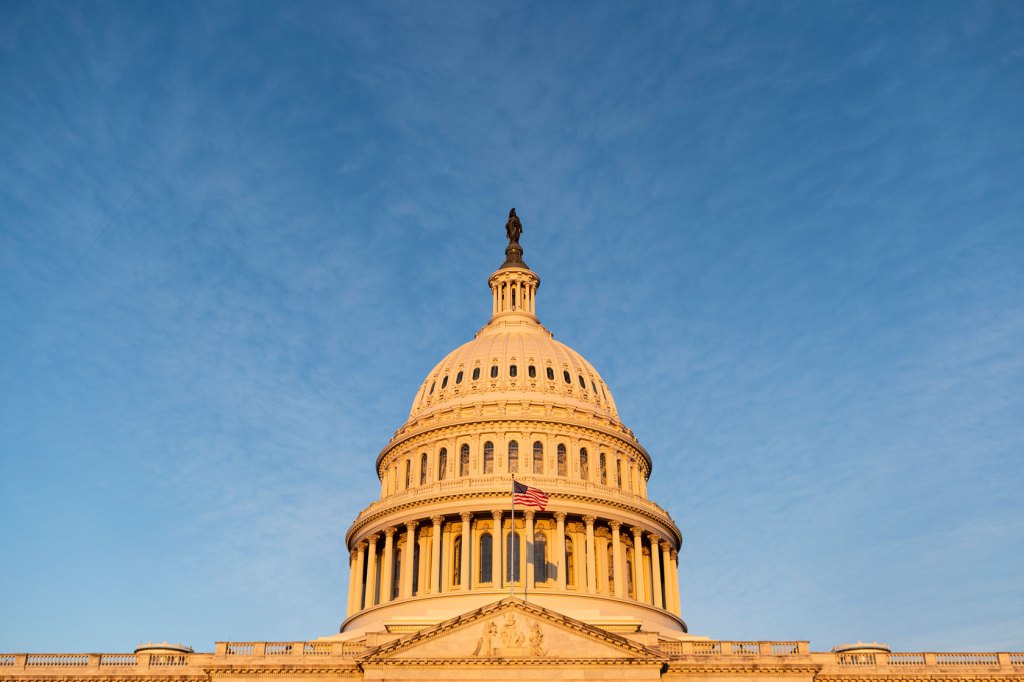 Welcome to "What's Trending?", a weekly newsletter to help progressives answer the age-old questions: What works, and what doesn't? "What's Trending?" cuts through the noise to bring you the best (and worst) of what's happening on social media in the policy space, and explains why it's important.
Previous
What's Trending? Historic firsts

What's Trending? Historic firsts
Next
What's Trending? New year, same conspiracy theories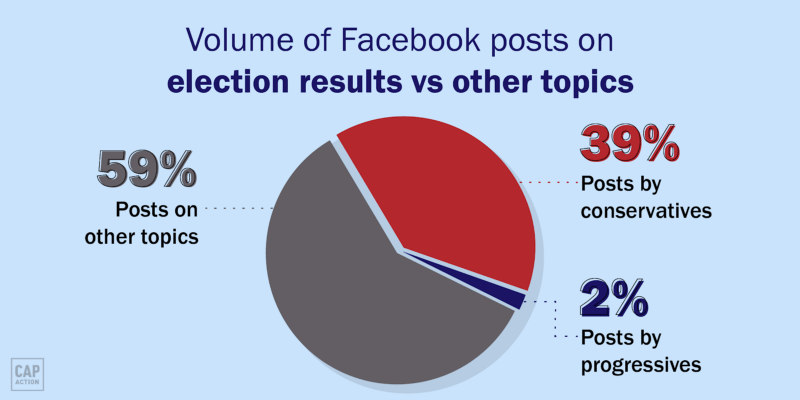 What's Trending? New year, same conspiracy theories