What's Trending? A Texas-sized step back
Part of a Series
This piece was originally published in the March 10, 2021 edition of CAP Action's weekly newsletter, What's Trending? Subscribe to What's Trending? here.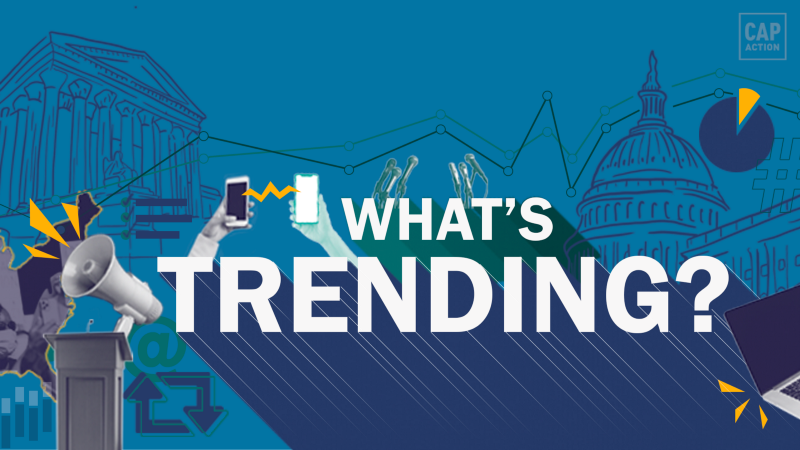 Hey, y'all.
After last week's announcement by President Biden that we will have secured enough vaccines for every American adult by the end of May, I can't help but feel more hopeful. Those wedding invitations that have been stuck to my fridge for the past year? They may be celebrated. My friends' new babies? I'll be able to snuggle them by the end of the summer. And Mom and Dad, I know you're reading this, and I promise I'll be on my way home as soon as I can!
Between this and the spring weather we're having in D.C., my ability to concentrate is pretty well shot. But now is hardly the time to slow down! Between conservative state leaders lifting mask mandates and the American Rescue Plan's imminent passage, it's been a wild week in Washington. We'll dive in below. But first, did you miss last week's edition? Don't worry — you can read it here.
WHAT'S TRENDING THIS WEEK
Biden's American Rescue Plan: The Senate officially passed the American Rescue Plan on Saturday. The $1.9 trillion relief package includes direct payments, extended unemployment benefits, an expansion of the child tax credit, rental assistance, vaccine funding, and more. The legislation remains extremely popular among all voters, but every Republican in Congress still voted against it.
For the People Act: Late Wednesday night, House Democrats passed the For the People Act — a sweeping reform package to strengthen our democracy, get big money out of politics, expand the right to vote, and protect every American's right to vote — by a 220–210 vote.
WHAT WE'RE HEARING ON SOCIAL
A Texas-sized step back: Top posts from conservative Facebook pages were primarily focused on two topics: the repeal of mask mandates by several conservative governors, and the fake "cancellation" of Dr. Seuss. Top content on progressive pages was less aligned and included a mix of the promotion of books and podcasts, evergreen photos, and posts marking historic days. A post celebrating Greg Abbott's repeal of the Texas mask mandate significantly outperformed the top post from a progressive, a post by President Obama promoting Michelle Obama's Becoming.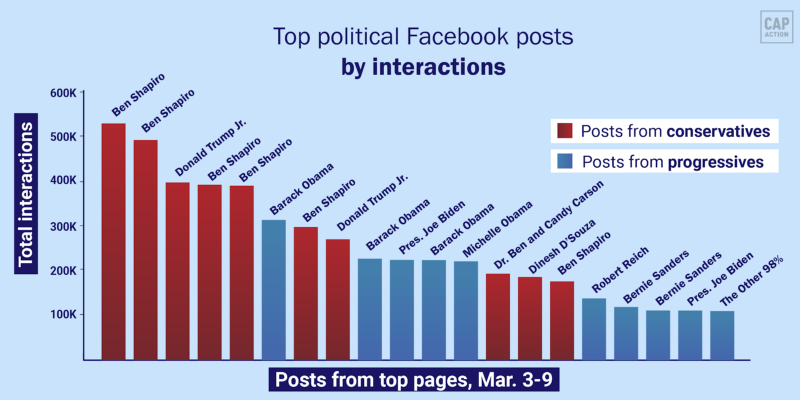 Conservatives continued to outperform progressives in top posts this week, publishing 7 of the top 10 political Facebook posts by interactions.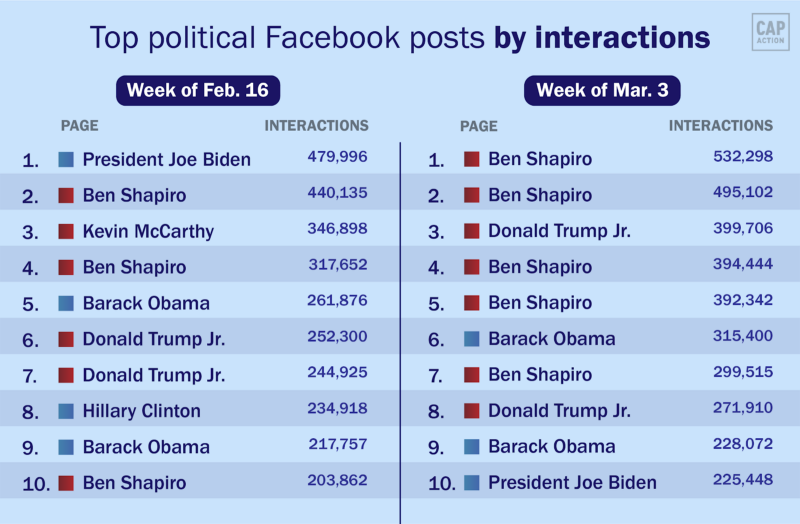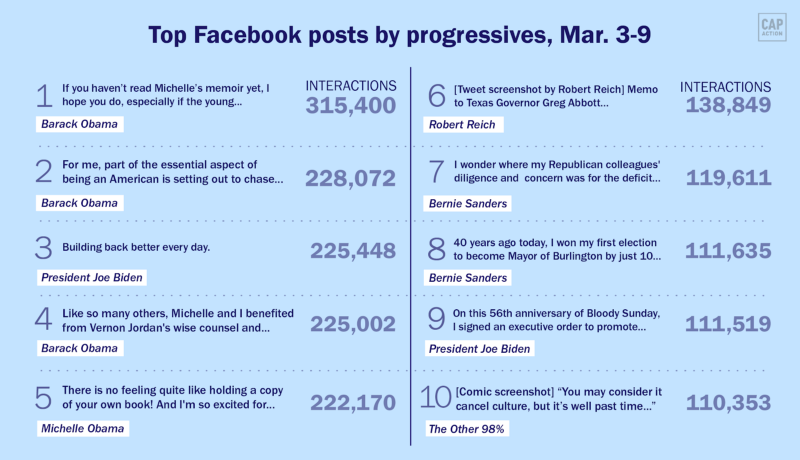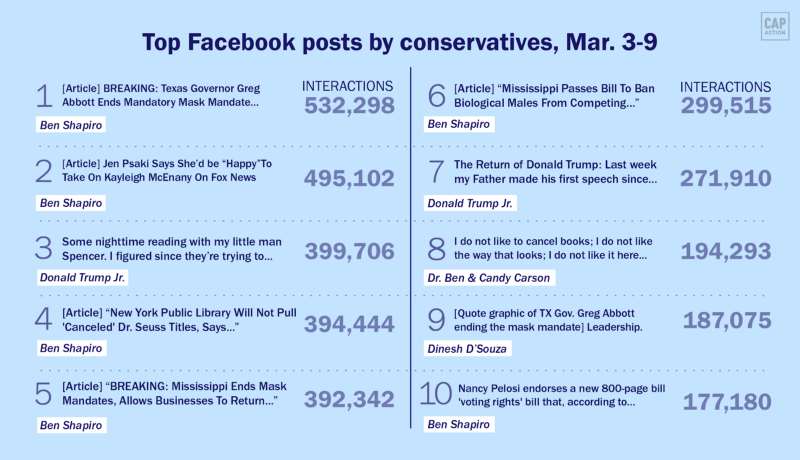 As you can see, the disparity in performance on Facebook last week was significant. The top 10 conservative posts outperformed the top 10 progressives by about 1.5 million interactions. What happens when we dial in on posts featuring policy? Let's take a look.
I isolated the data to examine the top posts from progressives about the American Rescue Plan in order to compare them to the top posts from conservatives about mask mandates, and it's clear that the mask messaging is much more popular on Facebook.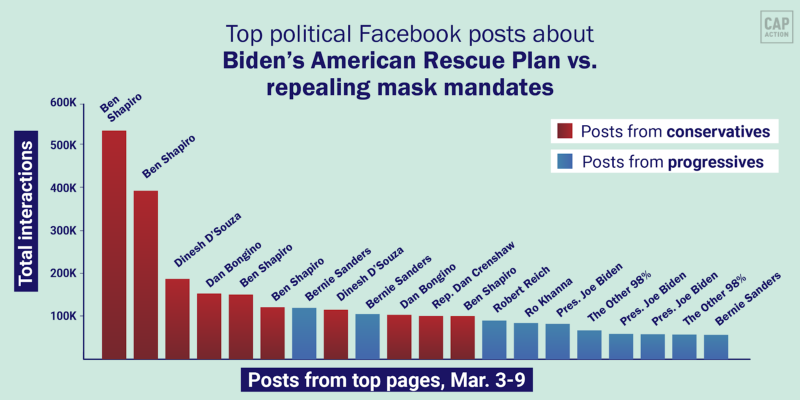 Why so concerning? The American Rescue Plan is extraordinarily popular (even among Republican voters!), yet not a single Republican in Congress voted for it. Progressive leaders will want to take credit for this major policy victory — which would be the greatest economic investment for working families since the New Deal — but conservatives are using the repeals of mask mandates as a means to demonstrate so-called "leadership" on the economic recovery.
As Dan Pfeiffer laid it out perfectly in his Monday Message Box email,
"I spent much of 2009 and 2010 banging my head against the proverbial wall because not enough people knew about how Barack Obama had helped prevent the economy from tumbling into a second Great Depression. Let's not do that again."
Take a look at his post for thoughts on how progressives can better sell the ARP, including:
Emphasizing the most popular provisions in the bill, including the $1,400 stimulus checks and $20 billion to surge vaccine distribution.
Sharing top-performing social media content, like this chart from CAP Action: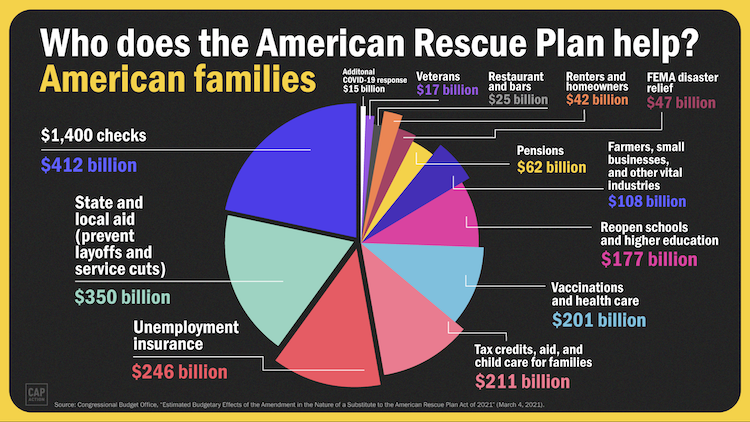 Thanks for reading,
Alex
P.S. Please do forward along to your friends who are interested or encourage them to sign up here.
This newsletter is written by me, Alex Witt (@alexandriajwitt), a progressive political strategist and Dolly Parton enthusiast (she/her). I've managed social media programs for presidential candidates, political committees, progressive advocacy organizations, and more.
The positions of American Progress, and our policy experts, are independent, and the findings and conclusions presented are those of American Progress alone. A full list of supporters is available here. American Progress would like to acknowledge the many generous supporters who make our work possible.
Authors Alex Witt
Senior Director, Strategic Partnerships
Explore The Series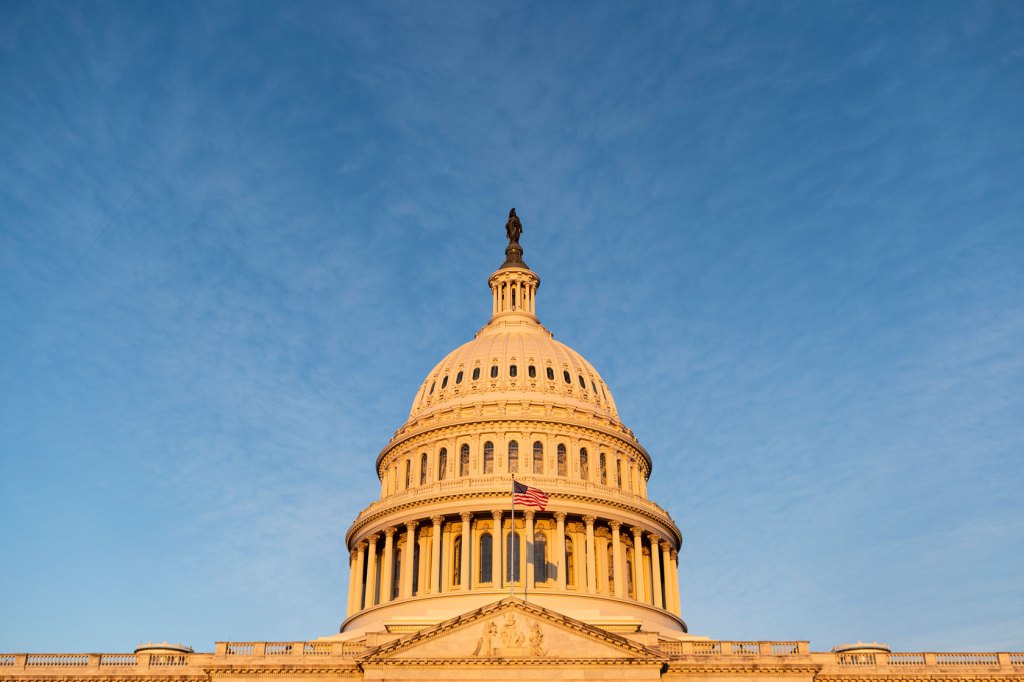 Welcome to "What's Trending?", a weekly newsletter to help progressives answer the age-old questions: What works, and what doesn't? "What's Trending?" cuts through the noise to bring you the best (and worst) of what's happening on social media in the policy space, and explains why it's important.
Previous
What's Trending? Broken Records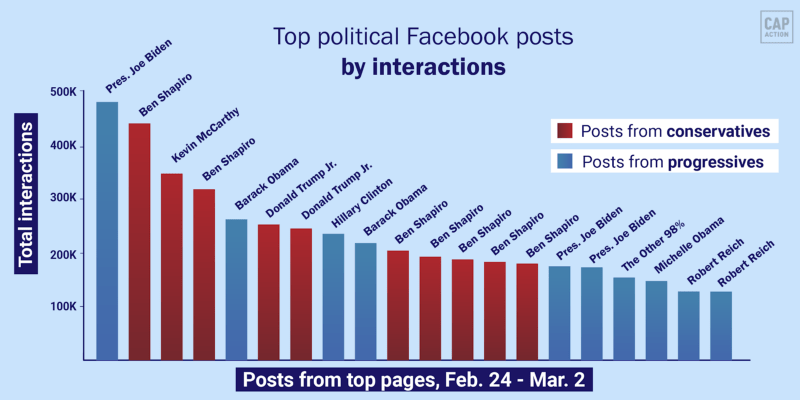 What's Trending? Broken Records
Next
What's Trending? Gimme my stimmy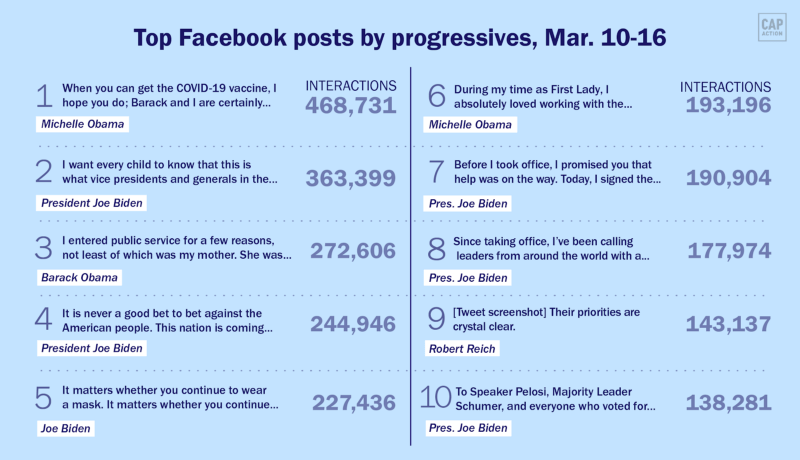 What's Trending? Gimme my stimmy