What's Trending? Agonizing and organizing
Part of a Series
Let's leave it all on the field.
This piece was originally published in the October 28, 2020 edition of CAP Action's weekly newsletter, What's Trending? Subscribe to What's Trending? here.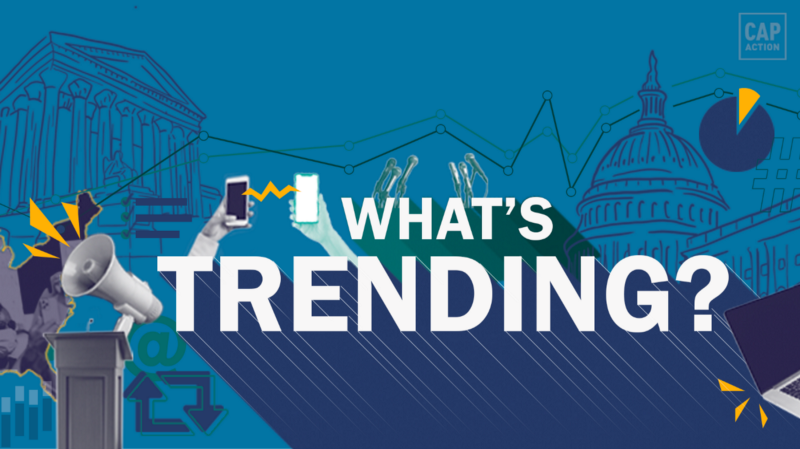 Hey, y'all.
Every night before I go to bed, I follow a routine that would make any blogger proud.
I go upstairs 30 minutes before I intend to fall asleep. I use a diffuser and something called "Serenity Oil." I read a few chapters of whatever book I have on my nightstand before turning on the Calm app to Matthew McConaughey expounding upon the wonder of the universe (IYKYK). But lately, no matter what I do to quiet my mind, I find myself staring at the ceiling, worrying.
I know I'm not alone — we have a lot to worry about, friends! So lately I've added an additional meditation to my routine, Flo Kennedy's wise words, "Don't agonize, organize."
This newsletter is part of my vocation, my organizing work. I hope you find it useful in fulfilling your own.
But first, did you miss last week's edition of What's Trending? Don't worry — you can read it here.
WHAT'S TRENDING THIS WEEK
Donald Trump sat down for an interview with 60 Minutes, until he became angry with the line of questioning and abruptly ended filming. During the interview, he again called for the Supreme Court to overturn the Affordable Care Act and promised a better replacement, despite no such plan existing.
In an unprecedented move just eight days before the conclusion of voting in this election, the Senate voted 52–48 to confirm Amy Coney Barrett to the Supreme Court late Monday evening.
WHAT WE'RE HEARING ON SOCIAL
Here are this week's top five Facebook posts on the Left and Right:





COVID cases are skyrocketing: According to data collected from Johns Hopkins University, the United States reached a record number of new coronavirus cases recorded in a single day last Friday. You may think that this would put Trump and his administration on high alert, but you would be wrong: On Monday he claimed that the rise in numbers is a "Fake News Media Conspiracy."
"Trump has convinced millions of Americans that the virus is illegitimate."
This is extremely concerning, to say the least. The president's Facebook post baselessly accusing the media of elevating the pandemic for political reasons received more than 430,000 interactions. And no matter what happens next Tuesday, Americans will still be facing a brutal pandemic that is killing hundreds of thousands of people and saddling untold numbers with long-term debilitations. Our next president — whoever he may be — must lead the country out of this tragedy. And that will mean grappling with the reality that Trump has convinced millions of Americans that the virus is illegitimate.
Pair this disinformation with Trump's in-person rallies, and you have a recipe for disaster. A new study from CAP Action Fund's sister organization, the Center for American Progress, found that half of Trump's rallies were followed by an increase in cases in the counties in which they were held. So not only is Trump spreading lies about the coronavirus, he's facilitating the spread of COVID itself.
While progressive Facebook pages publish content urging followers to believe the science and take the virus seriously, conservative posts sowing doubt about the legitimacy of the pandemic and blaming the media receive far more interactions.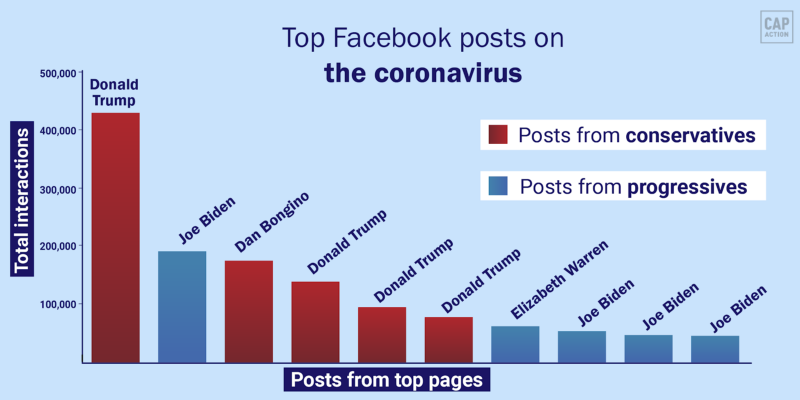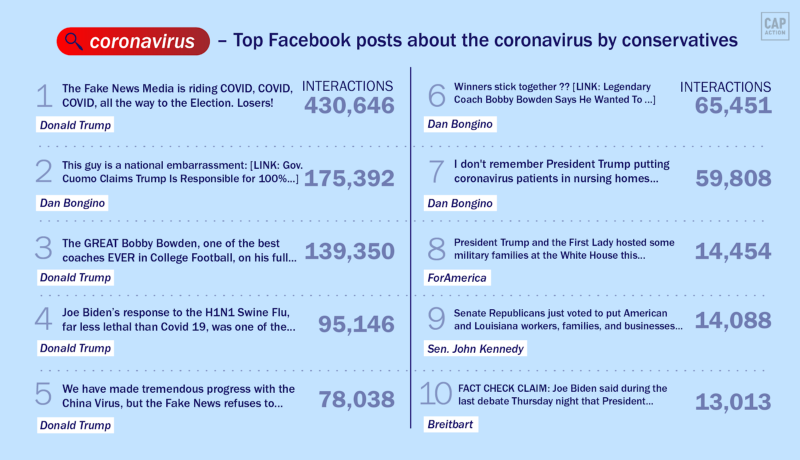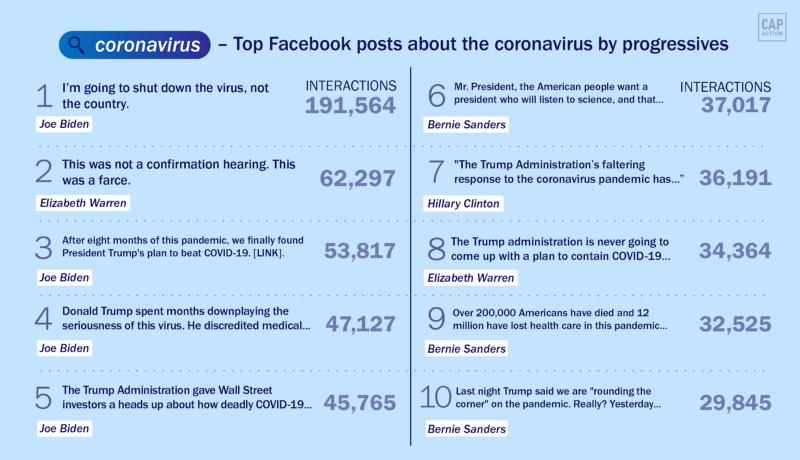 This week, instead of tips for your organization, I want to provide a few for interacting with your friends and family, on social media platforms or otherwise, who may be questioning the reality of the pandemic or perhaps just resigning themselves to it:
Ask if you can ask about it. Before beginning the conversation, it's important to establish that both parties want to engage.
Start from a neutral place. Try not to make assumptions about what the other person thinks or feels.
Start off the conversation with understanding. Learn the other person's position.
Look for where you agree. If you disagree on policy, maybe you share values or goals.
Give the other person space to respond. This is a conversation, not a reprimand.
Avoid using "but." Use "and" instead.
Use stories. They provide support for your argument.
Avoid being provocative. It will end the conversation and start an argument.
SAY IT WITH ME
As evidenced by the skyrocketing number of COVID cases in the U.S., the disinformation that we're seeing about COVID is dangerous.
Studies have shown that Trump, Republicans, and the media are the biggest amplifiers of disinformation about mail-in voting and that social media supports that proliferation.
Trump is using the same playbook to spread lies about the coronavirus.
The bottom line: Trump's lies and events are costing lives.
ON MY RADAR
The Senate Commerce Committee will hold a hearing with the CEOs of Facebook, Twitter, and Google today at 10am ET. You can stream it on the committee's website.
Join Health Care Voter tonight for the final episode of their "What's at Stake?" series — titled "America's Newest Pre-Existing Condition," live on Facebook and Twitter at 6pm ET for a discussion on the pandemic and its impact on American health care.
Sunday, November 1, marks the beginning of Native American Heritage Month.
For good measure, we're almost there! Voting for the 2020 election officially ends on Tuesday, November 3.
ASK ALEX
This week a reader writes, "You've mentioned that graphics are performing really well on Facebook right now. Which types?"
Great question! A few graphic trends I've seen on Facebook:
Screenshots of tweets continue to perform very well across pages.
Copy-heavy graphics are no longer a problem. Some of the biggest pages in progressive politics have copy covering the entire graphic.
Photos of popular politicians grab attention.
Undesigned creative performs well, whether it's intended to look like a screenshot of a chart or an illustrated graphic that would look at-home on Instagram.
Thanks so much for your questions and your time!
Let's leave it all on the field!
Alex
P.S. Please do forward along to your friends who are interested or encourage them to sign up here.
This newsletter is written by me, Alex Witt (@alexandriajwitt), a progressive political strategist and Dolly Parton enthusiast (she/her). I've managed social media programs for presidential candidates, political committees, progressive advocacy organizations, and more.
The positions of American Progress, and our policy experts, are independent, and the findings and conclusions presented are those of American Progress alone. A full list of supporters is available here. American Progress would like to acknowledge the many generous supporters who make our work possible.
Authors Alex Witt
Senior Director, Strategic Partnerships
Explore The Series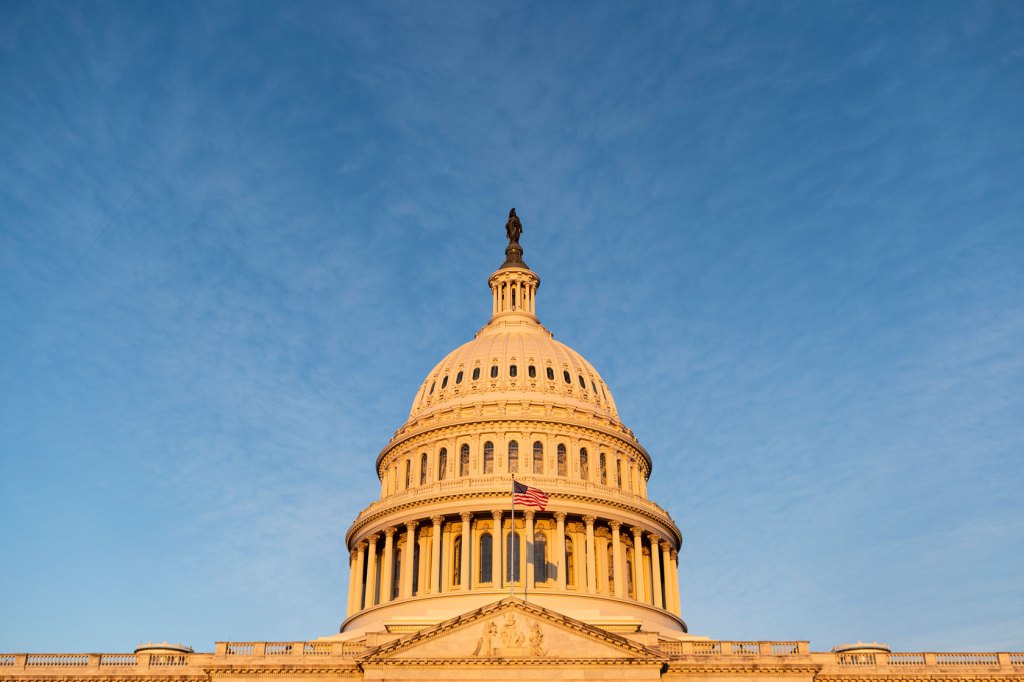 Welcome to "What's Trending?", a weekly newsletter to help progressives answer the age-old questions: What works, and what doesn't? "What's Trending?" cuts through the noise to bring you the best (and worst) of what's happening on social media in the policy space, and explains why it's important.
Previous
What's Trending? Nothing personal, strictly business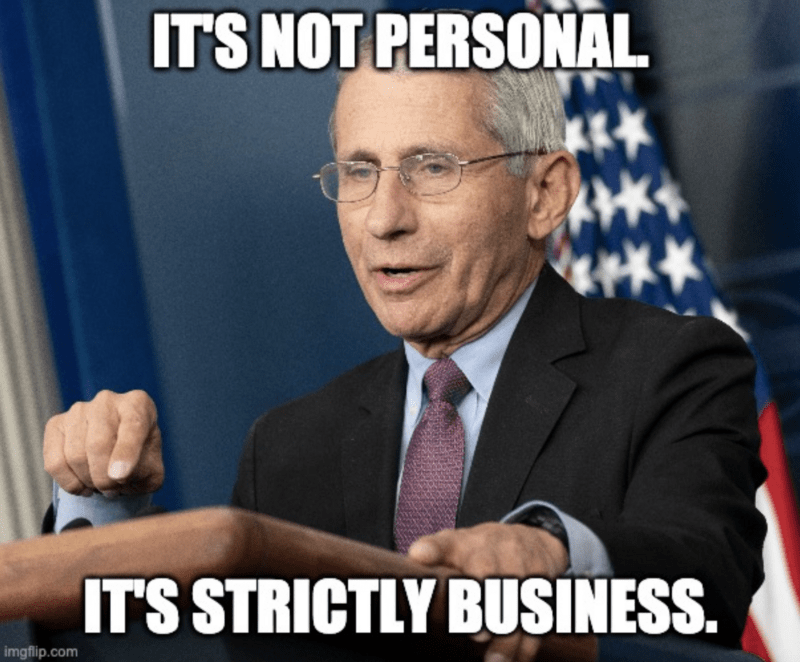 What's Trending? Nothing personal, strictly business
Next
What's Trending? Bye, Don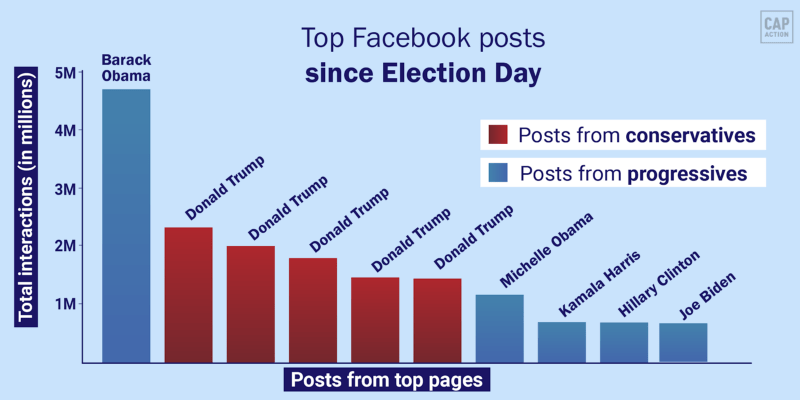 What's Trending? Bye, Don