What's Trending? American Rescue Plan and Immigration
Part of a Series
This piece was originally published in the March 24, 2021 edition of CAP Action's weekly newsletter, What's Trending? Subscribe to What's Trending? here.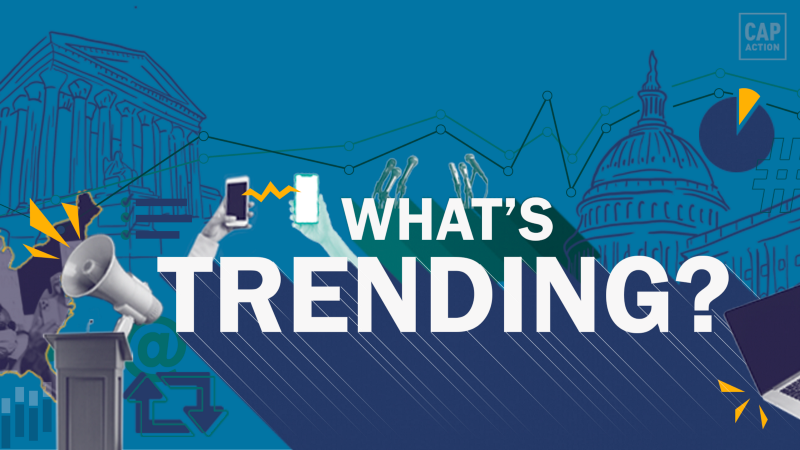 Hey, y'all.
Writing to you fresh off a little long weekend visit with my newly-vaccinated parents! After far too many months, we were able to hug and spend some quality time catching up. A highlight was introducing my dad to my favorite show of 2020, Ted Lasso. His laughs at the dad jokes were decidedly *not* ironic.
I tried to avoid looking at my phone while I was off, but not even I could miss the influx of content by conservatives talking about immigration. So this week, we'll continue our examination of the American Rescue Plan and also take a look at how conservatives are trying to change the conversation.
But first, did you miss last week's edition of What's Trending? Don't worry — you can read it here.
WHAT'S TRENDING THIS WEEK
CW, gun violence: Following a year of rising violence and hate crimes against the AAPI community, a gunman opened fire at spas across the Atlanta, Georgia, region last Tuesday killing eight people, including six Asian women. On Monday, less than a week later, another gunman killed 10 people at a grocery store in Boulder, Colorado, including the first police officer to respond to the scene.
100 million vaccinations: On Friday, we officially surpassed President Biden's goal of administering 100 million vaccine doses in 100 days, just 58 days after he took office. To date, the United States has now administered more than 127 million doses. with 25% of the American population having received at least one dose.
WHAT WE'RE HEARING ON SOCIAL
Lucky Day: Top posts from progressives last week were mostly about St. Patrick's Day and meeting the incredible vaccine milestone mentioned above. On the right, the greatest proportion of top posts were about Candace Owens' disparaging remarks about Cardi B's Grammys performance.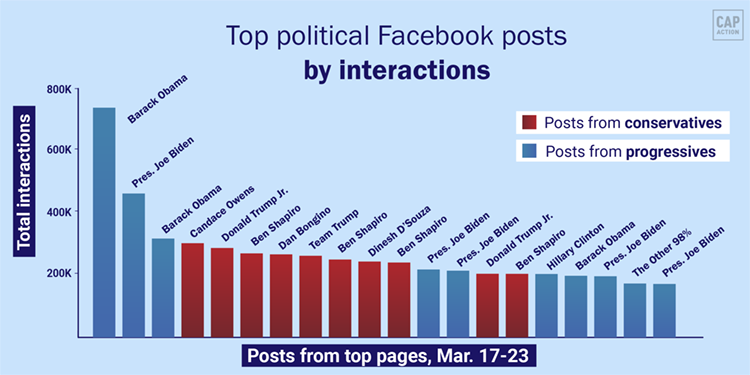 The three best-performing political Facebook posts by interactions were from progressive accounts this week, but the remaining seven composing the top 10 came from accounts on the right.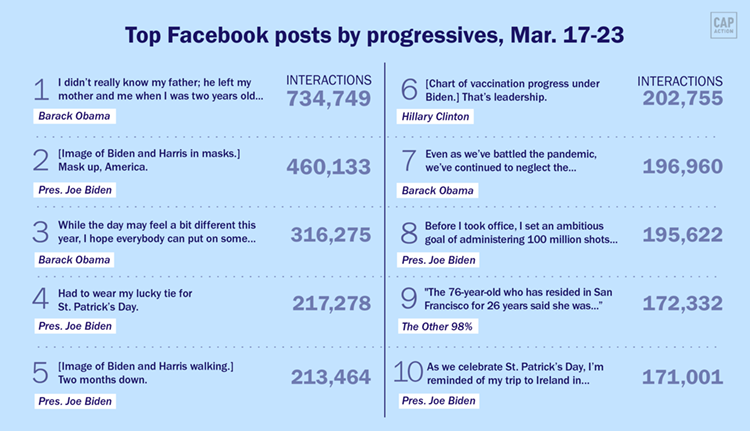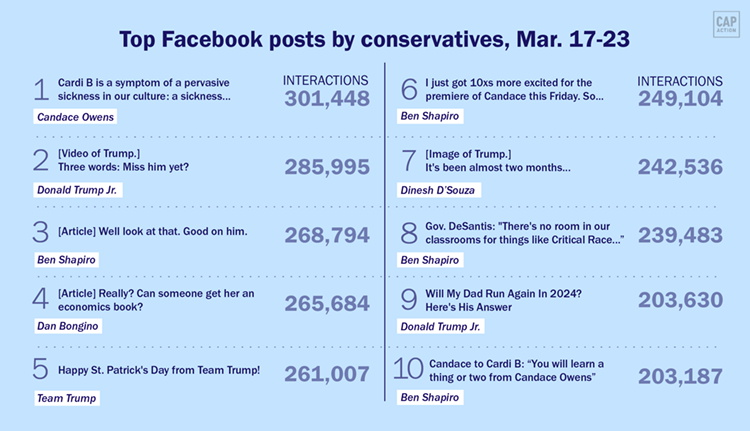 As we've looked at the performance of ARP content over the past few weeks, there have been a few trends:
Conservatives are largely avoiding talking about the ARP (because it's very popular).
But when they do post about it, they're being outperformed by progressives.
So instead, conservatives are trying to deflect by exploiting transphobia and racist dog whistles, like maligning Meghan Markle and generating fear about immigration.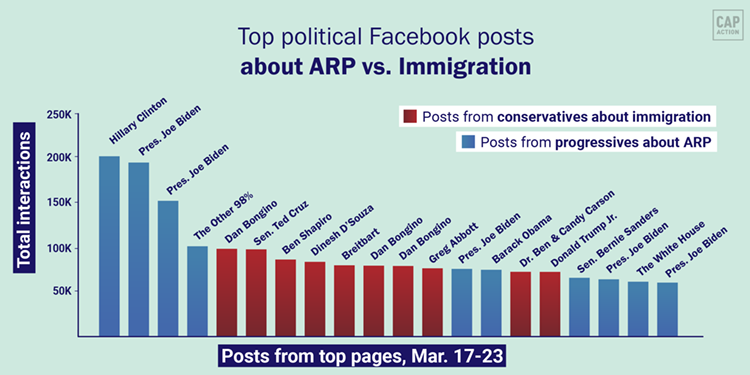 Frustratingly, it appears to be working. Until this week, these narratives had remained largely on Facebook and Fox News, but now, more reputable outlets are starting to give conservatives airtime. Heck, ABC held an entire roundtable in front of a fence in El Paso.
I want to be clear: It's not that we shouldn't be doing absolutely everything in our power to modernize our immigration system, undo the harmful policies of the Trump administration, and reunite families. Those are extremely important issues that deserve our best efforts. And that's why I find it exceedingly disingenuous that conservatives — who time and time again have blocked efforts to reform a broken system — are using it as means of deflecting attention from the impact of the American Rescue Plan. Especially when the current administration is having to do the best they can to deal with Trump's failed Migrant Protection Protocols policy.
The conventional wisdom in moments like these is to forge stubbornly forward, attempting to overpower the competition by hammering away at the narrative of your choice. In the case of progressives, that would be focusing on the ARP and ignoring the racist conservative spin on immigration. Operatives will wait until the deluge of press becomes too great to ignore.
But this misses an important point: That flood didn't start with George Stephanopoulos on Sunday morning. It began three weeks ago with a Facebook post from Ben Shapiro.
Last week I wrote, "Progressives must be able to play offense AND defense, both deriding this behavior from conservatives while keeping the focus of their content and messaging on the significant, tangible benefits of the ARP." I still believe progressives can.
Thanks for reading,
Alex
P.S. Please do forward along to your friends who are interested or encourage them to sign up here.
This newsletter is written by me, Alex Witt (@alexandriajwitt), a progressive political strategist and Dolly Parton enthusiast (she/her). I've managed social media programs for presidential candidates, political committees, progressive advocacy organizations, and more.
The positions of American Progress, and our policy experts, are independent, and the findings and conclusions presented are those of American Progress alone. A full list of supporters is available here. American Progress would like to acknowledge the many generous supporters who make our work possible.
Authors Alex Witt
Senior Director, Strategic Partnerships
Explore The Series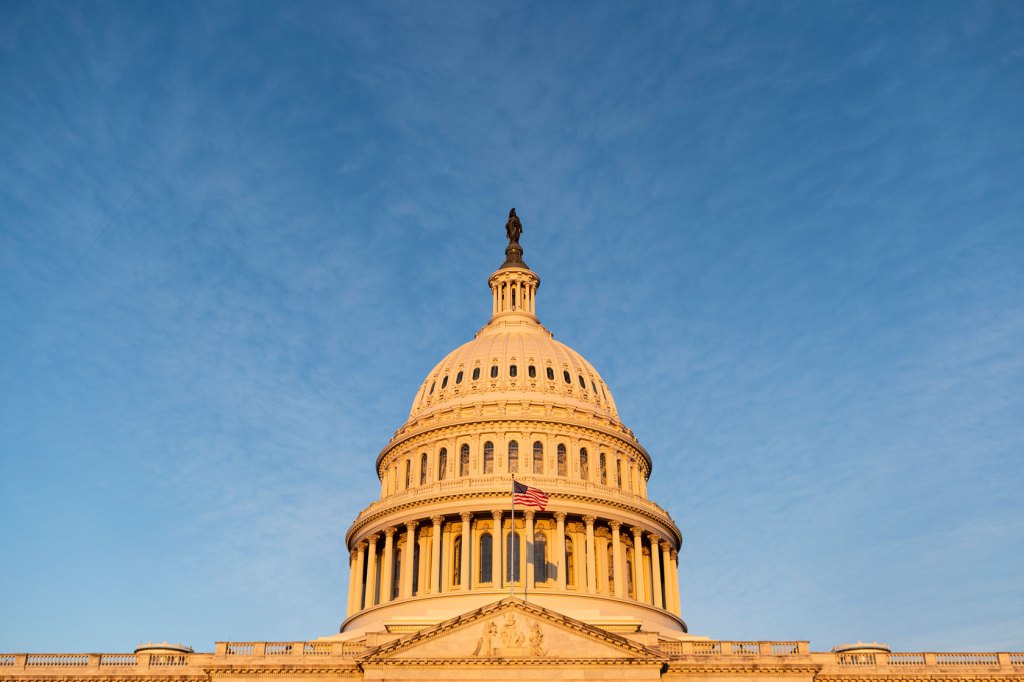 Welcome to "What's Trending?", a weekly newsletter to help progressives answer the age-old questions: What works, and what doesn't? "What's Trending?" cuts through the noise to bring you the best (and worst) of what's happening on social media in the policy space, and explains why it's important.
Previous
What's Trending? Gimme my stimmy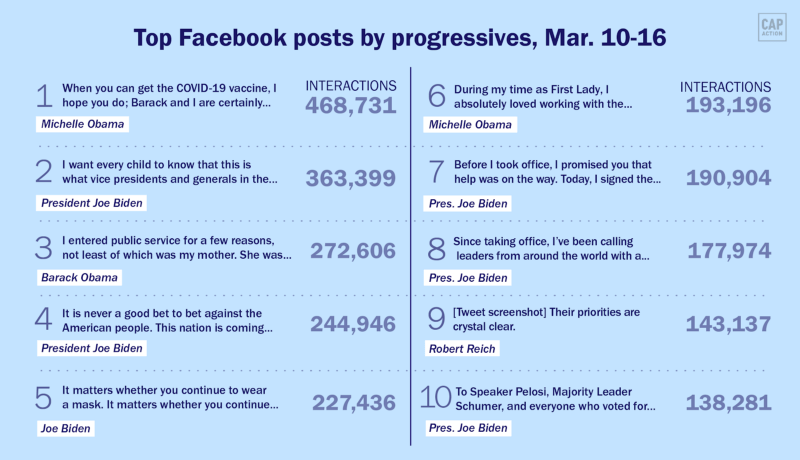 What's Trending? Gimme my stimmy
Next
What's Trending? The right approach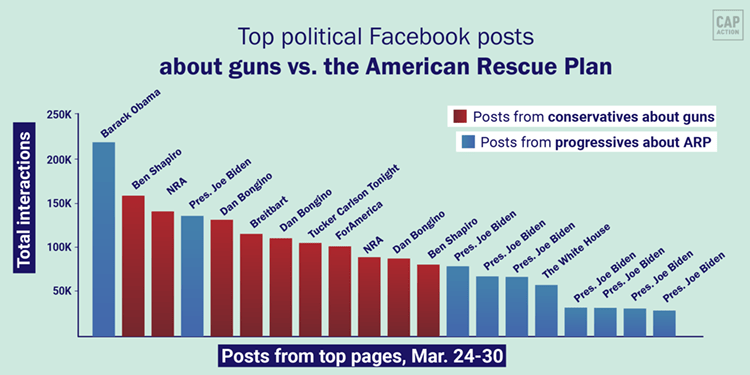 What's Trending? The right approach