What's Trending? Dogs and Babies
Part of a Series
This piece was originally published in the September 10, 2021 edition of CAP Action's weekly newsletter, What's Trending? Subscribe to What's Trending? here.

Hey, y'all.
It's been a heckuva news week. In this edition, we'll review the Facebook landscape and examine which issues are breaking through — and which aren't.
But first! Did you miss our latest edition of What's Trending? You can read it here.
WHAT'S TRENDING THIS WEEK
Abortion: After the Supreme Court declined to block the legislation, SB 8 — the most restrictive, anti-abortion law in the country — took effect in Texas. The legislation outlaws abortions after six weeks of pregnancy, before most people know they are pregnant, and rewards reporting people who assist others in obtaining abortion care with a bounty.
Climate crisis: On the 16th anniversary of Hurricane Katrina making landfall in New Orleans, Hurricane Ida made landfall as a category 4 storm along the Louisiana coast. After causing devastating damage in the South, the storm traveled up the United States, battering the Northeast with tornadoes and record rain and flooding.
Tax evasion: A new report from the Treasury Department found that the wealthiest 1% of Americans evade paying up to $163 billion in taxes each year. President Biden's plan to narrow the tax gap will give the tools to the IRS to better enforce the law and help ensure corporations and the wealthy pay their fair share in turn generating a total of $3.6 trillion over ten years. Read more from our sister organization, the Center for American Progress.
WHAT WE'RE HEARING ON SOCIAL
Both progressives and conservatives earned five of the top 10 Facebook posts of the week. Pete Buttigieg led the way — his photo post announcing the birth of his new twins earned nearly two times the interactions of the second best-performing post (a statement post from President Biden about the economy).
Top posts from conservatives included a selfie video from Candace Owens decrying commonsense public health precautions, a post from Dana Perino about the death of her pet, and a video from a school board meeting posted by Dan Bongino.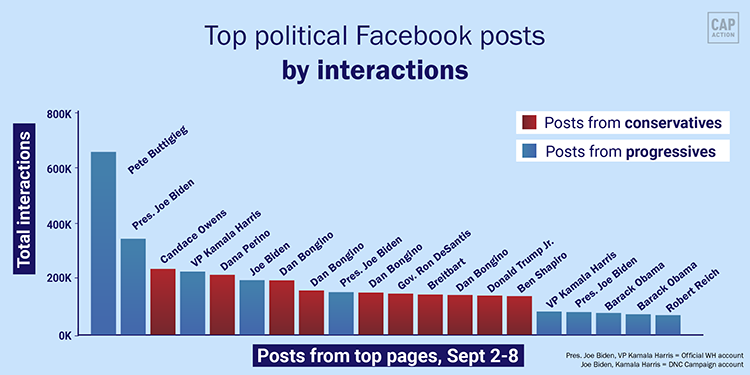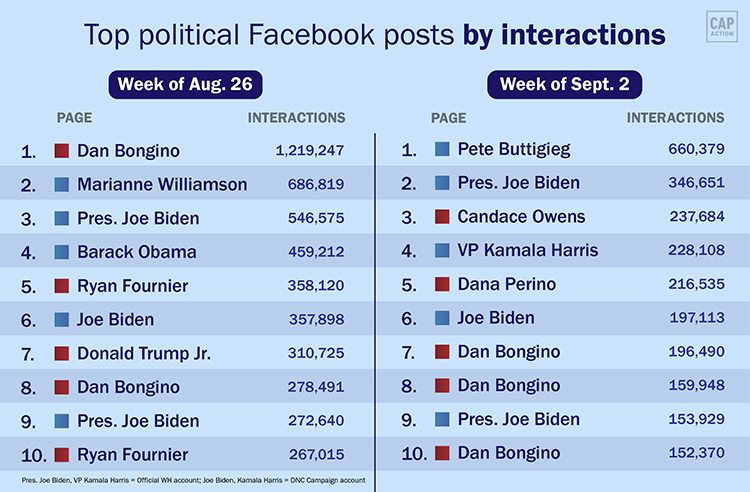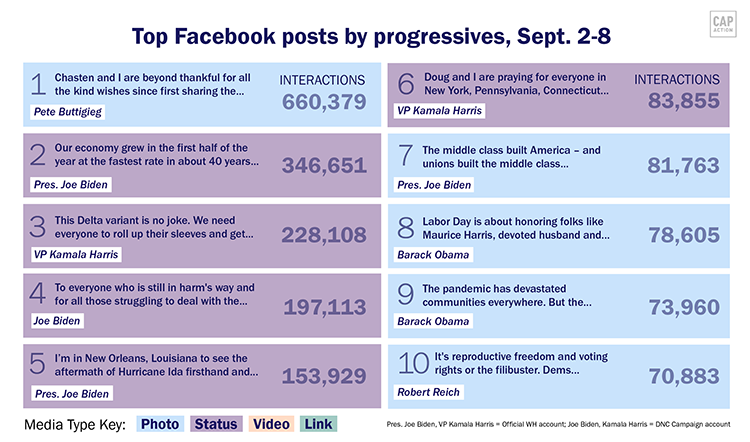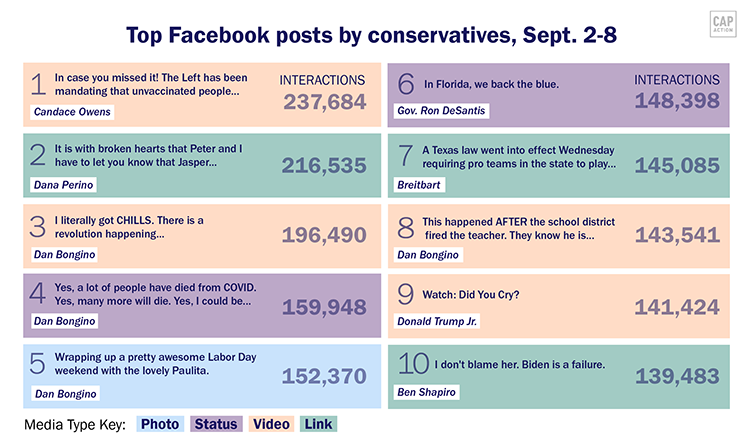 DEEP DIVE
Looking at topic-specific trends over the last two weeks, the most noticeable feature is that the volume of conversation on Facebook about Afghanistan dropped considerably after the U.S. military withdrawal on August 31, following the ISIS-K attack on August 26. Even at that lower volume, however, posts mentioning Afghanistan still totaled over 1 million daily interactions on Facebook over the past week — second only to the coronavirus pandemic — with that engagement driven largely by conservative pages like Franklin Graham and Breitbart.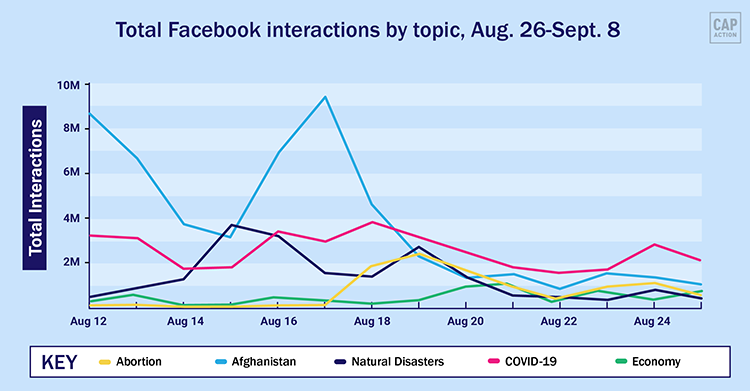 Compare that to two other stories that have broken in the past two weeks and major implications on the lives of millions: Texas' newly-upheld ban on abortion and the flooding inflicted by Hurricane Ida in the Northeast. Both directly relate to priorities that progressives are actively fighting for and have been warning about for years — yet neither has generated the sort of volume on Facebook that we've seen with other breakthrough stories in recent months.
Top-performing messages on abortion came from NPR and Occupy Democrats, while President Biden's visit to New Orleans was the top post on natural disasters. But conservatives continue to have an edge on Facebook when it comes to consistently generating high-engagement posts, and continue to be more effective at using their social media megaphones to push the narratives that matter to them.
ON MY RADAR
Join Americans for Tax Fairness on Tuesday, September 14 at 5:30 pm EST for a national mobilization call, featuring Sen. Elizabeth Warren and Rep. Pramila Jayapal, on the urgent need to tax the wealthy to build back better. Register here!
Thanks for reading,
Alex
P.S. Please do forward along to your friends who are interested or encourage them to sign up here.
This newsletter is written by me, Alex Witt (@alexandriajwitt), a progressive political staffer and Dolly Parton enthusiast (she/her), and CAP Action's fantastic team of designers, data analysts, and email strategists.
The positions of American Progress, and our policy experts, are independent, and the findings and conclusions presented are those of American Progress alone. A full list of supporters is available here. American Progress would like to acknowledge the many generous supporters who make our work possible.
Authors Alex Witt
Senior Director, Strategic Partnerships
Explore The Series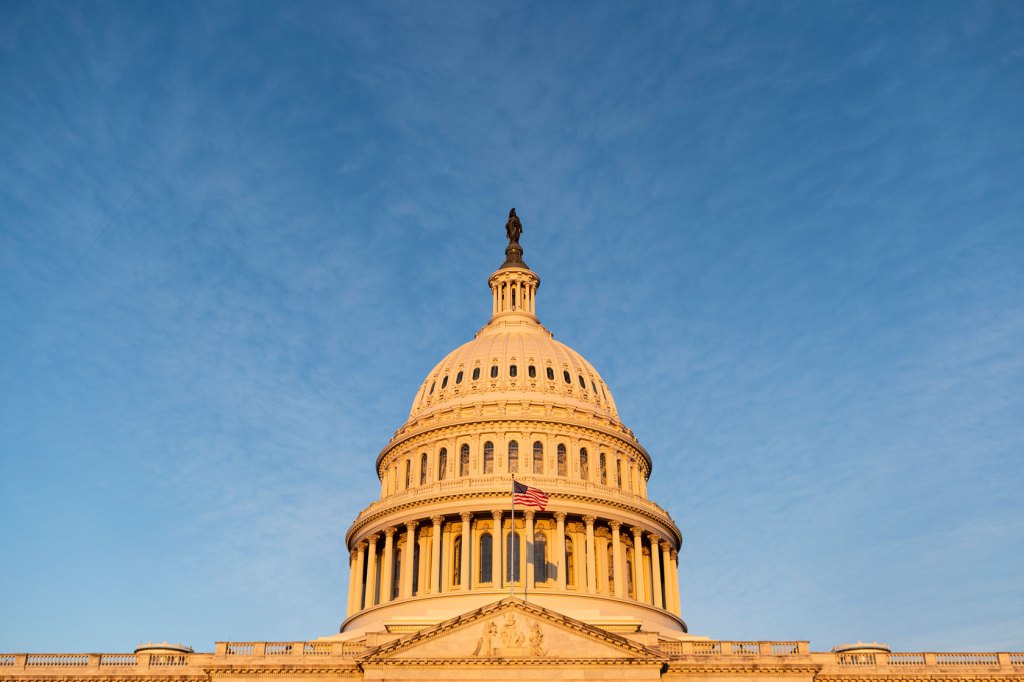 Welcome to "What's Trending?", a weekly newsletter to help progressives answer the age-old questions: What works, and what doesn't? "What's Trending?" cuts through the noise to bring you the best (and worst) of what's happening on social media in the policy space, and explains why it's important.
Previous
What's Trending? Public Attention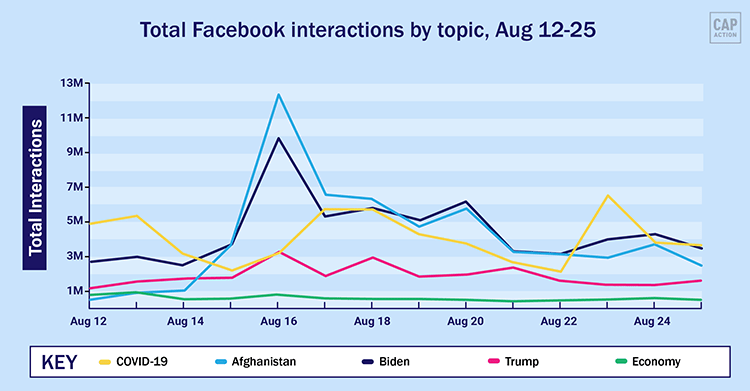 What's Trending? Public Attention
Next
What's Trending? The AOC Bump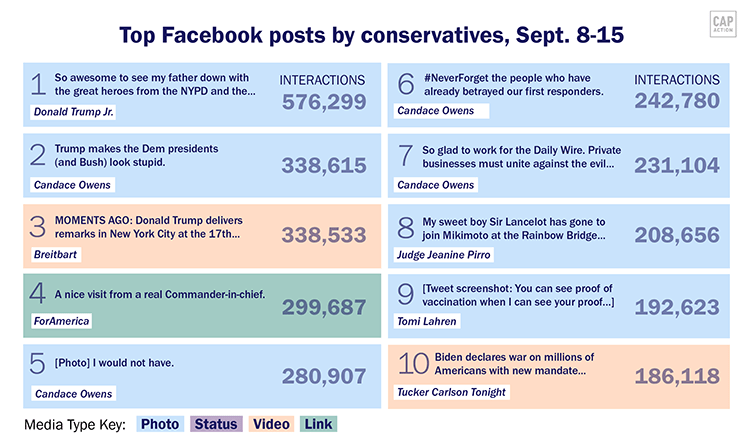 What's Trending? The AOC Bump