What's Trending? Engagement vs Volume
Part of a Series
This piece was originally published in the September 24, 2021 edition of CAP Action's weekly newsletter, What's Trending? Subscribe to What's Trending? here.

Hey, y'all.
Do you know the difference between engagement rate and interactions? If not, you likely aren't alone. Read on to learn about how different aspects of President Biden's agenda are being discussed on Facebook and what that means for how we message them.
But first: Did you miss our latest edition of What's Trending? You can read it here.
WHAT'S TRENDING THIS WEEK
Legislative negotiations: The House passed a bill to avoid a government shutdown and economic default, but Republican leaders in the Senate are united in opposition to the legislation. Meanwhile, negotiations around the Bipartisan Infrastructure Bill and the Build Back Better Act are ongoing, with President Biden meeting with stakeholders to ensure they see key components of his agenda through.
Climate crisis: As part of President Biden's ongoing efforts to reduce our greenhouse gas emissions by 50%, the Environmental Protection Agency has finalized a rule to reduce the use of hydrofluorocarbons, or HFCs, by 85% over the next 15 years — one of the most consequential climate actions taken by the federal government in years.
WHAT WE'RE HEARING ON SOCIAL
Six of the top 10 Facebook posts from the past week came from conservatives. Arnold Schwarzenegger led the pack with family photos celebrating his son's birthday. Unfortunately, other top conservative posts were less innocuous: Candance Owens published a text-only post comparing Trump and President Biden and Breitbart and For America published anti-immigrant photo posts and articles.
A post celebrating a company's $70,000 minimum wage from the Other 98% came in third overall and was the best-performing progressive post. Other top progressive posts included a photo from President Biden about the UN General Assembly, a screenshot from the Other 98% urging more attention in the disappearance of Daniel Robinson, and a statement post from President Biden about his tax plan.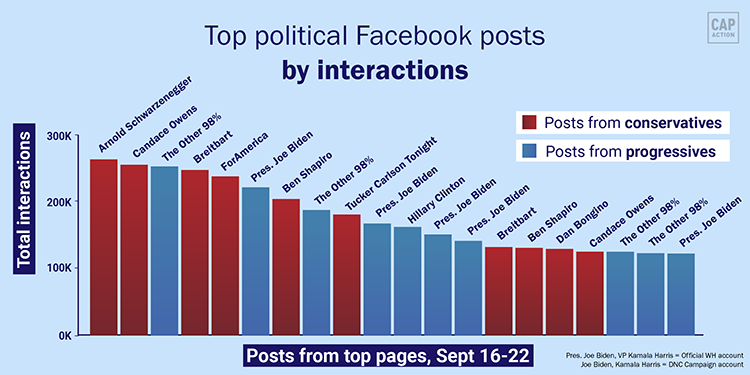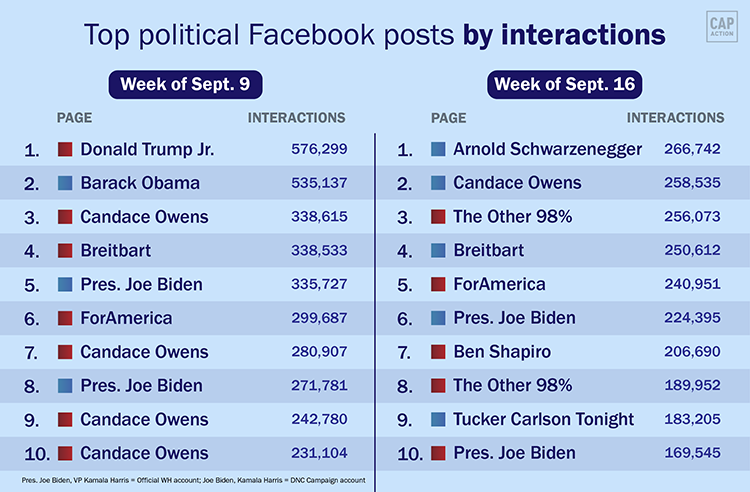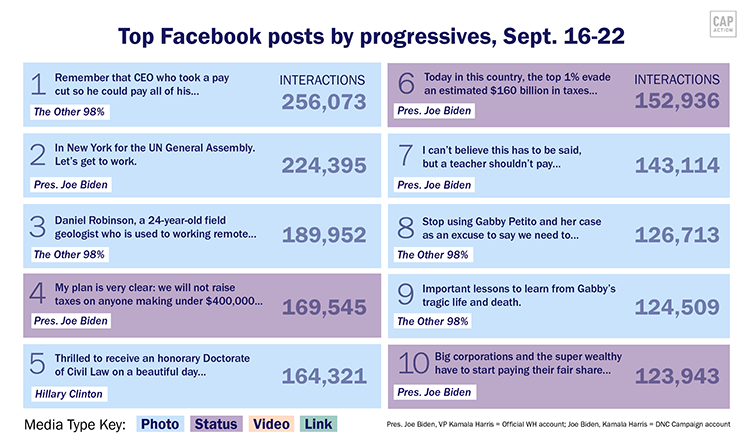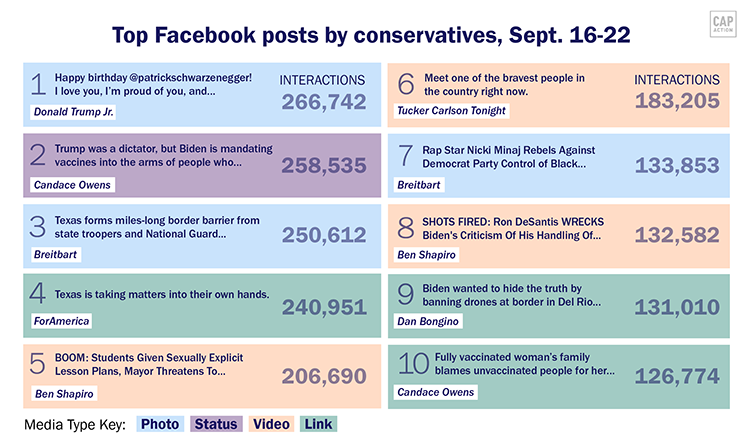 DEEP DIVE
This week we examined how different aspects of President Biden's agenda are talked about on Facebook. For starters, the two most dominant topics continue to be the coronavirus pandemic and President Biden himself, with each generating well over two million interactions a day — many of those driven by top conservative pages that wish to demonize the president and stoke resentment around vaccines. The volume of that conversation has dropped significantly since the highs of September 9, when the administration's new vaccine mandates became the center of discussion in the media and online.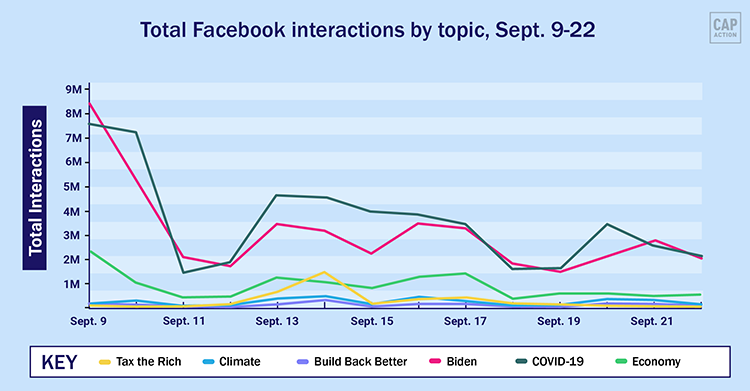 But looking at some of the less widespread aspects of the Biden agenda, we can still pick out some trends. The interplay between the volume of the conversation (how many posts there are on a topic) and the intensity of it (how many engagements those posts get on average) can tell us a lot about which messengers are leaning into it.
The economy, for example, is a topic that is high-volume and medium-engagement — it was the third-most interacted topic of the last two weeks, with 350 average engagements on a whopping 36,000 posts. Makes sense, given the broad appeal.
By contrast, "Build Back Better" and "Tax the Rich" have a fraction of the number of posts, but much higher average engagement, which reflects the powerful platforms of the pages pushing those issues, like Biden, Rep. Alexandria Ocasio-Cortez, and Robert Reich.
The downer? Climate continues to lag behind, and it's not for a lack of volume. There were 13,000 posts in the last two weeks that referenced climate keywords — five times as many posts as referenced income inequality or taxing the rich. But the engagement rate is the lowest of our panel. That speaks to both the need to get our most compelling messengers to keep climate front and center for their audiences, as well as the need to create major news moments that break through to an inattentive public and seize the imagination — especially as the Build Back Better agenda is debated over the coming weeks.
Thanks for reading,
Alex
P.S. Please do forward along to your friends who are interested or encourage them to sign up here.
This newsletter is written by me, Alex Witt (@alexandriajwitt), a progressive political staffer and Dolly Parton enthusiast (she/her), and CAP Action's fantastic team of designers, data analysts, and email strategists.
The positions of American Progress, and our policy experts, are independent, and the findings and conclusions presented are those of American Progress alone. A full list of supporters is available here. American Progress would like to acknowledge the many generous supporters who make our work possible.
Authors Alex Witt
Senior Director, Strategic Partnerships
Explore The Series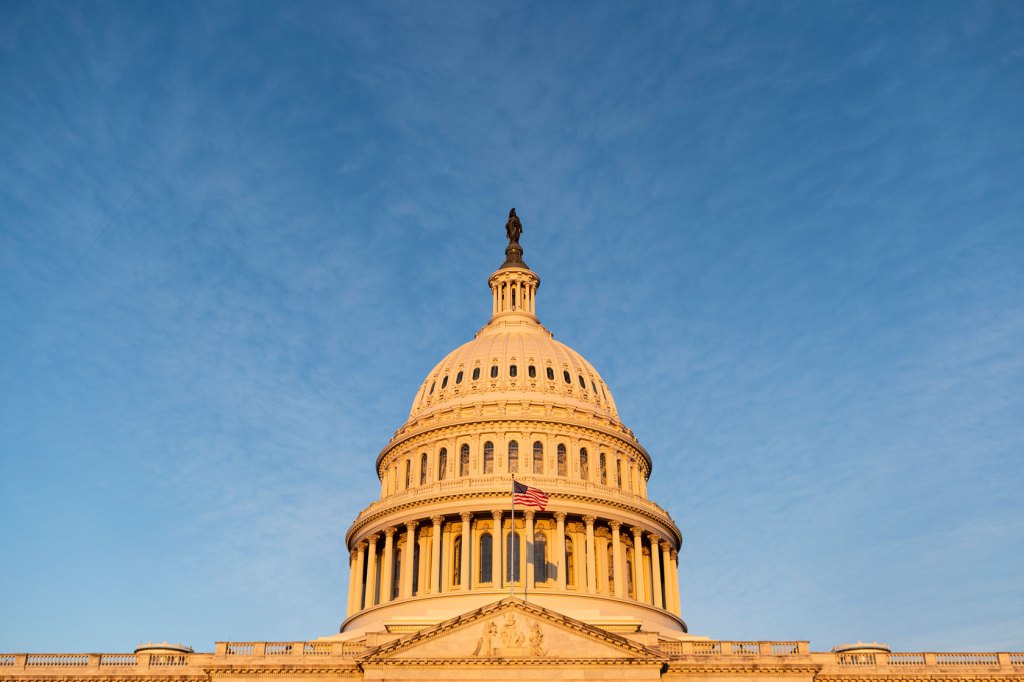 Welcome to "What's Trending?", a weekly newsletter to help progressives answer the age-old questions: What works, and what doesn't? "What's Trending?" cuts through the noise to bring you the best (and worst) of what's happening on social media in the policy space, and explains why it's important.
Previous
What's Trending? The AOC Bump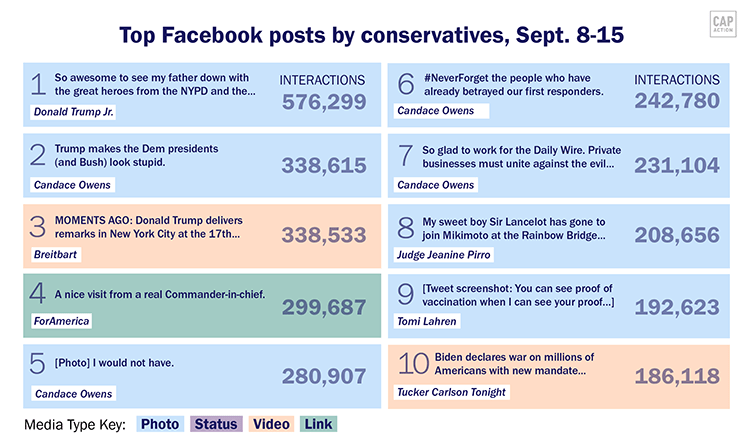 What's Trending? The AOC Bump
Next
What's Trending? The internet's favorite ex-president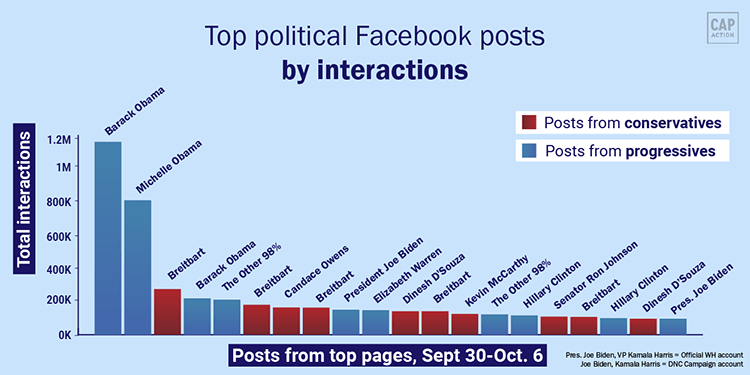 What's Trending? The internet's favorite ex-president