What's Trending? Facebook is healing (sort of)
Part of a Series
This piece was originally published in the February 3, 2021 edition of CAP Action's weekly newsletter, What's Trending? Subscribe to What's Trending? here.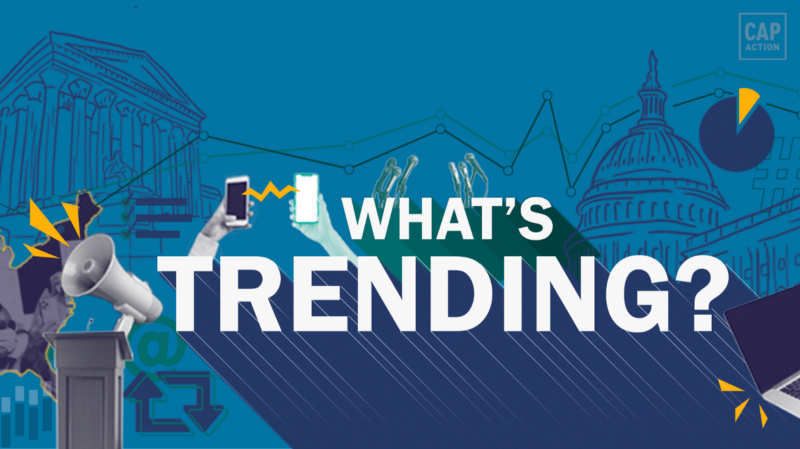 Hey, y'all.
As I write this, big, fat snowflakes are falling outside my window, and political Twitter is in a frenzy over an annoying D*ily Be*st story alleging that White House press staffers are — gasp — preparing for press conferences.
Nature is healing.
In this week's newsletter, we examine the ongoing conversation around President Biden's executive orders. But first, did you miss last week's edition? Don't worry — you can read it here.
WHAT'S TRENDING THIS WEEK
WHAT WE'RE HEARING ON SOCIAL
Two weeks into the Biden presidency, the power of the bully pulpit — and the absence of Donald Trump — is clear. This chart is enough to make any social media-savvy progressive operative weep with joy.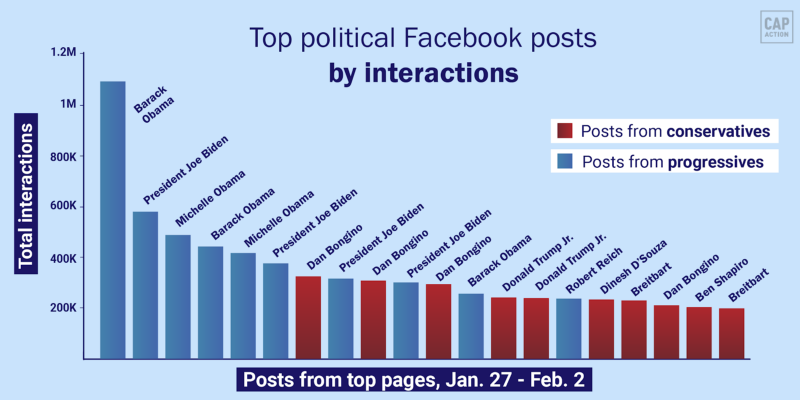 Comparing this data to that from the previous week, we continue to see an increase in the number of posts from progressives in the top 10. While we did see a decrease in the number of interactions per post, that is only to be expected following an event like the inauguration.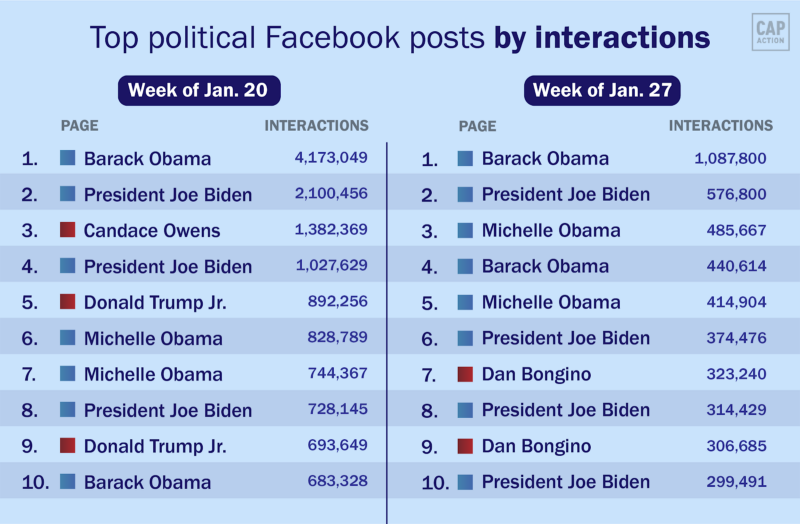 Many of the top posts from progressives last week commemorated the life of Cicely Tyson. Several others were "evergreen posts," or posts that are broadly relevant and not tied to a particular issue or event. One post from President Biden about his executive orders did make the top 10.
Top posts from conservatives varied: Engagement traps asking whether the audience missed key Trump administration officials, Trump's formation of a new office, and the usual railing against a historic second Trump impeachment.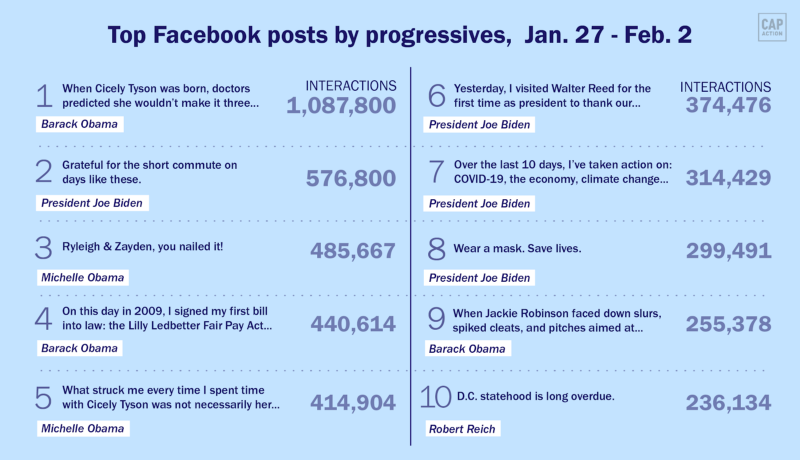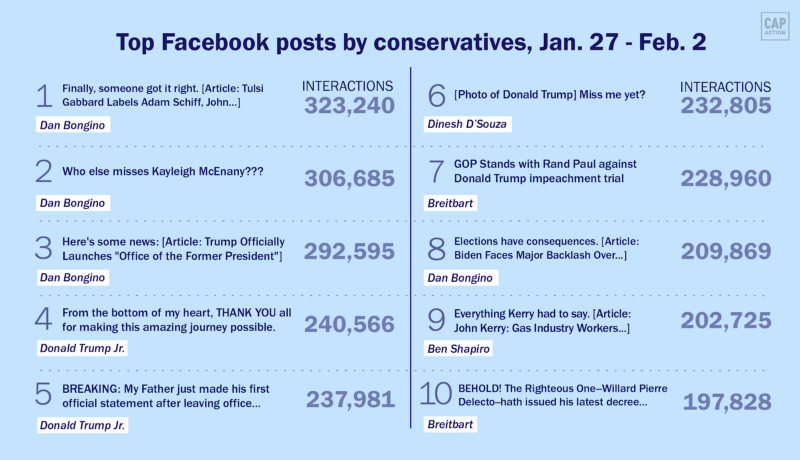 When we isolate data to evaluate content about President Biden's executive actions, however, the results become more concerning as conservative posts are performing better than average.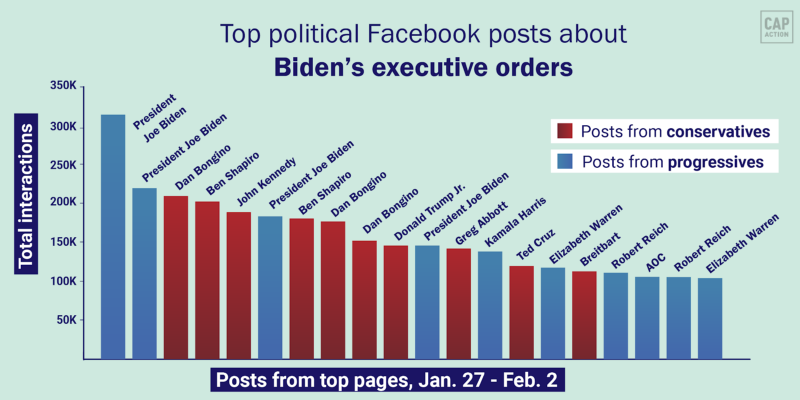 As you can see in the charts below, the Keystone Pipeline continues to be a useful tool for conservatives to make false, emotional arguments that halting the pipeline would cost jobs. It is essential that progressives do more to refute these claims by employing social best practices that: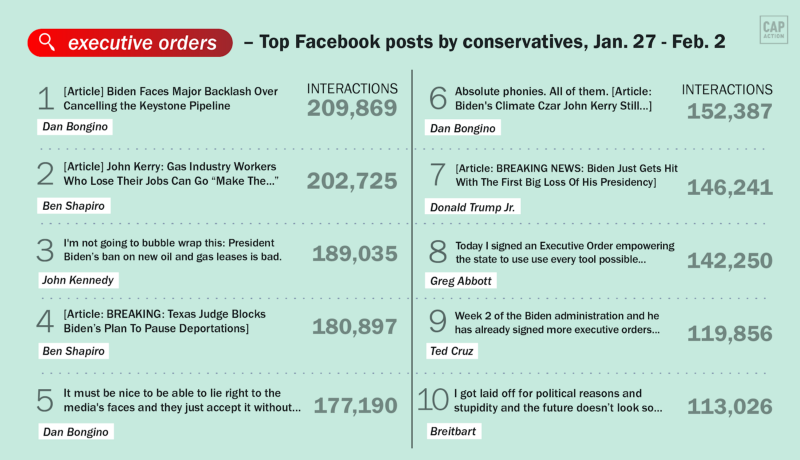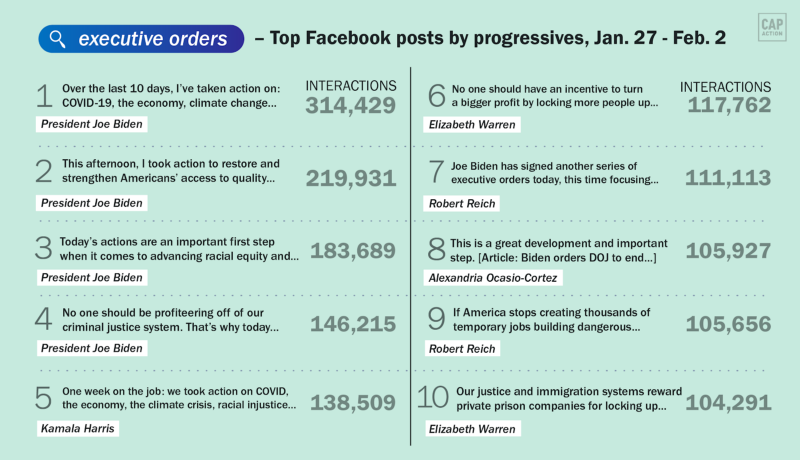 When communicating on these executive orders (climate and otherwise!), here are a few helpful strategies:
ON MY RADAR
ASK ALEX
This week a reader writes, "I've noticed a lot of angry reactions and comments on the White House Facebook page. Are those engagements still 'good'?"
Great question! While the Facebook algorithm remains largely a black box, we do know a few things.
Today, the Facebook algorithm is based primarily on three things:
Who you usually interact with on the platform,
Whether the post in question is popular, and
The type of media in the post.
So from a strictly performance standpoint, more engagements (especially shares and comments) = higher reach = better performance. And it's worth noting that many times, people use "angry" or "sad" reactions not to express their dislike of a page, but rather to express their emotion on a post. For example, responding with an angry reaction to a story about family separation on a progressive page.
From a brand management perspective, negative comments can certainly be concerning, but as politics is so polarized, especially nationally, we accept them as more acceptable than we would for consumer brands or other organizations. That said, I would argue that one of the things we need to invest more in as progressive social media operatives is proactive community management.
Have a great week,
Alex
P.S. Please do forward along to your friends who are interested or encourage them to sign up here.
This newsletter is written by me, Alex Witt (@alexandriajwitt), a progressive political strategist and Dolly Parton enthusiast (she/her). I've managed social media programs for presidential candidates, political committees, progressive advocacy organizations, and more.
The positions of American Progress, and our policy experts, are independent, and the findings and conclusions presented are those of American Progress alone. A full list of supporters is available here. American Progress would like to acknowledge the many generous supporters who make our work possible.
Authors Alex Witt
Senior Director, Strategic Partnerships
Explore The Series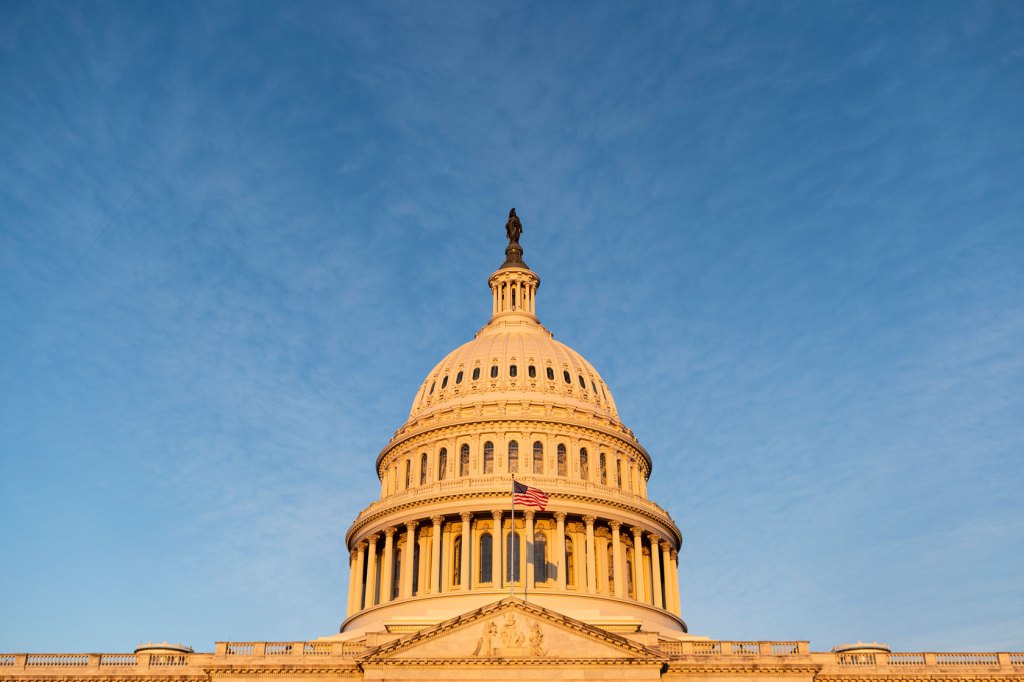 Welcome to "What's Trending?", a weekly newsletter to help progressives answer the age-old questions: What works, and what doesn't? "What's Trending?" cuts through the noise to bring you the best (and worst) of what's happening on social media in the policy space, and explains why it's important.
Previous
What's Trending? A new normal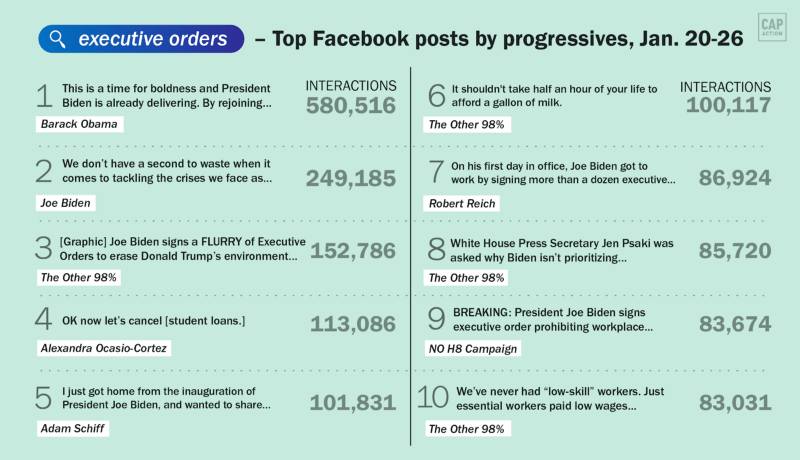 What's Trending? A new normal
Next
What's Trending? The American Rescue Plan is, like, really popular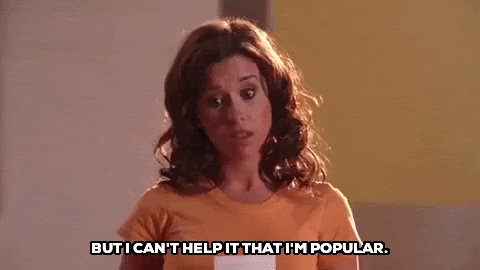 What's Trending? The American Rescue Plan is, like, really popular