What's Trending? Impeachment and…not impeachment
Part of a Series
This piece was originally published in the February 17, 2021 edition of CAP Action's weekly newsletter, What's Trending? Subscribe to What's Trending? here.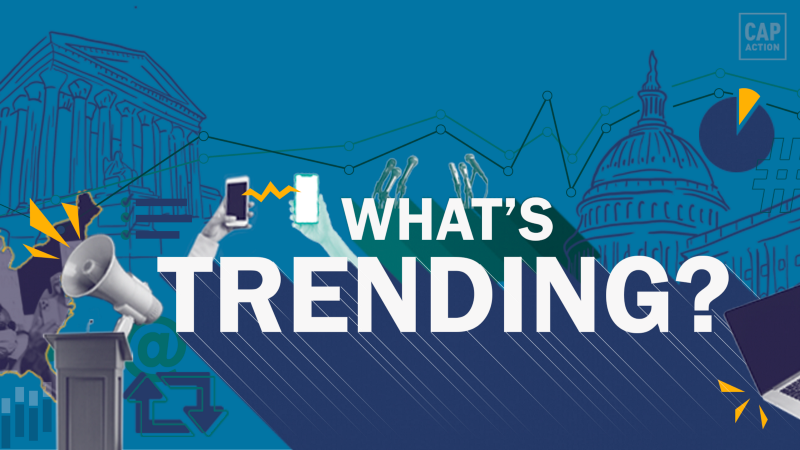 Hey, y'all.
I hope you're warm and safe and that you had as nice a long weekend as possible given the circumstances. I watched a lot of C-SPAN and did a snowy hike with some friends.
Last week, the Senate voted to acquit Trump of charges of inciting an insurrection and impeding the peaceful transfer of power in an historic second impeachment. We'll dive in below. But first, did you miss last week's edition? Don't worry — you can read it here.
WHAT'S TRENDING THIS WEEK
WHAT WE'RE HEARING ON SOCIAL
A one-sided love affair: Conservatives spent the week discrediting Trump's second impeachment, while progressives celebrated Valentine's Day and mostly ignored the proceedings. A post by Barack Obama, which included a photo of the entire Obama family, received more than twice the number of interactions as the next best-performing post, which was Mitt Romney's post announcing his intention to vote to convict Trump. But before you get too excited, remember — interactions don't always indicate support for a position.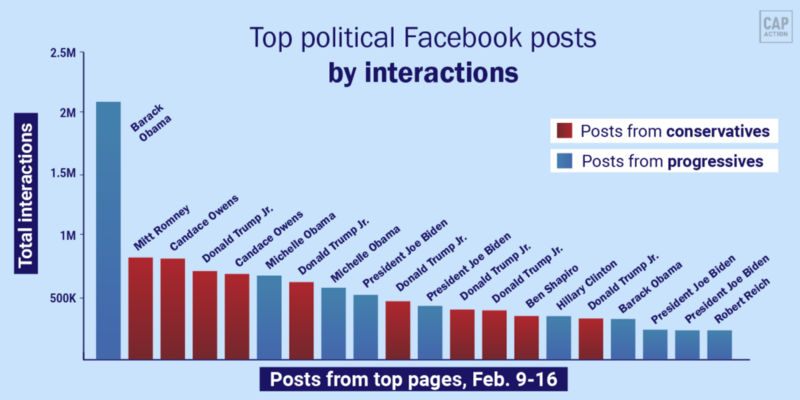 The top 10 political Facebook posts by interactions leaned conservative this week — 6/10 — adding to a declining trend of progressives filling the top 10 over the past few weeks.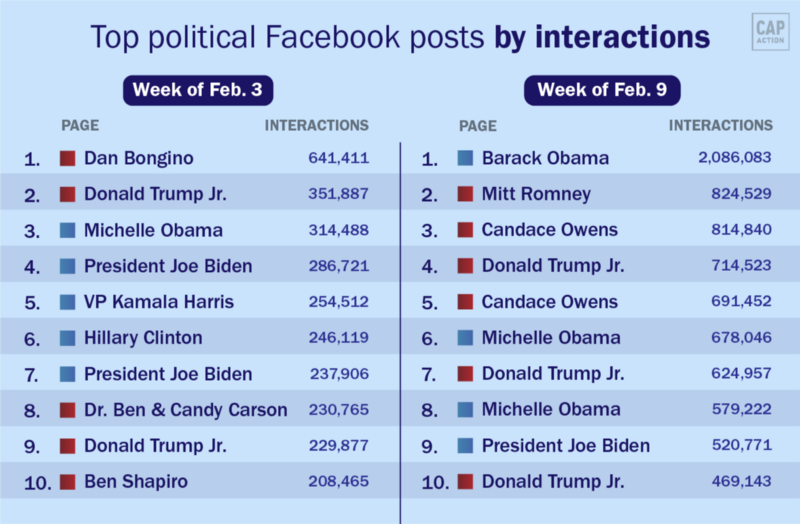 Like I mentioned above, the content itself follows two distinct trends: Conservatives discussing impeachment and progressives…not discussing impeachment.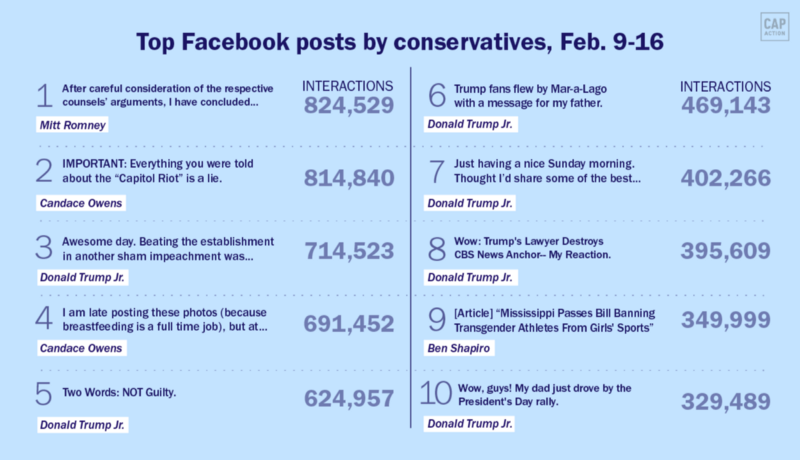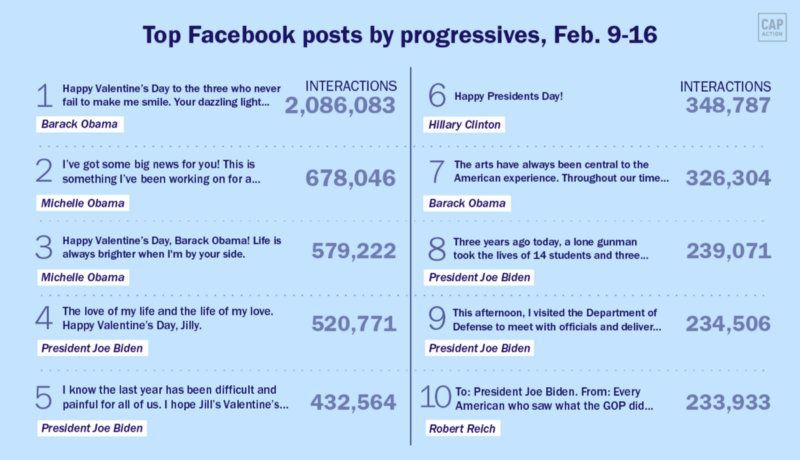 And because I'm not suuuuper concerned with the Valentine's Day musings of Donald Trump Jr. or Dan Bongino, let's dive into the conversation around impeachment: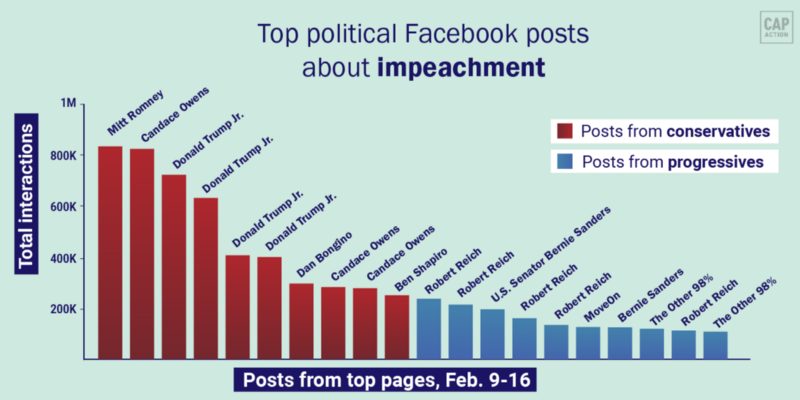 As you can see from the graph above, conservatives dramatically outperformed progressives on the topic of impeachment. The top 10 impeachment-related posts from conservative accounts received nearly 4.9 million interactions compared with about 1.5 million for top posts from progressive accounts. Of course, many progressives, especially those from the progressive establishment, purposefully spent the week focused on other important issues, like getting the pandemic under control. But when only 27% of Republicans said Trump is very or somewhat responsible for the events of January 6, it's clear that we need to do more to hold Trump and those who support him accountable for inciting an insurrection and disrupting the peaceful transition of power.
Dan Pfeiffer shared some great suggestions for doing so in the Sunday edition of his newsletter, Message Box:
Stay engaged and don't submit to feelings of helplessness or cynicism.
Channel your anger by getting involved in organizations fighting voter suppression laws and gerrymandering and focus on the 2022 midterm elections.
ON MY RADAR
ASK ALEX
A reader asks, "I read that Facebook is limiting the amount of political content in Newsfeeds. What do you think the impact of that will be?"
Great question!
The Facebook algorithm remains one of life's unsolved mysteries, but I wouldn't panic or rush to make any strategic changes quite yet. As with most changes Facebook makes to its algorithm, it's unlikely that this one would make it impossible to share organic political content, just that strategists will need to be creative in their responses. Our team will be keeping an eye on developments and suggestions for best practices to share in upcoming editions of What's Trending?.
Have a great week,
Alex
P.S. Please do forward along to your friends who are interested or encourage them to sign up here.
This newsletter is written by me, Alex Witt (@alexandriajwitt), a progressive political strategist and Dolly Parton enthusiast (she/her). I've managed social media programs for presidential candidates, political committees, progressive advocacy organizations, and more.
The positions of American Progress, and our policy experts, are independent, and the findings and conclusions presented are those of American Progress alone. A full list of supporters is available here. American Progress would like to acknowledge the many generous supporters who make our work possible.
Authors Alex Witt
Senior Director, Strategic Partnerships
Explore The Series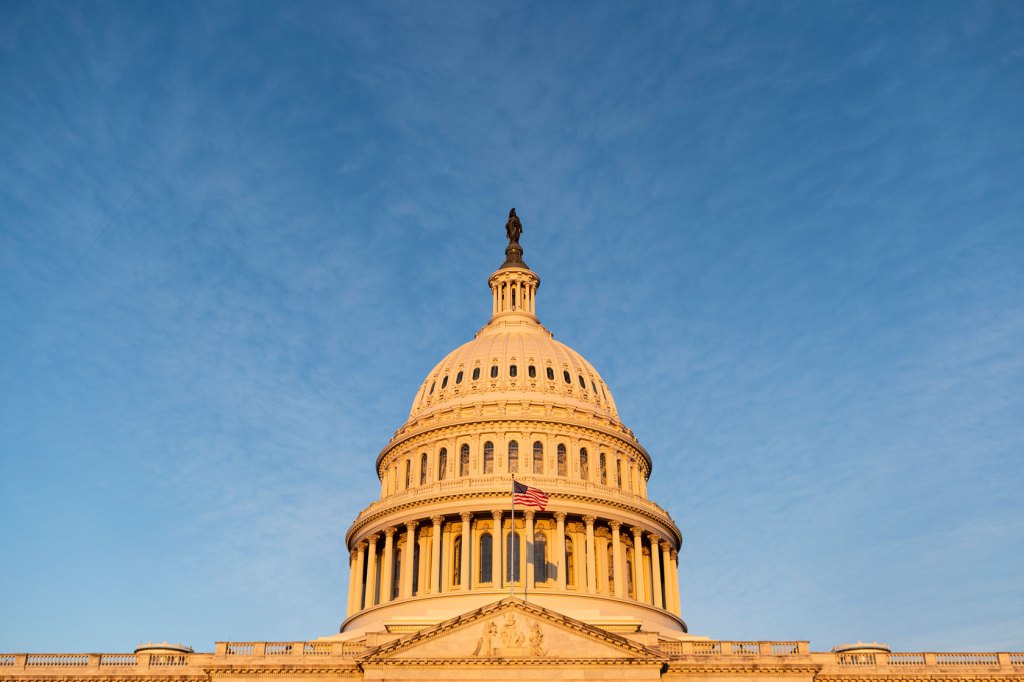 Welcome to "What's Trending?", a weekly newsletter to help progressives answer the age-old questions: What works, and what doesn't? "What's Trending?" cuts through the noise to bring you the best (and worst) of what's happening on social media in the policy space, and explains why it's important.
Previous
What's Trending? The American Rescue Plan is, like, really popular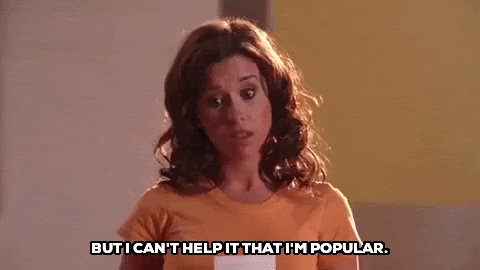 What's Trending? The American Rescue Plan is, like, really popular
Next
What's Trending? Texas Two Step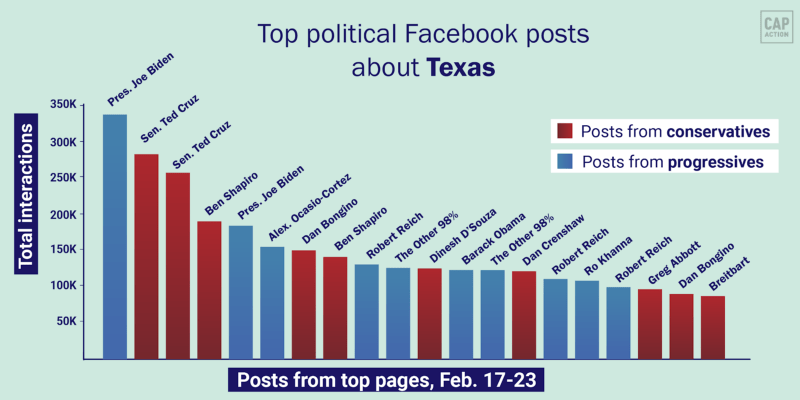 What's Trending? Texas Two Step