What's Trending? ???? January 6 vs. the For the People Act
This piece was originally published in the June 4, 2021 edition of CAP Action's weekly newsletter, What's Trending? Subscribe to What's Trending? here.
Hey, y'all.
This week I'm writing to you from my parents' house in Missouri, where I've spent the past week enjoying some gorgeous weather, catching up with family, and eating lots and lots of barbecue. Life is good.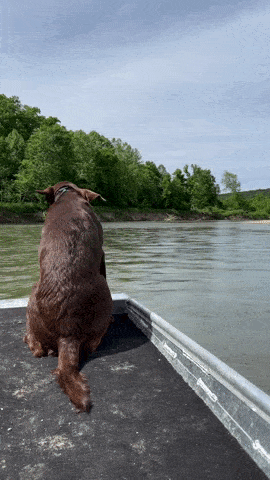 This week we're going to examine the spike in traffic about a Senate filibuster, which prevented the advancement of a bill to create a commission to study the January 6 Capitol Riot. We'll compare that to traffic about the For the People Act.
And in case you missed it, make sure and check out a short Twitter thread we posted last week about a viral post published by Kevin McCarthy.
WHAT'S TRENDING THIS WEEK
Budget: Last week, President Biden released his 2022 budget. The $6 trillion proposal aims to grow the middle class by investing deeply in education, infrastructure, and fighting climate change — and it's paid for by making sure the ultra rich pay their fair share.
COVID-19: As of June 2, more than 50% of the United States' total population has received at least one dose of a Covid-19 vaccine and more than 50% of American adults are fully vaccinated. Across the country, new infection rates are the lowest they have been since the pandemic began.
WHAT WE'RE HEARING ON SOCIAL
Over the past week top posts from both conservatives and progressives covered a smattering of topics. On the right, posts ranged from commemorating Memorial Day to wedding anniversary celebrations and anti-trans policy announcements. On the left, a post from Michelle Obama celebrating the retirement of a long-time White House staff member led the week, followed by posts recognizing Memorial Day, Pride Month, the Tulsa Race Massacre, and more.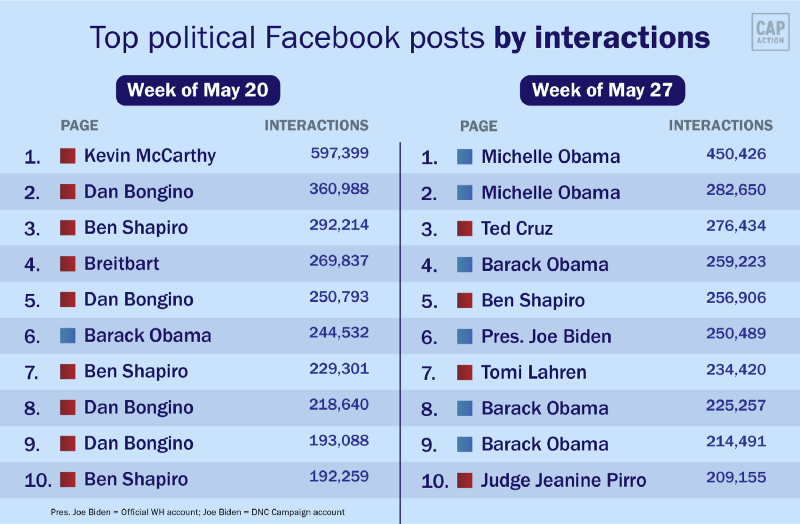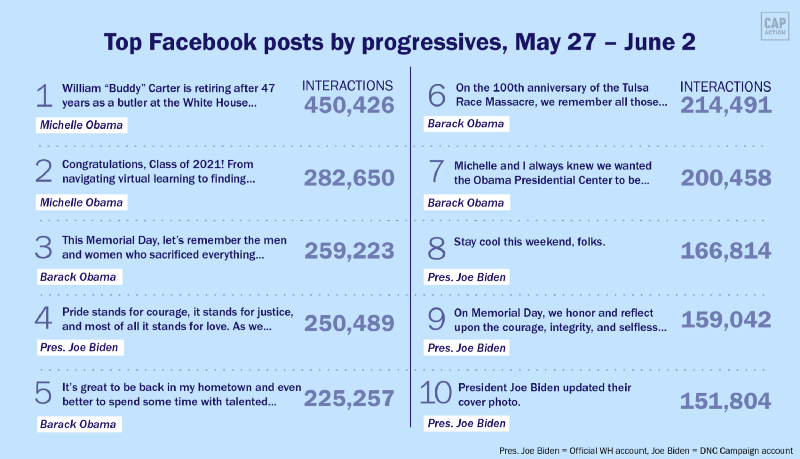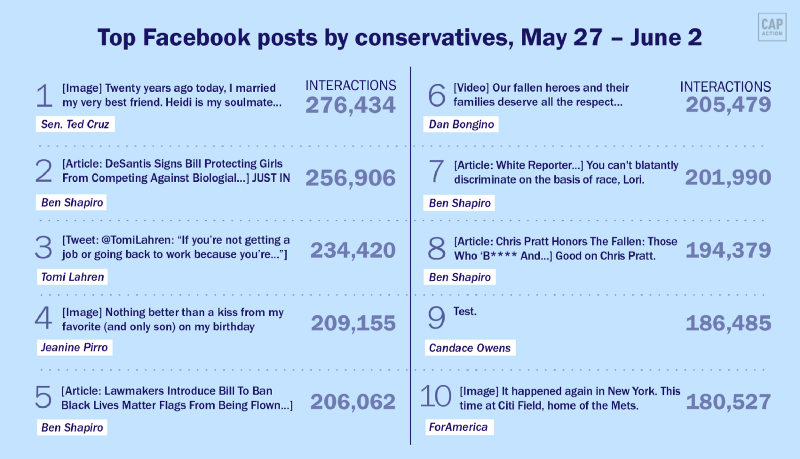 Over the past week, Joe Biden's name outperformed every other group of issue-related keywords, likely because instead of coalescing around a single topic, conservative Facebook pages attacked the president from several different angles in an attempt to find an effective line of criticism.
Despite not having an active presence on Facebook himself, Trump's name performed almost equally with Biden's, as conservatives like Dan Bongino consistently invoke him in their posts. It's an important reminder that simply suspending Trump from the platform is not enough — Facebook has to address the systemic disinformation problem on its site.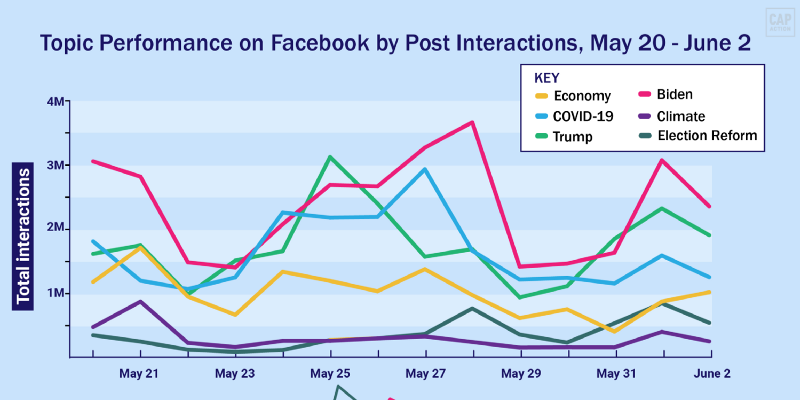 Even with major climate news, we saw very little conversation on the topic, but we did see considerable traction on electoral reform topics due to news about a Senate filibuster by Republicans of a bill, which would have created a bipartisan commission to investigate the January 6 Capitol Riots. Let's compare how conservative and progressive posts performed when discussing January 6th, election reforms, and the For the People Act, legislation that would strengthen the foundations of our democracy.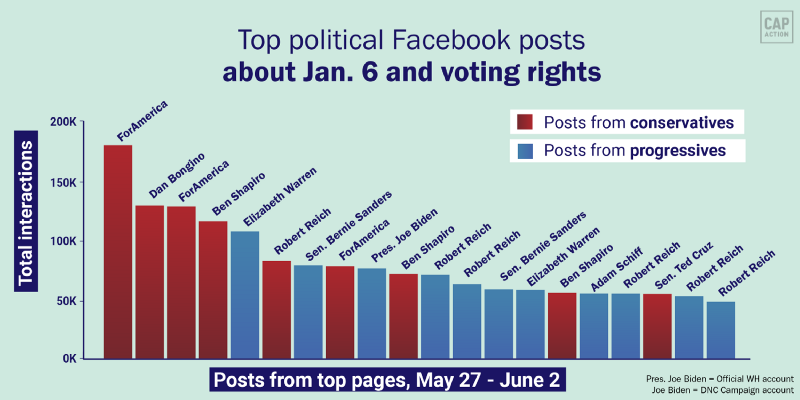 As you can see, progressives need to post much more frequently and more strategically about the legislation in order to educate the public and build support. A coalition of groups at the Declaration for American Democracy has put together some incredible resources to do just that. Check them out.
ON MY RADAR
Thanks for reading,
Alex
P.S. Please do forward along to your friends who are interested or encourage them to sign up here.
This newsletter is written by me, Alex Witt (@alexandriajwitt), a progressive political strategist and Dolly Parton enthusiast (she/her). I've managed social media programs for presidential candidates, political committees, progressive advocacy organizations, and more.
The positions of American Progress, and our policy experts, are independent, and the findings and conclusions presented are those of American Progress alone. A full list of supporters is available here. American Progress would like to acknowledge the many generous supporters who make our work possible.
Authors Alex Witt
Senior Director, Strategic Partnerships