What's Trending? Let's dig a little deeper
This piece was originally published in the November 18, 2020 edition of CAP Action's weekly newsletter, What's Trending? Subscribe to What's Trending? here.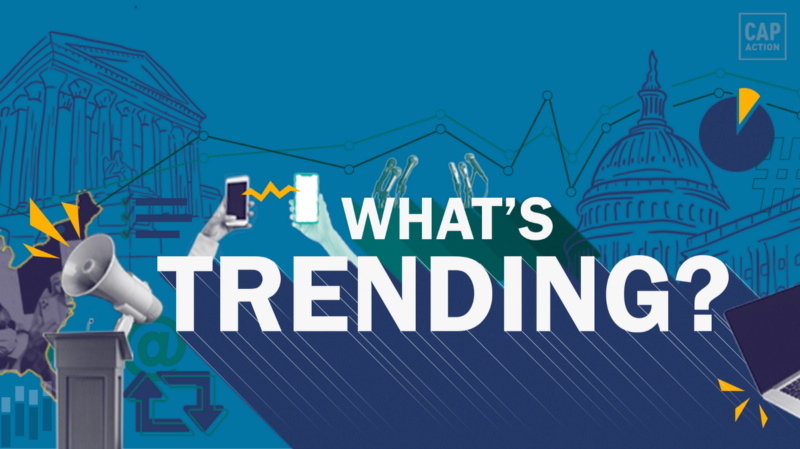 Hey, y'all.
This will be our final edition of What's Trending? until after Thanksgiving.
Our fearless team will be taking next week off from the newsletter, but hopefully we're able to leave you with some helpful insights for any awkward Zoom conversations with your loved ones about the election results.
A few of our previous editions may be helpful, too. This one outlines how to respond to disinformation, and this one provides strategies for engaging with family and friends on disinformation.
But first, did you miss last week's edition of What's Trending? Don't worry — you can read it here.
WHAT'S TRENDING THIS WEEK
Two weeks after Election Day, President-elect Joe Biden's lead continues to grow. Despite Biden's decisive victory and Trump's 1–25 losing record in election lawsuits, Trump and his allies continue to make unsubstantiated claims about voter fraud and refuse to cooperate with the transition.
The United States officially hit a record 11 million coronavirus cases, over 246,000 deaths, and nearly 70,000 patients hospitalized with the virus. States are reinstating restrictions as the virus continues to spread uncontrollably, sparing not even the federal government with another outbreak, this week, in the Secret Service.
And a bit of good news: On Monday, clinical trials from Moderna's vaccine showed an encouraging 94.5 percent effective rate in preventing coronavirus infections. However, Trump's refusal to cooperate with the Biden transition team sabotages the President-elect's ability to coordinate a vaccine strategy and begin managing the pandemic on Day 1.
WHAT WE'RE HEARING ON SOCIAL
Here are this week's top five Facebook posts on the Left and Right:





Progressives are moving on and talking about the presidential transition, but Trump and his conservative supporters are refusing to concede. Of the top 50 Facebook posts among conservatives, 49 came from Trump himself and of those, 34 contained disinformation about the election. If you look at the chart above you may think, "What's the problem? Barack Obama is wiping the floor with Trump!" I'd urge you to dig a little deeper.
Once you remove President Obama's posts about his newly-released book from the equation, the numbers become more grim. And when you compare this to posts about Joe Biden and Kamala Harris' electoral win, you see a dangerous information chasm appear.
More than two weeks after Election Day, it's clear that this problem isn't going away. And according to internal Facebook data, the company knows that the labels it publishes on posts containing disinformation only decrease reshares by about 8 percent.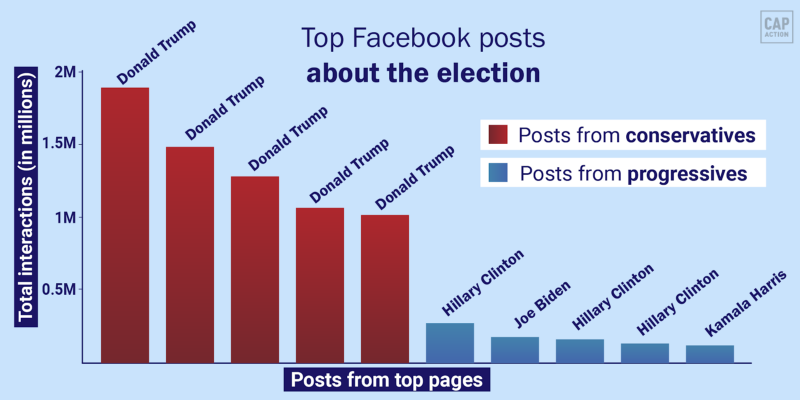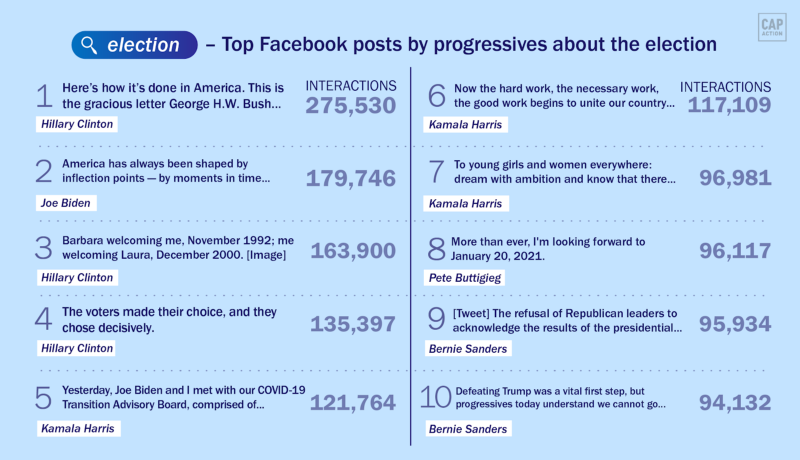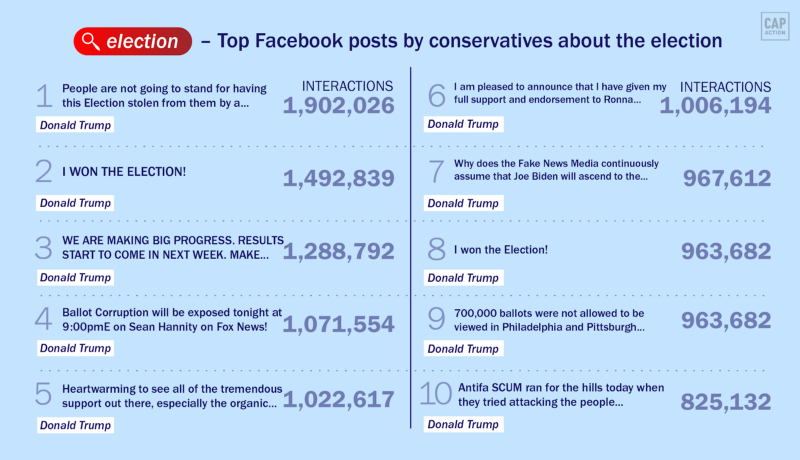 SAY IT WITH ME
You may have seen Trump's latest conspiracy theory "Dominion" floating around the internet — let's set a few things straight:
Dominion Voting Systems is a software used successfully by local governments around the world to help manage elections.
Trump lost this election decisively, so he's scrambling for ways to delegitimize the results — including blaming the company for "software glitches" in Michigan and Georgia.
The bottom line: There is absolutely zero evidence that our election system was compromised. In fact, Trump's Department of Homeland Security called the 2020 election "the most secure in American history."
ON MY RADAR
ASK ALEX
This week a reader writes, "What is Parler?"
Parler is a social media platform that markets itself as a "backer of free speech," with little content moderation and a refusal to fact check. Its primary user base is conservatives and includes people like Donald Trump, the Proud Boys, Alex Jones, and more. Its lead investor is Rebekah Mercer, who has also funded Breitbart, Cambridge Analytica, and the Koch brothers' Freedom Partners Action Fund.
Wishing you a safe, healthy Thanksgiving,
Alex
P.S. Please do forward along to your friends who are interested or encourage them to sign up here.
This newsletter is written by me, Alex Witt (@alexandriajwitt), a progressive political strategist and Dolly Parton enthusiast (she/her). I've managed social media programs for presidential candidates, political committees, progressive advocacy organizations, and more.
The positions of American Progress, and our policy experts, are independent, and the findings and conclusions presented are those of American Progress alone. A full list of supporters is available here. American Progress would like to acknowledge the many generous supporters who make our work possible.
Authors Alex Witt
Senior Director, Strategic Partnerships