What's Trending? More bangs for your buck
Part of a Series
This piece was originally published in the May 21, 2021 edition of CAP Action's weekly newsletter, What's Trending? Subscribe to What's Trending? here.

Hey, y'all.
You know you're going through a season of change when you find yourself thinking, "Should I get bangs?" That's where I found myself yesterday morning.

I'm sure there's a metaphor here about DC reopening and the need to change up your style and probably something about ever-evolving Facebook trends, but like many of us emerging from 14 months of lock down, I simply don't have the energy left to make the effort.
Anyway, dear reader, this is my way of telling you we're making some changes here at What's Trending? Increased analytics capacity! A bigger team! Friday morning sends! It's going to be great.
But first, did you miss the latest edition of What's Trending? Don't worry — you can read it here.
WHAT'S TRENDING THIS WEEK
Covid-19: Last week, the CDC updated their guidance to show that people who are fully vaccinated can safely stop wearing masks and maintaining social distancing in most settings. 60% of American adults have received at least one dose and many states across the country are reporting their lowest infection and death rates since the beginning of the pandemic.
Money in pockets: On Monday, the Biden-Harris administration announced that 39 million families are expected to begin receiving monthly tax breaks starting July 15. The payments are an expansion of the child tax credit program, expanded by the American Rescue Plan in March, and will lift millions of children and families out of poverty.
WHAT WE'RE HEARING ON SOCIAL
A little this, a little that: Neither progressives nor conservatives pages drove a particularly unified narrative on Facebook last week. Posts from progressive pages covered many issues: personal stories, holiday celebrations and values statements. Posts from conservative pages included transphobic news articles, posts about the violence in Israel and Palestine, and anti-mask rhetoric.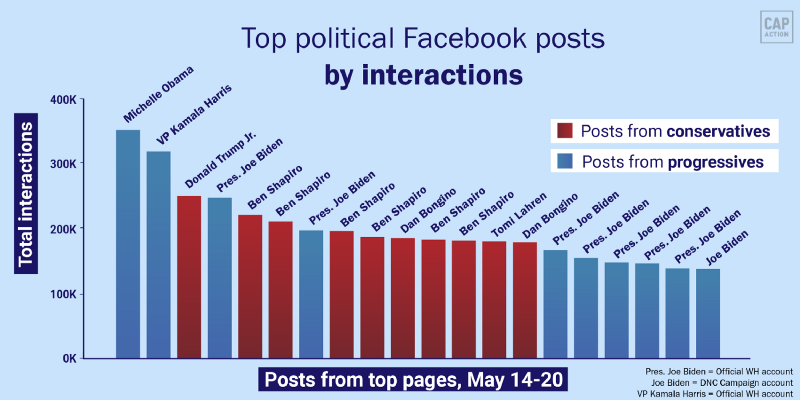 This week's top-performing political Facebook post by interactions was from Michelle Obama, but six of the top 10 posts were from conservative accounts.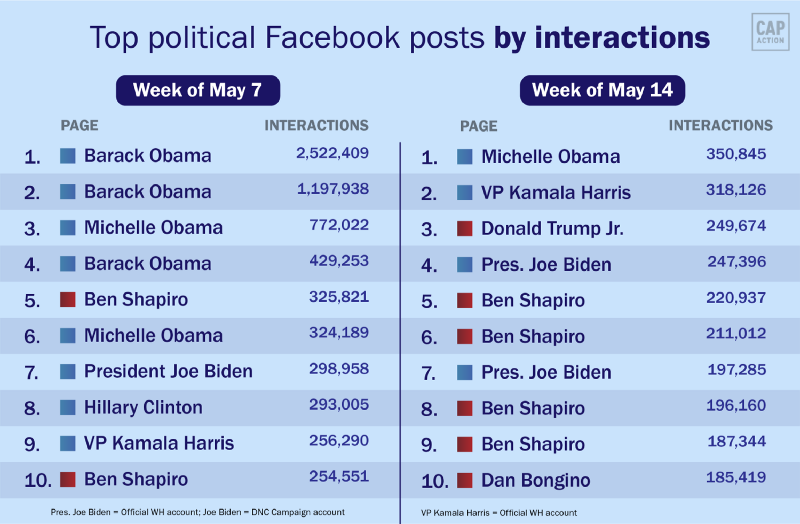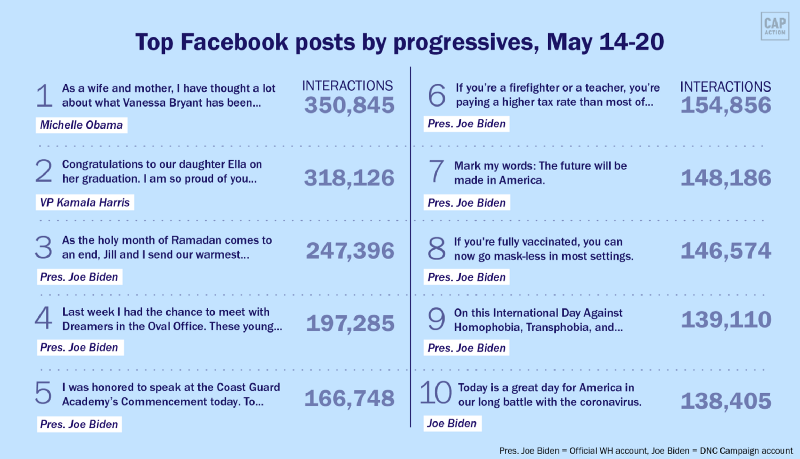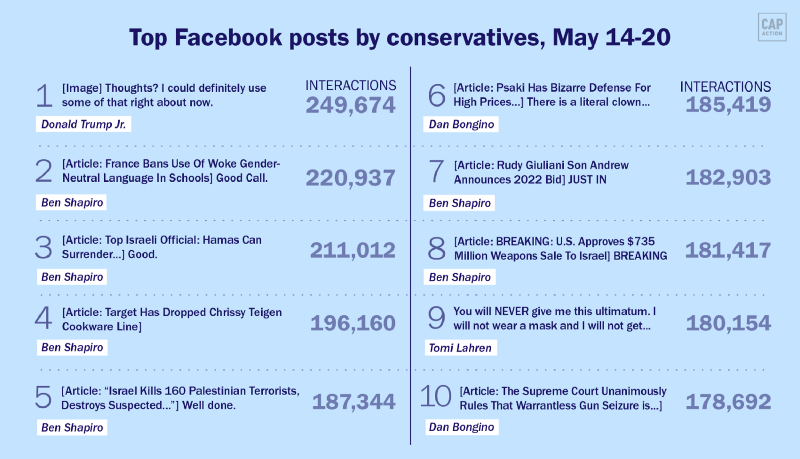 While violence in Israel and Palestine has been the primary conversation across social media over the past two weeks, the economy and COVID-19 pandemic also remain top of mind for people, as illustrated below. Last week's intense conversation around the Colonial Pipeline has subsided, but it is still driving more interactions than climate or environmental topics, despite a concerted push around President Biden's trip to Dearborn ahead of Ford's reveal of an electric F-150 this week.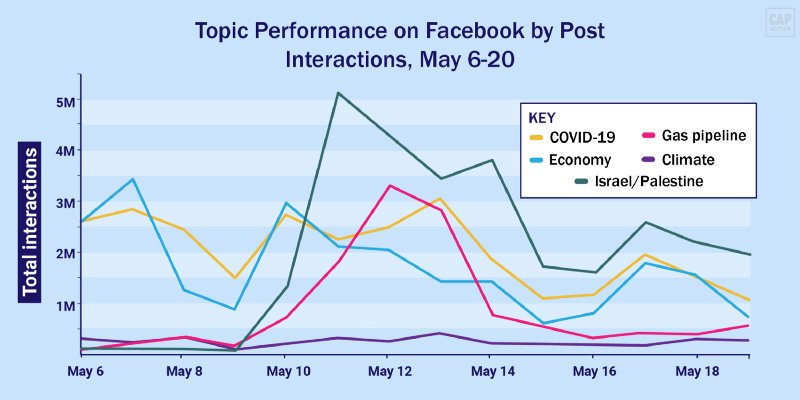 On economic issues, progressives are leading the conversation. They had 15 of the top 20 political posts about the economy in the last week. The bad news? Economic issues were getting drowned out by a host of other topics from conservative pages and made up only 18% of interactions from the top 100 political posts. Conservatives know they're on the losing side of popular issues like taxing the rich and raising the minimum wage, so they're trying to distract their followers with divisive cultural issues, per usual.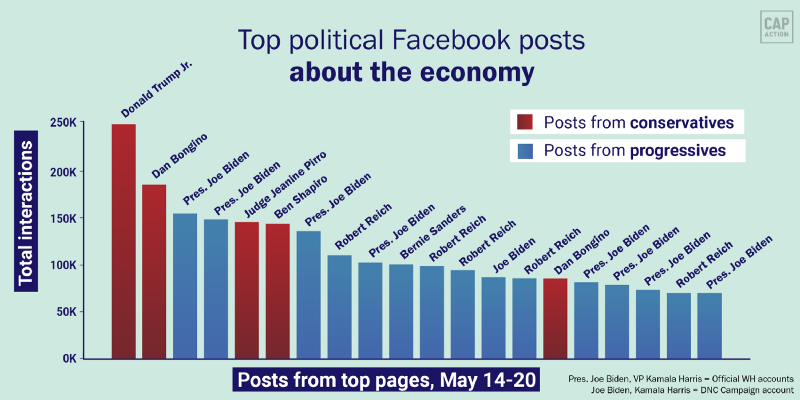 Here at CAP Action, we've seen success with posts comparing the American Jobs Plan with the Republican alternative and illustrating how the American Jobs Plan will tax the ultra rich to pay for investments.
ON MY RADAR
Tuesday, May 25, marks one year since George Floyd was murdered. Support the George Floyd Memorial Foundation's work to challenge the root causes of racial inequity and end systemic violence affecting Black Americans by joining them on Monday for a remembrance virtual day of action.
Thanks for reading,
Alex
P.S. Please do forward along to your friends who are interested or encourage them to sign up here.
This newsletter is written by me, Alex Witt (@alexandriajwitt), a progressive political strategist and Dolly Parton enthusiast (she/her). I've managed social media programs for presidential candidates, political committees, progressive advocacy organizations, and more.
The positions of American Progress, and our policy experts, are independent, and the findings and conclusions presented are those of American Progress alone. A full list of supporters is available here. American Progress would like to acknowledge the many generous supporters who make our work possible.
Authors Alex Witt
Senior Director, Strategic Partnerships
Explore The Series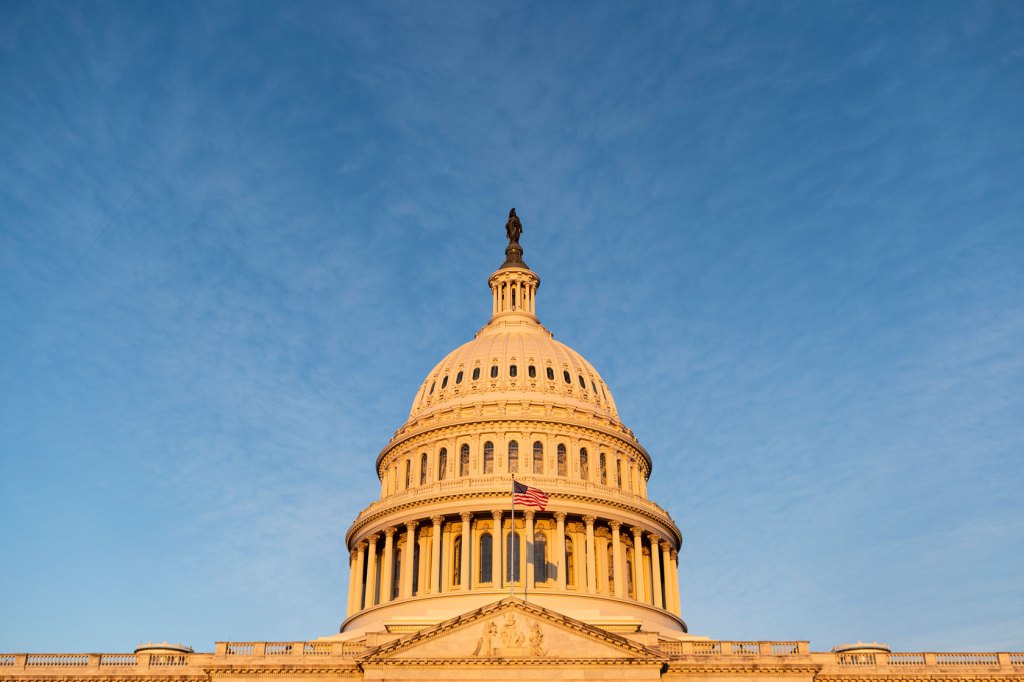 Welcome to "What's Trending?", a weekly newsletter to help progressives answer the age-old questions: What works, and what doesn't? "What's Trending?" cuts through the noise to bring you the best (and worst) of what's happening on social media in the policy space, and explains why it's important.
Previous
What's Trending? All gas, no breaks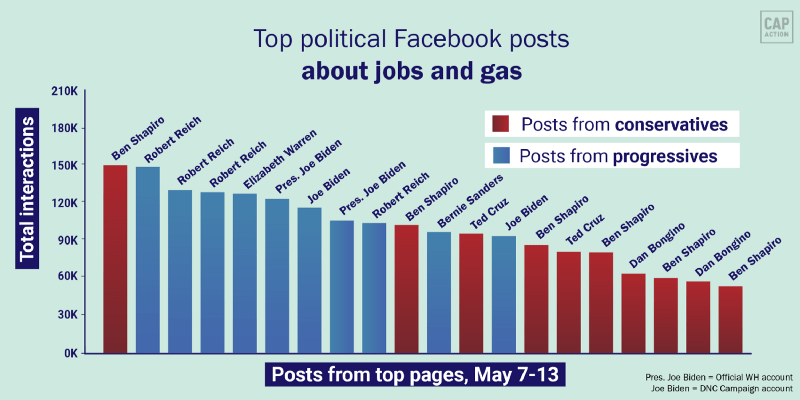 What's Trending? All gas, no breaks
Next
What's Trending? The posts that get the most shares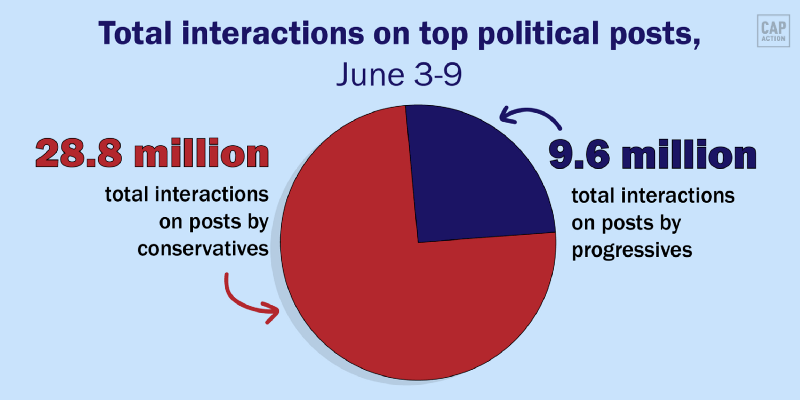 What's Trending? The posts that get the most shares