What's Trending? Public Attention
Part of a Series
This piece was originally published in the August 27, 2021 edition of CAP Action's weekly newsletter, What's Trending? Subscribe to What's Trending? here.

Hey, y'all.
I hope this note finds you safe and well.
This week we're examining a serious drop in the volume of online conversation about the economy and how that is affected by other topics in the news. Read on to learn more.
But first! Did you miss our latest edition of What's Trending? You can read it here.
WHAT'S TRENDING THIS WEEK
Afghanistan: In tragic news, several explosions resulted in a number of casualties, including U.S. service members, outside the Kabul Airport yesterday. The Biden Administration continued evacuation efforts in the wake. As of Thursday, U.S. officials confirmed more than 95,000 people had been evacuated since August 14.
Congress: The House voted on Tuesday to advance President Biden's Build Back Better agenda, moving both the bipartisan infrastructure deal and budget proposal forward in a 220–212 vote.
Covid-19: More than 100,000 people are hospitalized with Covid-19 in the United States, a level not seen since January. Pediatric hospitalizations are also at their highest since August 2020, while governors, like Florida Governor DeSantis and Texas Governor Abbott, double down on their bans of mask and vaccine mandates.
WHAT WE'RE HEARING ON SOCIAL
Progressives were prominent this week on Facebook, outperforming conservatives in the top 10 by a margin of eight posts to two.
Posts from Vice President Harris led the field, both photos highlighting her trip to Asia. Unfortunately, these posts appear to be the subject of racist, sexist trolls. Her top post — a photo of her ascending a plane to Singapore — received more than 250,000 comments, many of them were negative.
Top conservative posts included a birthday message on Ben and Candy Carson's page and an anti-Arnold Schwarzenegger post from Breitbart.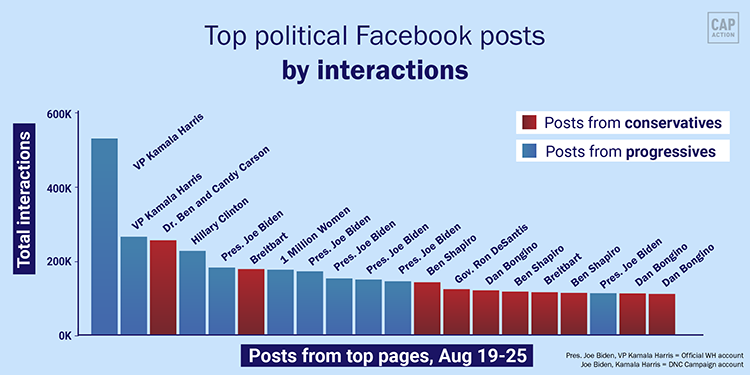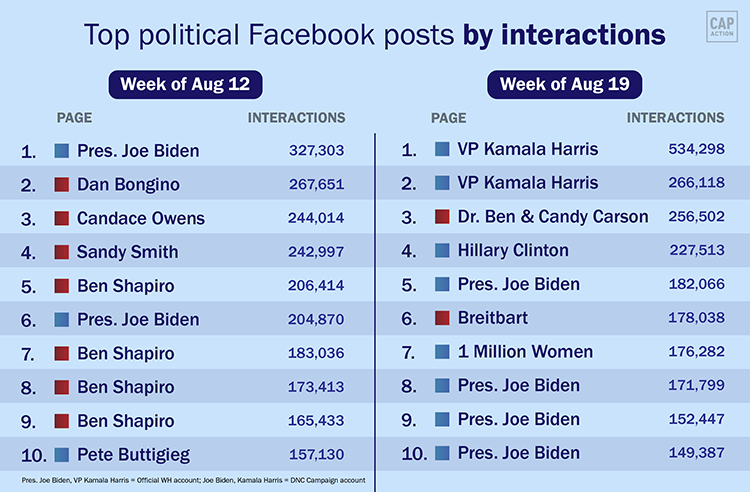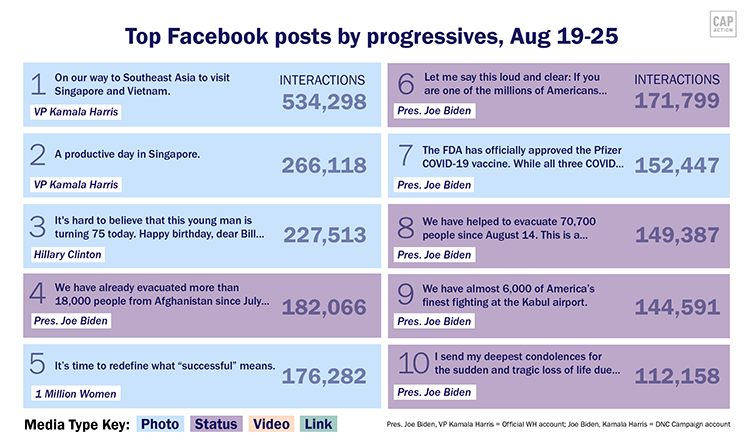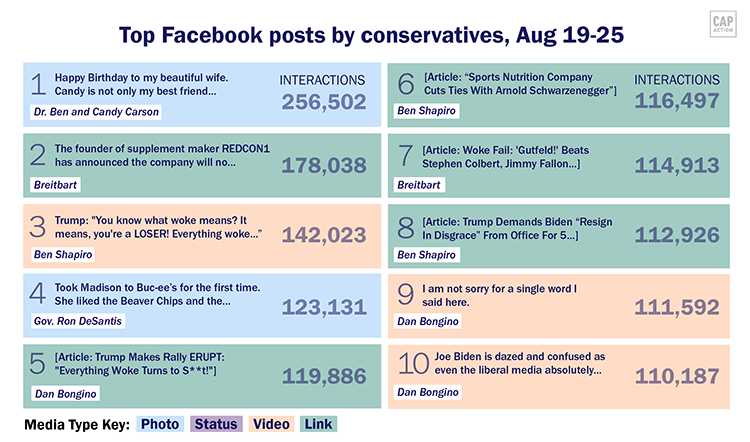 DEEP DIVE
President Biden, Afghanistan, and COVID-19 continue to be the most engaged-with topics on Facebook in the last week, with the commander-in-chief's name closely linked to both stories. Each of the three topics averaged more than 3.5 million interactions per day across tens of thousands of Facebook posts, according to data from NewsWhip.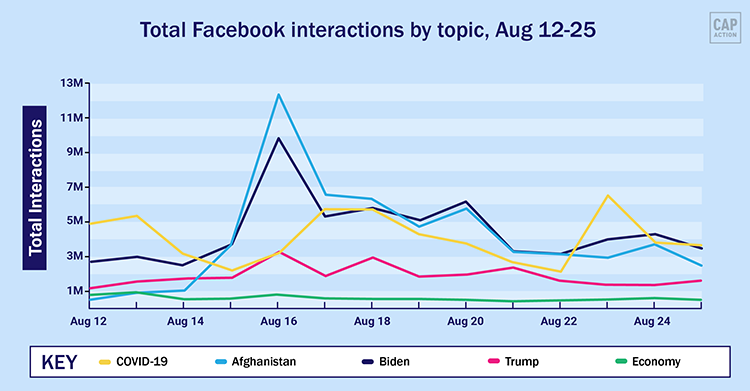 We can see in the data that attention, and therefore performance in the Facebook algorithm, is zero-sum — when a story becomes all-consuming, other issues start to drop off correspondingly. For example, interactions with posts that mention core economic keywords (jobs, wages, taxes, etc.) were at a long-term low this week, with only 280,000 per day. That's less than half of the average we've seen for most of the summer, when the economy was a prevalent issue in our tracking.
We see this with several other core progressive congressional legislative priorities as well, including climate, voting rights, and infrastructure. Comparing the last two weeks to data from late May to mid-August, you see a decline across the board in the number of Facebook posts made about these topics and the average interactions per post. The Afghanistan withdrawal and the rise of the Delta variant are understandably dominating the attention of both mainstream and conservative media, and digital audiences on Facebook are following suit.
As we head into September and draw closer to key votes on President Biden's Build Back Better agenda, it will be more and more important that progressives own the political narrative — or risk others driving it for them.
Thanks for reading,
Alex
P.S. Please do forward along to your friends who are interested or encourage them to sign up here.
This newsletter is written by me, Alex Witt (@alexandriajwitt), a progressive political staffer and Dolly Parton enthusiast (she/her), and CAP Action's fantastic team of designers, data analysts, and email strategists.
The positions of American Progress, and our policy experts, are independent, and the findings and conclusions presented are those of American Progress alone. A full list of supporters is available here. American Progress would like to acknowledge the many generous supporters who make our work possible.
Authors Alex Witt
Senior Director, Strategic Partnerships
Explore The Series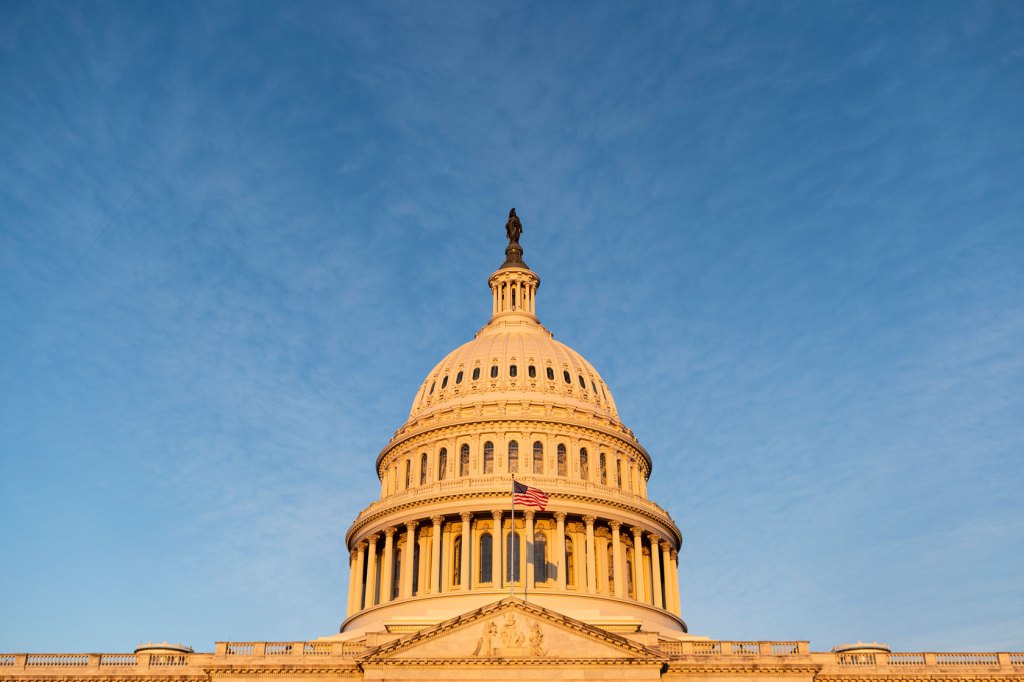 Welcome to "What's Trending?", a weekly newsletter to help progressives answer the age-old questions: What works, and what doesn't? "What's Trending?" cuts through the noise to bring you the best (and worst) of what's happening on social media in the policy space, and explains why it's important.
Previous
What's Trending? Afghanistan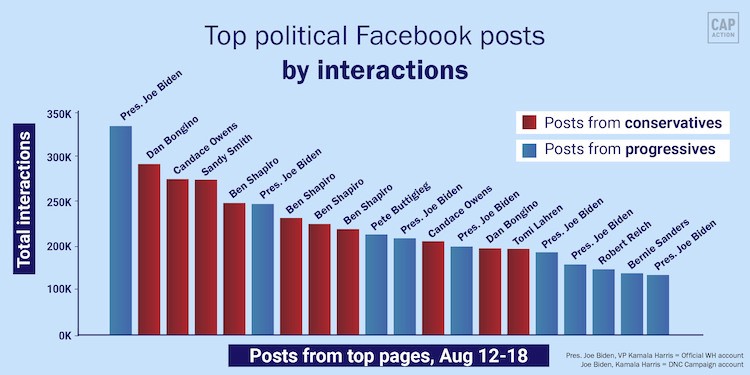 What's Trending? Afghanistan
Next
What's Trending? Dogs and Babies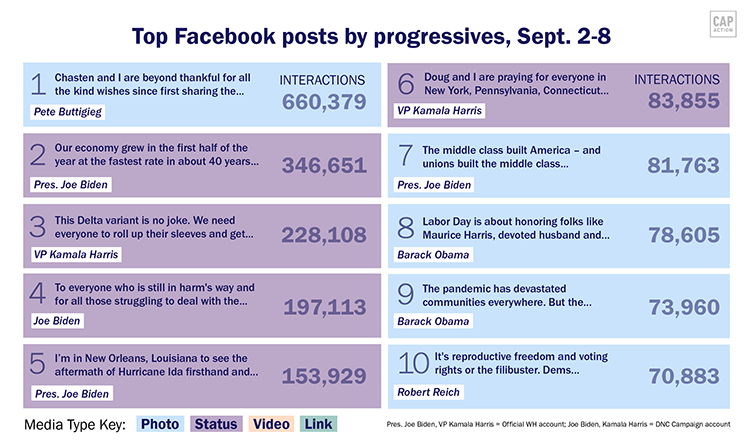 What's Trending? Dogs and Babies