What's Trending? The American Rescue Plan is, like, really popular
Part of a Series
This piece was originally published in the February 10, 2021 edition of CAP Action's weekly newsletter, What's Trending? Subscribe to What's Trending? here.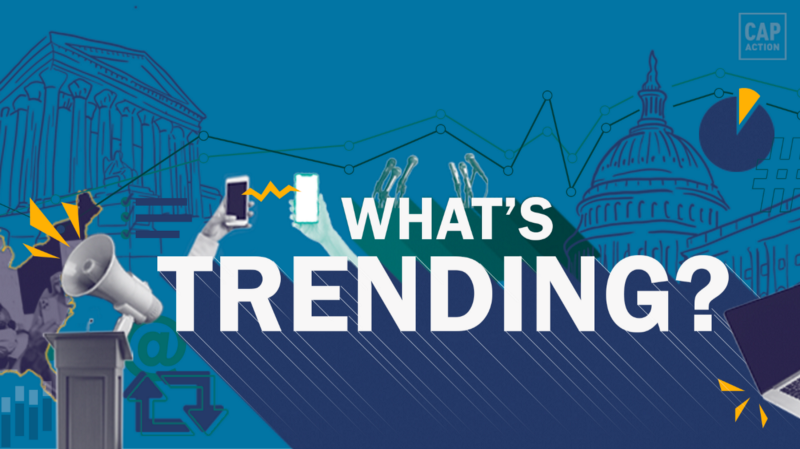 Hey, y'all.
Here's the good news: Biden's American Rescue Plan is popular. Like really, really popular.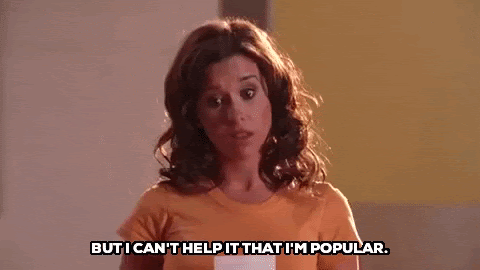 "Nearly 7 in 10 Americans support the Biden administration's proposed $1.9 trillion stimulus relief bill in response to the coronavirus pandemic." — Quinnipiac Poll
"A new survey from Navigator Research…shows 72% of Americans support the rescue plan, including 53% of Republicans." — White House Press Secretary Jen Psaki
"We need to go big or not go. If we waste some money, but our nation recovers…so what." — West Virginia Republican Governor Jim Justice
Yet when I examined the data for this week's newsletter, I had a hard time finding many posts on the topic. We'll dive in below. But first, did you miss last week's edition? Don't worry — you can read it here.
WHAT'S TRENDING THIS WEEK
American Rescue Plan: Congress is moving forward with President Biden's American Rescue Plan, delivering on a promise to provide emergency relief through the budget reconciliation process.
Impeachment (again): Yesterday kicked off the second impeachment trial of Donald Trump. In the most bipartisan presidential impeachment in U.S. history, he is facing conviction in the Senate on charges of inciting an insurrection in response to his supporters violently attacking the Capitol on January 6.
Light at the end of the COVID tunnel: At least 32.8 million Americans have now received their first dose of a COVID-19 vaccine, meaning more people are at least partially vaccinated than there have been cases in the United States. The number of new daily cases in the U.S. dropped below 100,000 on February 7 for the first time since November 2, with Johns Hopkins recording just shy of 87,000 new cases.
WHAT WE'RE HEARING ON SOCIAL
Conservative pages are making a comeback after three weeks of progressive pages dominating the top-10 political Facebook posts. A video of Dan Bongino ringing a bell to announce the end of his treatment for Hodgkin lymphoma received nearly twice as many interactions as the next best-performing political Facebook post, a photo from Donald Trump, Jr., showing his family enjoying a snow day.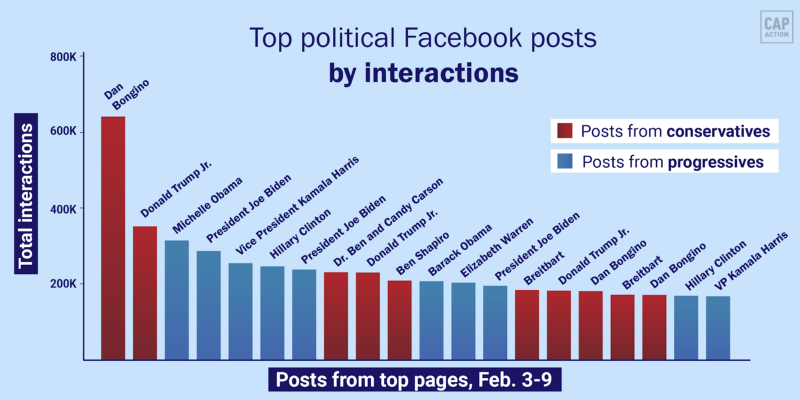 Furthermore, as you can see below, the top 10 political Facebook posts by interactions were evenly split between progressives and conservatives, compared to an 8/2 split the week before in favor of progressives.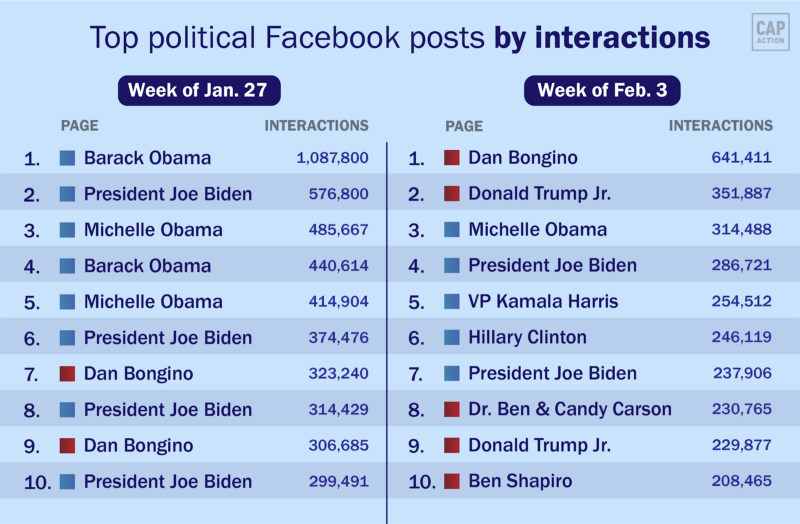 When it comes to the content itself, there aren't many identifiable trends. Two posts lifting up Amanda Gorman's incredible Time interview made the list, but otherwise, it's a hodgepodge of news-of-day and evergreen pieces. And on the conservative side, the topics are similarly disconnected.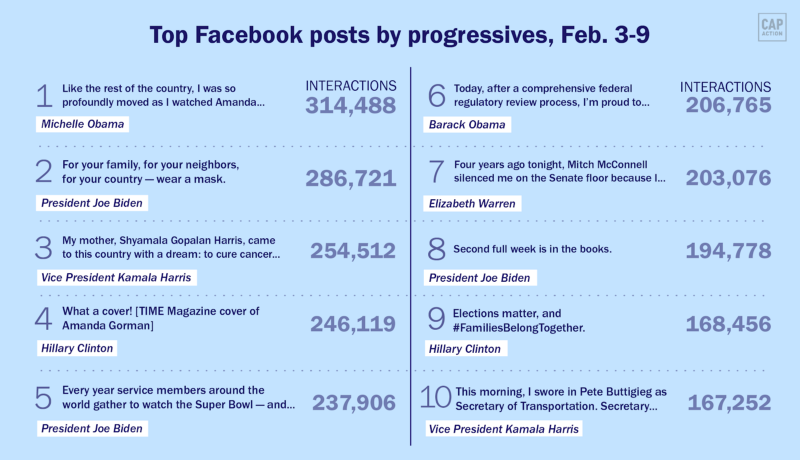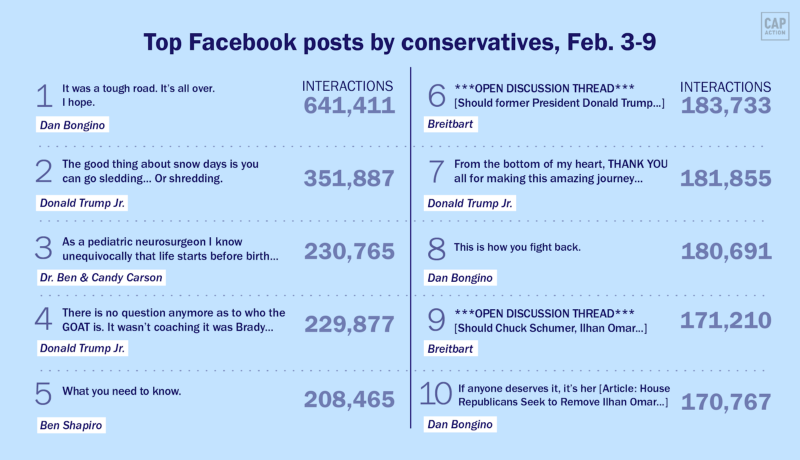 Hoping to find more trends, I isolated the data to examine Facebook conversation on the American Rescue Plan, and it was rough.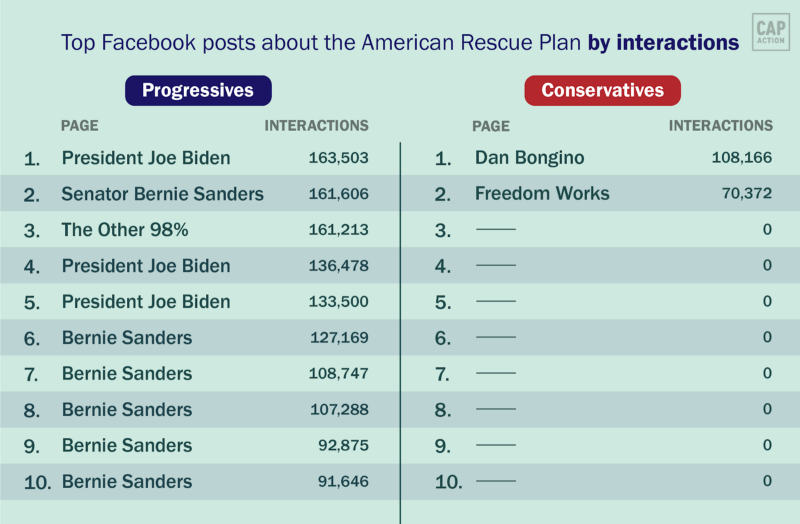 As you can see above, the conversation is being carried by a few large accounts — shout out Bernie Sanders! — and despite scouring 200 Facebook posts, I found only two posts on the plan from conservative pages (and I was generous with my criteria, y'all).
What does this tell me? First, progressives have a huge opportunity to amplify the benefits of the American Rescue Plan and define the conversation around the bill on Facebook. And second, conservatives know this plan is good. That's why they're ceding the ground in favor of other topics they *think* they can win hearts and minds on.
So what should you be doing to take advantage of this?
Make sure you have the right information. This White House fact sheet is a good place to start. This explainer from CNN is even more concise.
Tailor that information for your audience. Work on a page that targets young people? Emphasize that the plan will expand resources to help ensure colleges and universities can reopen safely. Audience composed of parents? Highlight that the ARP would provide emergency paid leave to 106 million more Americans to reduce the spread of the virus and/or the fact that it would cut child poverty by nearly 50%.
Set goals. Whether it's a certain number of posts per week on the plan, or a certain number of interactions, set a goal and track your progress toward completing it.
Share content from issue leaders. President Biden, Bernie Sanders, The Other 98% — they're all creating incredible American Rescue Plan content. If you're unsure where to begin, check out what they're doing and share and emulate it on your own page.
ON MY RADAR
President Joe Biden will participate in a CNN town hall on Tuesday, February 16 at 8pm ET. Topics are expected to include coronavirus and economic recovery.
ASK ALEX
Remember, you can always respond to this email, and I'll do my best to find the answer!
Stay healthy out there,
Alex
P.S. Please do forward along to your friends who are interested or encourage them to sign up here.
This newsletter is written by me, Alex Witt (@alexandriajwitt), a progressive political strategist and Dolly Parton enthusiast (she/her). I've managed social media programs for presidential candidates, political committees, progressive advocacy organizations, and more.
The positions of American Progress, and our policy experts, are independent, and the findings and conclusions presented are those of American Progress alone. A full list of supporters is available here. American Progress would like to acknowledge the many generous supporters who make our work possible.
Authors Alex Witt
Senior Director, Strategic Partnerships
Explore The Series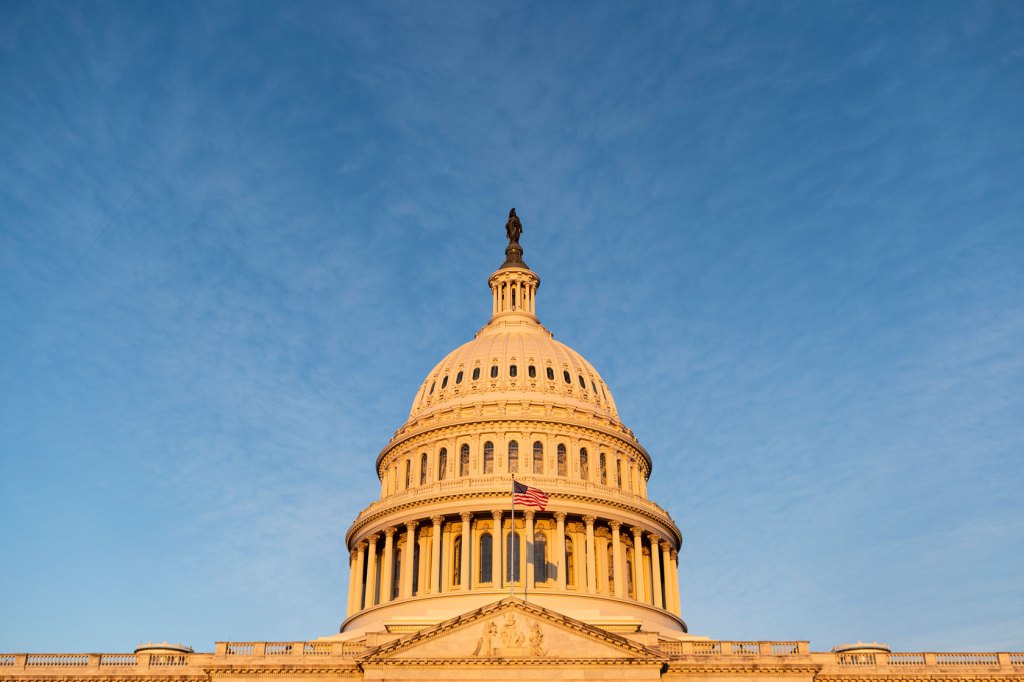 Welcome to "What's Trending?", a weekly newsletter to help progressives answer the age-old questions: What works, and what doesn't? "What's Trending?" cuts through the noise to bring you the best (and worst) of what's happening on social media in the policy space, and explains why it's important.
Previous
What's Trending? Facebook is healing (sort of)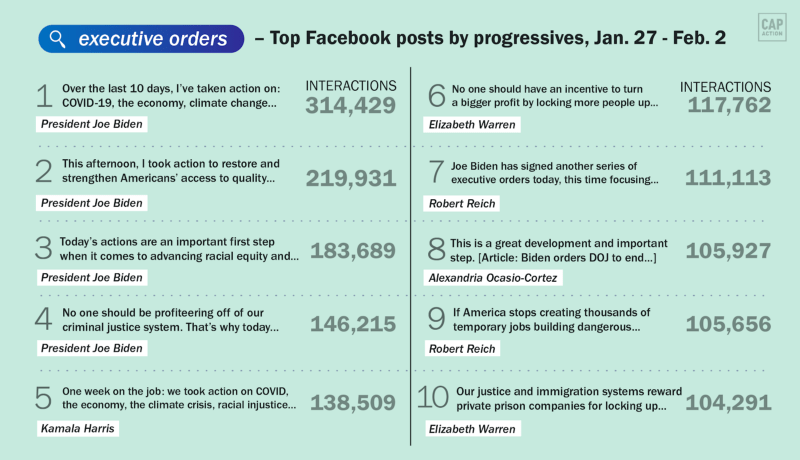 What's Trending? Facebook is healing (sort of)
Next
What's Trending? Impeachment and…not impeachment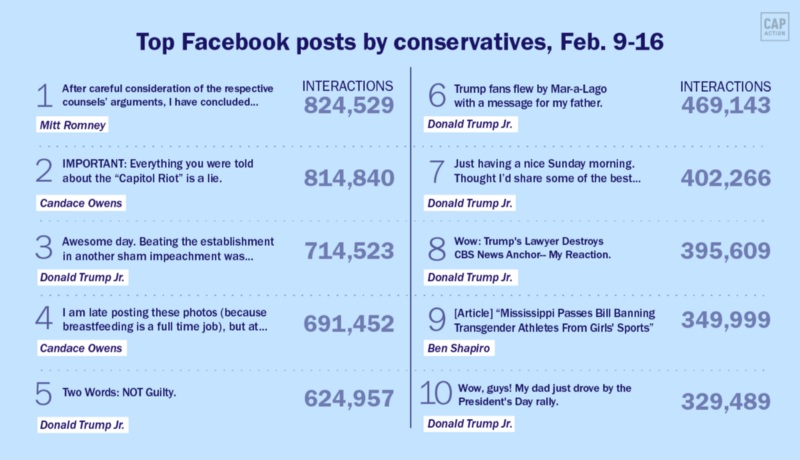 What's Trending? Impeachment and…not impeachment