What's Trending? The right approach
Part of a Series
This piece was originally published in the March 31, 2021 edition of CAP Action's weekly newsletter, What's Trending? Subscribe to What's Trending? here.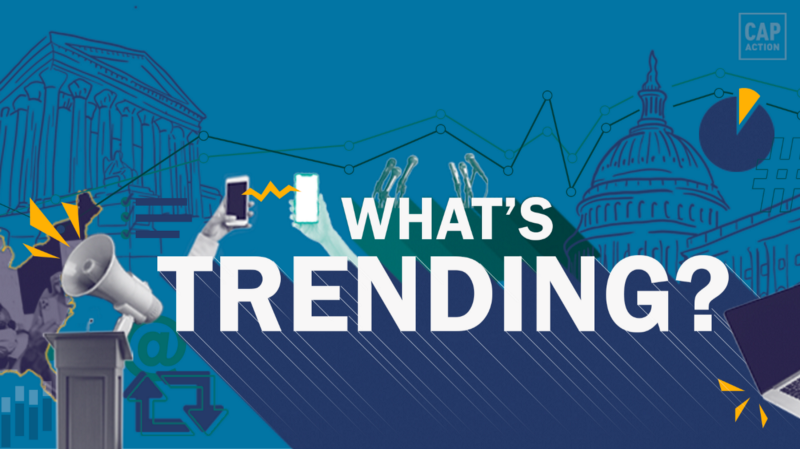 Hey, y'all.
Just when you think there's a light at the end of the tunnel, you look at Facebook.
And you realize that despite all the incredible work by the Biden administration to attack the coronavirus pandemic and get the economy back on track, conservatives are going to find something to scare people with.
First, it was immigration. Then, it was transphobia. Now, it's guns.
There are strategies you can use to combat this rightwing fear mongering — it just takes the right approach. We'll outline a few of those below. But first, did you miss last week's edition? Don't worry — you can read it here.
WHAT'S TRENDING THIS WEEK
Vaccines: Days after doubling his 100-day vaccine goal from 100 million to 200 million doses administered, President Biden announced that 90% of adults will be eligible for the COVID-19 vaccine by April 19. By more than doubling the number of pharmacies participating in the federal vaccination program, 90% of adults will also now live within five miles of a vaccination site.
Voting rights: Across the country, voting rights are under attack. At least 306 bills that would restrict voting access have been introduced in more than 40 states. The fight came to a head last week when Georgia Governor Kemp signed a bill full of discriminatory restrictions into law, making Georgia the first state to overhaul its system since the 2020 election.
WHAT WE'RE HEARING ON SOCIAL
A mixed bag: Top posts from both progressives and conservatives last week covered a myriad of topics. On the left those included gun violence, voting rights, and the American Rescue Plan. Subjects on the right were much darker and included personal attacks on President Biden, transphobic policy, and COVID-19 disinformation.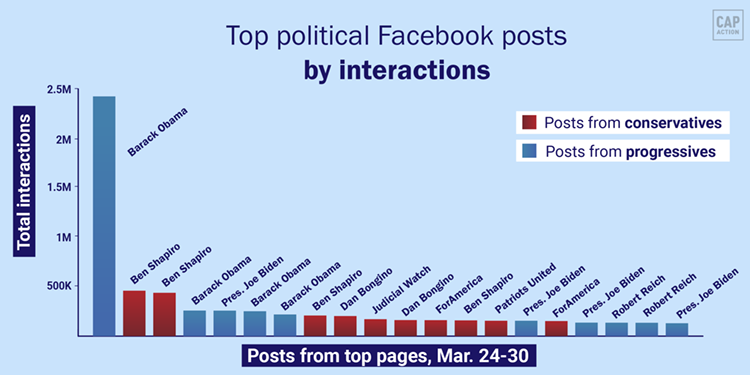 Progressives had a stronger-than-average week on Facebook, earning half of the top 10 posts by interactions.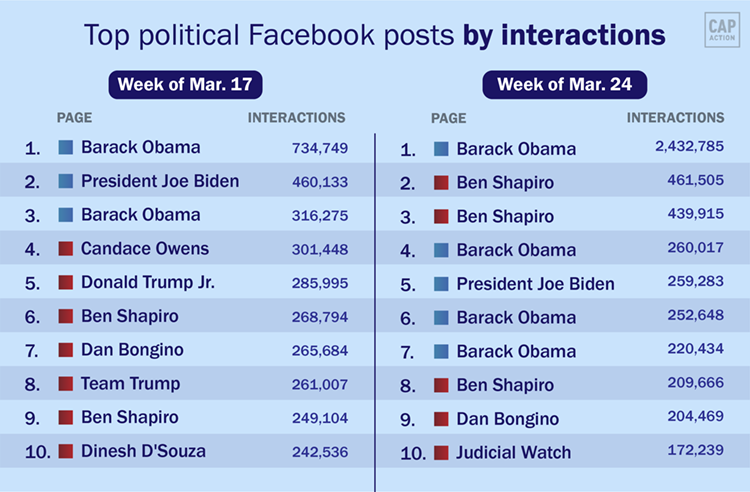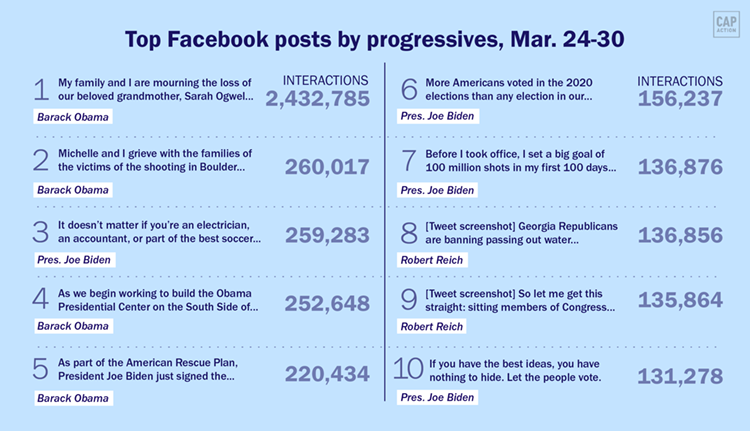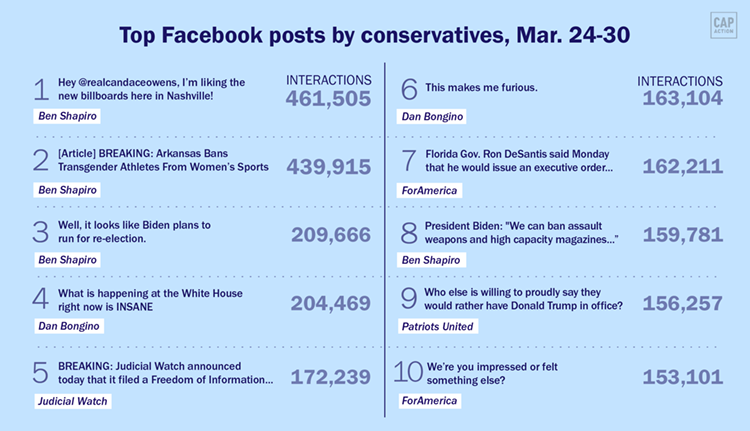 When I began my examination of the top posts on Facebook, I saw that most were about guns and/or gun violence prevention, voting rights, and personal attacks on President Biden. Despite the implementation of the American Rescue Plan being the administration's top policy priority at the moment — and despite COVID-19 remaining a very urgent threat — posts about the American Rescue Plan did not perform as well as other topics across the board.
We've isolated that data to help contextualize the problem: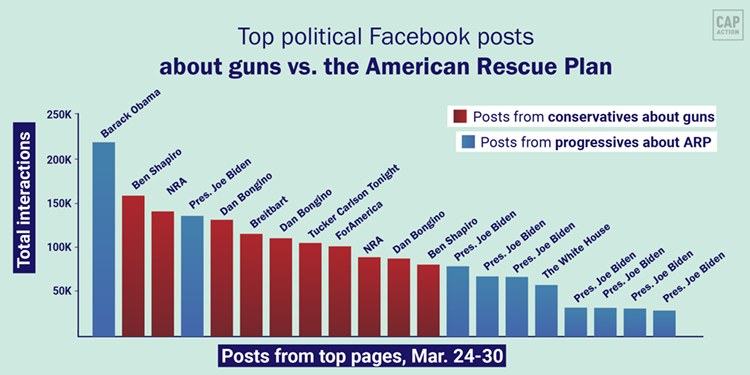 As you can see above, the top 10 posts about ARP are all from President Biden, the White House, or President Obama. This is completely understandable. These three Facebook accounts are some of the largest and most powerful on the platform, and they have the added benefit of being instantly recognizable and constantly in the news.
It's on operatives and organizations with fewer communications and political limitations to publish more aggressive content.
That said, these three accounts are also very limited in what they can post. It's on operatives and organizations with fewer communications and political limitations to publish more aggressive content.
Here are a few ways to do that, as suggested by Rafael Rivero of Occupy Democrats:
Define the villain: After four years of holding Trump accountable, progressives can no longer rely on him to drive engagement. That said, there are other public figures who are not acting in the best interest of the country. Think of Ted Cruz vacationing in Cancun while Texans literally froze to death, Lindsey Graham defending private ownership of assault weapons after (yet another) mass shooting, or Ron DeSantis attempting to overturn local mask mandates.
Be explicit: Think that just stating the facts is enough to drive engagement? Think again. In an algorithm that is designed to drive "meaningful engagement," you need to do everything you can to get your audience to react. That means telling — not showing — them how to feel. Here's a great example from Occupy Democrats. Notice how it asks the audience what they think at the bottom? That's what you're looking for.
Don't take anything for granted: Think your audience knows what the GOP is? A child tax credit? A stimulus payment? Think again. Remember that most Americans do not live in a political bubble — or even think about this stuff daily. Spell things out, literally.
ON MY RADAR
Today, March 31, is International Trans Day of Visibility. In honor, make a pledge to support trans student athletes by the ACLU (@ACLU), and help defend trans rights by taking action to stop anti-trans legislation across the country.
Thanks for reading,
Alex
P.S. Please do forward along to your friends who are interested or encourage them to sign up here.
This newsletter is written by me, Alex Witt (@alexandriajwitt), a progressive political strategist and Dolly Parton enthusiast (she/her). I've managed social media programs for presidential candidates, political committees, progressive advocacy organizations, and more.
The positions of American Progress, and our policy experts, are independent, and the findings and conclusions presented are those of American Progress alone. A full list of supporters is available here. American Progress would like to acknowledge the many generous supporters who make our work possible.
Authors Alex Witt
Senior Director, Strategic Partnerships
Explore The Series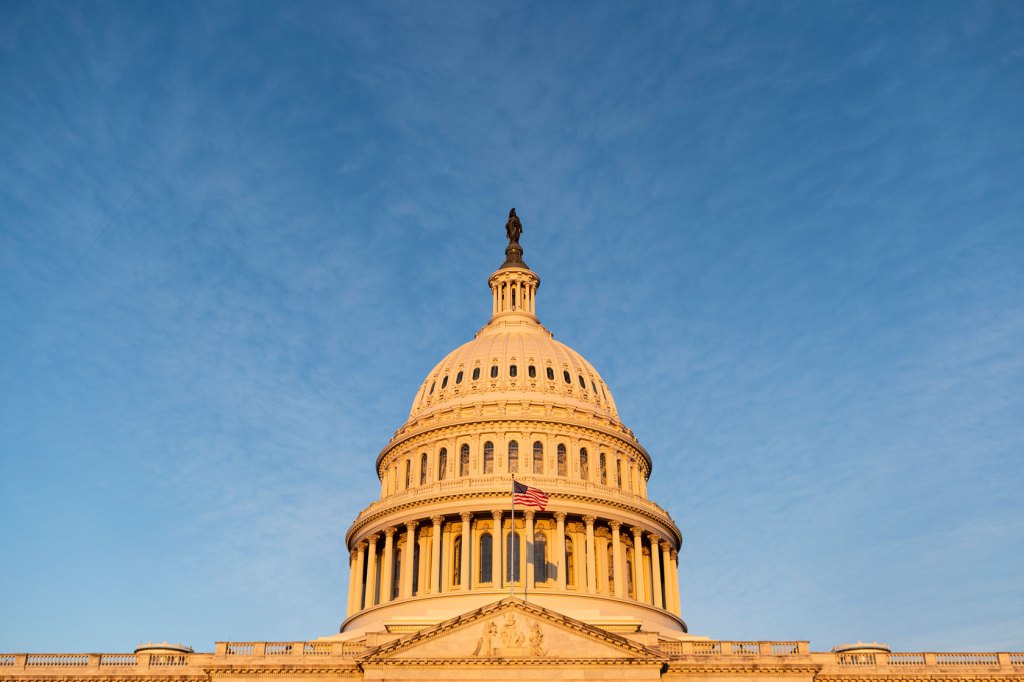 Welcome to "What's Trending?", a weekly newsletter to help progressives answer the age-old questions: What works, and what doesn't? "What's Trending?" cuts through the noise to bring you the best (and worst) of what's happening on social media in the policy space, and explains why it's important.
Previous
What's Trending? American Rescue Plan and Immigration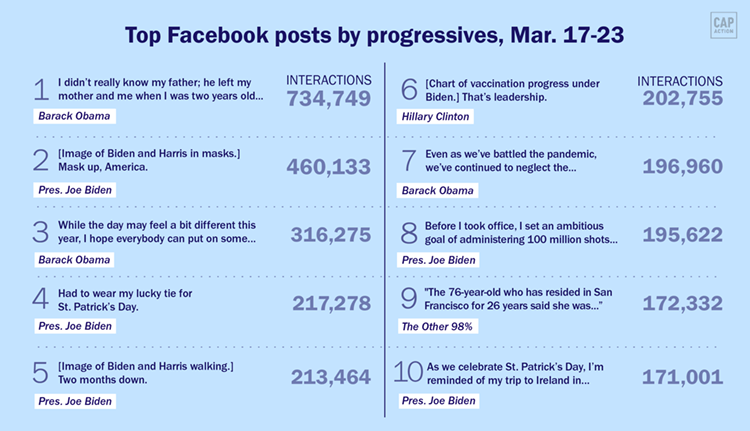 What's Trending? American Rescue Plan and Immigration
Next
What's Trending? Guns and infrastructure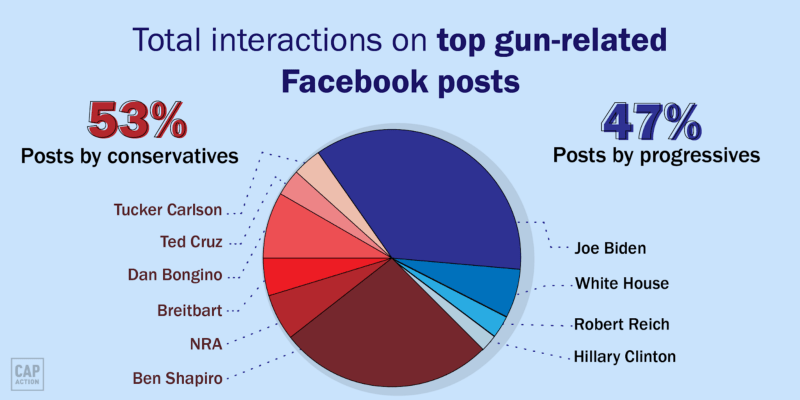 What's Trending? Guns and infrastructure