What's Trending? Trump's tax scam
Part of a Series
This piece was originally published in the September 30, 2020 edition of CAP Action's weekly newsletter, What's Trending? Subscribe to What's Trending? here.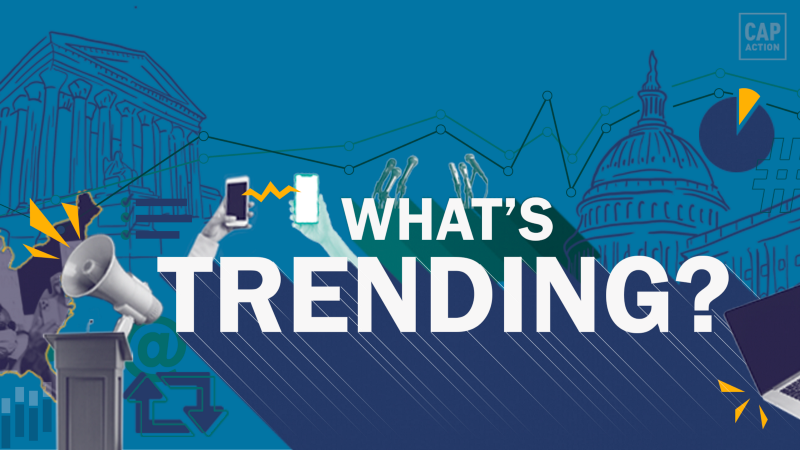 Hey, y'all.
This week I've been thinking a lot about my first job. Not the one on my resume, but the very first gig I worked, where I clocked in and out using a paper timesheet and made about $5.50 an hour wrapping gifts and dusting Precious Moment figurines at a local drug store and gift boutique.
It taught me a lot — about professionalism, managing competing priorities, and filling out a W2. Did I love watching my precious dollars disappear to FICA? No way! But even at the age of 16 I realized I did like my public-school teachers getting pay checks and my grandma having health care.
So when the news broke that Donald Trump hadn't paid even a dollar in income taxes 10 of the past 15 years, I was angry, but unsurprised. That's because Trump's economic policies have always hinged on slashing taxes for millionaires and big corporations while working people foot the bill. He thinks teens paying taxes from their part-time jobs while people like him pay a measly $750 means the system is "working."
This week, we're going to examine how this story is playing out on Facebook — but first, did you miss last week's edition of What's Trending? Don't worry — you can read it here.
WHAT'S TRENDING THIS WEEK
In a bombshell report released on Sunday, the New York Times found that Donald Trump paid just $750 in income taxes in 2016, the year he was elected president, and no income taxes in 10 of the last 15 years. The article has racked up over 5.25 million interactions on Facebook and Twitter since then.
Kentucky Attorney General Daniel Cameron announced a verdict in the Breonna Taylor case: Three charges of wanton endangerment for firing into neighboring apartments, no charges for murdering Breonna Taylor.
On Saturday, Donald Trump officially nominated Amy Coney Barrett to succeed Justice Ruth Bader Ginsburg on the Supreme Court. Barrett has been vocally critical of the Supreme Court for upholding the Affordable Care Act and has suggested Roe v. Wade was an "erroneous decision."
WHAT WE'RE HEARING ON SOCIAL
Here are this week's top five Facebook posts on the Left and Right:





$750: On Sunday evening, the New York Times reported that Trump paid just $750 in income taxes in 2016 and 2017 and no income tax whatsoever in 10 of the past 15 years, mostly because he reported losing more money than he made.
Here's the good news: This article is viral. Since the story broke, the article has racked up more than 5.25 million interactions across Facebook and Twitter, becoming the paper's article that received the most engagement possibly ever according to NewsWhip Head of Research and Editorial Benedict Nicholson.
And here's the even better news: Progressives are out in front on this story. Led by Bernie Sanders and The Other 98%, Facebook pages on the Left are doing an incredible job amplifying this story and spreading the message that Donald Trump is exploiting our tax system while working families foot the bill.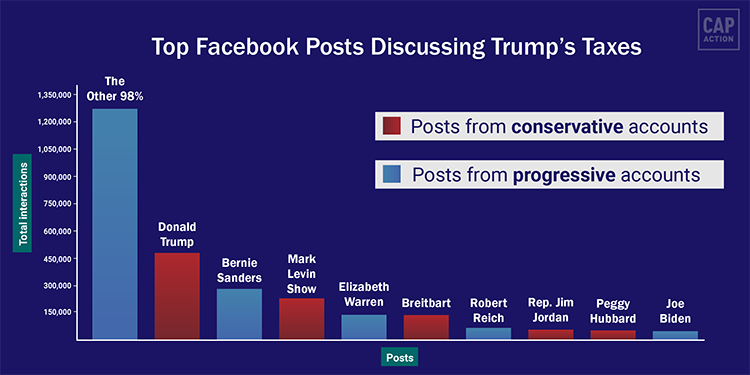 But it wouldn't be an edition of What's Trending? without a reality check: This conversation is largely happening in an echochamber. Conservatives are mostly refusing to engage on this issue, instead dropping a conveniently-timed Project Veritas hit piece that is quickly racking up hundreds of thousands of interactions and millions of views on conservative Facebook pages.
With that in mind, what are the top Facebook posts about Trump's taxes? See the charts below. And a few practical takeaways for those of you managing Facebook pages:
Screenshots of tweets shared without captions are performing very well across progressive Facebook. This is a great strategy to employ if your program is largely focused on Twitter, as many are.
Connect Trump's taxes to broader, structural problems, like Elizabeth Warren did here.
Lift other voices. Alexandria Ocasio-Cortez's Facebook page is smaller and less engaged than her Instagram and Twitter accounts, but The Other 98% capitalized on her name recognition and policy chops on the issue by amplifying her content.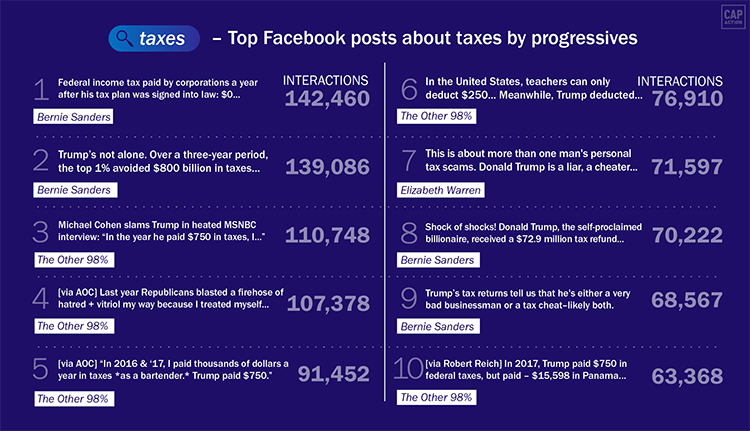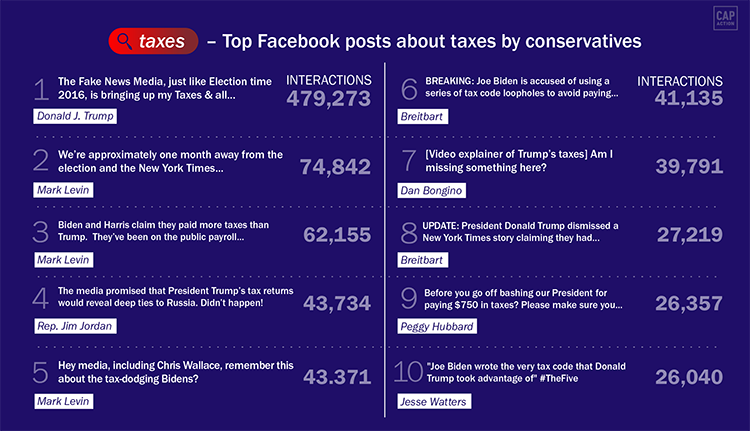 SAY IT WITH ME
An unnamed Facebook executive shared some truly wild thoughts in a recent Politico story: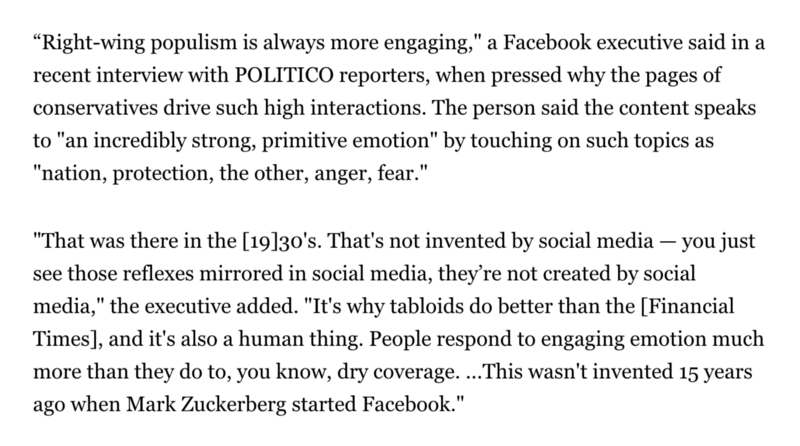 A few thoughts:
Conflating right-wing and left-wing populism is false equivalency when right-wing populism is empowering conspiracy theories, disinformation and radicalization — and Facebook reps wouldn't suggest that's how we fight it, would they?
Facebook has allowed conservative pages to flourish and dominate online content and needs to own up to that.
This completely ignores the role of algorithms (which are created by humans) in promoting unhealthy content.
And finally, are they really suggesting that they should play no role in preventing the rise of a Nazi-like movement?!
The bottom line: Facebook has played an active role in the rise of far-right pages on its platform. And like it or not, they have a responsibility to address it.
ON MY RADAR
Today is the 44th anniversary of the passage of the Hyde Amendment. Check out this toolkit from the National Latina Institute for Reproductive Health to learn more about Rosie Jimenez (the first woman known to have died in the U.S. due to an illegal abortion after Hyde was passed), the history of the legislation, and how you can join the fight to make reproductive health care more equitable.
Thursday, October 1 is Native Women's Equal Pay Day — the day that Native women must work into the new year to make what White men made at the end of last year. Join Native Women on social at 2 pm ET to call for pay equity, using #NativeWomensEqualPay.
Wednesday, October 7 is the first (and only) vice presidential debate. It will be held from 9–10:30 pm ET and will be aired on all major networks.
When: Wednesday, Oct. 7 from 9–10:30 pm ET
Where: University of Utah, in Salt Lake City
Where to watch: The Washington Post will have an uninterrupted live stream of the debate.
Moderator: Susan Page, Washington Bureau Chief for USA Today
ASK ALEX
This week's question is, "Why are the labels Facebook uses on posts that contain voting information so problematic? Isn't it good that they are pointing people to reliably-sourced information?" Great question.
Providing accurate information is a crucial part of any disinformation response, but the design intervention we see on these posts is nowhere near as powerful as the original posts themselves. This thread from Techcrunch reporter Taylor Hatmaker does a great job breaking it down.
If Facebook insists on leaving these posts up — it should really remove them and deplatform Donald Trump, but that aside — these warnings should be much more conspicuous. Here are some emerging best practices for better ways Facebook could be labeling disinformation, and here's an interesting article about the FDA's decision to implement more graphic health warnings on cigarettes because they found the previous ones to be ineffective.
Thanks so much for your questions and your time!
Have a great week,
Alex
P.S. Please do forward along to your friends who are interested or encourage them to sign up here.
This newsletter is written by me, Alex Witt (@alexandriajwitt), a progressive political strategist and Dolly Parton enthusiast (she/her). I've managed social media programs for presidential candidates, political committees, progressive advocacy organizations, and more.
Like What's Trending? Our team relies on the support of subscribers like you. Chip in here to help power our work.
The positions of American Progress, and our policy experts, are independent, and the findings and conclusions presented are those of American Progress alone. A full list of supporters is available here. American Progress would like to acknowledge the many generous supporters who make our work possible.
Authors Alex Witt
Senior Director, Strategic Partnerships
Explore The Series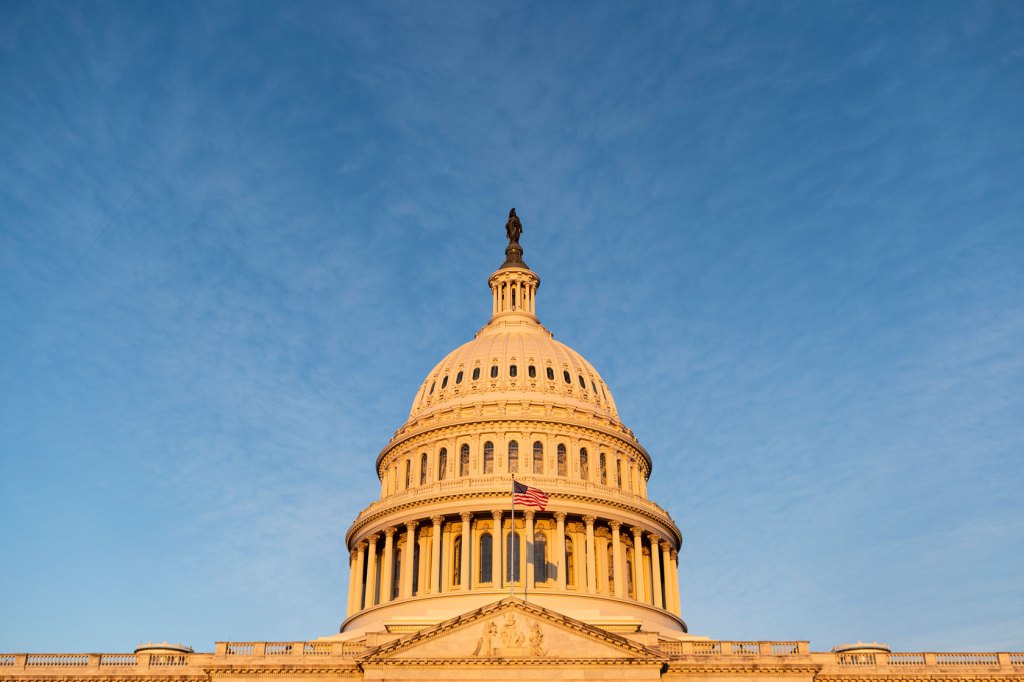 Welcome to "What's Trending?", a weekly newsletter to help progressives answer the age-old questions: What works, and what doesn't? "What's Trending?" cuts through the noise to bring you the best (and worst) of what's happening on social media in the policy space, and explains why it's important.
Previous
What's Trending? The fate of the Supreme Court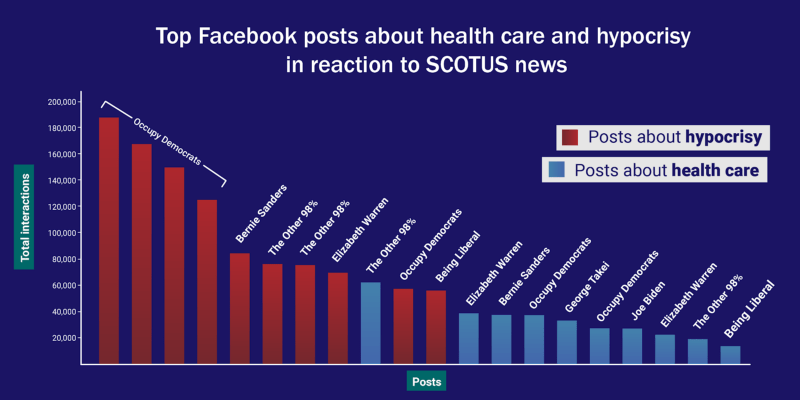 What's Trending? The fate of the Supreme Court
Next
What's Trending? A hot mess inside a dumpster fire inside a train wreck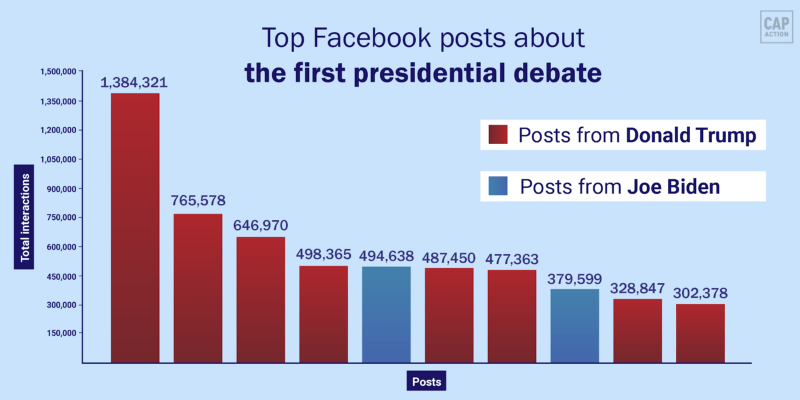 What's Trending? A hot mess inside a dumpster fire inside a train wreck