While we were fighting Kavanaugh.
On Saturday, despite massive opposition, credible allegations of sexual assault, and an outcry from much of the nation, Brett Kavanaugh was confirmed to the Supreme Court. Despite this disturbing outcome, we are more committed than ever to supporting sexual assault survivors around the country, and we are endlessly inspired by all of you who took part in the progressive community's efforts over the past months. The fight continues every day, and no time is more important than the next month.
As we continue the fight, we thought it would be worthwhile to get caught up on what else has been happening. Here's a rundown of the key stories you may have missed during the Kavanaugh fight:
Tax scams galore.

Bombshell report: President Donald Trump built his fortune on money from his father and participation in several dubious tax scams, "including instances of outright fraud." Read three takeaways from the article here.
Tax Scam 2.0: House Republicans passed a second package of tax scam bills to permanently extend the tax breaks for wealthy Americans and corporations from the first #GOPTaxScam.
Congressional Republicans are running away from their health care records.

House Republican incumbents ran on a promise to "repeal and replace" the Affordable Care Act. Now, "several incumbents have employed a bold strategy: hide the evidence."
Climate change is intensifying quickly—and dangerously.

For reference, a 1.5 degree Celsius increase is the point at which irreversible sea level rise, massive coral reef extinctions, and food shortages begin to occur.
"This means that the possibility of a runaway catastrophe — where warming of 2°C or more thaws a huge area of permafrost, and the resulting carbon emissions create, say, another 1° C of warming that in turn releases yet more heat-trapping gases from the permafrost — is on the table."
All the while, Hurricane Michael is barreling its way toward land. It's the "strongest tropical system to make landfall in the mainland United States so far this year," with winds of up to 110 miles per hour.
BIG PROGRESSIVE IDEA: REPRESENTATION FOR A GENERATION.
Young voters are set to make up 34% of the electorate this November. Why, then, are only 6% of state legislators young people?
A new report from Generation Progress highlights the impacts of the gross underrepresentation of young people in Congress and at the state level, in terms of both age and diversity.
What can we do about it? Check out the report for key ideas on how young people can tap into their political power and how we can help them get there—especially leading into the midterm elections.
HEALTH CARE IS PERSONAL: PAUL'S STORY.
Paul's son, Andy, died three months ago after a long struggle with opioid addiction. Medicaid helped pay for his treatment. Paul's representative, Rep. Steve Chabot (R, OH-01), voted to strip those vital services from Ohio.
Watch and share this video to emphasize what's at stake for Americans: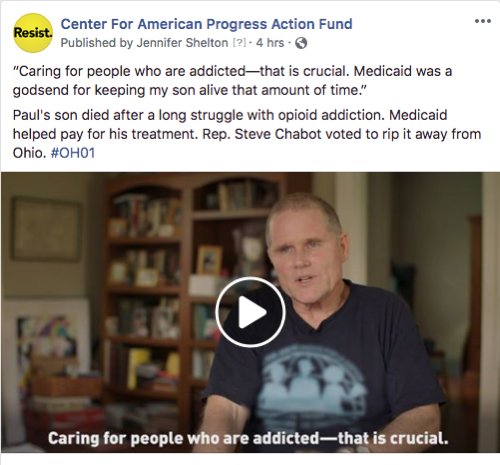 The positions of American Progress, and our policy experts, are independent, and the findings and conclusions presented are those of American Progress alone. A full list of supporters is available here. American Progress would like to acknowledge the many generous supporters who make our work possible.