Why Congress must act now on vote by mail
This piece was originally published in the June 30, 2020 edition of CAP Action's daily newsletter, the Progress Report. Subscribe to the Progress Report here.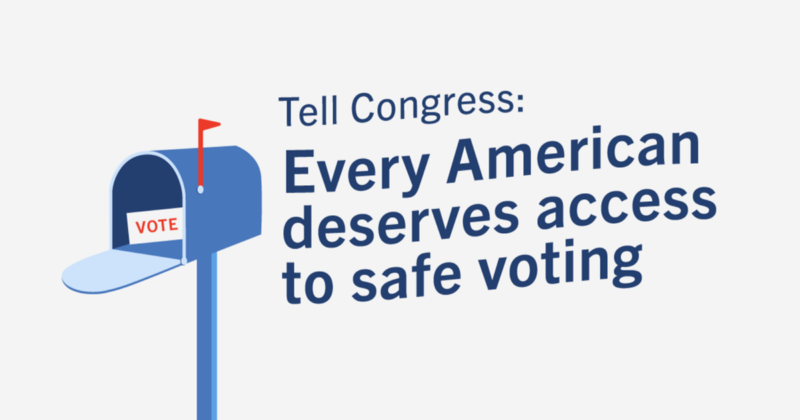 In the midst of the coronavirus pandemic, breaking down barriers to the ballot box has never been more important.
That's why we're calling on Congress to expand vote by mail and early in-person voting before November's election. Can we count on you to call your senators today? Click here to get started.
Nervous about making calls? Don't worry: We'll give you pointers on what to say. Just use the script in the tool to guide you.
WHY VOTE BY MAIL?
Vote by mail makes voting more convenient for many Americans. Vote by mail and early in-person voting are critical tools in the fight to end voter suppression. When voters don't have to physically go to a polling location within a limited window of time, more people are able to vote. Voting in person can be a challenge for people without reliable transportation, seniors, veterans, people who work late, parents, and countless other Americans.
Veterans like Chris are speaking out in support of vote by mail. Click here to watch Chris share his story and learn why he's advocating for safe and accessible voting options.
Vote by mail is secure. According to the Brennan Center, nearly one in four Americans cast their vote via mail ballot in the last two federal elections. Five states use vote by mail as their primary method of voting. When vote by mail is an option, voters are increasingly likely to use it. And as vote by mail becomes increasingly popular among voters, it's becoming clearer and clearer that it's a time-tested, secure way to cast your ballot. A report from the New York Times found that, much like in-person voting, vote by mail states "have encountered essentially zero fraud."
As we push those in power to implement vote by mail, keep in mind that in-person voting options must remain available. As described in this report from CAP and the NAACP, vote by mail is often not ideal for Native Americans living on tribal lands, Americans with disabilities, and Black Americans. In-person polling places also provide an essential safety net for voters who request absentee ballots but do not receive them in time for the election.
Vote by mail is necessary during the coronavirus pandemic. We saw what happened earlier this year when Wisconsin voters were forced to risk contracting coronavirus to make their voices heard. Within weeks of the election, ABC reported that at least 52 of the state's voters and poll workers had tested positive for coronavirus. While some in-person polling places must remain open in November, states must also provide voters with other options that work best for them and their families. Expanding access to vote by mail so that more people can vote from home means fewer people showing up at polling places, thereby helping maintain social distancing. That's why it's so important that Congress fully fund vote by mail and early in-person voting.
Americans should not have to risk their health to make their voice heard — and it's up to our leaders to make that happen. If you agree, click here to call your senators using our easy-to-use call tool.
The positions of American Progress, and our policy experts, are independent, and the findings and conclusions presented are those of American Progress alone. A full list of supporters is available here. American Progress would like to acknowledge the many generous supporters who make our work possible.