"We will hold this president accountable."
It's another day in Trump's America—and another day to stand up for what's right. Get the facts to fight back.
Nadler to Trump: You won't get away with obstructing justice
Another member of Trump's inner circle just defied a subpoena from Congress. At Trump's direction, former White House counsel Don McGahn failed to appear for his scheduled testimony before the House Judiciary Committee this morning.
Chairman Jerry Nadler sent a blistering message to McGahn, Trump, and allies in Congress who are sowing disinformation to protect the president: "Our subpoenas are not optional…we will hold this president accountable."
Share Rep. Nadler's message so that everyone hears: Trump's stonewall of obstruction will not stand.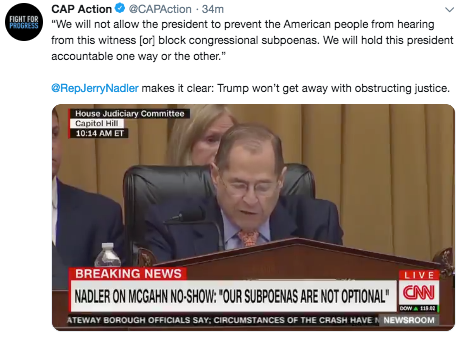 Obstructing the obstruction inquiry: Trump blocked McGahn from testifying today. McGahn is a key witness in Mueller's report, specifically because Trump instructed him to commit obstruction of justice—and then asked McGahn to lie about it.
The Department of (Obstructed) Justice: After Trump indicated that he didn't want McGahn to testify, the Department of Justice wrote a memo saying that McGahn could ignore the subpoena. Barr also defied a subpoena to testify and faces a House vote to hold him in contempt of Congress.
The attacks continue: Meanwhile, new evidence shows that Russia continues its attack on America, seeking to stoke racial hatred and even violence, while Trump continues to inexplicably praise President Putin.
Where does America go from here? The House majority is debating next steps ranging from fines for failing to appear to a full-scale impeachment inquiry, which could provide much greater access to documents.
Tune in to the Center for American Progress Ideas Conference tomorrow to hear directly from Rep. Adam Schiff, Chairman of the House Intelligence Committee, on oversight efforts. Then, watch Speaker Nancy Pelosi sit down with CAP President Neera Tanden to talk about the Democratic agenda for the American people and plans to hold Trump accountable.
Follow @Amprog and @CAPAction for highlights.
#StopTheBans Protests Across the Nation

Abortion is health care. Abortion is a right—and we need your help to make sure it stays that way.
In the face of Republican attacks on women's rights and health across the country, Americans are standing together today to demand that the GOP #StopTheBans.
Find an event near you today at StopAbortionBans.org, and let Republican lawmakers know: They can't attack our rights without consequences.