Winners and Losers: COVID-19 aid siphoned off by big banks, corporations and Trump allies leaving…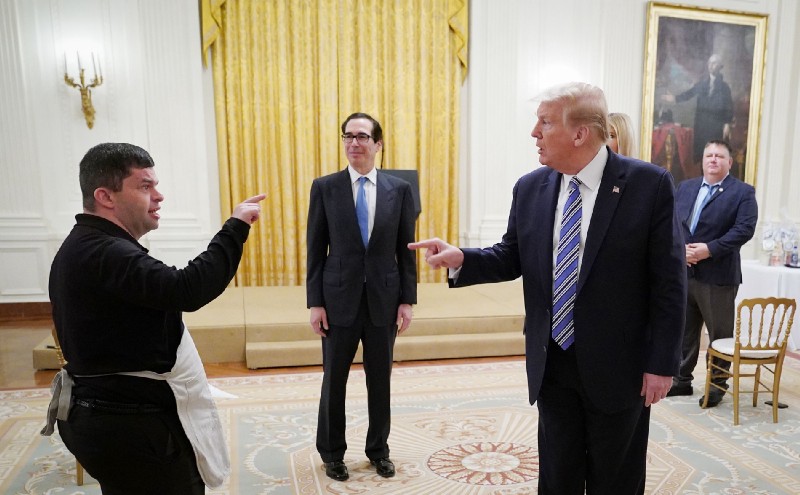 More than 45 days have passed since Congress passed $349 million in small-business aid that was intended for Main Street. But by the end of April, it was clear the Trump administration had different plans. Under President Donald Trump, the implementation of the Paycheck Protection Program has incentivized major banks to prioritize large corporations for enormous fees, at the direct expense of small businesses. The program, intended to provide small businesses with the resources they need to weather the coronavirus pandemic, has quickly become a slush fund for big corporations while failing the small businesses it was designed to help.
"We are taking the MOST aggressive action in history to deliver fast relief to your businesses and workers. We will always protect our Small Businesses!" — President Trump, March 20, 2020
"Workers & small businesses need money now in order to survive. Virus wasn't their fault." –President Trump, March 27, 2020
Winners: Corporations, which were the first to cash in, leaving scraps for companies that are actually at risk
According to The Washington Post, since the program started on April 3, almost 300 publicly traded companies — many with thousands of employees and market values of more than $100 million — initially sucked more than $1 billion in loans intended for small businesses.
More than 30 corporations with CEOs who made more than $1 million annually received small-business aid or contracts.
Big banks such as JPMorgan Chase & Co. made more than $10 billion worth of fees from servicing small-business loans through the Paycheck Protection Program, which initially received close to $350 billion in the CARES Act in less than a month. These banks made these fees assuming zero risk with these loans, which are guaranteed by the federal government.
At least 12 Trump friends and allies received aid, including:
Ashford Inc. and other hotel companies owned by major Trump donor Monty Bennett, who's donated a total of $1.1 million to Trump and the Republican Party since 2016, secured $96.1 million in Paycheck Protection Program loans. That's more than 450 times the average loan of $206,000. After public pressure, Bennett decided to return all of the aid earlier this week.
Rocket Loans and RER Solutions received a $50 million contract to service COVID-19 small-business loans. Rocket Loans founder Dan Gilbert, who also co-founded Quicken Loans, gave $750,000 to Trump's inauguration committee and $67,000 to the Republican National Convention in 2016. Trump once called him "a great friend of mine, a supporter and great guy."
Hallador Energy, which employs Trump's former Environmental Protection Agency Administrator Scott Pruitt as a lobbyist, received a $10 million loan — roughly 50 times the national average.
MiMedx Group, whose owner, Parker Petit, served as Trump's finance chairman in Georgia before being indicted for securities fraud, received $10 million from the Paycheck Protection Program. (Petit has pleaded not guilty.)
Continental Materials Corp., a heating and air conditioner maker, received a $5.4 million loan. The company's owner, Ronald Gidwitz, donated $50,000 to Trump and more than $109,000 to the Republican National Convention.
Flotek Industries, an energy services company on whose board Richard Grenell, Trump's former ambassador to Germany and acting director of national intelligence, used to sit, received a $4.6 million loan.
Nikola Motor Co., an electric vehicle startup owned by Trump donor Trevor Milton, received $4.1 million in loans.
Crawford United, whose former board member Edward Crawford is currently Trump's ambassador to Ireland, received $3.7 million. That's more than 18 times the average loan.
Phunware, a data firm working on Trump's 2020 campaign, received a loan of $2.85 million, or 14 times the average.
Nathan's Famous, whose owner Howard Lorber has personally hosted at least one Trump fundraiser and was once named as one of Trump's two best friends, received a $1.2 million loan, roughly six times the average. (The company has since announced its intention to return the loan.)
Provenance Hotels, the company owned by Gordon Sondland — former European Union ambassador, star of Trump's impeachment proceedings, and $1 million Trump donor — secured a loan of unknown size.
White House economic adviser Larry Kudlow, who famously said in February that coronavirus was "contained," also said his wife had an easy time getting her loan — while 80 percent of small businesses that applied did not receive one.
In fact, a class-action lawsuit alleges that big banks such as Wells Fargo have been actively prioritizing big businesses requesting bailouts — all so they can pad their own balance sheets with huge processing fees. Wells Fargo and the other defendants said they are committed to supporting small businesses and denied any wrongdoing.
Meanwhile, billions of dollars were sent to areas of the country with relatively few novel coronavirus cases, to companies in industries that have not been the hardest hit by the shutdown, as well as to companies that are not even small businesses.
Losers: Actual small businesses, which have been left out to dry
Four in 5 small businesses that applied for an initial Paycheck Protection Program loan did not receive one.
As of April 29, 40 percent of eligible families were still waiting on their direct payments from the CARES Act.
None of the $8 billion set aside for Native American tribes in the CARES Act to help with economic relief has been distributed from Trump and Steven Mnuchin's Treasury Department to date.
Large majorities of businesses owned by people of color — often underbanked — have been shut out of the application process, something even the Trump administration has acknowledged.
One local Queens, New York, restaurant owner filled out loan forms more than 250 times amid website crashes and failed to secure a loan before the Paycheck Protection Program fund ran out of funding.
Austin, Texas-based Branch BBQ failed to secure any aid from the Paycheck Protection Program, while larger high-end steak chain restaurant Ruth's Chris Steak House received more than $10 million.
Local North Carolina metal fabricator Metalmorphosis, which started in a family garage, started the process early with their local credit union and were told they applied too late.
The chaos around the program's introduction left genuine small-business owners twisting in the wind trying to figure out how to access the money.
Despite promising that businesses would be able to access funds within three days of applying, even if they weren't approved for a loan, small-business owners have been left waiting a week or more while big businesses cash in.
Despite promising that companies would be eligible for up to $2 million in loans, the Small Business Administration (SBA) suddenly lowered the cap to just $15,000 without any warning or explanation.
Despite promising businesses they could get a cash advance of up to $10,000, the SBA "clarified" that the advances would be limited to $1,000 per employee, leaving many businesses unclear on how much they'd be eligible to receive.
The Trump administration has so far failed to answer even basic questions about how to access the money, leaving small-business owners sorting out complicated rules and instructions as they try to keep their businesses and their families afloat.
As a result, within days of the program starting up, small-business owners were reportedly "panicked that the money will run out before their applications are approved" — a worry that proved prescient when funds reportedly ran out after less than two weeks.
Meanwhile, freelancers, sole proprietors, and gig workers are effectively locked out of the program altogether — and, unlike big businesses, the administration doesn't seem to be making any moves to change the rules to help them out.
The Paycheck Protection Program was supposed to provide a lifeline for the small-business owners who have been hit hardest by the coronavirus pandemic. In fact, the $10 billion worth of service fees that banks made is enough to give 20,000 small businesses a $500,000 loan apiece. Instead, it was just another government bailout for big companies looking to pad their pocketbooks, leaving everyday Americans to pick up the pieces on their own.
The positions of American Progress, and our policy experts, are independent, and the findings and conclusions presented are those of American Progress alone. A full list of supporters is available here. American Progress would like to acknowledge the many generous supporters who make our work possible.