"You've made yourself beholden to Putin."
It's another day in Trump's America—and another day to stand up for what's right. Get the facts to fight back.
Russia's hold on Trump, as detailed in the Mueller report
You know it's bad when Republican allies say that Trump's campaign is "beholden to Putin."
At today's House Intelligence Committee hearing, that's what the GOP's own witness said about Trump and his inner circle, referring to the June 9 Trump Tower meeting between Russian operatives and Donald Trump, Jr., Paul Manafort, and Jared Kushner.
Chairman Adam Schiff's committee questioned two former FBI officials and a former federal prosecutor about the counterintelligence implications of Mueller's report. Despite partisan differences, the experts agreed that Putin and Russia have significant influence over Trump and his associates, and the implications of that influence are alarming, to say the least.
Share this clip to spread the word: Trump is beholden to a hostile foreign autocrat. Congress must continue investigating the crimes laid out in Mueller's report to figure out just how compromised Trump is, and take action to ensure that he can't further endanger the United States.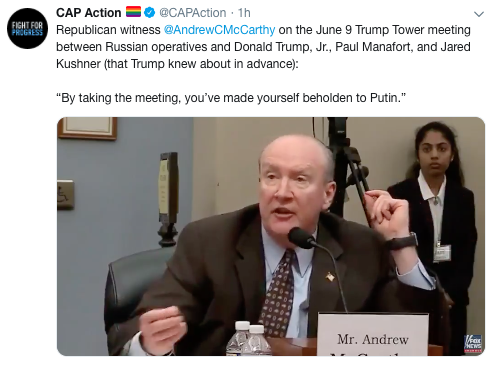 Here are three takeaways from today's hearing:
Trump and his inner circle are compromised: One former FBI official put it this way: "If you can be compromised based on your dishonesty about something, that's something a foreign intelligence agency can take advantage of." That describes Trump and his inner circle. That's exactly the alarm that was raised about Michael Flynn when he lied about his calls with Russia. The danger that poses to our national security cannot be overstated.
The Pulse nightclub shooting: three years later

Today marks three years since 49 lives were lost to senseless, hate-fueled gun violence at Pulse Nightclub in Orlando, Florida.
We wish we could say that this vicious, hateful attack on the LGBTQ+ community spurred change in this country. We wish we could say that lawmakers across the U.S.—regardless of party or NRA affiliation—immediately took action to save lives. They didn't.
Since then, tens of thousands more Americans have been killed by guns, and the Republican-controlled Senate has prevented the passage of a single law to stop it. Senate Majority Leader Mitch McConnell refuses to even allow votes on two key bills that would address the gun violence epidemic and passed the House on a bipartisan basis.
As Pulse survivor Brandon Wolf wrote this week, "It's time for our lawmakers to eliminate partisan gerrymandering and barriers to the ballot box, end big money in politics, and curb the culture of unaccountable government. It's time for our U.S. senators and Leader McConnell to stop standing in the way of the people. It's time to fix our broken political system, which allows gun violence to continue. The lives of the millions of Americans affected each year are worth it."