RELEASE: Is Global Warming Killing the Easter Bunny's Cousin?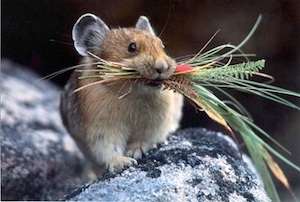 Washington, D.C. — The American pika (the mountain bunny of the Rockies) is the latest casualty of the consequences of global warming. New research published in Global Change Biology—"Contemporary Climate Change Alters the Pace and Drivers of Extinction"—highlighted by Brad Johnson on Think Progress, finds that local populations of the American pika, climate-sensitive cousins of the rabbit, are dying off at an increased rate due to warming temperatures. Unable to survive in temperatures above 78 degrees, pikas must seek higher altitudes or face extinction.
The recent extreme weather and devastating storms that have swept through the United States this April—causing dozens of deaths and several states to declare a "state of emergency," including in North Carolina, Virginia, Alabama, and Texas—are just another reminder of the destructive impacts of not addressing global warming. Earlier this week, the most violent stormfront in U.S. history delivered death and destruction, after it ripped "through 14 states and left at least 45 people dead over the weekend." This stormfront shattered records as it destroyed communities. Meanwhile, Texas continues to burn due to record-shattering drought causing widespread wildfires across the state.
As Rep. Henry A. Waxman pointed out at a CAP Action event last month, the current disconnect between science and policy in Congress is incredibly irresponsible, saying, "The reaction of many on the Republican side has been to deny the science. This is politically convenient because if you reject the science, the imperative to act vanishes."
For the Think Progress post, click here.
For Congressman Waxman's speech at CAP, click for video and transcript.
###