RELEASE: Koch Industries Applies for Federal Funds From Health Care Law It Opposes
Washington, D.C.—Today, the Department of Health and Human Services announced the "first round of applicants accepted into the Early Retiree Reinsurance Program," a $5 billion program established by the new health care law to help employers and states "maintain coverage for early retirees age 55 and older who are not yet eligible for Medicare." According to the agency, "nearly 2,000 employers, representing large and small businesses, state and local governments, educational institutions, nonprofits, and unions" applied and have been accepted into the program and "will begin to receive reimbursements for employee claims this fall."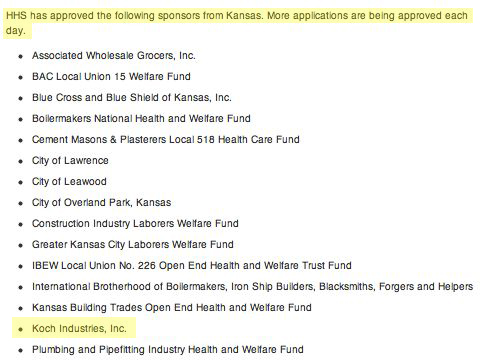 Ironically, one of those employers is the oil, chemicals, and manufacturing conglomerate Koch Industries, which as Lee Fang has reported, has also spent millions of dollars opposing reform.
The contradictory practice of opposing the health care law while applying for its funding has been a common practice among states. For instance, at least 19 of the 22 states that are suing the federal government over health care reform have applied for the law's rate review grants, and some—like Utah—are actively working with HHS to ensure that the law meets their needs. Still, Koch's efforts to cash-in from a law they're so vehemently opposing may be the most stark example thus far.
To see full post, click here.