RELEASE: National Security Implications of a Romney Presidency
Washington, D.C. — Today, as part of Romney University, the Center for American Progress Action Fund released three products that focus on what a Romney presidency would look like for our national security—"The Bush-Cheney Foreign Policy Reunion Yearbook," "The Numbers Don't Add Up on Mitt Romney's Defense Budget," and "Do We Want to Live in Romney's or Obama's World?" Today's discussion, "Romney Foreign Policy 101," with former Assistant Secretary of Defense Doug Wilson, CAP Action's Brian Katulis and Lawrence Korb, and the National Security Network's Heather Hurlburt, will be streamed live online at 1 p.m. EDT here.
The same Republicans who did so much damage to the nation's power and standing in the world during the George W. Bush administration are advising, fundraising for, and serving as surrogates to Republican presidential nominee and former Massachusetts Gov. Mitt Romney's presidential campaign, as fully detailed in "The Bush-Cheney Foreign Policy Reunion Yearbook." The Obama administration, on the other hand, has purposefully strengthened the nation's security and standing. American voters can choose to continue to increase the nation's strength, leverage, and options, or choose to return to the policies these advisors are advocating that drained the nation's military, economic, and diplomatic power. In this brief, you will find key positions of each advisor, their role in helping the Romney campaign, and what issues the advisor and candidate have in common.
In "The Numbers Don't Add Up on Mitt Romney's Defense Budget," CAP Action Senior Fellow and former Assistant Secretary of Defense in the Reagan administration Lawrence Korb shows how Gov. Romney's defense plans would be prohibitively expensive—costing $2.1 trillion more over the next decade than the Obama administration's plan—and, by exploding the deficit or gutting domestic programs, compromise our national security. Gov. Romney's plan ignores the advice of our military planners and shatters historical precedent, all in response to security threats he has not deigned to specify. Gov. Romney has also failed to engage with various plans put forward to rein in military personnel costs or reform procurement, nor has he outlined his own reform agenda.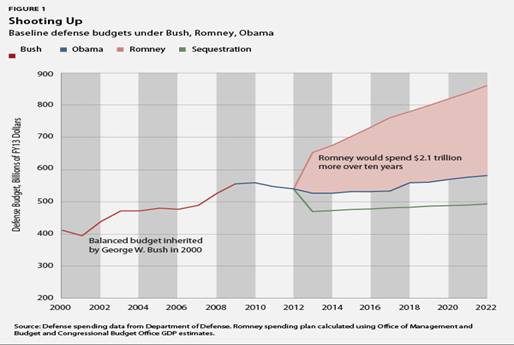 For a cheat sheet to compare President Barack Obama and Gov. Romney on their foreign policy proposals, "Do We Want to Live in Romney's or Obama's World?" outlines the position of the two presidential candidates on use of force, China, the global economy, Russia, and the Middle East. All of these major issues indicate that a wide gulf separates President Obama's efforts to manage America's critical role in an ever-more complex international system and Gov. Romney's vision of an America as a lone, aggressive bull in the international china shop. While President Obama seeks to build America's foreign policy future on a foundation of pragmatism and principle, Gov. Romney looks to double down on the failed foreign policy vision of former President George W. Bush and former Vice President Dick Cheney that led to a disastrous war in Iraq.
Aimed at influential policy- and opinionmakers inside the Beltway and beyond, "Romney University" will kick off a series of seminars by the Center of American Progress Action Fund that will tell you everything you need to know about Gov. Romney's policy proposals in his race for the presidency.
Related resources:
Learn more about Romney U:
To speak with CAP Action experts on this topic, please contact Christina DiPasquale at 202.481.8181 or cdipasquale@americanprogressaction.org.
###