VIDEO RELEASE: Half in Ten Challenges the Candidates to Discuss Child Poverty with #talkpoverty Twitter Campaign
Washington, D.C. — Today, with the release of a new video and the launch of the #talkpoverty Twitter campaign, Half in Ten and Every Child Matters issued a challenge to the presidential candidates and the media to discuss the issue of child poverty as the nation nears the November elections. The video highlights how the candidates have been peppered with irrelevant questions about reality TV shows and the kind of pizza they prefer, yet through 23 primary debates and two week-long conventions, only about 0.2 percent of campaign stories have addressed poverty in a substantive way.
"If the candidates have time to discuss late night comedy and rock legends, we believe they should be able to carve out the time to discuss the fact that one in five children in this nation live in poverty," said Melissa Boteach, Director of Half in Ten. "That's why Half in Ten and Every Child Matters have joined forces to pressure the moderators of the 2012 presidential and vice presidential debates to ask the candidates what they would do in their first 100 days to combat child poverty."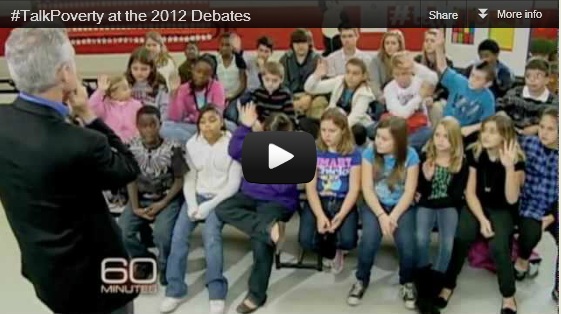 One in five children in the country live in poverty, and more than one in five households with children struggle with hunger. By negatively impacting educational outcomes, worker productivity, and long-term health costs, the devastatingly high rate of child poverty has the potential to undermine the nation's economic competiveness. In the lead up to the election, Half in Ten will arm advocates, policymakers, and journalists with the resources they need to engage the candidates in a conversation about solutions to the challenge of child poverty.
Related resources:
To speak with experts about the #talkpoverty campaign, please contact Madeline Meth at mmeth@americanprogressaction.org.
###
Half in Ten was launched in 2008 to urge local, state, and national leaders to set a national goal of cutting poverty in half in 10 years, and to build the political and public will to advance legislation and programs that will help us to reach it. More information on the campaign can be found at www.halfinten.org.