5 things to know about the Supreme Court's Texas abortion ban decision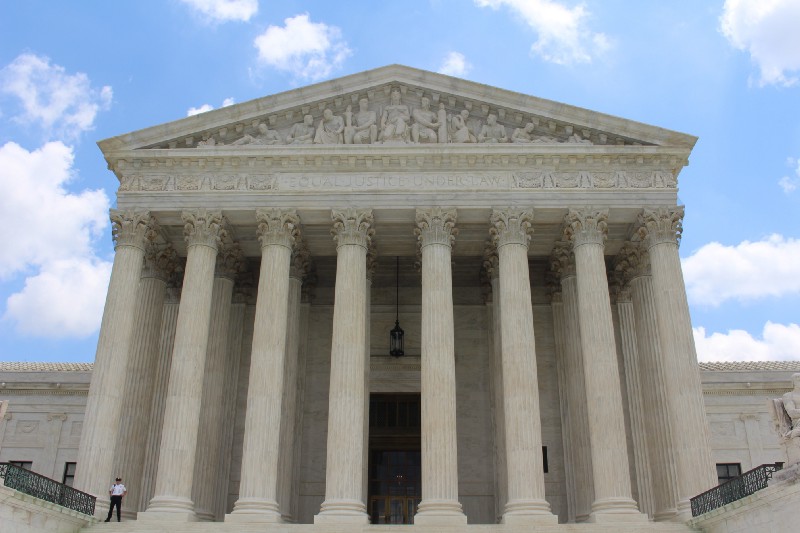 Late last week, the Supreme Court issued a ruling on Texas's six-week abortion ban known as SB8. While the Court allowed for at least some suits challenging the flagrantly unconstitutional law to be filed, the Court once again failed to block the enforcement of the law. While the constitutionality of Texas's law was not before the Court — rather, the law's bounty-hunter style enforcement scheme was — this decision demonstrated deep disrespect for the nearly 50 years of precedent on the right to an abortion first recognized in Roe v. Wade.
This decision came on the heels of oral arguments in the case known as Dobbs v. Jackson Women's Health Organization — arising out of Mississippi's ban on abortion care after 15 weeks — where the Court is explicitly being asked to overturn Roe and eliminate the right to an abortion. A decision in that case, sure to be a landmark ruling, is not expected until late spring or early summer of 2022.
Here are five essential things to know after the Court's decision in the Texas case and as we await its decision in Dobbs.
The Supreme Court Is Openly Courting Extreme Policies
The Supreme Court, far from being a balanced body of jurists, is now furthest to the right than it has been since the 1930s. In fact, now badly out-of-step with the values of the American people, Dobbs marks the first time the Court has been willing to consider upholding a blanket ban on abortion since Roe was decided in the early 1970s.
Underscoring the seriousness of the threat that awaits, during oral arguments in Dobbs at least two justices openly raised theories that could enable states to make the well-being of a woman secondary to that of her pregnancy.
And the Texas decision is perhaps the clearest evidence of the Court's ideological lurch. Far from simply failing to block Texas's extreme ban — which is enforced by the state empowering private citizens to place a bounty on the head of any person who helps another get an abortion — the Court's majority opinion was viewed by many as providing a roadmap to other states who wish to enact similar schemes.
Taken together, these are chilling signs of the leeway the Court may be prepared to give politicians who wish to interfere in people's most intimate, private affairs.
2. Upholding the Mississippi Ban is Incompatible with Roe and the Rule of Law
As alarming as the Court's decision in the Texas case was, it is important to note again that the justices were not directly ruling on the right to abortion — but they will be in Dobbs.
Coming out of oral arguments in that case, many news outlets noted that the Court seemed likely to uphold the Mississippi ban, but some seemed to suggest there was a possibility that the justices may not overturn Roe "entirely." To be clear, upholding a 15-week ban is incompatible with Roe's core holding.
Even if the justices, perhaps in anticipation of the public outcry that is sure to await any decision eliminating the 50-year precedent, do not state that Roe is explicitly overturned or otherwise try to hedge the breadth of their decision — the fact remains that the Court will have destroyed the core promise of Roe.
Such a decision would also lay bare the fact that a majority of justices are willing to abandon longstanding precedent and adopt a new view of the constitution that mirrors the views of far-right politicians. Such a change would very likely create, as Justice Sotomayor put it, attach a "stench" to the Supreme Court that could severely damage the public's view of its proceedings and the stability of the rule of law overall.
3. A Decision That Erodes Liberty Would Put Americans' Other Rights at Risk
Recognized as a "fundamental right" and a "constitutional liberty" in caselaw stretching over nearly five decades, the right to an abortion is essential to people's ability to determine the contours of their own lives.
And while the right to liberty demands the right to an abortion, that is not the only right threatened if Roe is overturned. Roe, as well as Planned Parenthood v. Casey which affirmed Roe's core holding in 1992, laid out a robust framework to understanding the constitutional guarantee to liberty and the rights it protects. If that framework were to be weakened, other critical rights bolstered by that framework — many of which are essential to reproductive justice — would be questioned. The rights to bodily integrity and to parent with dignity as well as the right to marriage equality would all be in politicians' crosshairs.
In fact, this is precisely what some are actively lobbying the Supreme Court to embrace. Texas Right to Life — the influential, far-right group that behind SB8 — urged the justices to use Dobbs to eliminate the right to abortion. In the same brief to the Court, the group also forcefully argued that the constitutional right to same-sex marriage should also be eliminated for being "as lawless as Roe."
4. Protecting Access to Abortion Care is Critical
Even though the rights that would be threatened by a bad decision in Dobbs are broader than abortion care, there should be no mistake that the elimination of legal abortion in America is the current, primary goal of those supportive of both Mississippi's law as well as the Texas ban.
Already, particularly among low-income communities and communities of color along with other marginalized populations, politicians are far too emboldened to limit the right to an abortion in judgement of those who decide to end their pregnancies. Unfortunately, Justice Kavanaugh seemed to suggest this was the proper state of affairs during oral arguments.
The continued implementation of the Texas law has made clear what happens when abortion is banned in a state: those who can travel out-of-state to seek care will attempt to do so, while the rest will be left with virtual no options for accessing safe care within their own state.
Already, this state of affairs is causing desperation inside and outside the state's borders. One doctor described how a patient curled up and cried uncontrollably when told she would be unable to get care. And clinics in other states, now faced with unprecedented backlogs, are also being forced to turn patients away.
When people are blocked from having an abortion, their well-being — physical, mental, and financial — may be irreversibly harmed. And particularly given that the strong majority of those who seek abortion care already have children and are seeking an abortion to focus on caring for their children, that harm can have compounding effects for future generations.
5. Progress is Possible
Despite the dire threat the Supreme Court represents, there are opportunities for policymakers to take proactive action. For example, the federal Women's Health Protection Act (WHPA) would codify the core promise of Roe into federal law and make policies that insert politicians into exam rooms — forcing doctors to perform medically unnecessary and harmful procedures meant to shame and belittle those seeking abortion — unlawful.
In addition, Congress should act to pass the Equal Access to Abortion Coverage Act (EACH) to ensure that government health care plans, including Medicaid, cover abortion services and prohibits politicians from meddling in decisions by private health insurers to cover abortion. All families, regardless of their income, should have their dignity and full rights respected — including access to abortion and other reproductive health needs.
And states must act as well to make abortion more accessible. As just a few examples, states should enshrine the right to abortion into their own constitutions, work to ensure the safety of those seeking and providing care, and prohibit unnecessary restrictions on abortion care.
As the devastating harms from the Texas decision continue to play out and we await the Court's ultimate decision in Dobbs, we must act now to begin to safeguard against the most serious and immediate harms that would follow — the liberty and well-being of every person in this country depends on it.
The positions of American Progress, and our policy experts, are independent, and the findings and conclusions presented are those of American Progress alone. A full list of supporters is available here. American Progress would like to acknowledge the many generous supporters who make our work possible.
Authors Senior Director and Senior Legal Fellow, Women's Initiative