Brought to You by Biden: Federal Investments From Coast to Coast
Communities nationwide are benefiting from infrastructure funding through the American Rescue Plan and the bipartisan infrastructure law.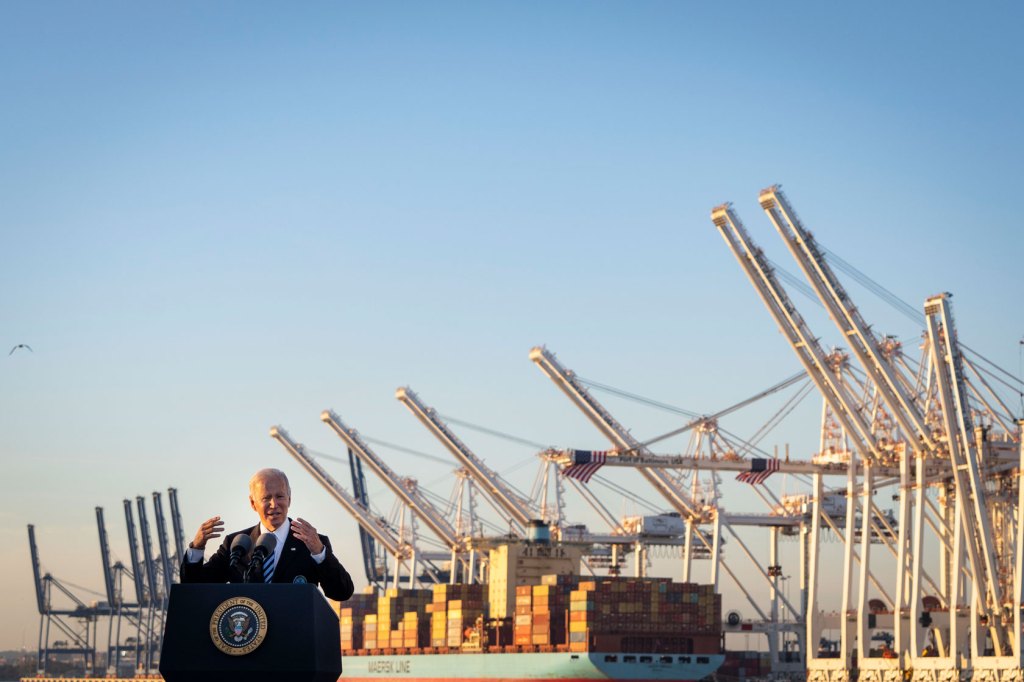 After the passage of the American Rescue Plan and Infrastructure Investment and Jobs Act, also known as the bipartisan infrastructure law, in 2021, federal funding provided by the Biden administration continues to make significant investments in infrastructure and economic development in state and local communities across the country.
In the past two months alone, President Joe Biden's economic agenda has funded numerous new federal programs and investments, including:
The investments in these programs come in addition to support for state and local programs through the American Rescue Plan's $350 billion in funding, which communities across the United States have used to tackle issues such as homelessness.
See examples of how Biden administration funding is delivering for state and local communities below:
Arizona: "New Phoenix program aims to offer jobs, end homelessness," KJZZ, March 23, 2022
"The city will use $1.5 million in American Rescue Plan Act funding to contract with the Phoenix Rescue Mission to run a program called 'Phoenix Will Work.'"
Arizona: "Phoenix allocates $9M to expand mental health resources," KTAR, March 9, 2022
"The Phoenix City Council on Wednesday unanimously approved allocating $9 million of American Rescue Plan Act funding to expand mental health resources. Mercy Care, the Regional Behavioral Health Authority in Maricopa County, will receive the funding to continue providing access to health care services for people who are uninsured or underinsured."
Georgia: "Government funding to help lower energy costs for Georgia families," CBS 46, March 30, 2022
"Just announced today, Georgia is set to receive more than $84 million from the Department of Energy through recently passed Infrastructure legislation."
Georgia: "U.S. Department of Commerce Invests $750,000 in American Rescue Plan Funds To Boost Tourism and Create Jobs in Hogansville, Georgia," U.S. Economic Development Administration, April 19, 2022
"Today, the U.S. Department of Commerce's Economic Development Administration (EDA) is awarding a $750,000 grant to the city of Hogansville, Georgia, to support the rehabilitation of the vacant Royal Theater. This grant is funded by the American Rescue Plan."
Georgia: "Feds award $69M to Georgia for dam repairs and flood-control projects," WABE, April 22, 2022
"The federal government said Thursday that will spend about $420 million — including over $69 million in Georgia — to repair dams and develop flood control projects in dozens of states, marking the latest infusion of cash from a federal infrastructure law."
Michigan: "In This Michigan County, Pandemic Stimulus Funds Are Remaking Public Health Programs," The New York Times, April 9, 2022
"Here in mid-Michigan, where officials have warned of soaring rates of violence, drug addiction and delayed care during the pandemic, the local aid from last year's stimulus bill, the American Rescue Plan, has rewritten the economic fortunes of Ingham County and its public health programs."
Minnesota: "Minnesota will get $166.6 million for transit through federal infrastructure package," Star Tribune, April 9, 2022
"The Federal Transit Administration released formulas on Wednesday to distribute the $20 billion in national transit spending included in the federal legislation President Joe Biden signed in November. Of the money bound for Minnesota, $116 million is designated for the Twin Cities region."
North Carolina: "Federal infrastructure bill to increase rural and urban state transit funding for North Carolina by 25 percent," Mass Transit, April 12, 2022
"North Carolina will receive more than $176 million in public transit funding – including more than $45 million in funding for rural transit services – as part of the federal Infrastructure Investment and Jobs Act."
New Hampshire: "Biden Pushes Infrastructure Plans in Visit to New Hampshire," U.S. News and World Report, April 19, 2022
"Biden's destination was the state's only deep water harbor, making it a critical way station for home heating oil, fiberoptic cables and rock gypsum, which is used to produce drywall. … Under the $1 trillion infrastructure law, $1.7 million will be used to dredge the harbor's shipping channel and basin."
New Hampshire: "State launches federally funded program to help struggling homeowners," New Hampshire Bulletin, March 22, 2022
"New Hampshire homeowners struggling with mortgages or property taxes have a new assistance program available this week, with the launch of a state-run, federally funded relief program Monday. … Administered by the New Hampshire Housing Finance Authority, the state program taps into $40 million in housing funds allocated to the state by the American Rescue Plan of 2021, passed by Congress last March."
Nevada: "Mental health services in Nevada to get $20 million shot in the arm," Las Vegas Sun, April 20, 2022
"Emergency mental health services in Nevada will be getting a $20 million infusion, thanks to the federal government's American Rescue Plan Act, and the state will hook into a national mental health hotline modeled after the 911 U.S. emergency call number."
Pennsylvania: "$96 million federal grant should keep SEPTA rolling through 2024," WHYY, March 4, 2022
"SEPTA is getting another infusion of emergency funding from the federal government. The $96 million grant comes courtesy of President Biden's American Rescue Plan. General manager Leslie Richards said Friday the money will be used to plug holes in the agency's operating budget, which has taken a hit due to reduced ridership."
Pennsylvania: "Erie, Crawford county health providers receive $4.74 million to recruit and retain workers," GoErie, March 28, 2022
"Northwestern Pennsylvania hospitals and behavioral health providers have struggled for years to attract and keep staff, and the COVID-19 pandemic made it even more difficult. Now those facilities are receiving money appropriated by Pennsylvania lawmakers and funded through the federal American Rescue Plan Act. Fourteen hospitals and providers in Erie and Crawford counties will receive a combined $4.74 million, according to the Pennsylvania Department of Health Services."
Wisconsin: "Wisconsin's dairy industry just got a $20 million investment from the American Rescue Plan. Ron Johnson voted against it.", Heartland Signal, March 8, 2022
"The U.S. Department of Agriculture announced last week that Wisconsin's dairy industry will get $20 million from the American Rescue Plan Act, a local stimulus Sen. Ron Johnson (R-WI) voted against last year. The department's Dairy Business Innovation (DBI) Initiatives said it would award an additional $80 million equally split among four initiatives in Wisconsin, California, Tennessee and Vermont. The funds will be used 'to build long-term resilience' in the dairy industry, according to Agriculture Secretary Tom Vilsack."
Social media spotlight
I was in Iowa today, where 16% of households don't have an internet subscription.

In some places, there's no high-speed internet infrastructure at all.

The Bipartisan Infrastructure Law will make high-speed internet affordable and available around the country.

— President Biden (@POTUS) April 13, 2022
Every American and every child should be able to turn on the faucet and drink clean water.

With the Bipartisan Infrastructure Law, we're going to start replacing 100% of lead water pipes and service lines — creating good-paying jobs for plumbers and pipefitters.

— President Biden (@POTUS) April 19, 2022
This year, through the Bipartisan Infrastructure Law, we're going to start fixing over 65,000 miles of highway and 1,500 bridges in disrepair.

— President Biden (@POTUS) March 14, 2022
This afternoon, I visited Portsmouth Harbor — a site that's receiving funding from the Bipartisan Infrastructure Law to accommodate larger ships and more cargo. It's just one example of how we're modernizing our nation's infrastructure and lowering costs for consumers. pic.twitter.com/kP0mU9xPVk

— President Biden (@POTUS) April 20, 2022
Every day, millions of children ride on diesel school buses, breathing toxic fumes that can harm their health.

The Bipartisan Infrastructure Law invests $5 billion in the EPA's Clean School Bus program to help school districts electrify their fleet of buses.

— Kamala Harris (@KamalaHarris) April 10, 2022
One reason I'm excited about @POTUS' Bipartisan Infrastructure Law is that it builds a national network of electric vehicle (EV) chargers!

Illinois will receive $149 million over five years to expand the EV charging network, reducing emissions and improving air quality.

— Rep. Lauren Underwood (@RepUnderwood) April 3, 2022
We're bringing federal dollars to improve a port in Tell City, IN that supports about 1,000 jobs for a town of 7,000 people.

This is an example of what we'll be able to do across the country with programs funded under @POTUS' Bipartisan Infrastructure Law. pic.twitter.com/2C73YMBGtq

— Secretary Pete Buttigieg (@SecretaryPete) April 21, 2022
Today, I joined @RepTimRyan, Mayor Tito Brown, and @EPAMichaelRegan to tour a Youngstown neighborhood that still has lead in too many of its water pipes.

Because of the American Rescue Plan, residents in this neighborhood are going to finally have new, safe pipes. pic.twitter.com/CIGMrdiGvu

— Sherrod Brown (@SenSherrodBrown) April 19, 2022
Tackling consolidation in the ag industry is critical to getting our ranchers a fair shake and bringing down the cost of meat at the grocery store.

Good to see American Rescue Plan resources are going to this fight—now let's get my price transparency bill over the finish line. pic.twitter.com/yAvzEBgCPY

— Senator Jon Tester (@SenatorTester) April 23, 2022
The positions of American Progress, and our policy experts, are independent, and the findings and conclusions presented are those of American Progress alone. A full list of supporters is available here. American Progress would like to acknowledge the many generous supporters who make our work possible.
Author Zahir Rasheed
Former Research and Press Assistant