Clean-Energy Reform Is Affordable at the Pump
Oil companies say pollution reduction will be unaffordable, even though it will boost the economy, protect our environment, and enhance our national security.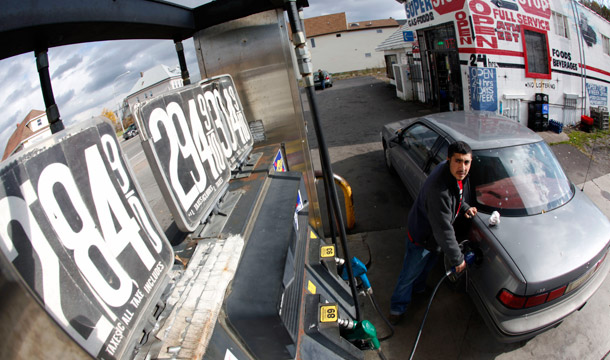 Oil companies are misleading consumers with claims that pollution reduction measures in legislation moving through Congress will be unaffordable, even though it will actually boost the economy, protect our environment, and enhance our national security. Conservative estimates project that the annual cost of gasoline for the average passenger vehicle will only increase by an additional $37 in 2030—that's 10 cents a day.
This cost will likely be even lower since the estimate assumes that the average fuel efficiency in 2030 will be 34.7 miles per gallon, which does not factor in fuel efficiency standards that take effect in 2016 mandating an average of 35.5 mpg for new vehicles. Nor does it include additional fuel economy improvements that may occur over the following 14 years, should the president use his authority under the Energy Independence and Security Act of 2007 to raise standards. Meanwhile, Tesoro is claiming that annual gasoline expenditures will cost an additional $400 for every car.
Demand for oil and dirty fossil fuels such as coal is dwindling in the developed world. IHS Cambridge Energy Research Associates predicts that demand for oil in developed countries peaked in 2005. "The economic downturn has been masking a larger trend in the oil demand of developed countries," said IHS CERA Chairman, Daniel Yergin. "The fact is that OECD oil demand has been falling since late 2005, well before the Great Recession began." The group cites decreasing demand for petroleum in the transportation sector—in large part because of stricter fuel economy standards and increasing penetration of alternative fuels and vehicle technologies—as the main factor for the decline.
The International Energy Agency also made a downward revision to its long-term outlook for global oil demand in its World Energy Outlook 2009 for the second year in a row. The IEA is predicting that worldwide demand for oil will decrease even after the economy rebounds from the recession due to conservation efforts in developed countries and the economic downturn.
The federal government has launched a number of efforts to expand the use of renewable energy and fuels, and increase energy efficiency. The pending comprehensive clean-energy and climate legislation that would decrease pollution is moving through Congress. An Energy Information Administration analysis of the House-passed American Clean Energy and Security Act found that overall oil imports would decline by 590,000 barrels a day by 2020, and the United States would save $650 billion on foreign oil cumulatively through 2030. And because EIA's analysis was incomplete, oil savings would likely be much larger.
But Big Oil is doing everything in its power to block energy legislation to protect its own self-interest: profiting off of pollution. Oil companies continue to make huge profits without paying for the costs to our environment, health, economy, and national security. A recent report by the U.S. National Research Council found that the "hidden" costs of energy were $120 billion in 2005. The NRC quantified health costs from air pollution associated with electricity generation and motor vehicle transportation—coal was responsible for the highest cost at $62 billion, while oil used for transportation accounted for $56 billion in health and other environmental damages in 2005.
And higher health costs are not the only problem. The United States sends $500,000 per minute to hostile or foreign regimes that supply us with oil. We can strengthen our national security by diverting money from governments that also compromise our economy.
Yet we continue to subsidize fossil fuels in staggering amounts. The U.S. government provided the fossil fuel industry with roughly $73 billion in subsidies from 2002 to 2008. Studies show that ending global fossil fuel subsidies would reduce carbon dioxide emissions by 10 percent, which is equivalent to Russia and Japan's emissions combined. Leaders at the G20 meeting in September agreed to phase out fossil fuel subsidies, issuing a statement saying, "Inefficient fossil fuel subsidies encourage wasteful consumption, reduce our energy security, impede investment in clean energy sources and undermine efforts to deal with the threat of climate change." The Washington Post reported that this development "signals the world's most influential nations are taking an initial, tentative step away from the fossil fuels that power their economies."
Big Oil is worried. That's why oil companies and their trade association are spending record amounts to pressure lawmakers on Capitol Hill. Exxon Mobil spent $7.2 million on lobbying in the last quarter alone—outspending the entire alternative energy sector. They are also handing out campaign cash. Seven minority members of the Environment and Public Works Committee who skipped the vote on the Clean Energy Jobs and American Power Act received $3,507,321 in campaign contributions from Big Oil over their respective careers.
Big Oil contributions to Environment and Public Works Committee members
| Member | Oil and gas | Utilities | Mining | Natural resources |
| --- | --- | --- | --- | --- |
| Inhofe (OK) | $ 1,223,723 | $ 437,967 | $ 197,850 | $ 2,045,140 |
| Alexander (TN) | $ 400,375 | – | – | $ 663,000 |
| Voinovich (OH) | $ 360,329 | $ 570,726 | $ 260,799 | $ 1,000,000 |
| Vitter (LA) | $ 659,635 | $ 165,665 | – | $ 974,000 |
| Barrasso (WY) | $ 169,250 | – | $ 63,650 | $ 391,700 |
| Crapo (ID) | $ 247,699 | $ 278,441 | – | $ 784,136 |
| Bond (MO) | $ 446,310 | $ 313,165 | – | $ 1,013,063 |
| Total | $ 3,507,321 | $ 1,765,964 | $ 522,299 | $ 6,871,039 |
SOURCE: All data accessed from www.opensecrets.org
It's time to stand up to Big Oil and pass clean-energy and pollution reduction legislation to stimulate investments in clean-energy technologies that will create 1.7 million jobs for our health, the economy, and our planet for future generations.
The positions of American Progress, and our policy experts, are independent, and the findings and conclusions presented are those of American Progress alone. A full list of supporters is available here. American Progress would like to acknowledge the many generous supporters who make our work possible.