"Cronyism": Trump-Appointed Ex-Lobbyists Lead Agencies Responsible for Coronavirus Response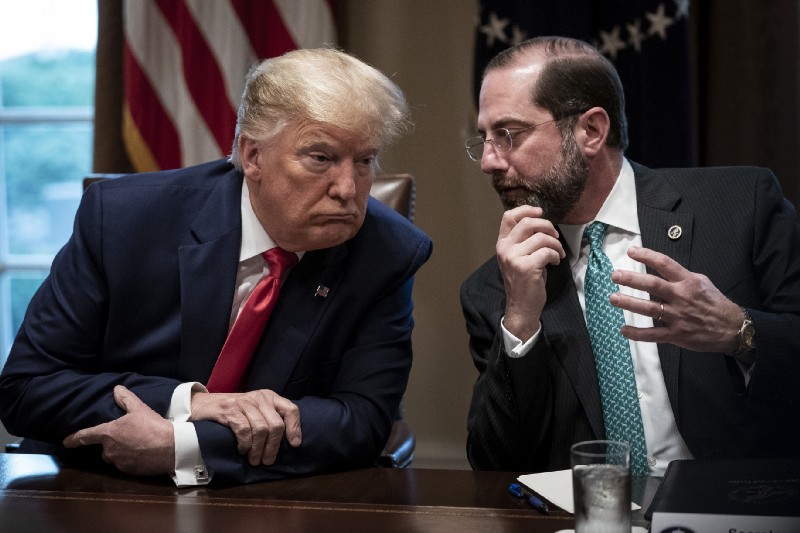 The Trump administration put politics and cronyism ahead of science during the early stages of the coronavirus outbreak according to today's testimony from senior public health official, Dr. Rick Bright. Science has repeatedly taken a back seat to industry favors in this administration that's named more ex-lobbyists to cabinet level positions than any other administration since lobbyist registrations started being tracked in 1995. Cabinet secretaries running agencies that regulate and oversee industries they once represented have eroded protections and kept expert advice from being acted on far too often for the American people.
Unfortunately, four agencies and a critical White House office playing a key role in the federal government's response to the coronavirus — the Departments of Health and Human Services, Homeland Security, Defense, Labor, and the White House Domestic Policy Council — are led by Trump-appointed ex-corporate lobbyists. Two of these represented drugmakers Gilead and Eli Lilly, including Bright's boss HHS Secretary Alex Azar.
Dr. Bright, who originally had a top role in securing personal protective equipment (PPE) and led federal efforts to develop vaccines and treatments in response to the coronavirus at the Department of Health and Human Services (HHS), claimed he was removed from these roles after raising concerns about "potentially dangerous drugs promoted by those with political connections." He also raised early warnings of massive PPE shortages and was subsequently "cut out of key high-level meetings" and "faced hostility and marginalization from HHS officials." As a result he filed a whistleblower complaint that outlined the pressure he faced to fund drugs without the proper vetting and reiterated today in his testimony, "We have the world's greatest scientists — they must be permitted to lead."
In response to these charges, President Trump said in a tweet that Dr. Bright, "is a disgruntled employee, not liked or respected by people I spoke to and who, with his attitude, should no longer be working for our government!" However, the Office of Special Counsel, the federal office looking into the complaint, cited "reasonable grounds" that retaliation against Dr. Bright took place.
As more of the Trump administration's chaotic response to a global pandemic ravaging America's health and economy is revealed, Bright's testimony is a cautionary tale. It makes a clear case for continued scrutiny and oversight from Congress and agency watchdogs of these and other officials involved in the pandemic's response who have direct ties to industries they regulate. Trump must stop the cronyism to ensure workers are protected, the public health is preserved, and our economy recovers for everyone, not just for the special interests they once represented.
Who are the ex-lobbyists running agencies responsible for the Trump administration's response?
HHS Secretary Alex Azar oversaw Eli Lilly's lobbying shop and was a longtime executive at the pharmaceutical giant. "As a top drug industry veteran from 2007 to 2017, former Eli Lilly and Co. executive Alex Azar built a substantial financial portfolio now worth $9.5 million to $20.6 million, and he was paid nearly $2 million in his final year at the company…Azar oversaw Eli Lilly's lobbying of the federal government during a sensitive two-year period when the pharmaceutical firm was under investigation by the Justice Department for improperly marketing a medication used for schizophrenia." [AP, 11/20/2017]
White House Domestic Policy Council Director Joe Grogan was the top lobbyist for pharmaceutical giant Gilead Sciences. "As a former lobbyist for a company that stands to gain big from a possible treatment for the respiratory disease, Grogan's participation on the White House COVID task force poses a host of ethical problems." Gilead also owns the patent on Remdesivir, an experimental medication that the Food and Drug DAdministration recently approved for usage as a treatment against the coronavirus. [The Intercept, 2/29/2020; CNN, 4/30/2020]
Labor Secretary Eugene Scalia has a long history of corporate legal work and was a registered lobbyist for the Chamber of Commerce. "His financial disclosure report lists 49 clients who paid him $5,000 or more for legal services, including e-cigarette giant Juul Labs, Facebook, Walmart and Bank of America. Disclosure records show Scalia was registered in 2010 and 2011 to lobby for the U.S. Chamber of Commerce." [Associated Press, 9/17/2019]
Defense Secretary Mark Esper is a former in-house lobbyist for Raytheon, the third largest U.S. defense contractor. Esper was confirmed in the summer of 2019 despite his refusal to recuse himself from decisions involving his former company. [Reuters, 7/23/2019]
Acting Homeland Security Secretary Chad Wolf served as a lobbyist representing several firms looking to sell products to DHS, including screening equipment for the Transportation Security Administration. "Before joining the Department of Homeland Security, Mr. Wolf worked as a lobbyist representing companies aiming to sell products to the Department of Homeland Security. Mr. Wolf spent several years lobbying to secure funding for the Transportation Security Administration to spend hundreds of millions of dollars on a new carry-on luggage screening device. He later was chief of staff for the agency as it was evaluating the product." [The New York Times, 11/1/2019]
The positions of American Progress, and our policy experts, are independent, and the findings and conclusions presented are those of American Progress alone. A full list of supporters is available here. American Progress would like to acknowledge the many generous supporters who make our work possible.