Gun Lobby Donations Are Driving the GOP's Increasingly Extreme Opposition to Gun Control
As the gun lobby increases its donations to GOP candidates, the Republican Party unifies against gun control, including against passing the assault weapons ban.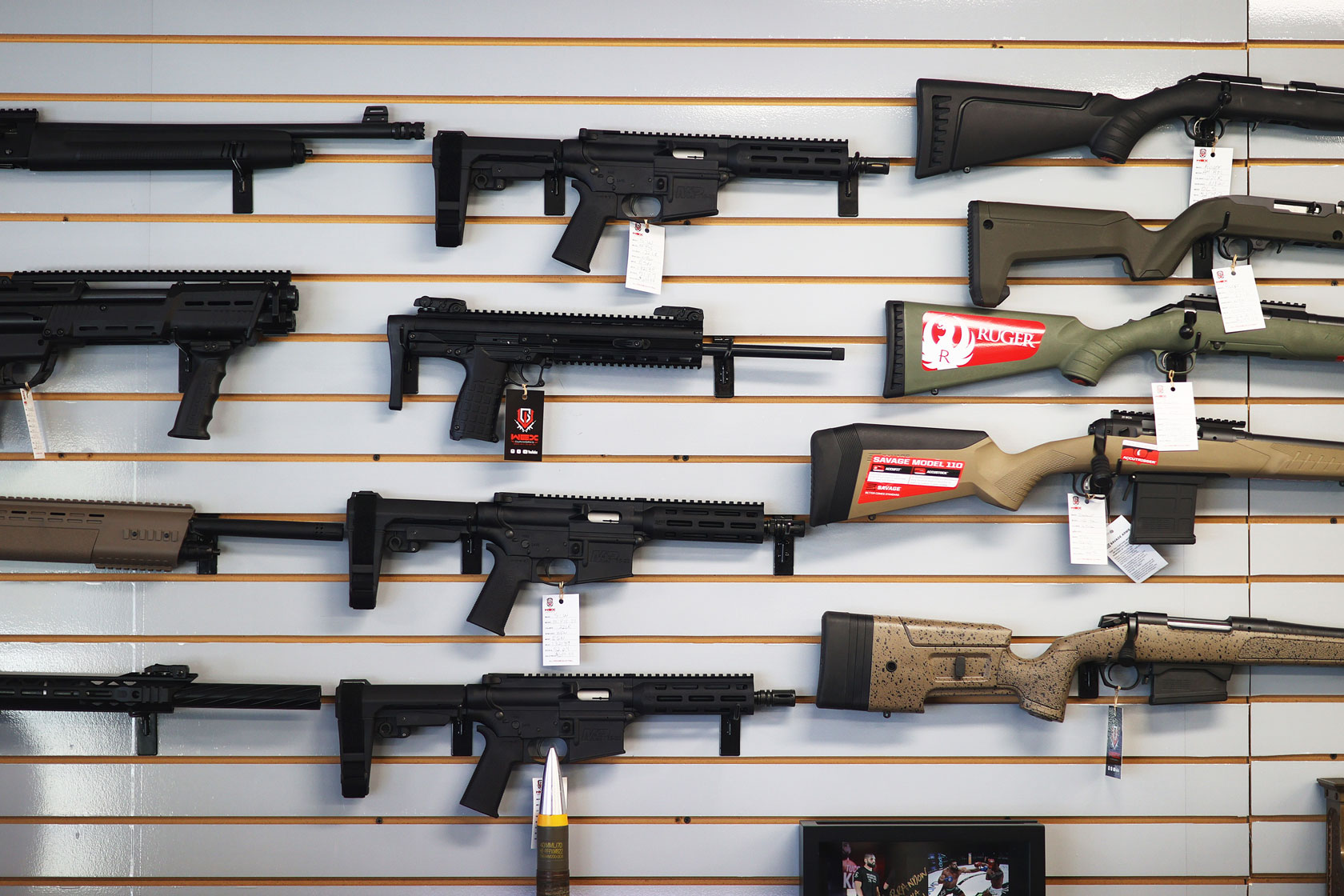 Over the past 25 years, bipartisan support for the assault weapons ban has become increasingly unreachable. Earlier this year, when the U.S. House of Representatives voted on a stand-alone assault weapons ban, only two out of 210 Republicans—roughly 1 percent—voted for the bill.
One of these two GOP members, Rep. Chris Jacobs (NY), switched his stance in favor of the ban after 10 people near his district in Buffalo were gunned down. Jacobs framed his support as a matter of conscience, but that did little to stem the backlash he faced from his own party in response to his support of the ban. Jacobs ultimately decided to drop his bid for reelection.
Almost 30 years earlier, in May 1994, Congress debated a version of the assault weapons ban that eventually passed and remained in effect for 10 years. The rhetoric used that day is similar to today's arguments for stronger gun control—but it was shared by both Republicans and Democrats. One Republican member, Rep. John Porter (IL), took to the floor in support of the bill: "These are weapons with no hunting, sporting, or other legitimate purposes and for which there is no reason for anyone to own except to aid in the commission of crime." Porter not only backed the bill but also "helped lead the successful effort that created the 1994 assault weapons ban."
Porter's view certainly represented a minority of the GOP, but he was far from the only Republican to support the bill: On the vote for the stand-alone 1994 assault weapons ban, 37 out of 175 GOP members—roughly 22 percent, or 1 in 5—voted for the bill. This number isn't high, but it's a stark contrast to congressional Republicans' waning support for gun control legislation today—most recently the mere two House Republicans who supported this year's assault weapons ban.
While the Republican Party has almost universally turned against the assault weapons ban, gun control has never been more popular among voters, with 68 percent supporting stricter gun laws, according to recent polling. This column explores why a party would almost unanimously oppose an issue with such broad support, focusing on the connection between the gun lobby's rising support for Republican candidates and the GOP's almost unwavering opposition to gun control measures.
The gun lobby's donations to GOP candidates have ballooned in recent years
Two powerful pro-gun political groups in particular have intensified their campaigns against gun control: the National Shooting Sports Foundation (NSSF) and the National Rifle Association (NRA).
The NSSF, an organization that bills itself as the firearm industry trade association, started its own political action committee (PAC) in 2010. The NSSF's PAC is funded by the giants of the firearms world, receiving donations from employees and executives of Sturm, Ruger and Co.; Smith and Wesson; Sig Sauer; and Colt, as well as from companies such as Silencer Central.
In the beginning, the NSSF PAC donated barely any money—just $7,900 in the 2010 cycle, according to OpenSecrets.org. During that first cycle, the PAC donated more money to Democrats ($4,900) than to Republicans ($3,000), but in 2012, it started its trend toward supporting the GOP: Of its $34,000 in donations, $27,500 went to Republicans and $6,500 to Democrats.
By the 2020 election cycle, the NSSF's political donations exploded to slightly less than $521,000—with $512,000 going to Republicans and slightly less than $9,000 to Democrats.
Figure 1
This trend has only continued in the 2022 election cycle, with the NSSF donating $448,000 to Republicans and only $7,000 to Democrats as of the second quarter of 2022. Notably, the PAC is targeting the top four House Republicans: Minority Leader Kevin McCarthy (CA), Minority Whip Steve Scalise (LA), House Republican Conference Chair Elise Stefanik (NY), and Republican Policy Committee Chair Gary Plamer (AL). These four members and the committees they control have accepted more than $73,000 from the NSSF in this cycle alone. The NSSF also opposed the assault weapons ban pushed by Democrats earlier this year.
Similarly, the foremost gun rights group in America—the NRA—has also supported Republican candidates. Over the past two election cycles, the NRA has donated $851,000 directly to GOP campaigns—and only slightly less than $10,000 to Democrats. Again, the NRA targeted House leadership, with McCarthy, Scalise, and Stefanik all receiving direct donations. Unsurprisingly, the NRA, like the NSSF, also opposed the most recent assault weapons ban.
The NRA also spends large sums to elect Republicans to Congress and the White House. In 2016, the NRA spent more than $50 million in direct donations and outside spending—defined as "political expenditures made by groups or individuals independently of, and not coordinated with, candidates' committees"—to support Donald Trump and six Republican Senate candidates. In 2020, it spent a total of $24 million in federal races, including $12.2 million to support 145 Republicans in congressional races, $12.2 million to oppose Joe Biden, and $4.2 million to support Trump.
Conclusion
Since 2020, the NSSF and the NRA have donated more than $1.8 million directly to GOP campaigns, including more than $80,000 to GOP leadership, and millions more in outside spending. Given this massive sum from two leading pro-gun political entities, it's not surprising that Republican members of Congress nearly unanimously opposed this year's assault weapons ban.
Still, policymakers must keep fighting for this critical measure. Analysis of the 1994 federal assault weapons ban that was in effect for 10 years found that cities and jurisdictions saw declines—ranging from 17 percent to 72 percent—in the number of assault weapons recovered at crime scenes. Both state and federal assault weapons bans also led to decreased rates of mass shooting fatalities and injuries: During the 10-year period the federal ban was in effect, mass shooting fatalities were 70 percent less likely to occur. And in the decade after the ban expired, mass shooting deaths increased by 347 percent. It's past time that Congress pass an assault weapons ban and address the gun violence epidemic in this country.
The positions of American Progress, and our policy experts, are independent, and the findings and conclusions presented are those of American Progress alone. A full list of supporters is available here. American Progress would like to acknowledge the many generous supporters who make our work possible.
Author the Center for American Progress Action Fund
Team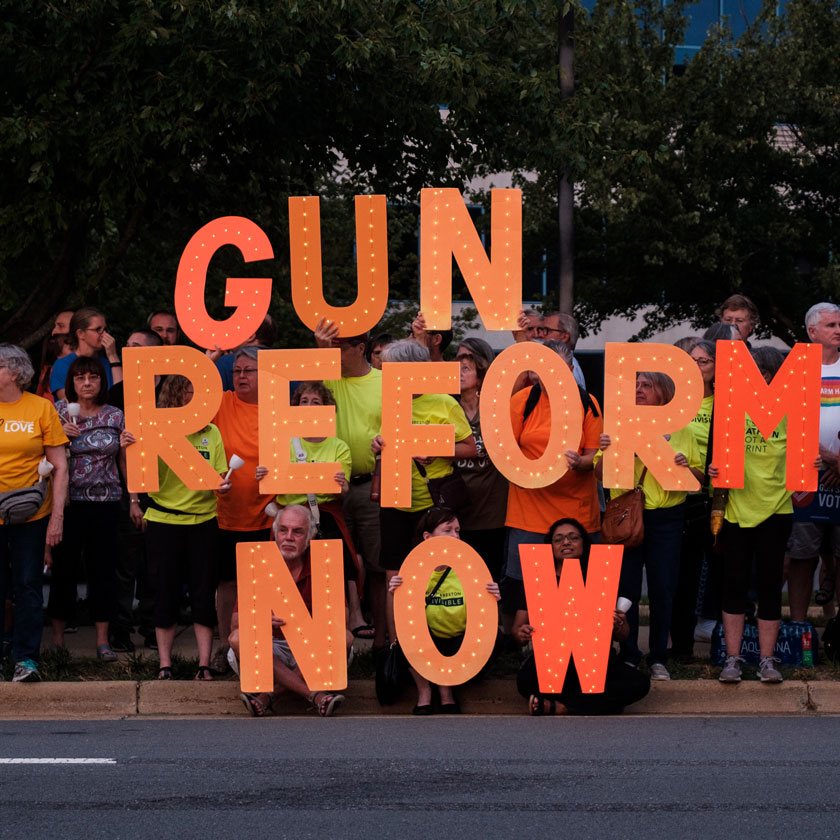 Our goal is to reduce gun violence by enacting strong gun laws, increasing investment in local solutions, and growing the movement dedicated to this mission.