This piece was originally published in the September 17, 2020 edition of CAP Action's daily newsletter, the Progress Report. Subscribe to the Progress Report here.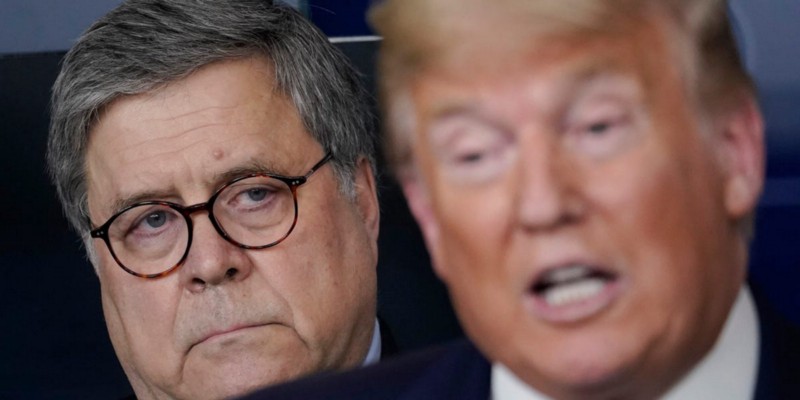 "If you take the blue states out…"
— Trump, explaining to reporters that when he chooses to ignore the deaths of thousands of Americans from COVID-19, the death count doesn't seem quite as bad
So much for Trump's promise to "bring down" drug prices. Turns out, drug price increases were three times higher than wage growth last year.
Share this graphic on Twitter and Facebook to get the facts out: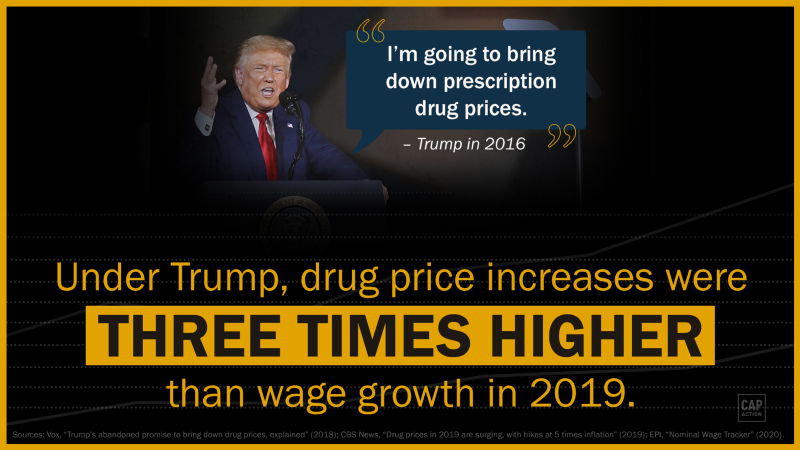 IN THE NEWS
Attorney General Bill Barr went on a lengthy, televised rant last night in which he compared pandemic restrictions to slavery and mocked career employees in his own agency. Speaking to students at Hillsdale College, which is known for its conservative leanings, Barr said that lockdowns and stay-at-home orders were "like house arrest" and accused governors of trying to "treat free citizens as babies" in instituting these necessary public health measures. "Other than slavery," he continued, "which was a different kind of restraint, this is the greatest intrusion on civil liberties in American history." He also equated career DOJ employees to preschoolers for questioning his blatant politicization of the department.
For Barr to compare ANYTHING to the horrors of slavery is clearly both unacceptable and racist. House Majority Whip Jim Clyburn (D-SC) responded to Barr's comments today in an interview with CNN. "You know, I think that that statement by Mr. Barr was the most ridiculous, tone-deaf, God-awful thing I've ever heard," Clyburn said, calling it "incredible" that the "chief law enforcement officer in this country would equate human bondage to expert advice to save lives." As the pandemic continues to take a disproportionate toll on Black and Brown people, the Attorney General makes it clearer every day that he's no ally to minority communities. (That's not to say we're surprised, though. He showed us his true colors long before now.)
And while we don't yet know specifics, statewide lockdowns likely saved thousands of lives and were critical tools in limiting the spread of the coronavirus. Barr's boss, on the other hand, has failed to take any serious action to promote proper safety and health measures.
Of course, slavery comparisons aren't the only disturbing thing we learned about Barr this week. In a recent call, he reportedly told federal prosecutors to consider charging racial justice protesters with sedition, or insurrection against lawful authority. According to sources familiar with the discussions, Barr also recently inquired about criminally charging Seattle's mayor for allowing a handful of city residents to establish a police-free protest zone over the summer.
How do you debunk right-wing lies without promoting them in the process? Don't miss the latest edition of What's Trending?, where we explain the "truth sandwich" method, localized disinformation, wildfire conspiracies, and more. Subscribe here to get it in your inbox next week.
IN CASE YOU MISSED IT
WHAT WE'RE READING (AND LISTENING TO)
Like the Progress Report? Our team relies on the support of grassroots progressives like you. Chip in $5 or whatever you can to power our work.
The positions of American Progress, and our policy experts, are independent, and the findings and conclusions presented are those of American Progress alone. A full list of supporters is available here. American Progress would like to acknowledge the many generous supporters who make our work possible.