McConnell to All States: Drop Dead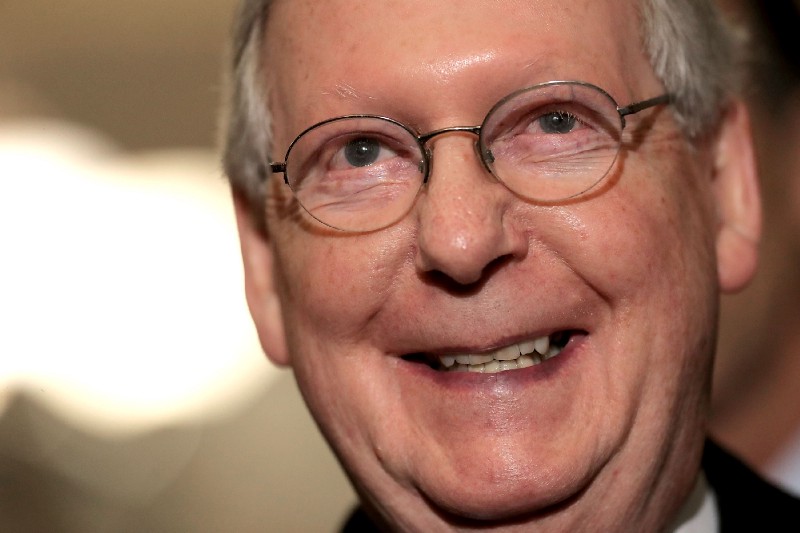 As the Senate returns to Washington, Senate Majority Leader Mitch McConnell (R-KY) would prefer to let states go bankrupt than give the American people the assistance they need during the coronavirus crisis.
Here's what McConnell told conservative radio host Hugh Hewitt on April 22:
"I think this whole business of additional assistance for state and local governments needs to be thoroughly evaluated. There's not going to be any desire on the Republican side to bail out state pensions by borrowing money from future generations."
Sen. McConnell getting his way would mean either laying off thousands of teachers, firefighters, police, and even health workers — or massive tax increases on families still reeling from the pandemic. He and President Donald Trump have spent trillions of dollars on tax cuts and bailouts for giant corporations, and it is obscene to say we just have to let these states go bankrupt. There is no state that hasn't been dramatically affected on both the spending and revenue side by this pandemic and President Trump's botched response.
This isn't just a blue state problem.
McConnell is explicitly trying to politicize coronavirus relief, putting out a press release touting his goal of "Stopping Blue State Bailouts" — never mind that his own state just elected a Democratic governor.
That stance isn't just cruel; it's also blatantly hypocritical. As New York Gov. Andrew Cuomo (D) noted, New York "puts $116 billion more into the federal pot than we take out. Kentucky TAKES $148 billion more from the federal pot than they put in. But we don't deserve help now because the 15,000 people who died here were predominately democrats?"
Besides being cruel and hypocritical, this is also false. After the $2 trillion CARES Act passed on March 23, 21 Republican governors wrote to McConnell and other congressional leaders, saying, "[W] e need direct assistance from Congress. … Governors have been on the front lines of this fight since the beginning, and states have taken the brunt of the impact. We urge you to give us the necessary resources to combat this complex issue."
Just last Friday Republican Governor from West Virginia, Jim Justice, made it clear his state will need federal aid or you could see "a bankrupt state, then the small businesses are going to die and the cities and the counties are going to die."
The American people are in dire need of assistance to ride out the economic crisis until there is sufficient testing to get back to work.
Already, state budget shortfalls for the year are expected to exceed $500 billion — a number that could easily grow as coronavirus-related shutdowns stretch on. Unlike the federal government, most states legally can't run budget deficits, meaning that cutting off aid from the federal government now would force them to cut off help to citizens who need it the most.
According to data released Thursday morning, new unemployment claims topped 3.8 million for the fourth straight week. That means that 30 million people have been looking to their state governments for support since March — many of whom would no doubt lose their benefits if the federal government doesn't step up.
According to the Pew Research Center, a full 43 percent of U.S. adults, including 52 percent of lower-income adults, "now say that they or someone in their household has lost a job or taken a cut in pay due to the outbreak." Meanwhile, only 23 percent of Americans say they have emergency funds to last three months. They're the ones who will suffer if Congress refuses to provide states with the assistance they need.
The positions of American Progress, and our policy experts, are independent, and the findings and conclusions presented are those of American Progress alone. A full list of supporters is available here. American Progress would like to acknowledge the many generous supporters who make our work possible.