Meet the new anti-corruption Congress.
It's another day in Trump's America—and another day to stand up for what's right. Get the facts to fight back.
Last week, voters sent a few very loud messages to this country's elected officials. One was inescapable: Voters are tired of Republican corruption.
A new report from the Center for American Progress highlights the many ways voters and candidates alike focused the 2018 election cycle on the importance of combating corruption and fixing democracy.
A few key findings:
The new rep-elects represent the diversity of the American people, not just the wealthy and the privileged, far more than ever before. This includes a projected 106 women in the House.
122 House candidates rejected corporate PAC donations entirely.
Through 10/17, candidates in competitive districts who pledged to refuse corporate PAC money had already raised on average 110% more than what the winning candidate in their district raised in the 2014 midterms.
You can find the full report here.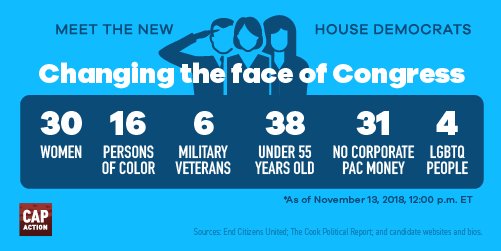 TRUMP'S EMPTY RHETORIC ON VETERANS.
In another reminder that nothing is sacred for Donald Trump except his own ego, this morning Trump sent a series of tweets attacking French president Emmanuel Macron on the anniversary of the 2015 Paris attack that left 130 dead and more than 400 injured.
Trump's tweets "appeared to mock France for both its World War losses," and took aim at the pointed public speech Macron gave (not-so-subtly) criticizing Trump's fervent embrace of nationalism.
It was a disgraceful Veterans Day weekend for Trump:
He skipped a visit to an American military cemetery in France because of rain
He followed that by skipping a visit to Arlington National Cemetery (a visit made by many other presidents)
He focused instead on bogus allegations of voter fraud in major U.S. elections and suggested lawful ballots should not be counted (including those of overseas military voters)
Trump praised Kim Jong Un yet again, once again siding with a brutal dictator over our own intelligence services
He left the military continuing his political mission to the border, even as he has stopped talking about "the caravan" since the election