MEMO: Biden's record-breaking economy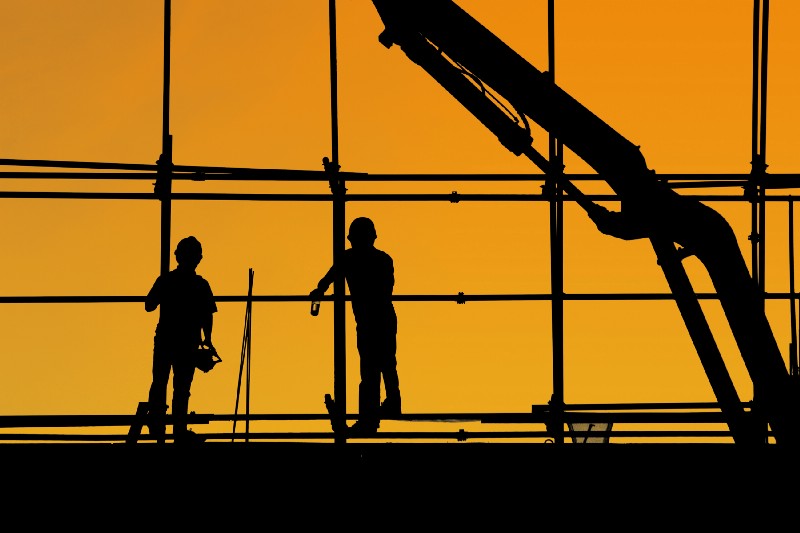 Since January, the U.S. economy has set a number of records, most notably:
Most jobs added in the first 11 months of a year. We've added 5.9 million new jobs from January to November.
The fastest drop in unemployment in a single year. The unemployment rate was 6.3 percent in January and is now 4.2 percent.
Biggest drop in people receiving unemployment benefits in a single year (there were 18 million people receiving unemployment benefits when President Biden took office, there are now only 2 million).
But that's not the only remarkably good economic news of the year. Despite headlines that focus on inflation and supply chain issues, there are a number of positive data points that show that the economy is booming in 2021.
Figure 1: Change in nonfarm employees, January to November 1939–2021, thousands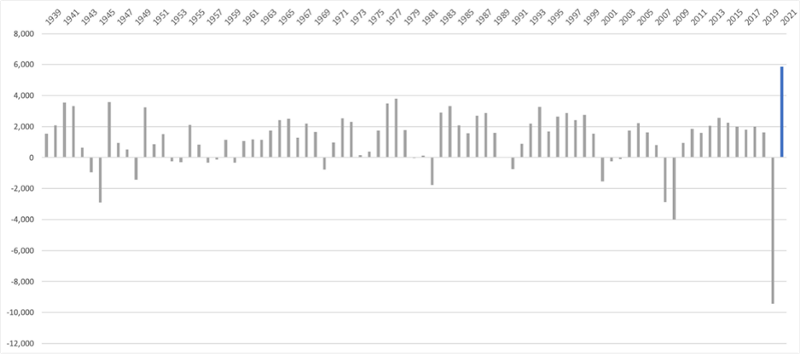 Families' Bottom Lines
What is equally as important as adding jobs to the economy, is making sure that those jobs are good jobs, that is, jobs that pay well and provide access to basic benefits. Under Biden, the economy has also begun delivering on that front too.
Real wages have risen for around 70 percent of workers compared to 2019. That means that for most workers' wage growth has outstripped inflation over the past two years. In 2021, workers in low-wage jobs, in particular, often women and people of color, are seeing strong wage growth. This is a much needed and welcome change from decades of stagnant wages for those that have long struggled to make ends meet. Looking beyond wages, the average American has $380 more in disposable income today than in 2019, and that's even after adjusting for inflation. Thanks to the Child Tax Credit payments, child poverty has been cut nearly in half and family food insecurity dropped by 24 percent. And, the earned income tax credit (EITC) expansion has benefited more than 17 million Americans, including those without children.
Job Growth
Since January this year, the pace of the economic recovery has been remarkable, with the labor market notably recovering at a historic pace and much quicker than other recessions. In January, the unemployment rate was 6.3 percent and the economy was still missing 9.8 million workers, compared to February 2020. Today's jobs data showed that the U.S. economy has added 5.9 million jobs since Biden took office, the most ever in the first 10 months of any administration. We also saw revisions to September and October employment numbers, with an additional 82,000 jobs estimated. In fact, for the past 7 months, the numbers released on Jobs Days have been revised upwards averaging 110,000 per month.
Significantly, the topline unemployment rate continued to decline and fell to 4.2 percent, a rate which the CBO projected would be achieved in Q1 2025. We have also seen unemployment insurance claims continuing to decline and falling to a 52 year low last week. Even with a slight increase this week, the four-week average for initial claims is the lowest it's been since the start of the pandemic. In fact, the number of people on unemployment has fallen from 18 million when President Biden took office to 2 million this week, another record drop.
The economy has already gained back 83 percent of pandemic job losses. In November, we also saw continuing some much needed good news on women's employment. Women, who have been some of the hardest hit by the pandemic's impact on the economy, are beginning to find jobs and rejoin the labor market.
Economic Growth
The pace of economic growth recovery is also remarkable, with gross domestic product (GDP) recovering much faster than anticipated. Last week, updated GDP figures showed that the economy grew by 2.1 percent in the third quarter, a 0.1 percentage point increase than had previously been estimated. This also confirmed that the U.S. is the only leading major economy to have both recovered all pandemic-related GDP losses and is larger today than before the pandemic. This is in stark contrast to this time last year when the economy remained smaller than pre-pandemic.
While jobs have returned and wages are up, businesses are also thriving. Contrary to conservative economic tropes, the economy under Biden is a win-win for workers and businesses. Corporate profit margins are at record highs and markets have repeatedly hit record highs. For instance, S&P broke record highs 66 times this year. This year, more than 4.5 million new businesses were registered. Most importantly, it is not just big businesses that are succeeding as small businesses are also benefiting. Since Biden took office, 1.36 million small business jobs have been created, which is more than the first three years of the Trump administration combined. Further, a lot more workers are deciding to become self-employed, with many starting their own small businesses.
More to do
This economic recovery did not happen by accident. President Biden's American Rescue Plan and vaccination program has helped ensure that the economy is recovering well from the impact of the pandemic by centering the needs of working families. It is incredible to think that just last Christmas only 1 percent of Americans were vaccinated. But now as we enter this Christmas season, more than 71 percent of Americans will be vaccinated.
However, there is still a long way to go to make up for decades of stagnant wages, an affordability crisis facing too many families and systemic sexism, racism and ableism that has seen many women, people of color, and disabled individuals left behind. For instance, it is not acceptable that Black and Hispanic workers, as well as workers with a disability, face much higher unemployment rates than the often touted topline unemployment rate.
While the economic progress over the past year has been record breaking, it's also incomplete. Now, it is up to the Senate to keep the economic momentum going and build a new era of shared economic prosperity by passing the Build Back Better Act this month. The Build Back Better Act will improve the lives of working families by creating good jobs and raising wages in sectors such as child care and home care, and making the cost of essentials such as energy, child care and health care more affordable.
The positions of American Progress, and our policy experts, are independent, and the findings and conclusions presented are those of American Progress alone. A full list of supporters is available here. American Progress would like to acknowledge the many generous supporters who make our work possible.
Authors Advocacy Team