Pelosi on Trump's "impeachable offense"
It's another day in Trump's America—and another day to stand up for what's right. Get the facts to fight back.
Pelosi responds to Trump's temper tantrum

Instead of having a productive policy discussion with Democratic leaders, Trump threw a temper tantrum this morning, refusing to work with Congressional Democrats on anything for the American people until they stop investigating his crimes. (Never mind the fact that oversight is the Legislative Branch's sworn constitutional duty.)
"I don't do cover-ups," said the president who paid hush money to cover up his affairs before the election, regularly had the National Enquirer "catch and kill" negative stories about him, and was involved in a dozen examples of obstruction of justice listed in the Mueller report.
Later in the day, Speaker Nancy Pelosi gave a stark response at the Center for American Progress Ideas Conference: "The president is obstructing justice, and he's engaged in a cover-up, and that could be an impeachable offense."
Share Speaker Pelosi's words to spread the message: Trump can rant all he wants, but House Democrats will fulfill their constitutional duties on behalf of the American people.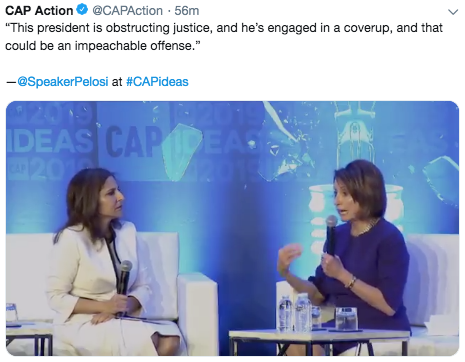 We also heard from other leaders about their bold visions for tackling the problems our nation faces today. This is the picture they painted of the progressive agenda: