Rep. Tom Price's STOCK Act Scandal
Republicans in the Senate who have supported the STOCK Act should deny Rep. Price's confirmation until a full investigation can be conducted into determining whether he violated federal law.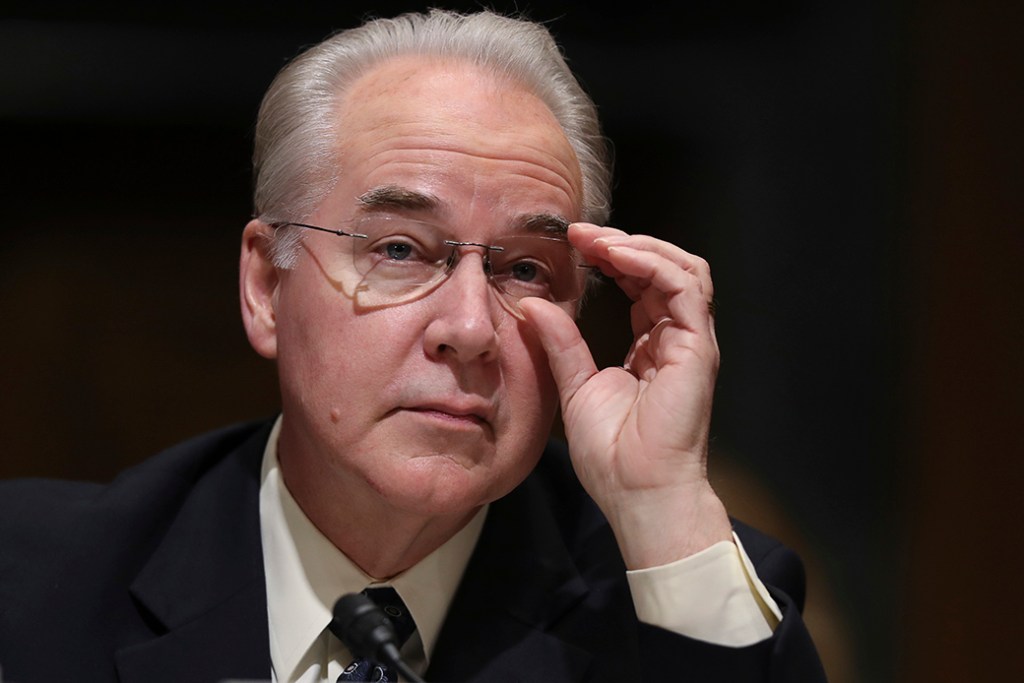 Rep. Tom Price's (R-GA) nomination to be the new secretary of the Department of Health and Human Services is under a heavy ethical cloud. Price is alleged to have engaged in dubious ethical decisions at best and corrupt dealings that violate the Stop Trading on Congressional Knowledge, or STOCK, Act at worst. The STOCK Act prohibits members of Congress from making "investment decisions based on insider information they might come across because of their congressional role."
There is evidence, for example, that Rep. Price received a tip from Rep. Chris Collins (R-NY) to purchase stock from an Australian biomedical firm, Innate Immunotherapeutics Inc. Collins, who sits on Innate's board and owns 17 percent of the company's stock, is said to have informed Price that Innate was holding a private placement offering for an exclusive group of U.S. investors as part of the company's "friends-and-family program." Through this, Price was able to buy Innate stock at a discounted rate not available to other investors. Price may have since lied before Congress about receiving the privileged offer, and he may have falsely reported earnings from the trade, claiming that the stock was valued between $50,000 to $100,000 when it was actually worth between $100,000 and $250,000. Sen. Ron Wyden (D-OR) finds it difficult to see this stock transaction as "anything but a conflict of interest and an abuse of his position."
Furthermore, Rep. Price has a habit of purchasing stock in companies shortly before introducing legislation that directly benefits those same entities. Last year, Price purchased shares in the medical device manufacturer Zimmer Biomet mere days before introducing the Healthy Inpatient Procedures Act of 2016, which would have delayed a federal regulation detrimental to Zimmer Biomet's bottom line. He also has a record of introducing legislation around the same time as receiving large donations from companies that stand to gain from that legislation. Before introducing the Patient Access to Durable Medical Equipment Act, Price received $179,450 from the medical device industry in 2016.
Price has denied that any of the aforementioned transactions involved wrongdoing on his part, telling the Senate Finance Committee, "The reality is everything I did was ethical, above board, legal and transparent."
Rep. Price has demonstrated his propensity to engage in unethical and possibly illegal activity in order to enrich himself. Republican senators knew this kind of behavior was wrong after passing the STOCK Act in 2012, as demonstrated by the quotes below; indeed, Price was one of the Republicans who voted in its favor. The question now is whether they will enforce its provisions.
In speaking about the Senate's important role in ferreting out corruption back in 2015, Orrin Hatch, the Senate's president pro tempore, said that "the President does not have unfettered power to fill up executive offices, pack the courts, or make agreements with foreign nations. He cannot staff agencies with corrupt, incompetent, or ideologically extreme cronies unless the Senate allows him to do so." Indeed, Republicans in the Senate who voted for the STOCK Act when it was passed in 2012 by a 96-3 majority, and those who have publicly praised the act and the protections it offers against wrongdoing, should deny Rep. Price's confirmation until a full investigation can be conducted into determining whether he violated federal law. Only by doing this can we ensure that the executive branch is not staffed with the kind of "corrupt … cronies" against which Sen. Hatch warned.
Danielle Root is the Voting Rights Manager for the Democracy and Government team at the Center for American Progress Action Fund.
The positions of American Progress, and our policy experts, are independent, and the findings and conclusions presented are those of American Progress alone. A full list of supporters is available here. American Progress would like to acknowledge the many generous supporters who make our work possible.
Authors Danielle Root
Former Director, Voting Rights and Access to Justice