Resist Rex Tillerson's Nomination for Secretary of State
Rex Tillerson would be the first secretary of state with zero government or diplomatic experience.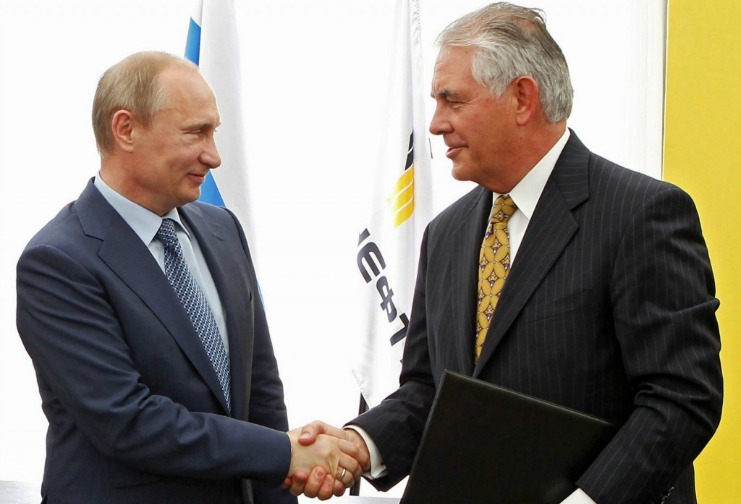 Rex Tillerson, President-elect Donald Trump's nominee for secretary of state, is the current CEO of Exxon Mobil, the world's largest oil company. Tillerson's long-running relationship with Russian President Vladimir Putin and his lucrative ties across the oil industry could seriously blur the lines between U.S. diplomatic priorities and those of the Big Oil giants. For almost 20 years, Tillerson has worked with Putin to turn the country into Exxon's "single biggest exploration theater." This pick came shortly after a CIA assessment showed Russia intervened in the 2016 election with the express goal of helping Trump's prospects of winning the presidency.
Tapping Tillerson means putting a lifelong oil executive with deep ties in the corporate world at the helm of the U.S. foreign relations. Exxon Mobil currently works in more than 50 countries and six continents. If that isn't enough, Tillerson would be the first secretary of state with zero government or diplomatic experience and is a longtime Republican donor.
5 Things You Need to Know About Rex Tillerson
Here is a CAP video highlighting the top 5 things Americans need to know about Rex Tillerson:
How many ways does Putin love Tillerson?
Conflicts of interest
He owns Exxon shares worth more than $150 million.
Tillerson remains at the center of allegations that, under his leadership, Exxon knowingly suppressed research about the harmful effects of fossil fuel on climate change. New York Attorney General Eric Schneiderman issued subpoenas for Exxon's internal documents in 2015.
He serves as a trustee of the American Petroleum Institute.
Tillerson has contributed more than $500,000 to Republicans since 2003. Sitting senators who will be part of the confirmation process received donations from him, including Senate Majority Leader Mitch McConnell (R-KY), whose wife, Elaine Chao, was also nominated to be Trump's transportation secretary.
#ExxonKnew
Make no mistake: Rex Tillerson is no climate change advocate. During his time at Exxon, he and other executives led ExxonMobil in funding outside groups  to create an illusion of scientific uncertainty around the overwhelming scientific consensus on climate change. Exxon suppressed internal evidence from its own scientists confirming the role that fossil fuels play in climate change and launched a $33 million misinformation campaign so that it could avoid carbon pollution limits and enhance its profits at the expense of clean air, public health, and U.S. national security.
How you can #RejectRex
The secretary of state must be confirmed by a majority of the U.S. Senate Committee on Foreign Relations and a majority vote on the floor of the Senate. Adding to Tillerson's already excessive list of potential conflicts of interest, he and Exxon have donated hundreds of thousands of dollars to members of the committee that will vote on his nomination.
Call, write, or tweet Sens. Jeff Flake (R-AZ) (202.224.4521), Cory Gardner (R-CO) (202.224.5941), John Barrasso (R-WY) (202.224.6441), and other members of the Senate Foreign Relations Committee to demand that they fairly examine Tillerson's conflicts of interests before deciding how they will vote.   
The positions of American Progress, and our policy experts, are independent, and the findings and conclusions presented are those of American Progress alone. A full list of supporters is available here. American Progress would like to acknowledge the many generous supporters who make our work possible.