The official formerly known as Trump's DHS Secretary
This piece was originally published in the August 14, 2020 edition of CAP Action's daily newsletter, the Progress Report. Subscribe to the Progress Report here.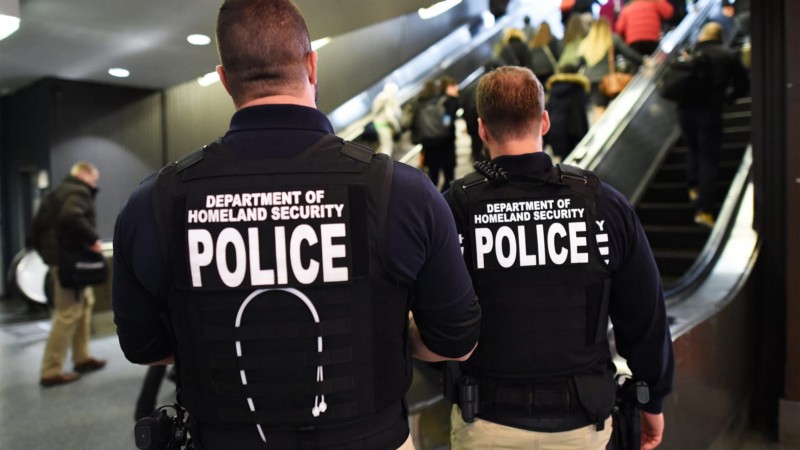 "More concerned with suppressing the vote than suppressing a virus."
— Barack Obama on Trump's gutting of the U.S. Postal Service
In the middle of a pandemic, Trump is trying to permanently defund Social Security.
Share this graphic on Twitter and Facebook to get the facts out: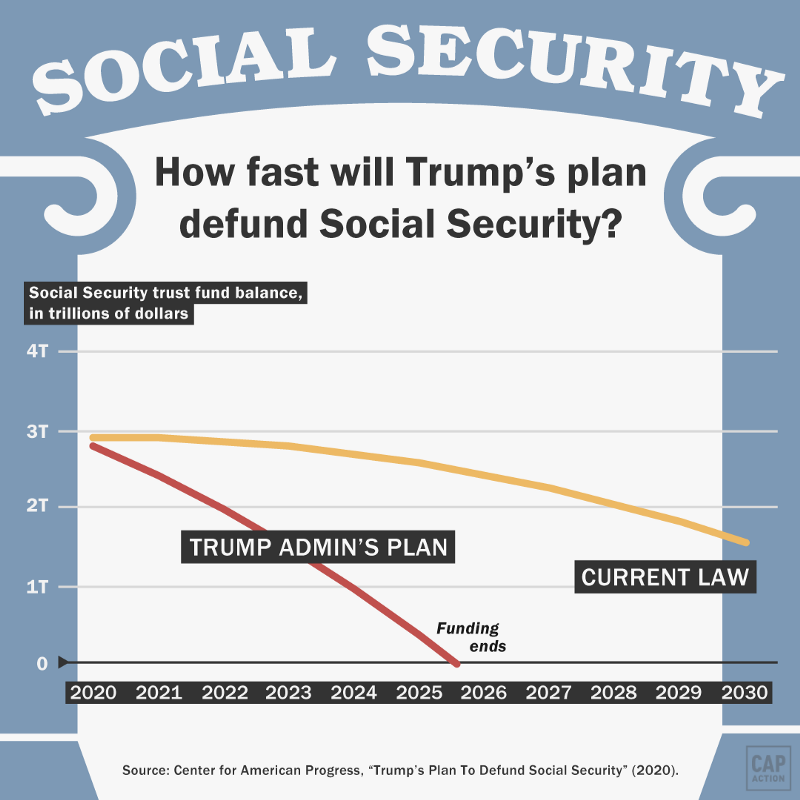 IN THE NEWS
The crisis within the United States Postal Service just keeps getting worse. And worse. And worse. As Trump and his Postmaster General Louis DeJoy continue their sabotage of America's most popular government agency, Americans are starting to see the impact. People across America are sharing images of mail drop boxes being picked up and hauled away on trucks for no apparent reason other than possibly to inconvenience millions of Americans. The Washington Post is reporting that mail sorting machines in every state except Alaska are being removed from Post Offices in what officials call a "cost-cutting" measure but which logically will not cut costs in any way.
Late on Friday afternoon, in response to a letter from U.S. Senator and unrelenting anti-corruption advocate Elizabeth Warren (D-MA), the Postal Service's Inspector General announced they were looking into the Postmaster General's possible ethics violations and investigating the suspicious policy changes made since his tenure began.
We learned this morning that the acting leaders of Trump's Department of Homeland Security are not legally qualified to hold their jobs. The Government Accountability Office announced today that acting DHS Secretary and ex-lobbyist Chad Wolf and his equally illegitimate second-in-command Ken Cuccinelli assumed their roles as part of an unlawful line of succession that started with the previous agency head, Kevin McAleenan. The two men have been instrumental in carrying out Trump's cruel immigration policies. The ACLU, which recently came out in favor of disbanding the agency entirely, said today's announcement would bolster their lawsuit alleging DHS illegally imposed restrictions on people seeking asylum.
Next week is the Democratic Convention. Keep an eye out for our special editions of the Progress Report, where we'll recap the previous night's speeches and bring you what's happening on the virtual convention floor.
IN CASE YOU MISSED IT
New Data for Progress polling shows that Americans support ending the Senate filibuster. Calls to end the Jim Crow-era procedural relic have been growing since Barack Obama called for ending the filibuster in his eulogy of John Lewis last month. The poll shows that 43% of voters support ending the filibuster, compared to 29% who oppose it. When passing voting rights legislation is brought into the equation, support for ending the filibuster grows even further, to 53%. More and more Americans are allowing themselves to imagine the progressive potential of a productive and responsible government — and this poll is a hopeful sign that there might be some light at the end of this dystopian tunnel.
The New York Times estimates that America has experienced thousands more coronavirus-related deaths than we know. Their projections, which exceed those of most widely-used coronavirus tracking institutions, put us at more than 200,000 deaths as of this week. The report explains how looking at recent death totals from all causes compared to the death counts in a typical, non-coronavirus year provided them with a "more complete picture" of the pandemic's impact than tracking only deaths of people with confirmed diagnoses.
WHAT WE'RE READING (AND LISTENING TO)
Like the Progress Report? Our team relies on the support of grassroots progressives like you. Chip in $5 or whatever you can to power our work.
The positions of American Progress, and our policy experts, are independent, and the findings and conclusions presented are those of American Progress alone. A full list of supporters is available here. American Progress would like to acknowledge the many generous supporters who make our work possible.