Trump lied at least 19 times in one interview. Here's what happened:
This piece was originally published in the August 4, 2020 edition of CAP Action's daily newsletter, the Progress Report. Subscribe to the Progress Report here.
"It is what it is."
— Trump, when confronted by the fact that roughly 1,000 Americans are dying each day from coronavirus
Moments after a grim economic report was released, Trump took to Twitter last week to baselessly suggest delaying the upcoming election.
Make no mistake: Election Day will be on November 3 (no matter what Trump tweets).
Share this graphic on Twitter and Facebook to get the facts out: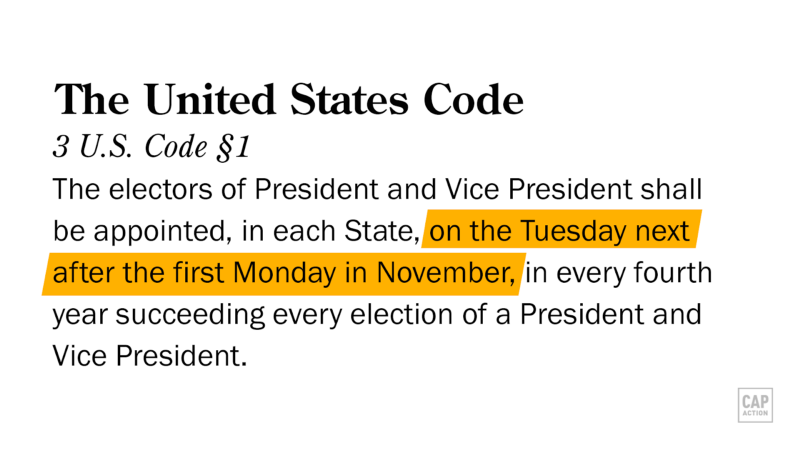 IN THE NEWS
Trump is still refusing to take responsibility for the pain and suffering happening on his watch — and this time, it's even worse than usual. In an interview with Axios' Jonathan Swan released last night, Trump was asked about his coronavirus response and America's bleak position relative to the rest of the world. Trump's responses ranged from utterly incoherent to downright offensive. Here are some notable moments:
On where he gets his testing advice: Asked who actually believes there's such a thing as "too much" testing, Trump said "Oh, just read the manuals. Read the books." What manuals, you might ask? "Read the books," he repeated, providing zero evidence.
On John Lewis: "He didn't come to my inauguration."
On the Civil Rights Act of 1964: "Ask, ask: how has it worked out? If you take a look at what Lyndon Johnson did. How has it worked out?"
On alleged sex trafficker Ghislaine Maxwell: "I wish her well. I'd wish you well. I'd wish a lot of people well."
On Americans dying from COVID-19: When Swan questioned Trump's false claim that the U.S. is "lower than the world" in coronavirus deaths, he realized Trump was looking at different data. "Oh, you're doing death as a proportion of cases," Swan said. "I'm talking about death as a proportion of population. That's where the U.S. is really bad." Trump's response to being corrected? "You can't do that."
CNN's fact checker counted at least nineteen false claims from Trump throughout the interview.
Relative to other countries, a disproportionately high number of Americans are still both contracting and dying from the virus — a fact Trump refuses to address and shows little interest in preventing. Nearly 156,000 people are dead. It didn't have to be like this. Trump's failed and chaotic pandemic response has a price.
For the latest on the Trump administration's botched pandemic response, check out BLINKING RED, CAP's running timeline of how the Trump administration ignored warnings, misled the public, and made the coronavirus crisis worse.
IN CASE YOU MISSED IT
It's been months since the House passed the HEROES Act — a bill that would provide the U.S. with the tools needed to fight the pandemic and help struggling Americans stay afloat. In that time, Trump and McConnell have done nothing, seemingly waiting for calamitous deadlines in a misguided hope that they would provide political leverage. While last week's "cliff" on federal unemployment insurance has garnered the most attention, it's only the first of many, including eviction and foreclosure moratoria, expiring student loan payment waivers, mortgage payment forbearance, and PPP loan forgiveness. For more on these looming deadlines, check out CAP Action's new piece on how Trump and McConnell are driving America over a cliff.
As the coronavirus pandemic persists across the U.S., one of 2020's first major storms is adding a second crisis to the mix. Tropical Storm Isaias slammed the East Coast overnight and continued to rage into the afternoon, leaving roughly 600,000 people without power. The worst of the storm's impact thus far is in North Carolina, where at least two people are dead. Experts warn that the intersecting crises — a tropical storm on top of a global pandemic — offer a preview of life under climate change, which could be a "relentless grid of overlapping disasters." It's important to note that Trump cut millions of dollars in funding from FEMA's disaster relief efforts last year so that ICE could detain nearly 50,000 more people at the border.
Crisis pregnancy centers are cashing in on the pandemic. Based on Paycheck Protection Program data, The Guardian is reporting that these fake abortion clinics, which doctors have called "legal but unethical," received between $4 million and $10 million in federal pandemic relief funds. Crisis pregnancy centers deceive patients, marketing themselves like abortion clinics while pushing anti-choice propaganda, religious messaging, and sham medical advice on women seeking reproductive care. This news comes as evidence-based abortion providers and reputable reproductive health clinics are being excluded from certain federal aid. The Small Business Administration is currently attempting to claw back an $80 million loan to Planned Parenthood, the nation's largest network of legitimate reproductive health clinics.
WHAT WE'RE READING (AND WATCHING)
Like the Progress Report? Our team relies on the support of grassroots progressives like you. Chip in $5 or whatever you can to power our work.
The positions of American Progress, and our policy experts, are independent, and the findings and conclusions presented are those of American Progress alone. A full list of supporters is available here. American Progress would like to acknowledge the many generous supporters who make our work possible.