This piece was originally published in the October 22, 2020 edition of CAP Action's daily newsletter, the Progress Report. Subscribe to the Progress Report here.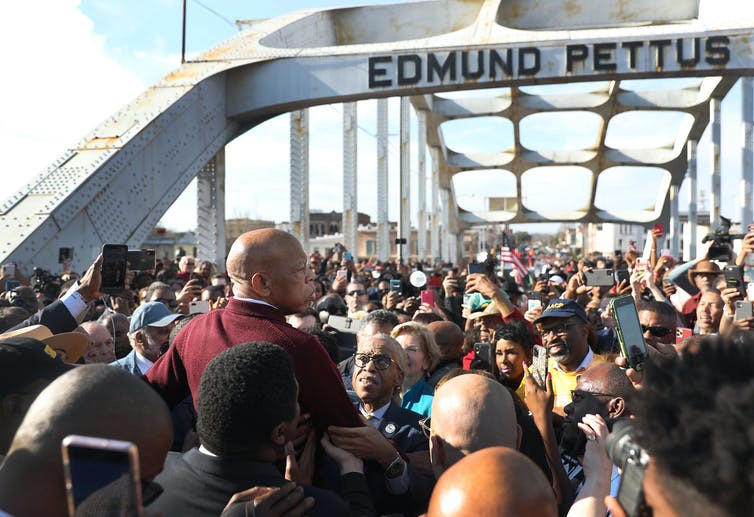 "So many of my [ancestors] even died to vote. And while I don't mind dying to vote, I think we're past that time."
— Howard Porter, Jr., a Black man in his seventies with asthma and Parkinson's Disease who was the plaintiff in a voting rights case before the Supreme Court
Did you catch what President Obama said last night?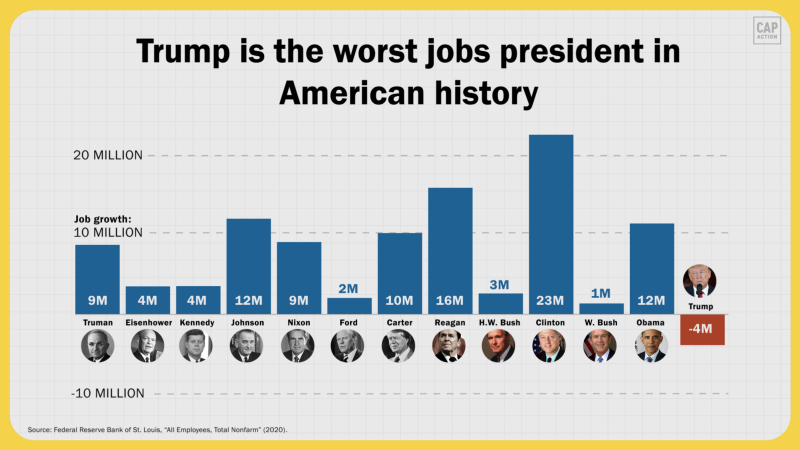 "The economic damage [Trump] inflicted by botching the pandemic response means he will be the first president since Herbert Hoover to actually lose jobs."
He's right. Share this on Facebook and Twitter to to get the facts out.
IN THE NEWS
This morning, Trump followed through on an earlier threat to prematurely release footage from his contentious interview set to air on 60 Minutes this weekend. But now that this footage is out, it's hard to understand why he wanted to release it, considering he actually says some pretty damaging things in the video.
We can't imagine why Trump would want us to hear him saying the words "I hope that they end it" when asked about the Affordable Care Act — a law that protects the 135 million Americans with preexisting conditions from being denied coverage or overcharged. And we certainly can't imagine why he would want the American people to watch him struggle to explain how he will actually protect people with preexisting conditions in the case of an ACA repeal (he won't).
We've made it to the second (and final, thank goodness) debate of the general election. Tonight's debate is located in Nashville, TN and will be moderated by NBC White House Correspondent Kristen Welker, who is the first Black woman to moderate a presidential debate in nearly 30 years. You can watch the debate starting at 9pm ET tonight on all major networks or stream it live online.
PROGRAMMING NOTE: Our team will be watching and live-tweeting tonight's debate. Don't miss it — follow @CAPAction on Twitter for analysis and live fact-checks.
IN CASE YOU MISSED IT
Last night, the Supreme Court issued a heartbreaking 5–3 decision which held that Alabama counties cannot offer curbside voting in November's election. The case at hand came about when disabled and elderly voters and civil rights groups challenged a state official's decision not to let counties offer curbside voting, which is a safer and more accessible option for at-risk groups during the pandemic and was used in the state's primary election earlier this year. Chief Justice John Roberts sided with his conservative colleagues in the 5-member majority, which offered no justification for their ruling.
On that note, we have even more disturbing Supreme Court news. In what is somehow not the biggest story of the day, the Senate Judiciary Committee voted to proceed with Amy Coney Barrett's nomination to the Supreme Court this morning. Democratic committee members boycotted the vote, but that didn't stop Chairman Lindsey Graham from securing a quorum and continuing with the vote. Her nomination will now move on to the full Senate and will be up for a final vote on Monday. Republicans are united in support of Barrett, and her confirmation is all but certain given the rushed process.
Former President Barack Obama spoke in Philadelphia yesterday, offering a scathing critique of Trump. He also pointed out the failure of Republicans writ large to deliver on their empty promises of replacing the ACA with a plan of their own. "Where is this great plan to replace Obamacare?" he asked. "They've had 10 years to do it. There is no plan! They've never had one."
WHAT WE'RE READING (AND LISTENING TO)
Like the Progress Report? Our team relies on the support of grassroots progressives like you. Chip in $5 or whatever you can to power our work.
The positions of American Progress, and our policy experts, are independent, and the findings and conclusions presented are those of American Progress alone. A full list of supporters is available here. American Progress would like to acknowledge the many generous supporters who make our work possible.