What's Trending? Bye, Don
Part of a Series
This piece was originally published in the November 11, 2020 edition of CAP Action's weekly newsletter, What's Trending? Subscribe to What's Trending? here.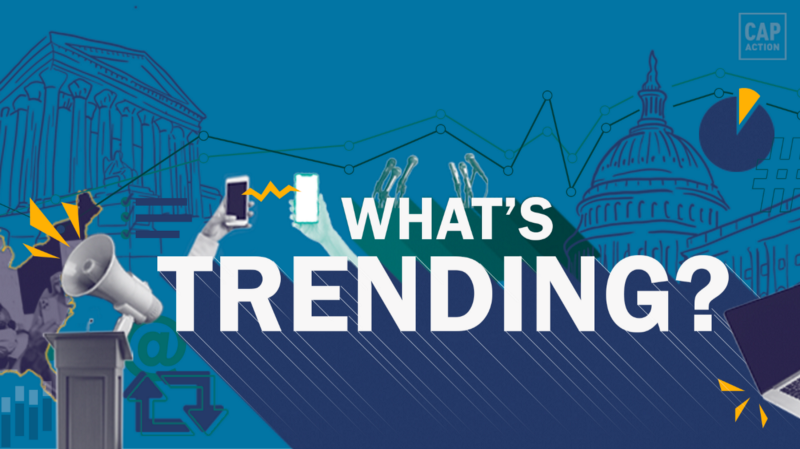 Hey, y'all.
What a weekend.
I'd just finished cleaning up the kitchen when I learned the results of the election. I could physically feel four years of stress leaving my body.
But then I sat down at my desk on Monday morning, and the doomscrolling began again, because what did I see? Post after post from the right urging Donald Trump not to concede, questioning the validity of vote by mail tallies with zero evidence, and even accusing President-elect Biden of being the antichrist. ????????‍♀️
So this week, we're going to take a look at what exactly has been happening on Facebook since Election Day.
But first, did you miss the last edition of What's Trending? Don't worry — you can read it here.
WHAT'S TRENDING THIS WEEK
Early Saturday morning, every major news outlet (including Fox) officially declared Joe Biden the winner of the 2020 presidential election. Although ballots are still being counted across the country, Biden accumulated an insurmountable lead in Pennsylvania which carried him over the 270 electoral vote threshold. Despite GOP-led attempts to delegitimize the results, the president-elect is on pace to defeat Donald Trump by nearly 5 million votes.
Pfizer broke through in the race to a vaccine this week, announcing Monday that early data from their clinical trial shows their two-dose vaccine to be 90% effective in preventing infection. Dr. Fauci cautions that returning to a pre-pandemic lifestyle is still in the distant future, but remains hopeful that we could begin vaccinating people before the end of the year.
Yesterday, the Trump administration and 18 Republican-led states brought their fight to repeal the Affordable Care Act before the Supreme Court. This is the third time the ACA has been challenged before the highest court, but the first time under a newly reshaped bench with the stakes raised even higher during a global pandemic.
WHAT WE'RE HEARING ON SOCIAL
Here are this week's top five Facebook posts on the Left and Right:





Joe Biden is going to be the next president of the United States…but you might not know that from looking at Facebook. Despite Biden winning a decisive victory, including receiving nearly 5 million more votes than his opponent, Trump is refusing to concede and sowing disinformation about voter fraud. According to a new survey from Morning Consult, 7 in 10 Republicans say the election was not free and fair — twice as many as said so before Election Day.
This Trump-fueled erosion of public trust is downright terrifying. And in a world in which even Fox News called the election for Biden, much of it can be attributed to social media. For months, Donald Trump has been laying the groundwork for a false narrative that the election was rigged — and that narrative is rapidly spreading, especially on Facebook and now, alternative platforms like Parler, where conservatives like Mike Lee are tailoring their message to the platform's far-right users.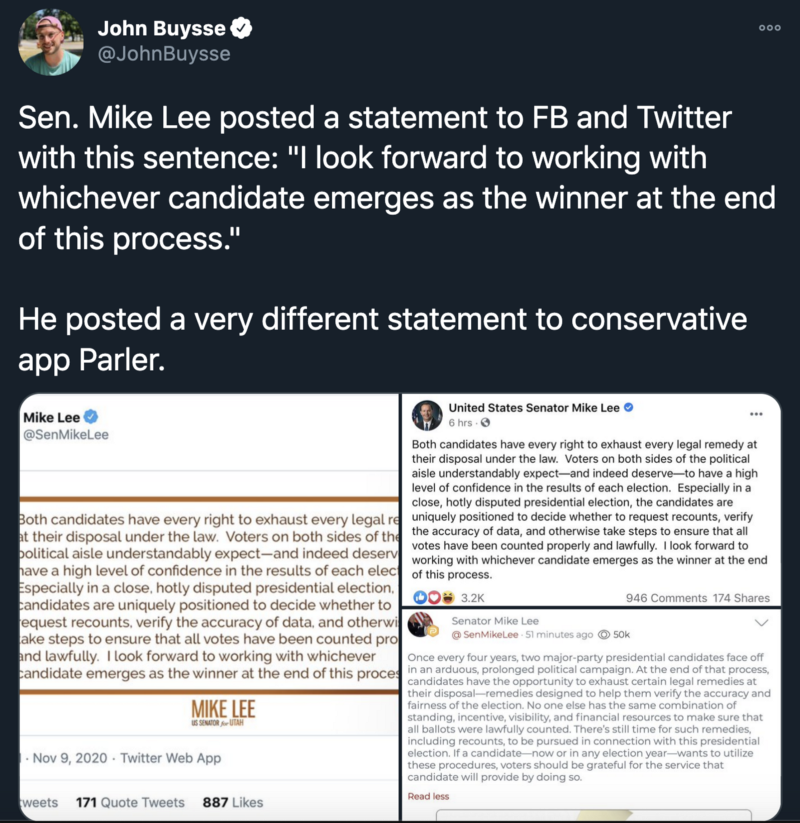 Facebook's solution for tackling this disinformation is to label the content in question with a factual statement, but that is doing nothing to stop the rapid spread of the disinformation itself. Some of the top-performing posts on conservative Facebook last week include Trump claiming victory (he didn't win), implying that election officials were counting ballots that came in after Election Day (they haven't been), and questioning the transparency of vote counting (which was even livestreamed in some cases).
As you can see by the below data, these posts almost universally outperformed those containing factual information from pages on the left.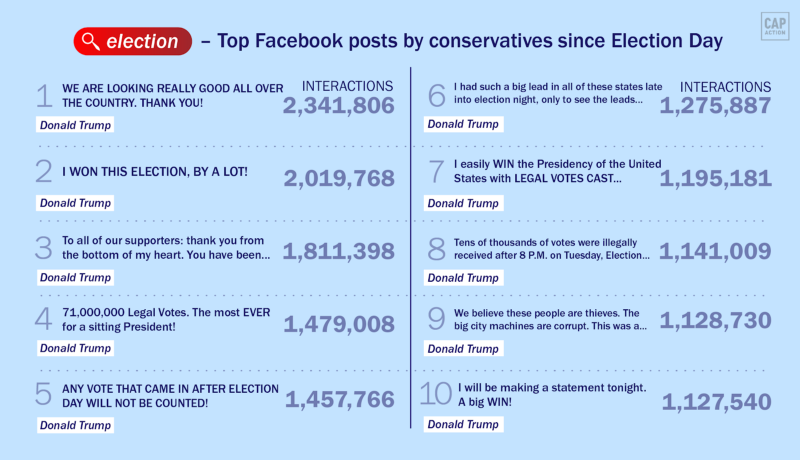 SAY IT WITH ME
According to a study led by Stanford University, Trump's tweets questioning the integrity of our election undermine trust and confidence in our elections and electoral process for people who are inclined to approve of the president.
This, combined with additional polling suggesting a correlation between Trump's post-election messaging and distrust in elections, is extremely worrisome.
The bottom line: On the whole, the mainstream media has done a good job covering this mess, but that is simply not translating to social media. Trump's message is too dangerous to leave unchecked on Facebook.
ASK ALEX
This week a reader writes, "There's so much disinformation flying around right now that it can be hard to engage without spreading it further. Any tips?"
Great question! Dr. Whitney Phillips is a professor at Syracuse University who wrote the book on how not to amplify extremists. Just yesterday she wrote an incredible thread revisiting some of the best practices:
Avoid "both-sides" framing. Label lies as such, not as one side of a debate.
Don't just say nothing. Respond strategically and don't give lies more credence than they're due. Here's a helpful list of debunked post-election rumors.
Highlight gaps in the narrative. This challenges the frame of the person you're debating.
Thanks so much for your questions and your time!
Rest up. We've got work to do,
Alex
P.S. Please do forward along to your friends who are interested or encourage them to sign up here.
This newsletter is written by me, Alex Witt (@alexandriajwitt), a progressive political strategist and Dolly Parton enthusiast (she/her). I've managed social media programs for presidential candidates, political committees, progressive advocacy organizations, and more.
The positions of American Progress, and our policy experts, are independent, and the findings and conclusions presented are those of American Progress alone. A full list of supporters is available here. American Progress would like to acknowledge the many generous supporters who make our work possible.
Authors Alex Witt
Senior Director, Strategic Partnerships
Explore The Series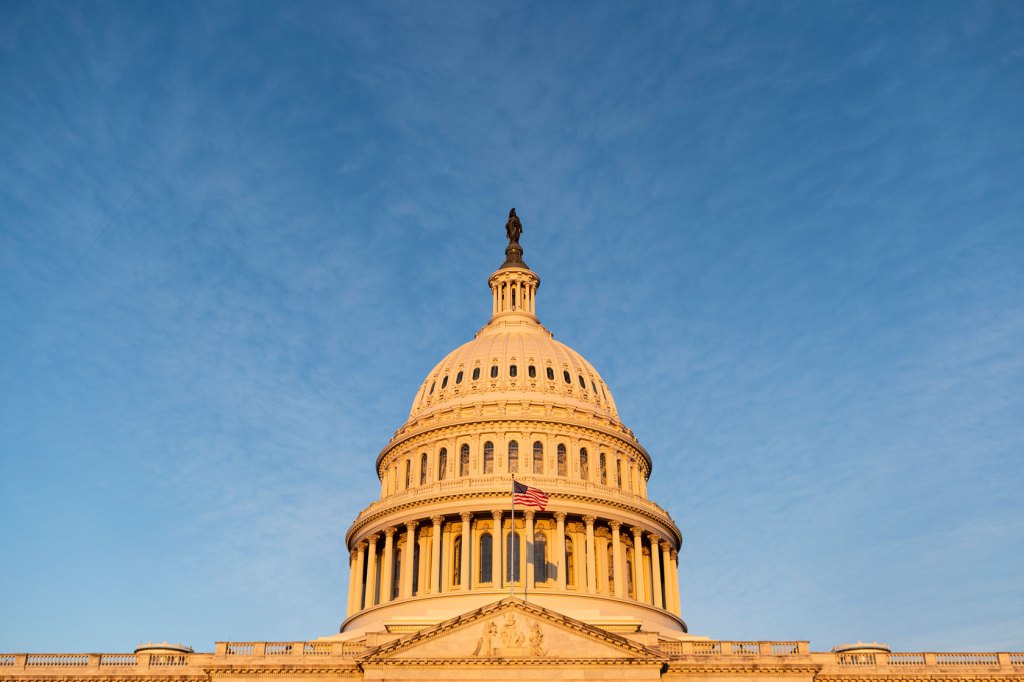 Welcome to "What's Trending?", a weekly newsletter to help progressives answer the age-old questions: What works, and what doesn't? "What's Trending?" cuts through the noise to bring you the best (and worst) of what's happening on social media in the policy space, and explains why it's important.
Previous
What's Trending? Agonizing and organizing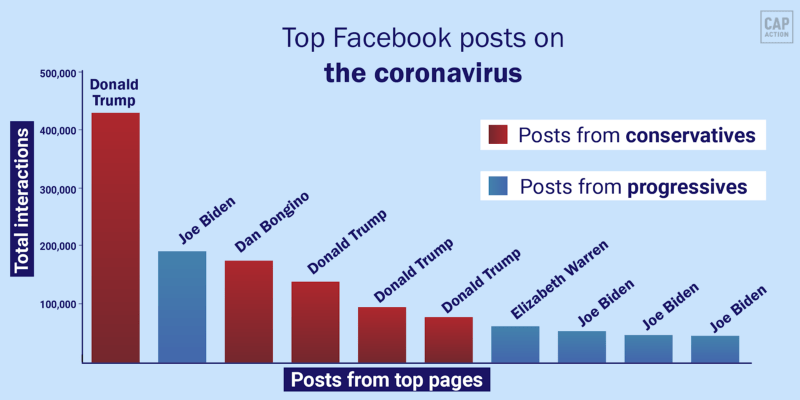 What's Trending? Agonizing and organizing
Next
This is not a drill