What's Trending? Texas Two Step
Part of a Series
This piece was originally published in the February 24, 2021 edition of CAP Action's weekly newsletter, What's Trending? Subscribe to What's Trending? here.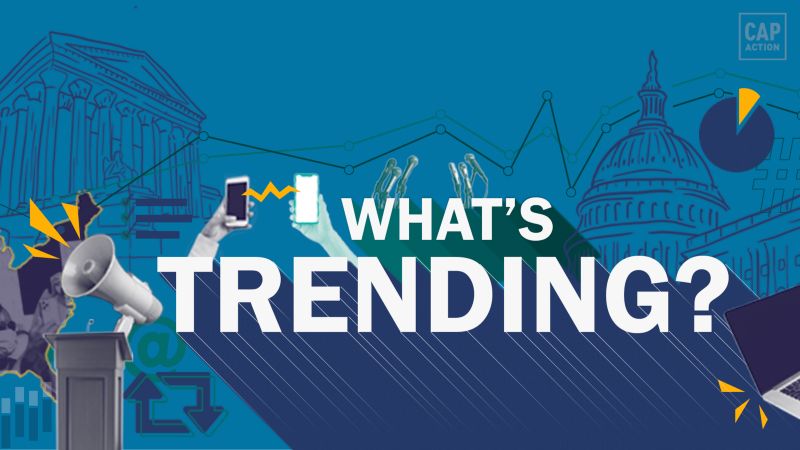 Hey, y'all.
Between devastating winter storms and the U.S. surpassing 500,000 coronavirus deaths, it's been a hard week, to say the least. And following tough moments like this, it's good to reflect and examine your response to see what worked and what you could have done differently, in order to avoid making the same mistakes again.
This week, that's what we'll do, diving into the broader Facebook landscape before examining the progressive response to the Texas storm.
WHAT'S TRENDING THIS WEEK
Southern winter storm: Last week, historic freezing temperatures, snowfall, and ice swept across the Midwest and the South. The aftermath was especially dire in Texas — leaving millions of Texans without power, heat, or access to clean water. Across the country, the storm left at least 58 people dead. And while Texas reckoned with the impact and unpredictability of climate change, Senator Ted Cruz fled to Cancún.
Another grim milestone: On Monday, just over one year after the first known U.S. coronavirus casualty, the United States surpassed more than 500,000 people lost to COVID-19. The number of cases and deaths continue to decrease as more and more Americans are vaccinated — but every death is a tragedy, and the pandemic is not yet over.
WHAT WE'RE HEARING ON SOCIAL
Shock Jock and Awe: While conservatives took to Facebook to remember Rush Limbaugh, progressives tackled a news-packed week and proved they can, in fact, walk and chew gum at the same time. Progressives published top posts on the Texas winter storm, the state of the pandemic, and economic recovery, among other topics. A photo shared by President Biden was the top performer on the left, but it couldn't beat out a post from Don Jr. celebrating his son's birthday.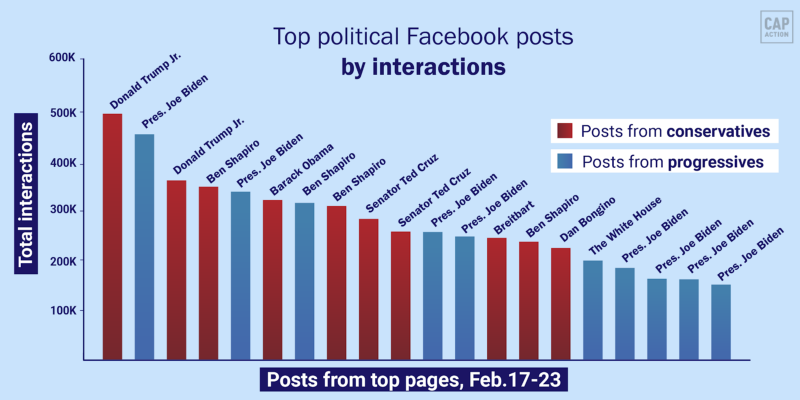 The top 10 political Facebook posts by interactions were dominated by conservatives this week — 7/10 — adding to a declining trend of progressives filling the top 10 since Biden's Inauguration.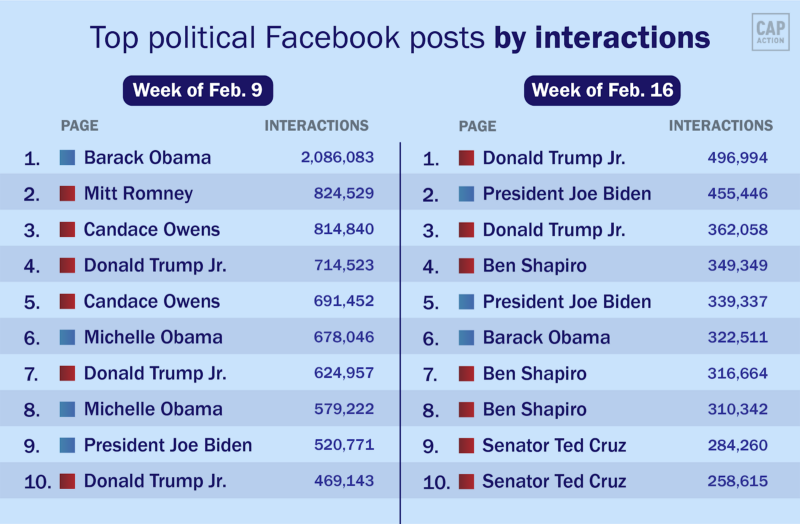 And while conservative pages mostly memorialized Rush Limbaugh, Ted Cruz also cracked the top 10 twice with posts about the Texas winter storm. In what might come as a shock to folks who spent a lot of time monitoring this conversation on Twitter, no posts holding him accountable made the top 10 on Facebook for progressives.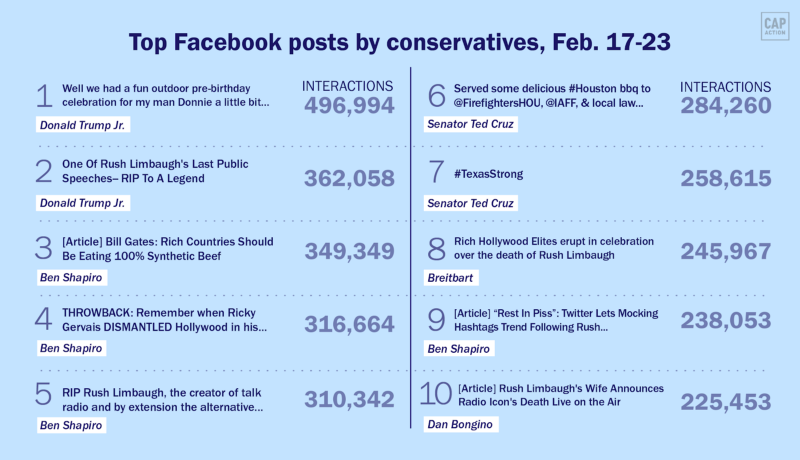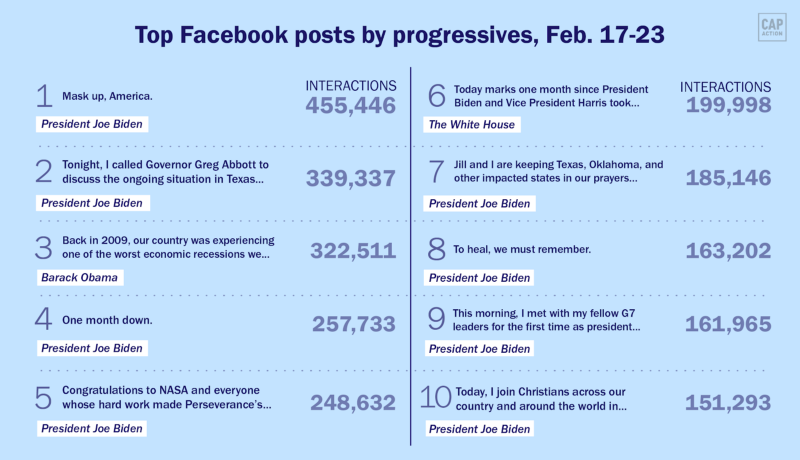 Speaking of which, let's examine content about the winter storm.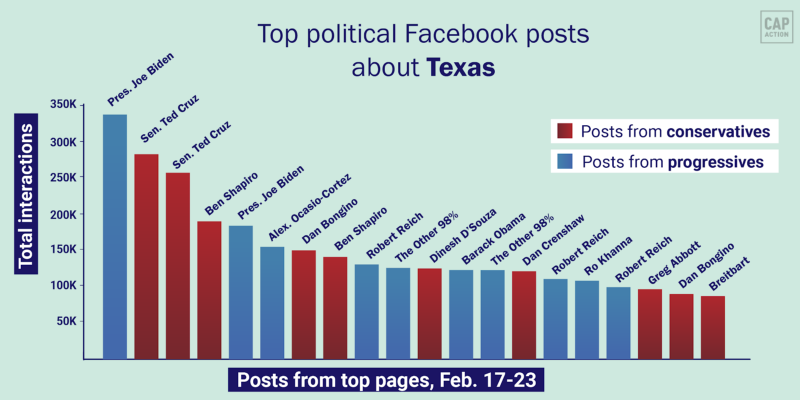 As you can see from the graph above, interactions were fairly evenly split between conservatives and progressives. The top 10 Texas-related posts from conservative and progressive accounts both received about 1.5 million interactions, with conservatives earning slightly more. Interestingly, the Texas storm received fewer interactions overall than the topic we examined last week, impeachment. If you remember, posts from conservatives on impeachment garnered about 4.5 million interactions, and progressive numbers held steady at 1.5 million, despite few of the biggest progressive accounts engaging in impeachment conversations. What does that indicate? When they want to, conservatives do a much better job at uniting to push a singular narrative than progressives.
After some careful consideration, here are a few things I think progressives could have done better this week in responding to the Texas storms:
Amplify trending relief efforts. Rep. Ocasio-Cortez raised nearly $5 million in relief for Texans, but precious few members of congress or progressive organizations amplified her fundraising link. There should have been matching challenges, emails sent to campaign lists, and post shares galore.
Hold Cruz accountable. Cruz's team did a lot of clean up work to redirect the narrative following his return to the U.S. following an ill-advised trip to Cancún — and it shows. Two of his Facebook posts addressing the storm made the top 10 political posts of the week, while none from progressives did. While I understand the desire of many on the left to avoid petty squabbles and pile ons, elected officials must be held accountable for neglecting crises, especially those their policies have exacerbated.
Respond quickly to disinformation. A false rumor that the winter weather in Texas "froze" wind turbines took off last week, helped along by people like Rep. Dan Crenshaw and Gov. Greg Abbott. It's crucial that progressives dispel these narratives quickly when ignoring them has a higher cost than the potential risk of amplification. Robert Reich did a good job of that in this post. You can learn more about how to follow his lead in this previous edition of What's Trending?
SAY IT WITH ME
Make sure to check out this new Buzzfeed article on how Facebook, led by Mark Zuckerberg and Joel Kaplan (Facebook policy team lead, Brooks Brothers rioter, and Brett Kavanaugh bestie) changed its rules on misinformation and hate speech to placate extremist conservatives like Alex Jones.
Thanks for reading,
Alex
P.S. Please do forward along to your friends who are interested or encourage them to sign up here.
This newsletter is written by me, Alex Witt (@alexandriajwitt), a progressive political strategist and Dolly Parton enthusiast (she/her). I've managed social media programs for presidential candidates, political committees, progressive advocacy organizations, and more.
The positions of American Progress, and our policy experts, are independent, and the findings and conclusions presented are those of American Progress alone. A full list of supporters is available here. American Progress would like to acknowledge the many generous supporters who make our work possible.
Authors Alex Witt
Senior Director, Strategic Partnerships
Explore The Series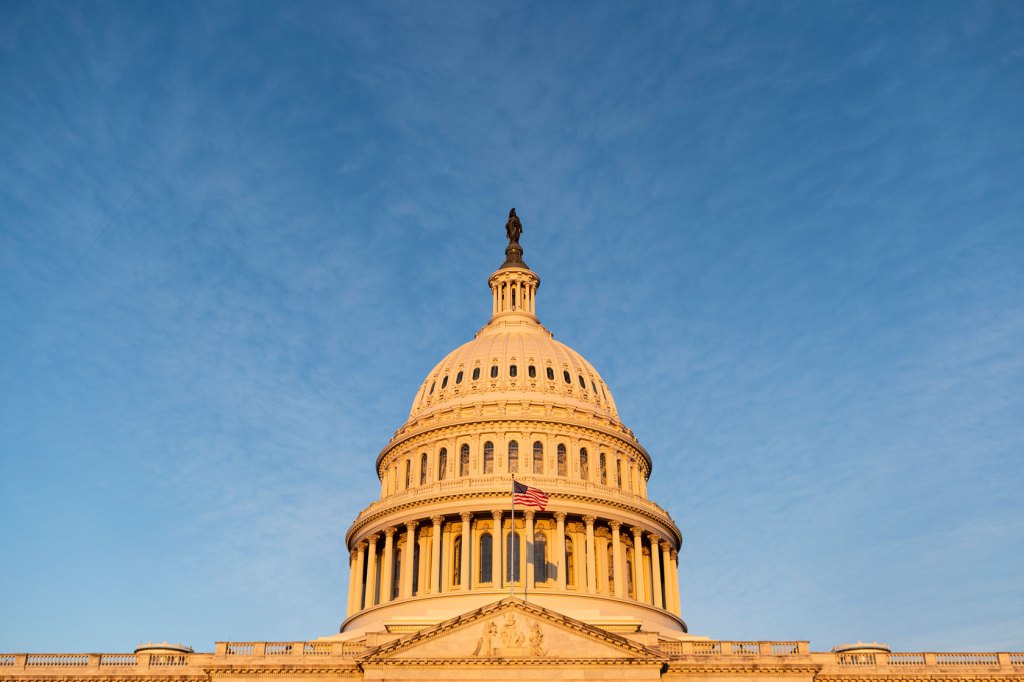 Welcome to "What's Trending?", a weekly newsletter to help progressives answer the age-old questions: What works, and what doesn't? "What's Trending?" cuts through the noise to bring you the best (and worst) of what's happening on social media in the policy space, and explains why it's important.
Previous
What's Trending? Impeachment and…not impeachment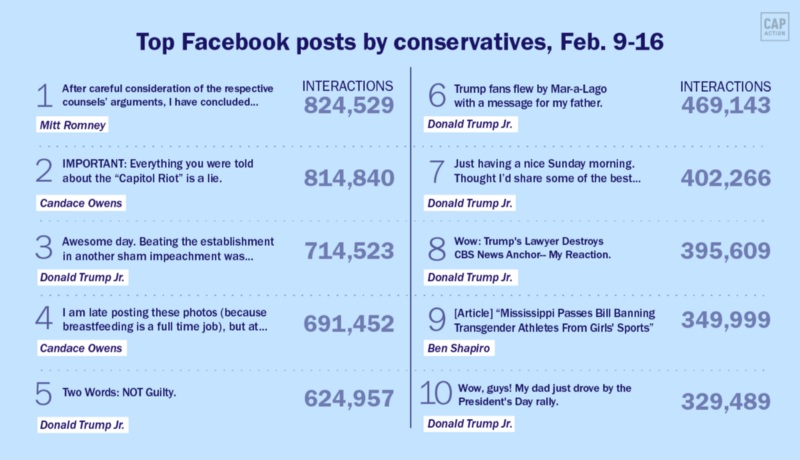 What's Trending? Impeachment and…not impeachment
Next
What's Trending? Broken Records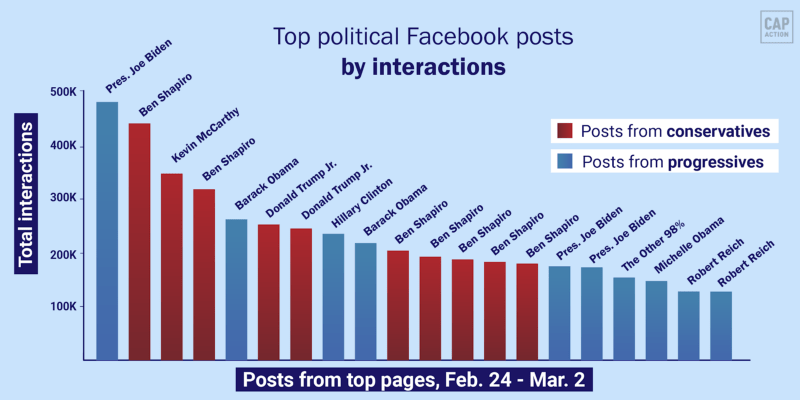 What's Trending? Broken Records