What's Trending? The final sprint to Election Day
Part of a Series
This piece was originally published in the September 2, 2020 edition of CAP Action's weekly newsletter, What's Trending? Subscribe to What's Trending? here.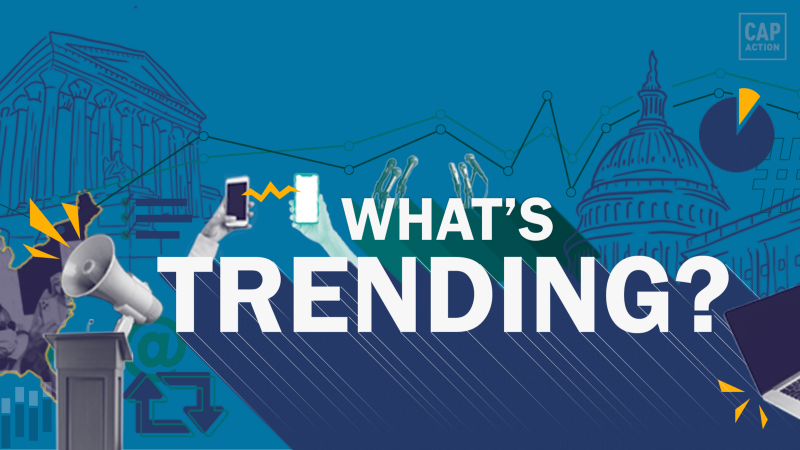 Hey, y'all!
With both the Democratic and Republican conventions in the books, it's officially the beginning of general election season. And in a campaign cycle that is happening almost entirely online — and at a time when far-right publishers are dominating on Facebook, the country's largest platform — social media has never been more important.
That's why we here at CAP Action are launching What's Trending?, a weekly newsletter that will track and analyze what's happening on political, organic social media. (Click here to opt-out.)
WHAT'S TRENDING THIS WEEK
People across the country are protesting the horrific shooting of Jacob Blake by Kenosha police and the subsequent killing of two people by Kyle Rittenhouse. Last week, this topic generated more than 10 million interactions on Facebook alone.
A man was shot and killed in downtown Portland as supporters of President Trump drove through the city, firing paintball guns and spraying pepper spray into crowds of people protesting police violence and racism. Online, Democrats are holding President Trump accountable for inciting hate and violence across the country. Across Facebook, it's generated nearly 6 million interactions.
DEVELOPING: Russian bots are once again attempting to use Facebook to influence the November election, according to a new report from the New York Times.
WHAT WE'RE HEARING ON SOCIAL
Here are this week's top five Facebook posts on the Left and Right:




5 best-performing Facebook posts by total interactions among 200 of the largest conservative and progressive pages for the week of August 24–30 according to Crowdtangle.
Five-alarm fire: Conservatives dominated Facebook when it came to hyping the Republican National Convention. Total interactions from conservative Facebook pages about the GOP convention greatly outnumbered those from progressives about the DNCC. During the week of the #DemConvention (August 17–21), the leading progressive pages received about 3.8 million interactions, with most of those coming from posts by Barack Obama, Joe Biden, Kamala Harris, and Michelle Obama. Conservative pages, on the other hand, racked up more than 8.2 million interactions the week of August 24–28, largely from Dan Bongino, Breitbart, and President Trump.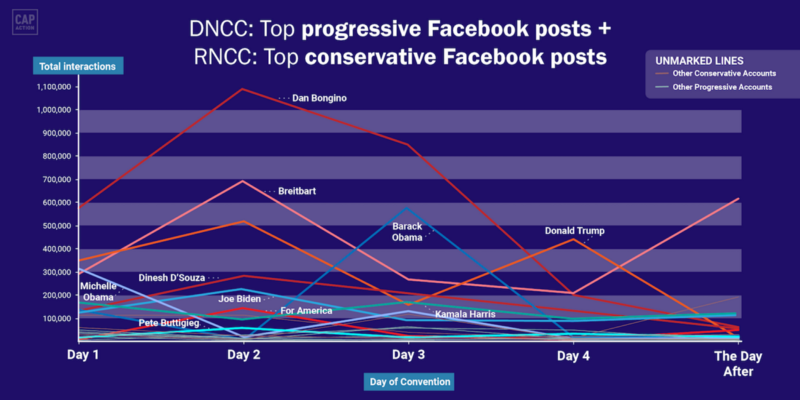 Total Facebook interactions from progressive and conservative pages during the DNC and RNC conventions, respectively.
When it comes to rapid response, the Right was more effective at countering the DNCC than the Left was to the RNCC — average interactions on conservative pages were more than four times as high as progressive pages: about 5.7 million vs. 1.4 million.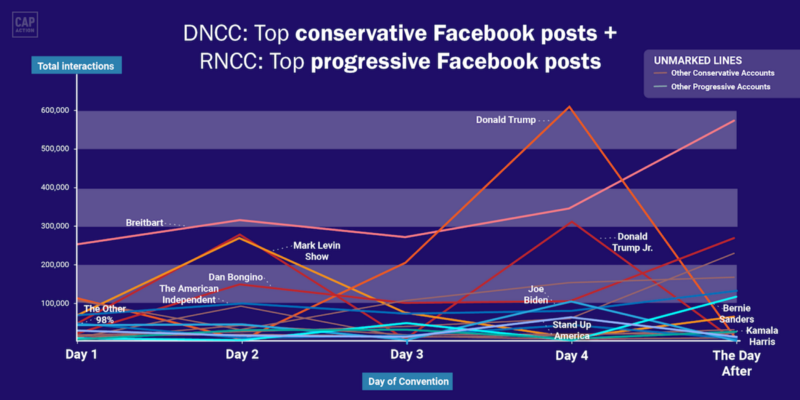 Total Facebook interactions from progressive pages during the RNCC and conservative pages during the DNCC.
What did people interact with the most? This post from George Takei dominated progressive Facebook during the two conventions, racking up over 123,000 reactions.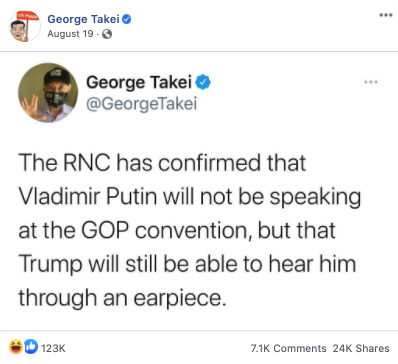 And here are the top Facebook posts by interactions from progressive and conservative pages during their respective conventions: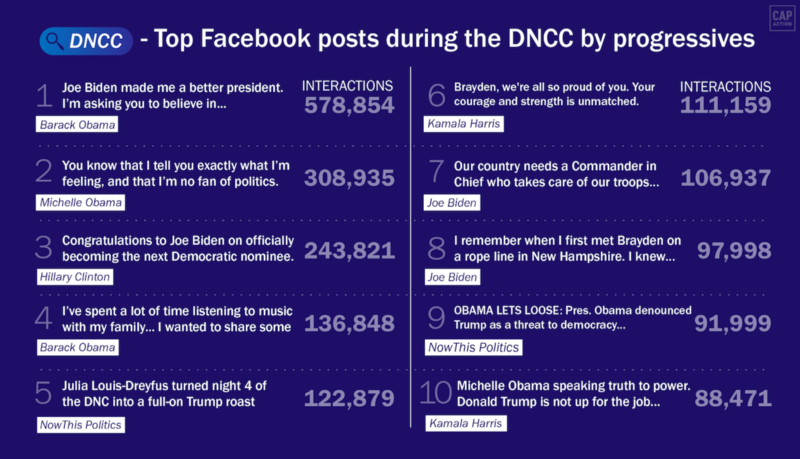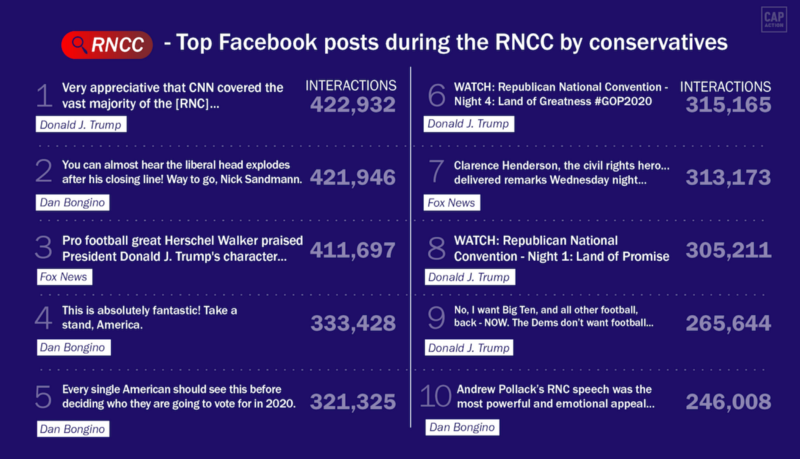 So why are progressives falling so far behind? Part of it is that Facebook has an undeniable conservative bent. Another factor is conservatives have exploited the network to their own benefit. But perhaps the biggest factor is that the irresponsible, inflammatory content Republicans and conservatives publish is optimized to elicit engagements. The results are undeniable.
It's imperative that progressives band together around strategies and best practices that help close this gap. In the coming weeks, we'll be digging deeper into how to do it — without resorting to lies and anti-democratic tactics.
SAY IT WITH ME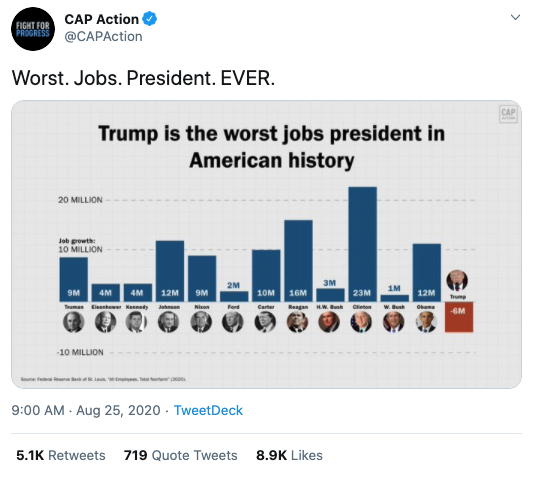 "Within three short years, we built the strongest economy in the history of the world." — Donald Trump at last week's RNCC. We, uh, have a fact check.
ON MY RADAR
Monday is Labor Day. Join the AFL-CIO (@AFLCIO) in calling for Mitch McConnell and Senate Republicans to pass the HEROES Act and end the needless suffering of so many hard-working Americans.
ASK ALEX
Have a question about organic social media? Just reply to this email for a chance to have your question answered in next week's newsletter. And don't worry — I'll anonymize any questions before publishing.
Thanks so much for reading along! We're thrilled to have you.
Talk soon,
Alex
P.S. Please do forward along to your friends who are interested or encourage them to sign up here.
This newsletter is written by me, Alex Witt (@alexandriajwitt), a progressive political strategist and Dolly Parton enthusiast (she/her). I've managed social media programs for presidential candidates, political committees, progressive advocacy organizations, and more.
The positions of American Progress, and our policy experts, are independent, and the findings and conclusions presented are those of American Progress alone. A full list of supporters is available here. American Progress would like to acknowledge the many generous supporters who make our work possible.
Authors Alex Witt
Senior Director, Strategic Partnerships
Explore The Series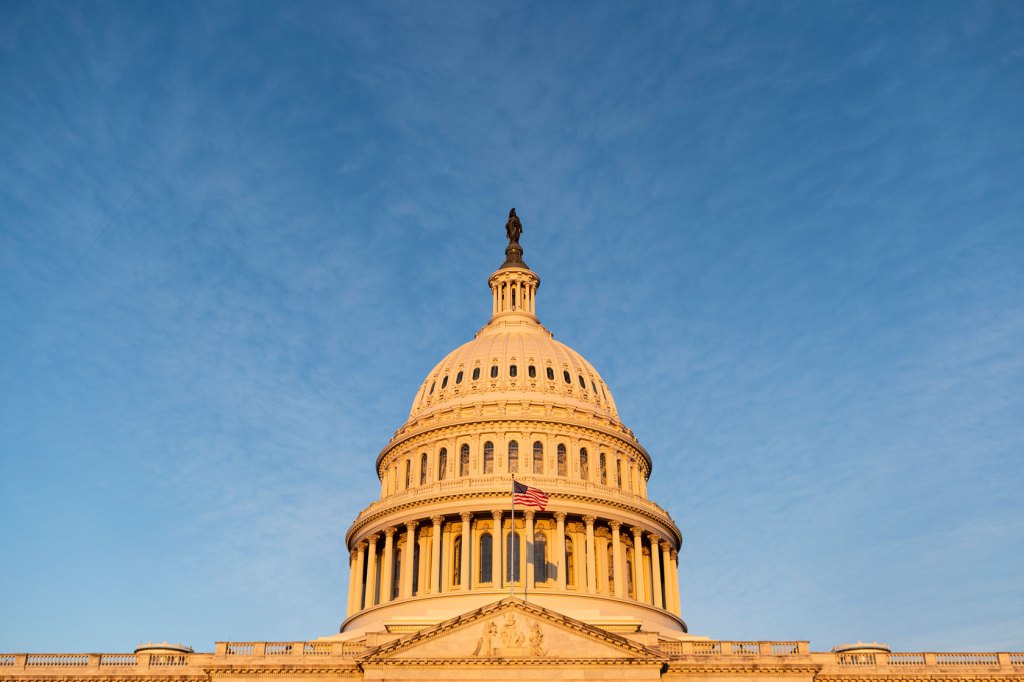 Welcome to "What's Trending?", a weekly newsletter to help progressives answer the age-old questions: What works, and what doesn't? "What's Trending?" cuts through the noise to bring you the best (and worst) of what's happening on social media in the policy space, and explains why it's important.
Next
What's Trending? The real "losers" and "suckers"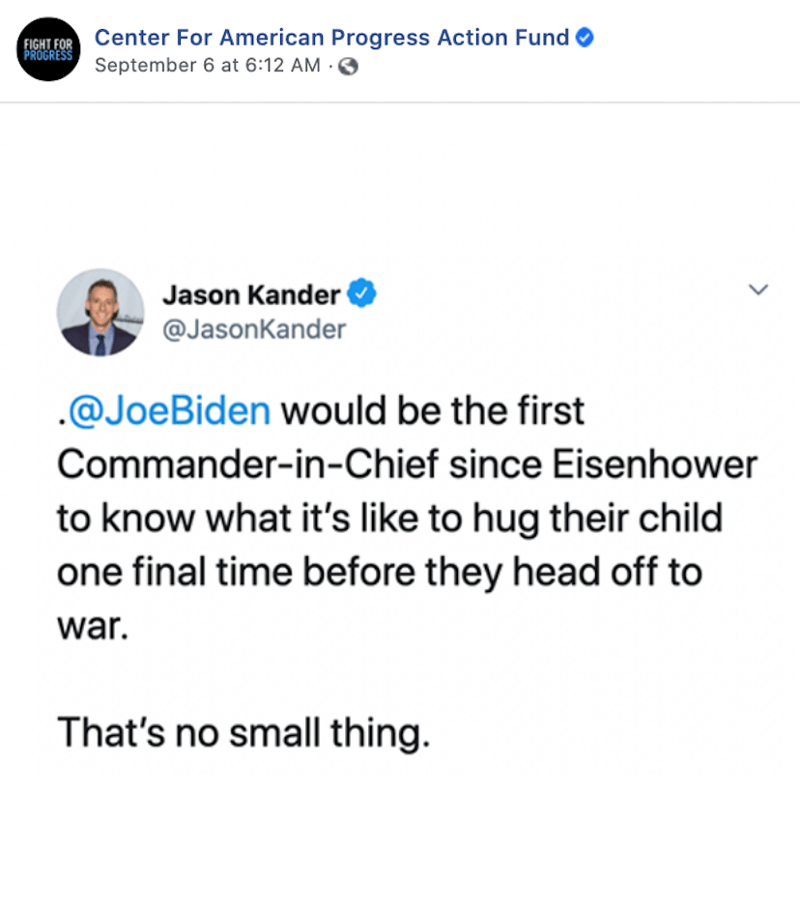 What's Trending? The real "losers" and "suckers"