VIDEO RELEASE: Happy Holidays from CAPAF's Public Lands Project
Washington, D.C. — The Center for American Progress Action Fund's Public Lands Project today released an original video on ThinkProgress highlighting this year's top oddest and dirtiest moments in the House Committee on Natural Resources.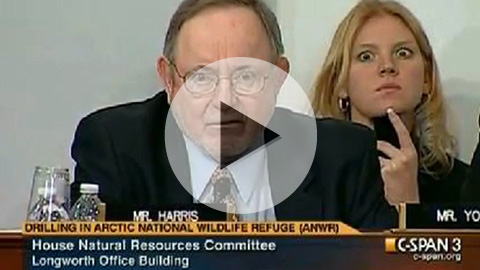 From the beginning of the 112th Congress it was suspected that Chairman Doc Hastings (R-WA) would lead the committee on an "oil above all" mission, and that proved to be the case—20 out of 65 oversight hearings were held on how to do more oil and gas drilling, while just four were held on spurring renewable energy development. Hearings weren't the only way Republicans attempted to prioritize the bottom line of their corporate contributors over the public lands that belong to all Americans—indeed, they went so far as to push extreme measures to mine uranium next to the Grand Canyon and deny the existence of an entire industry of green jobs, both of which are shown in this video.
The House of Representatives in the 112th Congress as a whole has the dubious distinction of being "the most anti-environment House in the history of Congress," averaging more than one anti-environmental vote for every day the House was in session in 2011. Much of that legislation started in the House Committee on Natural Resources, where CAPAF's Public Lands Project spent the year highlighting mistruths about oil and gas subsidies, exposing nefarious motivations for mining and drilling our public lands, and standing up for policies that protect the lands that belong to all of us.
To speak to CAP Action experts, please contact Christina DiPasquale at 202.481.8181 or ashoup@americanprogressaction.org.
###