The Frustratingly Narrow Immigration Debate Among 2020 Candidates
By focusing solely on decriminalization, debate moderators are depriving the public of the much-needed broader discussion about what needs to be fixed in immigration policy today.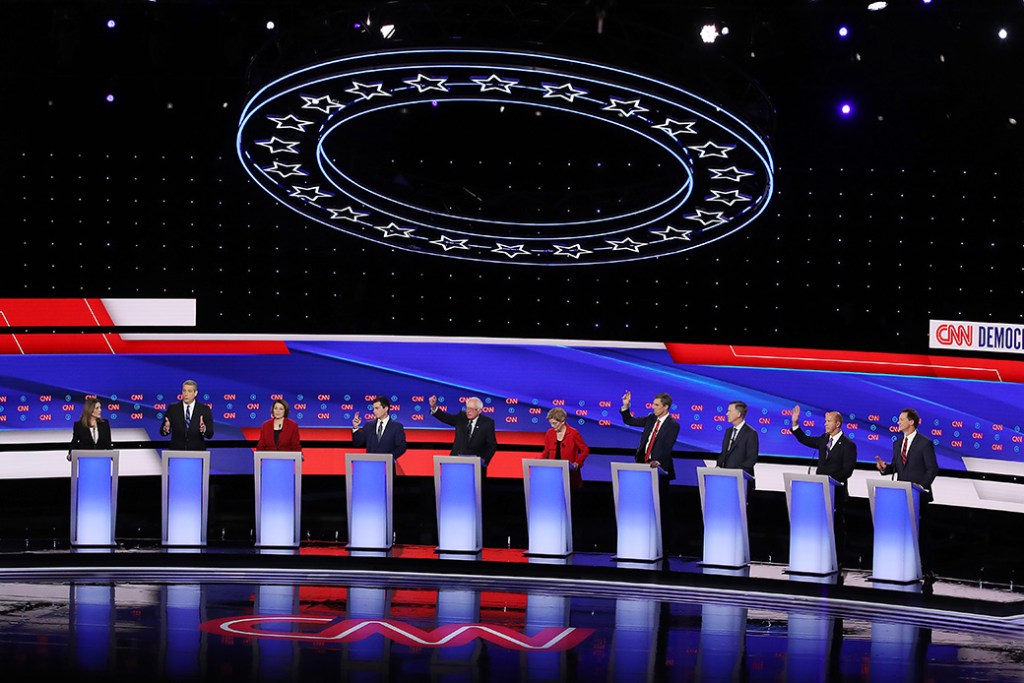 Three Democratic presidential debates are in the books, and on the issue of immigration, viewers must be more confused now than they were before. In each debate, candidates have been asked repeatedly to stake out their positions on whether policymakers should repeal the law that makes it a criminal offense to enter the United States without authorization. Whichever side of this debate candidates are on, not one has suggested that a person apprehended crossing the border without permission should—in the absence of a valid claim for asylum or other form of protection under U.S. law—be permitted to remain here. That alone is important context that has been lost in this debate.
Without a doubt, prosecutions of immigrants for illegal entry and re-entry into the United States after removal over the past 12 years have largely been a travesty of justice. As the number of these prosecutions has exploded—taking up more than 60 percent of all federal criminal prosecutions in the country as of May 2019—prosecutions for crimes involving official corruption, organized crime, and white collar crime have plummeted. Frequently, dozens upon dozens of individuals—all wearing orange jumpsuits, handcuffed, and shackled—appear in court together, represented by a single federal defender who they may have met for mere minutes prior to the hearing. They are read the charges en masse and asked if they have any questions before they are given the opportunity to, for all intents and purposes, plead guilty. This spectacle makes a mockery of equal justice under the law and feeds into misleading propaganda about immigrants and criminality.
As several candidates have pointed out, the Trump administration has weaponized these criminal provisions to justify taking thousands of children from parents requesting asylum, in an illegal and ineffective effort to deter families from coming in the future. But the truth is that there is no necessary connection between these prosecutions and family separation. Just as prosecutions of some border crossers for these offenses existed for decades without a policy of taking children from a parent, families have been separated and continue to be separated under President Donald Trump, even in the absence of criminal prosecutions. Nothing in current law compels the administration to do this. It is an abhorrent and deliberate choice—one that no future administration should repeat.
The focus of the immigration debate matters
While there may be a debate to be had about the appropriate way to address these injustices, no one would argue that it is the only, or even the central, debate to be had on the topic of immigration today. And because the topics that define the conversation until the 2020 election will determine whatever mandate the next administration may claim to have, the focus of the debate matters.
Debate moderators could ask questions to better understand how candidates plan to undo the cruelty and chaos that has been a defining feature of the Trump administration's immigration policy. Such questions could include:
How will candidates set immigration enforcement and border policy priorities and increase oversight and accountability within the U.S. Department of Homeland Security?
What measures would candidates put in place to responsibly manage migration in the Americas, ensuring that the United States offers refuge in accordance with its laws and values to people fleeing persecution and torture, while also promoting regional stability and prosperity to get at the causes of forced migration?
These questions would better inform voters of the ultimate choice they will need to make in November 2020, but even they wouldn't be enough. A presidential election provides a unique opportunity to educate the American public, and in the months ahead, candidates and the media have an opportunity to expose not only the inhumanity of the Trump administration's approach to immigration policy but also the extent of dysfunction that has long persisted throughout the U.S. immigration system. In order to achieve the kind of reckoning needed to begin to heal the damage done by the current administration—and to shape the kind of mandate that must be built—presidential debates must take a much wider lens.
What candidates should articulate—and what debate moderators must give them the space to explore—is how they will build an immigration system that is fair, humane, and workable. During tonight's debate and over the course of the primary, each candidate must be asked to detail their plans to create a system that meets the realistic needs of the country—one that people believe everyone can follow and that should be enforced in a fair and just way.
Tom Jawetz is the vice president of Immigration Policy at the Center for American Progress Action Fund.
The positions of American Progress, and our policy experts, are independent, and the findings and conclusions presented are those of American Progress alone. A full list of supporters is available here. American Progress would like to acknowledge the many generous supporters who make our work possible.
Authors Senior Fellow