The Hypocrisy Keeps On Coming
Conservatives in the House worry about the costs of clean-energy legislation on working families but voted against assistance for this population, write Daniel J. Weiss and Carlin Rosengarten.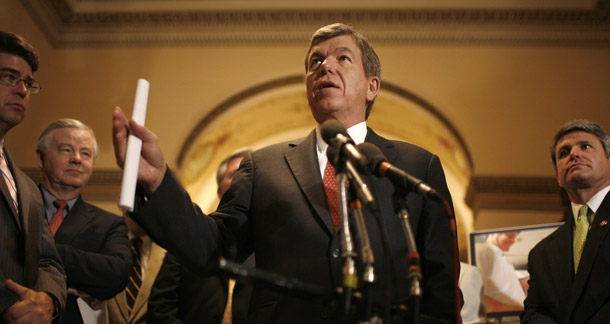 The drumbeat of conservative opposition to the draft American Clean Energy and Security Act of 2009 continued on Capitol Hill last week. House Energy and Commerce Committee hearings on the draft bill provided a forum for right-leaning representatives to repeat the same tired, false claims about the bill's cost and impact.
Perhaps no assertion discredited the conservatives more than their pious concerns about the bill's impact on working-class Americans. A quick review of their recent voting record reveals that these new champions of the downtrodden have repeatedly voted against efforts to increase wages, provide health care for children, extend unemployment assistance, and otherwise soften the blow of the staggering recession. And in reality, the bill they're fretting over would create jobs for working Americans and return revenues from a program to cap pollution to help families with energy costs, which could eventually turn into a net benefit.
The ACESA bill would create jobs, bolster the U.S. economy, and reduce oil consumption with a renewable energy standard and an energy-efficiency resource standard. The provision to cut greenhouse gases further promotes these low-carbon energy reforms, potentially saving families and businesses hundreds of billions of dollars annually by 2030.
An analysis by the EPA notes the benefits of the program: "Assuming that the bulk of the revenues from the program are returned to households, the…policy has a relatively modest impact on U.S. consumers. . .. Returning the revenues in this fashion could make the median household, and those living at lower ends of the income distribution, better off than they would be without the program."
But those opposed in the House chose to conveniently ignore this information. On April 17, House Minority Leader John Boehner (R-OH) led the charge for his conservative colleagues, expressing empathy for down-and-out Americans: "Families and small businesses already are struggling during this recession, and increasing their energy costs will only make matters worse. That's why Republicans oppose [climate legislation]."
Rep. Boehner's stated compassion for hardworking Americans contradicts his voting record. During the past two years, he voted against increasing the minimum wage, and five times he opposed extending assistance to children who lacked health insurance. Boehner even voted against the Housing and Economic Recovery Act, which will prevent foreclosures on an estimated 400,000 homes.
During the Energy and Commerce Committee's hearings, its top Republican, Rep. Joe Barton (R-TX), said that "the people at greatest risk" from clean-energy jobs and global warming legislation "are low- and middle-income families." Barton later called the pollution cap in the bill a "regressive energy tax on Americans already enduring high unemployment."
But Rep. Barton's "care" for these families is a very recent conversion. He voted against the American Recovery and Reinvestment Act, a bill that included a tax cut for middle- and low-income families, which are 60 percent of American households. Barton also opposed helping families save their homes in the midst of the foreclosure epidemic, voted against raising the minimum wage, and refused to extend health coverage to low-income children.
Other conservative representatives engaged in the same disingenuous assault on the American Clean Energy and Security Act. Rep. Roy Blunt (R-MO) and Rep. Greg Walden (R-OR) both parroted conservative talking points while ignoring their own voting records. Rep. Blunt calls the reduction of oil use and global warming pollution a "regressive energy tax." Walden worried that "those hardest hit" by increased energy prices will be "the poor."
Like their conservative colleagues, Reps. Blunt and Walden are false heroes for struggling Americans. They repeatedly voted against legislation to extend health insurance to poor children, save low-income families from foreclosure, and create jobs.
The recent insincerity from the ranks of congressional conservatives echoes remarks from their colleagues. Their intention is to undermine the prospect of a prosperous future, one based on clean energy rather than filthy fossil fuels. If they were really worried about burdens on low-income families, there were plenty of recent opportunities for them to lend a helping hand through their votes. Examining their actions shines a light on the hypocrisy in their words.
Also see:
Statements from House conservatives against the American Clean Energy and Security Act of 2009
Rep. Steve Scalise (R-LA-1)
"The EPA's proposal is a power grab orchestrated by radical environmentalists to help the President pass his reckless 'cap and trade' energy tax that will raise energy and utility costs on every American family, and ship millions of American jobs overseas."
Rep. Joseph R. Pitts (R-PA-16)
"Even proponents of cap-and-trade legislation—including President Obama—acknowledge it will raise the price of energy for consumers. At a time when families are struggling to make ends meet, increasing the cost of everything from commuting to work, to heating your home, or fixing dinner in the oven is a terrible idea."
Rep. Lee Terry (R-NE-2)
"A new national energy tax (also known as cap-and-trade) is also part of President Obama and Speaker Pelosi's budget plan. The President's cap-and-trade tax would cause sharp increases in the cost of electricity as electric companies pass the added costs along to you, the consumer."
Rep. Roy Blunt (R-MO)
"But if the Democrats' budget is signed into law—a budget I voted against in the House—that $3,000 will go directly to this new, regressive energy tax."
Rep. Mike Pence (R-IN-6)
"Let me say that the last thing, I believe, the American people want this Congress to do is to pass energy legislation in the name of dealing with climate change that could result in, to borrow the President's phrase, a skyrocketing of electricity rates on working families, small business owners and family farms."
Rep. Pete Olson (R-TX-22)
"Even as families struggle to make ends meet, these new taxes could increase the cost of living of every single American, as my colleague said, by $3,100 per year for a family of four and could pull $860 billion out of family budgets to put in the Federal budget."
Rep. George P. Radanovich (R-CA-19)
"The entire premise behind a cap and tax energy proposal is to punish those who produce, thereby punishing those who consume, which by my quick math amounts to everyone in the United States. Unfortunately, the sadistic nature of radical environmentalism is the disproportionate impact on the poor."
Rep. Greg Walden (R-OR-2)
"The energy plan amounts to a $646 billion tax that will hit every American family, small business, and family farm. Estimates are that family energy costs will rise on average by more than $3,100 a year. Those hardest hit by this massive tax will be the poor – who experts agree spend a greater portion of their income on energy consumption."
Legislation conservatives opposed that would help low-income families
Fair Minimum Wage Act of 2007 (HR 2):
It would increase the federal minimum wage from $5.15 an hour to $7.25 an hour over the next two years. The House passed the bill by a 315–to-116 vote on January 10, 2007, but the Senate rejected the motion to invoke cloture, 54 to 43 on January 24, with 60 votes required to invoke cloture, end debate and pass the bill. The measure later passed as part of a war supplemental appropriations bill, HR 2206, and was signed into law on May 25, 2007 (PL 110-28).
Helping Families Save Their Homes in Bankruptcy Act of 2008 (SA 4388):
Vote to table (defeat) an amendment to authorize federal bankruptcy courts to modify the terms of nontraditional and subprime mortgages made on homeowners' primary residences. Bankruptcy courts would enable to restructure the debt on home mortgages, reducing interest rates and extending repayment periods for homeowners who are declaring bankruptcy, cannot afford to make mortgage payments, and are in danger of foreclosure. The Senate tabled the amendment by a 58-36 vote on April 3, 2008, effectively killing the amendment.
Housing and Economic Recovery Act of 2008 (HR 3221):
It would prevent the imminent foreclosure of an estimated 400,000 homes financed by subprime mortgages. The bill also provided for a temporary increase in the Low-Income Housing Tax Credit, and encouraged builders to develop new affordable housing alternatives. The House passed the package by a 272-152 margin on July 23, 2008, and the Senate by 72-13 on July 26 with 15 members abstaining.
Unemployment Compensation Extension Act of 2008 (HR 6867):
Vote to provide additional emergency unemployment compensation. The bill provides an additional seven weeks of unemployment insurance to out-of-work Americans, or an additional 13 weeks in states where the unemployment rate is 6 percent or above. The House passed the motion with a 368-28 vote on October 3, 2008, and the Senate by 89 to 6 on November 20, and was signed into law the next day (PL 110-449).
American Recovery and Reinvestment Act of 2009 (HR 1):
It invested $767 (CK) billion to preserve and create jobs, and extend health care and assistance to the unemployed. It provided Title I funds to help disadvantaged students. The bill included the Making Work Pay refundable tax cut of up to $400 for working individuals and $800 for married taxpayers through the "Making Work Pay." The law had money for affordable housing, homeless assistance and weatherization for low-income households. The House passed the bill with a 244-188 vote on January 28, 2009, and the Senate invoked cloture on February 9 by a 61-36 vote. President Obama signed the bill into law on February 17, 2009 (PL 111-5).
Children's Health Insurance Plan Program Reauthorization Act of 2009 (HR 2):
Vote on passage of HR 2 to extend and improve the State Children's Health Insurance Program, or SCHIP, which provides health insurance to low-income children whose families do not qualify for Medicaid. The bill provides coverage for more than 4 million additional children. The House passed the bill on a 290-138 vote on January 14, 2009, and the Senate by a 66-32 margin on January 29. President Obama signed it into law on February 4, 2009 (PL 111-3).
While the House and Senate twice passed legislation to extend SCHIP coverage in 2007 (HR 976 and 3963), the House twice failed to muster a two-third vote to override former President Bush's vetoes of it. The House voted 273-156 on October 18, 2007, and 260-152 on January 23, 2008. The Senate subsequently passed both bills by votes of 67-29 and 64-30, respectively.
Helping Families Save Their Homes Act of 2009 (HR 1106):
Vote on passage of HR 1106 to prevent mortgage foreclosures and enhance mortgage credit availability. The bill permits bankruptcy courts to modify the terms of mortgages for debtors' primary residences. The House passed the bill on March 5, 2009, by a 234-191 vote. The Senate has yet to take action on this bill.
The positions of American Progress, and our policy experts, are independent, and the findings and conclusions presented are those of American Progress alone. A full list of supporters is available here. American Progress would like to acknowledge the many generous supporters who make our work possible.
Authors Daniel J. Weiss
Senior Fellow